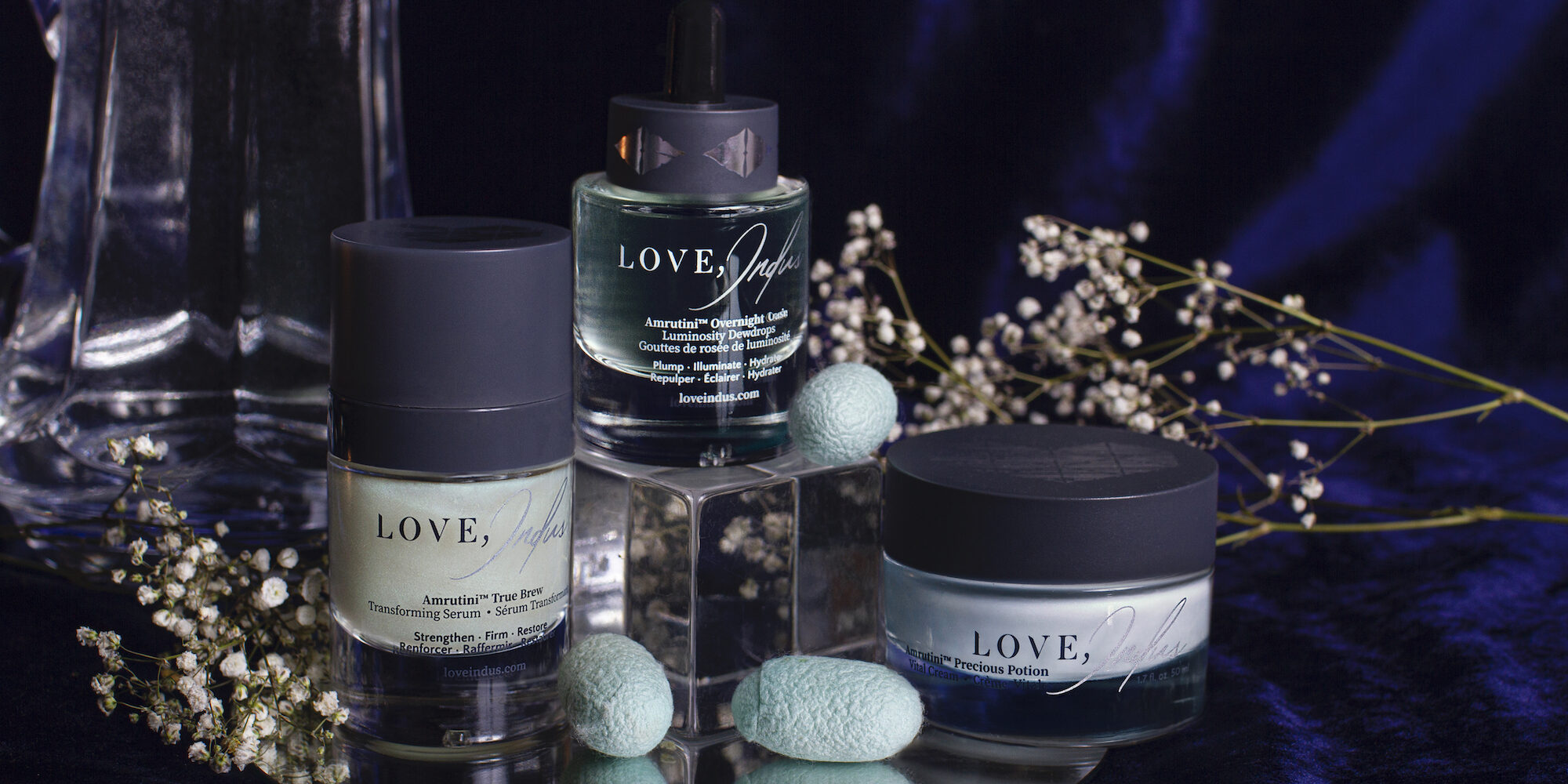 New Year, New Beauty: Seven Brand Launches We're Excited For
After a period in which direct-to-consumer brands fell out of favor, digitally native companies came back with a vengeance in 2020 as the pandemic pushed shopping to screens. This year, it appears the DTC parade isn't slowing down, at least if the following list of seven recent and up-and-coming beauty brand launches we've compiled is any indication. Among the group, body care, haircare, skincare and home are strong categories. Here are the startups driven by clean formulations, eye-catching branding and global influences.
Samah Essentials: A Londoner of Indian descent, Samah Lakha, a 24-year-old who graduated with a master's degree in chemistry from Oxford University in 2019, grew up with her grandmother mixing oils and applying them to her hair. "From a young age, she instilled in me the importance of looking after my hair and keeping it healthy," she says. "My hair oils are inspired by hers, but with a modern twist." Lakha launched Samah Essentials with two vegan and cruelty-free products: Nourishing Hair Serum and Revitalizing Hair Oil. The former is formulated with baobab, bergamot, lime peel and other organic oils to reduce frizz, strengthen hair and add shine. The latter is a scalp treatment oil containing ylang ylang, jasmine, rosemary, bergamot and castor oil to reduce hair loss and stimulate hair growth.
Outside of Samah Essentials' social media account, Lakha amassed a community of 43,000 on her food Instagram account Londonbruncher. "I focus on easy, healthy recipes that are enjoyable to cook and eat, without compromising on flavor," she details. "This complements my beauty account @samah.essentials through which I launched my hair serum and oil and where I also share DIY beauty hacks." Lakha is focusing on direct-to-consumer sales for now. In the future, she hopes Samah Essentials will be stocked by upscale retailers featuring clean beauty brands such as Selfridges, Harrods, Space NK and Cult Beauty. 
Naturally Drenched: In her years running Maggie Rose salon, one of the top texture salons in the United States, Jamilla Powell saw firsthand what works for every unique hair texture, and where there was still a white space in the curly hair product landscape. Next month, she launches Naturally Drenched, a vegan, cruelty-free and eco-friendly curl care line of products and tools.
"I started to notice a lack of pre-conditioning treatments for textured hair and a lightbulb of inspiration went off," says Powell. "That's why I created Rebalance, the pH hair treatment of Naturally Drenched. From there, I started to notice other haircare tools that weren't easily accessible in the market like the Infinite Reflection Fogless Mirror and Bamboo Hair Pick. My goal in developing Naturally Drenched is to create products that people can trust, fall in love with, and incorporate into their everyday hair care routine." 
Trained as an attorney, Powell understands the importance of due diligence. She spent countless hours researching ingredients that would aid in achieving healthy hair over the long term. "I worked closely with a cosmetic chemist who helped formulate a product that did everything I wanted it to and more," she says, talking about Rebalance, a product designed to be used after shampoo and before conditioner. "The key ingredients are superfoods such as papaya and mango. Not only are these delicious to eat, but they are excellent for your hair. The product also features bamboo extract, aloe vera and calendula, which will all help to fight breakage and promote stronger, healthier hair growth."
Naturally Drenched will be available on its website, and at Maggie Rose salon in Miami and Thirteen Lune, an e-commerce destination focused on beauty brands created by BIPOC founders. Powell says the brand would fit well in a variety of retailers, but she would especially love to see Naturally Drenched in stores providing environmentally-friendly products. Clean beauty and beauty supply retailers on her distribution wish list include The Detox Market, Credo, Bluemercury, SalonCentric and Cosmoprof.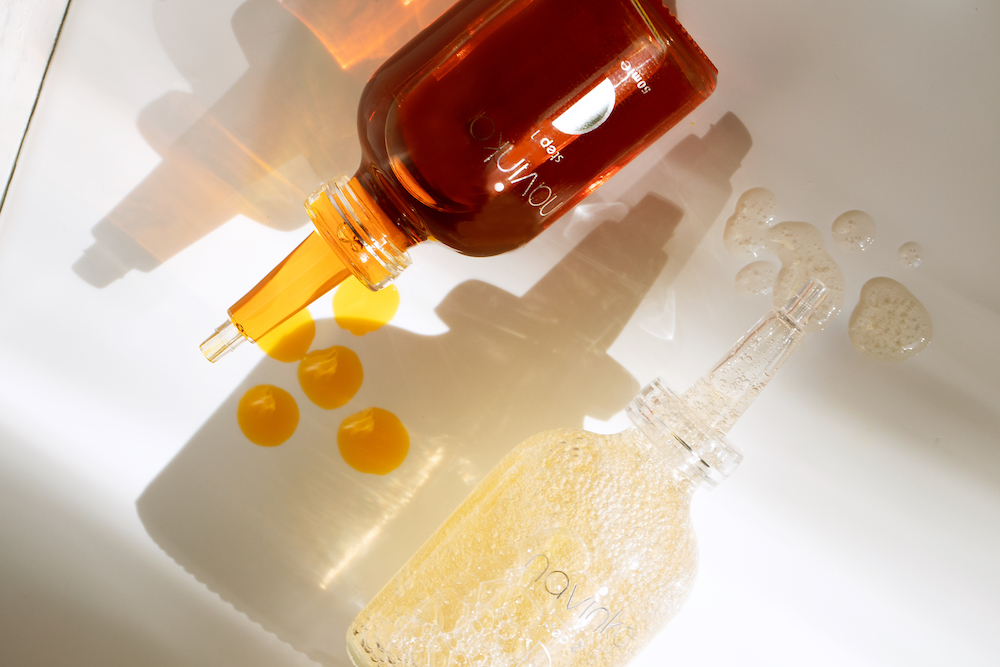 Navinka Skincare: Mother-daughter co-founders Natasha Grigorian and Julia McClure merged their respective skills to bring Navinka Skincare to fruition. Grigorian has been a medical esthetician for over 25 years, and McClure is a visual artist with a background in advertising. Both grew up in Russia, and their life there inspired Navinka's plant-based yet clinically-tested formulations.
"The brand is inspired a lot by techniques that we've watched women use in the village where we spend a lot of time," says McClure. "They would forage ingredients and make masks and things like that out of like mushrooms and raspberries meats. Every one of our formulas features some sort of an ingredient from those memories." To pick the best ingredients for Navinka's formulas, she adds she and Grigorian looked at the science behind those homegrown ingredients like the cilantro extract in the brand's Two Step Cleanser and the albizia bark extract in its Eye Transformer.
The brand's four-product debut collection ranges in price from $51 to $61. Navinka's first product launch was Nightly Calibrator, and it's the brand's bestseller. "It's a very, very gentle refining serum," notes McClure. "That's one of the key things about our brand, we're all about being gentle. Retinol and all of these kinds of aggressive things that sensitize your skin, people will use it and see immediate results, but, in the long run, you end up sensitizing and damaging your skin in other ways. Everything we use is super gentle even for the most sensitive skin types."
Nette: Leave it to a former beauty editor to create a très chic candle with impeccable branding. Elle and Lucky alum Carol Han wanted to develop a candle that is luxurious, sustainable and safe. "I've loved candles for as long as I can remember," says Han. "My mom had a candle shop in San Francisco when I was a kid, and I remember watching her hand-dip and carve the most beautiful pillars. I've also loved watching the clean beauty trend take over the space, but always felt like home fragrance was a step behind. I couldn't find a candle brand that spoke to my specific design sensibilities and was also super clean, transparent, sustainable and relatively accessible." 
The materials in Nette's candles set them apart from the candle crowds. "A lot of other candle brands are label-forward, meaning they use the same mass-produced, cheap glass vessels and stick a cute label on them," she says. "We wanted to be glass-forward and give our customers a piece of glass that was so gorgeous, they wouldn't dream of throwing it out at the end of the candle's life." Nette's glass vessels are custom-designed and hand-blown in Italy. Han uses Global Organic Textile Standard-certified organic cotton for Nette's wicks, which is rare even in the premium end of the industry. 
Concocted with fragrance house Robertet, Nette's four launch fragrances are as thoughtfully composed as the candles themselves. The brand describes its Another Life scent as "the quiet of early morning, vanilla cream swirled into coffee, fragments of last night's dreams, the faithlessness of memory, a theory of soulmates and second chances." Han singles out Goop, Net-a-Porter, Violet Grey and Cult Beauty as her dream distribution partners for Nette.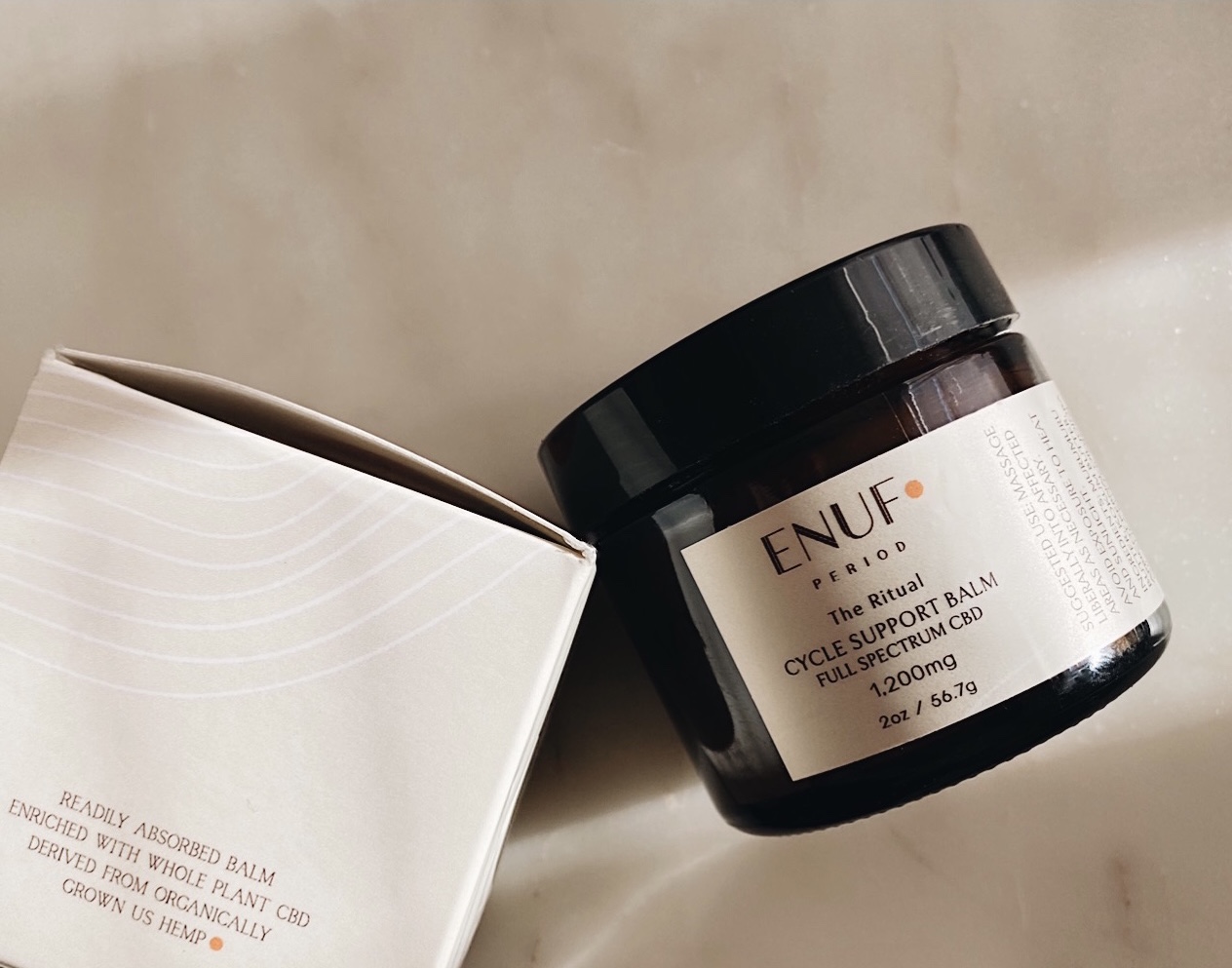 Enuf Period: Enuf Period founder Sara Seward has spent her whole career in beauty, but as a hairstylist. It might seem strange that Seward switched from hair to feminine care, but the project is a personal one for her. "I've always had horrible periods with debilitating cramps, back pain, migraines, you name it," she says. "From diet, exercise, birth control and over-the-counter medications to a more holistic approach, I've really tried it all. Nothing has ever worked as well for me as cannabis has. It has been the one constant that really saved me, edibles in particular, but I could never find a topical that could actually hold up to the test and work well enough when that time of the month rolled around." 
Seward packed Enuf's Cycle Support Balm with 1,200 milligrams of full-spectrum CBD in each 2-oz. jar to deliver potent relief to customers suffering from painful periods. Transparency was important to Seward, who says that only about a third of CBD products on the market contain the amount of CBD milligrams they claim. Enuf's products are third party tested to ensure potency. It sources CBD from organic, non-GMO and pesticide-free U.S. hemp grown by small family-run farms. Seward's objective is to place the brand on the shelves of retailers focused on clean and independent brands, including Credo, The Detox Market, Clean Market,  Neighborhood Goods and Grove Collaborative.
Operating at the intersection of period care and cannabis, Seward wanted Enuf to make a positive impact in those arenas. Through the brand's give-back initiative, the brand donates a percentage of proceeds to help the two causes. "Period poverty is real, and we're committing to supporting a cause that supplies underprivileged women with feminine care products," says Seward. "Additionally, we are very aware of the injustices in the cannabis industry. We feel it's only right to profit off this industry if we are also giving back to those currently incarcerated from a cannabis charge."
Northeast Organica: The pandemic has accelerated the trend of beauty shopping migrating online, and a new crop of niche e-tailers have launched in recent months to give people easier access to hard-to-find items they were accustomed to picking up in a store. Nadia Rouk and Lindsay Pierce launched e-commerce site Northeast Organica to make sure their favorite high-performance clean beauty products were just a click away. "There are so many beauty brands out there that have these amazing clean products that work just as well, if not better, [than traditional products] that are buried in the market," says Rouk. "We really wanted to create a home for them and help consumers feel like they have a place where they know that they don't have to worry." Rouk adds that she and Pierce launched their blog, Cleansing the Chaos to be a resource for people making the switch to clean products.
It's de rigueur for clean beauty retailers to have ingredient guidelines for the products they carry, and Northeast Organica is no different. Pierce and Rouk depended on international regulations and scientific research to nail down the e-tailer's so-called Northeast Beauty Standard outlining no-no ingredients. Rouk explains, "We were not pleased with the standard here in the U.S., [so] we created the new clean standard. Our list of ingredients bans phenoxyethanol, a popular ingredient across clean beauty. This is a controversial ingredient for clean beauty companies to part with, but we did it. We are one of few." Northeast Organica carries a mix of well-known and under-the-radar beauty and personal care brands, including Pleni Naturals, CLN & DRTY, Under Luna, Earth Harbor and Earth Mama.
Love, Indus: Beauty has been mining the rich landscape of Ayurvedic ingredients for years, making turmeric masks commonplace. Now natives of the Asian nation who grew up using powerful plants like amla and ashwagandha are bringing lesser known, but no less potent ingredients and minerals from across regions of India to skincare shelves in the U.S.
Before moving to New York, which she now calls home, Surbhee Grover grew up in Kolkata, India and started her beauty industry career in Mumbai, where she joined L'Oréal as a brand manager and was part of the core team that launched the brand in India prior to becoming a consultant. She's traded the conglomerate world for the entrepreneurial path with the launch of her luxury skincare brand Love, Indus. 
"There was no aha moment that led to the birth of Love, Indus," says Grover. "It was more a gradual realization that the skincare and wellness concepts from the Indian subcontinent that had achieved some recognition globally barely scratched the surface of all the regional riches that I had grown up experiencing. In addition, my strategy consulting work and global career taught me that technology and innovation used effectively can significantly enhance and complement natural elements. The key then was to bring it all together: these rare riches from various parts of the Indian subcontinent, lab-designed clean chemistry and the latest in skincare technology and innovations into powerful, sensorial offerings." 
Love, Indus is starting with five facial care products across three collections ranging in price from $58 for Velvet :08 Broadway Bright Detox Mask to $135 for Amrutini Overnight Oasis Luminosity Dewdrops. Grover predicts Love, Indus's Freedom of Expression Dual-Purpose Line Limiter will be a bestseller. "The skin around our lips is fragile just like the area under our eyes, and yet we have few options for addressing these vertical lip lines aside from injectables," says Grover. "This formulation that comes with a metal applicator and smells heavenly is a wonderful treatment for these lip lines, laugh lines, forehead creases and any expression lines that form as we age."
A few of Freedom from Expressions' potent ingredients are kokum extract, which comes from the garcinia indica tree and was chosen to help regenerate skin, as well as hibiscus extract that is intended to densify the skin, and vegan collagen. Grover says, "It is an innovative offering, so folks might not think of this [product] spontaneously, but once [they try it], I believe this will be one of our bestsellers and will carve a loyal following, whether for prevention, or early signs of creases or even deeper lines."
For Love, Indus's distribution, Grover is zeroing in on retailers that showcase clean products and deliver an immersive experience to their customers. She says, "It isn't just about size and scale, although we do value partners who bring us reach, but also about enabling a connection with consumers who are discerning and looking for product offerings that compromise neither safety nor efficacy."