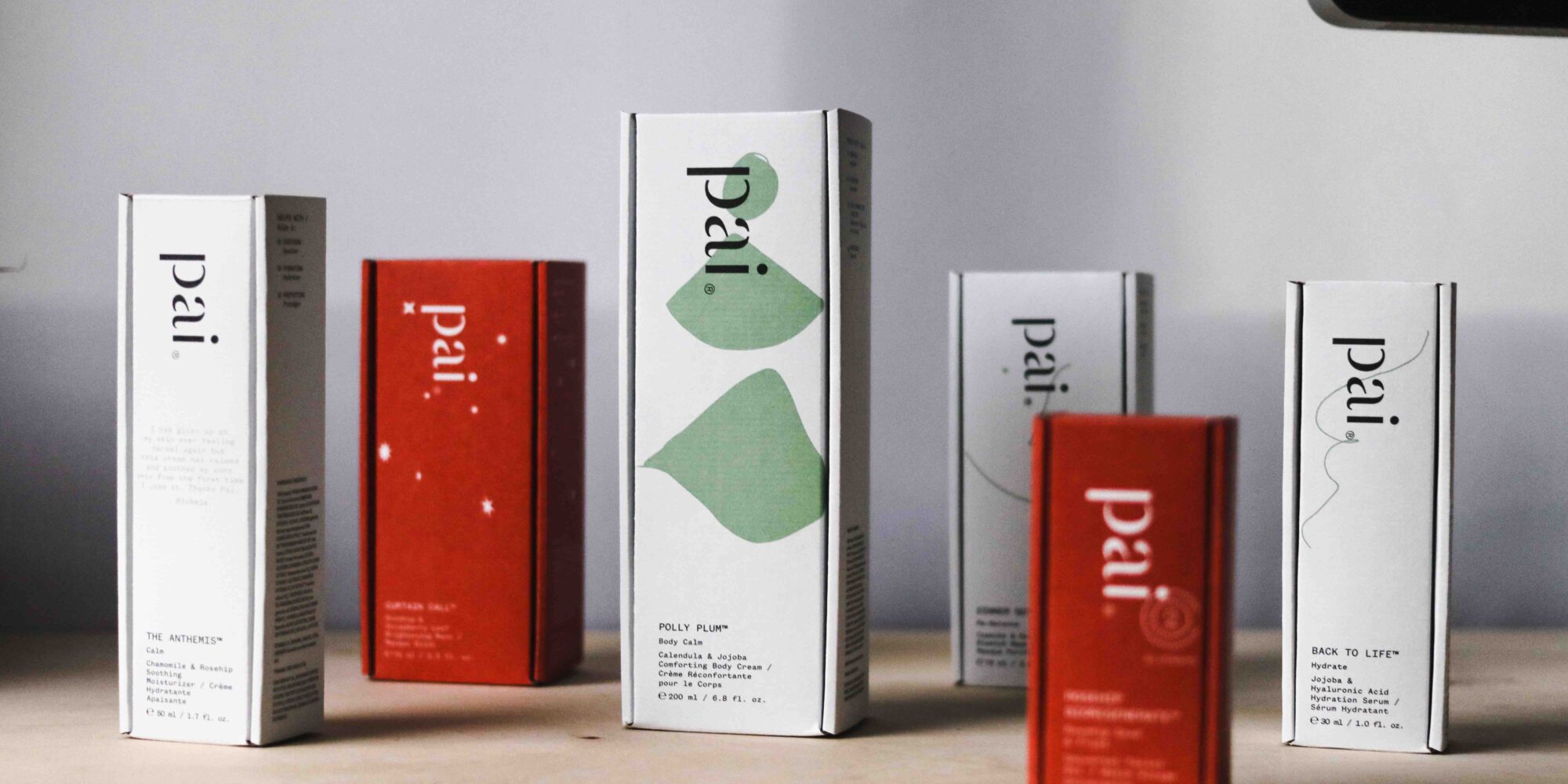 Pai's Sarah Brown On Funding A Growing Brand, Renaming Products And Why Organic Skincare's Moment Is Due
Pai Skincare is proof there's no set-in-stone way to finance and grow a beauty brand. While venture capital has poured into the beauty industry, the London-based skincare brand has interspersed institutional funding with bank debt. Recently, it raised nearly $9 million in series B investment from Famille C Venture, the firm connected to the Courtin-Clarins family behind Clarins Group. In 2020, Pai secured about $1.4 million in debt from HSBC and, in 2017, it closed a $4.5 million series A funding round led by CAP Invest. While hordes of brands flocked to the amorphous idea of clean beauty, Pai has been steadfast in its commitment to organic certification, which it has achieved from the Soil Association/COSMOS. And while most retail-ready beauty brands outsource production to co-packers, it hasn't wavered from in-house manufacturing.
"We formulate and make our own products because we think it delivers another level of quality, and it gives us visibility into the supply chain," says Pai founder Sarah Brown. Consumers and stockists are buying in. Pai is carried by 1,200 doors in more 30 countries, including at the retailers Sephora Europe, Oh My Cream, Cult Beauty, Selfridges, Credo and The Detox Market. Last year, as the pandemic disrupted business worldwide, its sales were up over 25%. About 35% of Pai's turnover is generated through its direct-to-consumer platform. One of the brand's bestselling Rosehip Bioregenerate Face Oil products is sold every two minutes. Beauty Independent talked to Brown about starting Pai in 2007, refreshing the brand, obtaining money for it, renaming products, defending intellectual property on social media and why the power of organic credentials shouldn't be overlooked.
Did you envision yourself becoming an entrepreneur before you became one?
I think it might have been in my genetic makeup in the beginning, to be honest. At a very early age, I used to make crosswords and get my dad to photocopy them for me, and I used to sell them on the playground. Another mom called my mother and said, "Do you know Sarah is taking money from kids?" My mom told me to give the money back, but, at the time, I thought I had a really quality product. I thought it was a real injustice.
I went on to work for E. & J. Gallo. It's a family-owned business, but a huge business. I had come from being on the agency side previously in PR and communications, and I got to see the inner workings of a huge global business. I was in contact with the sales team, the marketing team, the operations team and more. That was a great experience seeing how to grow a brand in a hypercompetitive category. At some point, though, I had worked on so many other people's brands and built them, and I thought, "I would actually like to build my own."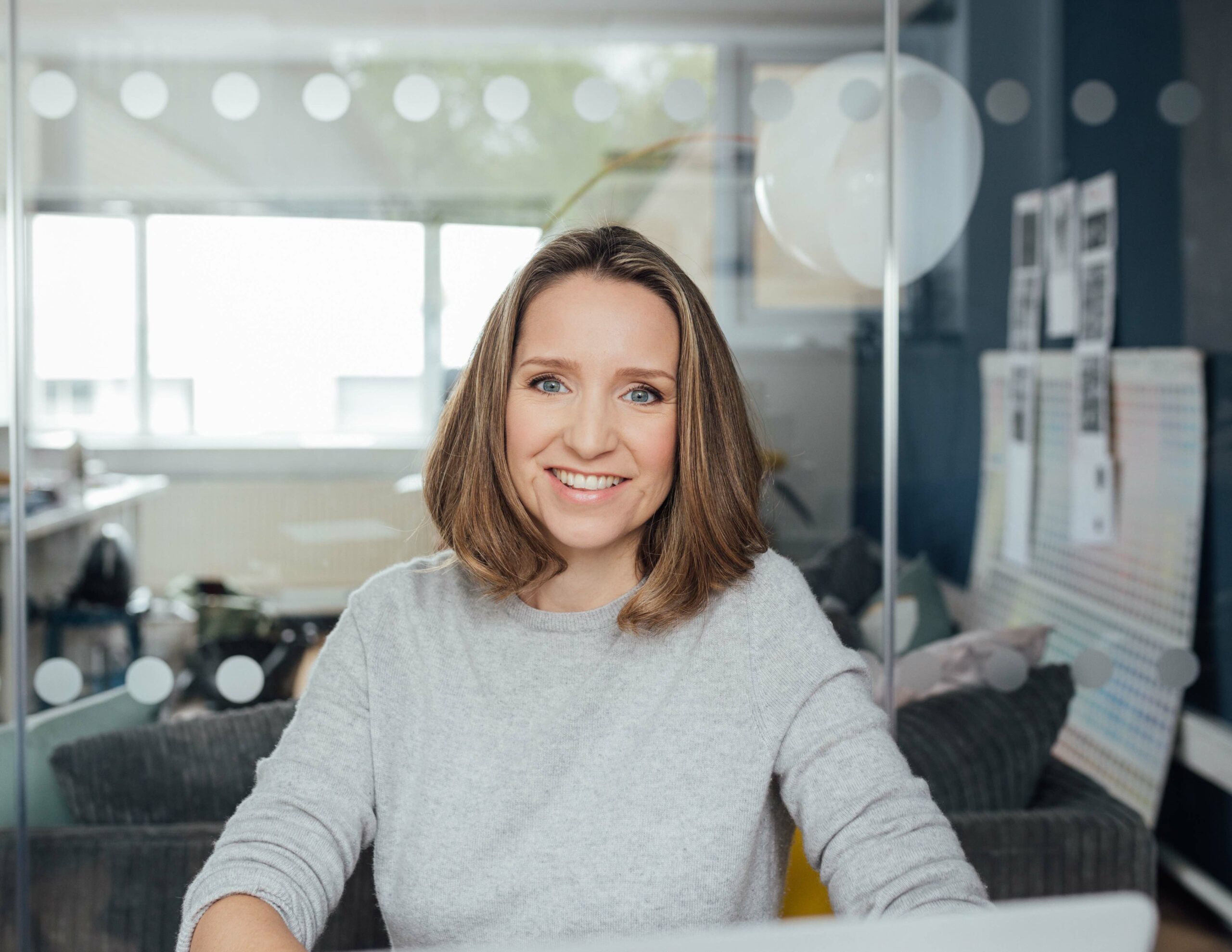 Why is Pai the brand you decided to create?
Like many businesses, mine started with a personal problem I needed to fix. I developed a skin condition called chronic urticaria in my 20s—it's basically extreme hives—and trying to manage it was a daily frustration. I couldn't get consistent advice on it. The medical treatment route wasn't a sustainable solution, and I found myself with a bathroom cabinet full of products claiming to be hypoallergenic that made me itch just looking at them.
I lived with my condition for a long time until I realized I needed to take positive steps to be and feel more in control of it. Poring over ingredients lists helped me do that and led to a fascination in the remedial properties of plants. It also fixated me on the need for more transparent labeling to help people, especially those with allergies or conditions, know what was in the bottle. Over time, my love of natural drew me to organic farming and certification. It's very broad ethical dimensions really spoke to me.
What products did you launch the brand with?
I started with four moisturizers, an eye cream and an absolute rubbish lip balm. The lip balm got discontinued fairly soon after. You have to remember that I didn't come from this industry. I have instinctively grown and built Pai. I started from the premise that sensitive skin could take many forms. Back then as now, we tend to categorize our skin by type. You have oily/blemish-prone, dry/mature and so on. The range of moisturizers was by skin type, but focused on sensitive skin first.
The first-ever product was what we now call The Pioneer. That was a moisturizer for sensitive skin that was blemish-prone. What I found at the time was that, if you wanted to buy an organic, natural moisturizer for sensitive skin, there tended to be an assumption that your skin was dry, and the moisturizers would break me out. I wanted a truly organic moisturizer that tackled sensitivity and blemishes.
Why did you manufacture the products yourself?
I didn't know where the brand would go, and I just started making it myself. I did courses on how to ensure it was being produced safely and what tests I had to conduct. We started out very much out of the garage. I was completely bootstrapped. I couldn't sink thousands of pounds into inventory for six SKUs. In those early days, when talking to fellow entrepreneurs, I heard they ran into challenges sitting on inventory they couldn't move, and skincare has a limited shelf life.
As time went on, I realized how special it was to be close to every piece of the supply chain. Where the ingredients are sourced from is critical to me. Not losing control over knowing how they're being harvested, extracted, shipped, stored and handled in production became more and more of a driving purpose. With scale, there has been more pressure to outsource, but we have said no time and time again.
The fact that we make our products is part of who we are. The ingredients are very expensive. They are beautifully grown, and carefully extracted and handled. How they are processed is very important. You can't overheat these ingredients. So, that's why we want to maintain complete control and that connection to the product. We have had to find a way at each stage of growth to keep that in-house. It's not commercially practical to do, I'm going to be honest about it.
To fund Pai, in addition to series A and series B raises, you have opted for debt financing. Why have you done that?
We have always had a very supportive bank. We have done it through straight loans and supply financing, which is different from factoring. It's really helpful because you can order a lot of raw materials and packaging that you can't monetize for six months at a minimum. The main piece with debt financing is it's very helpful to show that you are profitable, and we have been able to stay profitable 12 years out of 13. That has enabled us to raise that debt.
Looking back at how you've funded Pai, is there anything you would've done differently?
I think we bootstrapped for too long, and I would probably do that differently. I would have raised more meaningful money sooner and brought in more expertise quicker. It's very hard to grow a brand organically with no money, even more so now where you are operating in an incredibly noisy space. There has been a lot of fast growth in this space, but, in speaking to a number of potential partners for our recent investment round, what we heard is that long is strong. We made life substantially harder and more expensive by making our own products as we've tried to scale, but I hope it gives us credibility, and we are continuing to cement our reputation for sensitive skin and organic formulation. I think the organic piece has been overlooked, but it's about to have its moment.
Why was it the right time to raise a series B round?
Pre-COVID, it was always the plan to raise money. We always wanted to get the rebrand done first. That took longer than we thought, and there were supply chain pressures that COVID brought, but we got the rebrand done in September. We had been working on it for three years to really get our positioning clear. We invested so much in getting the brand clarified and refreshed that we didn't have as much money as we wanted to really market it. We were very conscious that this was our moment to drive awareness and customer acquisition.
We were growing at a steady clip and, when you make your own products, you have to plan ahead, at least 18 months ahead for the production space. We were starting to look at mixing vessels that were expensive, and we knew they would barely fit through the door. This raise is about future-proofing our model and really making sure we can grow our manufacturing side. We also wanted to accelerate the DTC piece. We were delighted that COVID didn't impact the raise.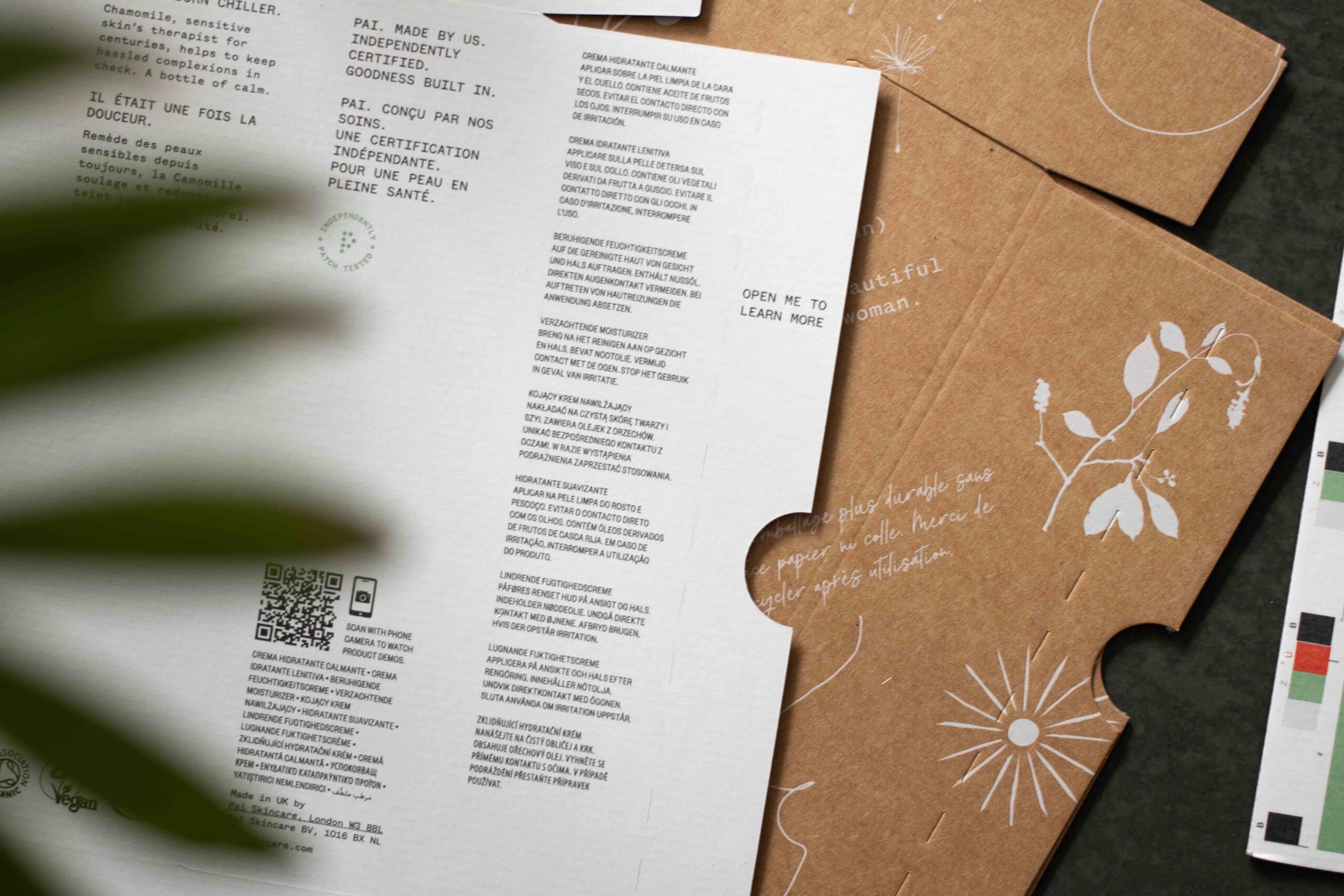 What are the biggest things you wanted to accomplish with the rebrand?
Sustainability was a key driver. We had been using bioplastics for some time and had taken laminates off the boxes. We already used a fair amount of glass. We were doing things OK, but we knew we could do better and the industry had caught up. Years ago, manufacturers didn't have as many options. Now, there is much more PCR plastic, and you can move to 50% recycled board. If you look at our box, it was about how do you get all the information on it so you don't need leaflets and you aren't using adhesives?
Identity was another piece. Our old branding was outdated, not surprisingly because I did it years and years before when the natural category was a fraction of the size it is today. I really didn't think it reflected the brand or our core values. A big part of that is storytelling and a big part of storytelling is product names. We agonized over whether we should rename the products. We did because we wanted the product names to be more distinctive, protectable and recallable. We asked, "Does the name really capture the absolute essence of the product? What is the product there to do or does it have a hero ingredient with extraordinary properties?"
If you open up the boxes, there's a story about the naming inside of them. A lot of it is personal to me. It really brings to life the passion we have for the products. In the past, we often talked about the passion we have for manufacturing, for organic and the values of the brand that haven't changed, but we failed to connect the dots for the end consumer. That's what the rebrand did.
You were vocal on social media when Ren released a product that you concluded was infringing on Pai's British Summer Time trademark. Why did you decide to do that?
We had global trademarks for British Summer Time. It was clear-cut infringement. We were vocal about it immediately because we had no time to lose. We needed to act quickly and decisively. We had another British Summer Time product launching two weeks later and a third in May. We're building a sun capsule around this name.
At any one time, we are having to defend multiple trademarks in multiple jurisdictions. The cost to defend is exponentially more than the cost to file. The bigger issue is timing. Even when you have a trademark and earlier rights, it can take at best months, but often years to tackle an infringement. It's very easy to work the system and drag the legal process out ad nauseam. The system is fundamentally pretty flawed and stacked against smaller businesses.
Credit where credit is due, Ren was absolutely fantastic. It was a genuine oversight on their part, and they jumped on it and owned the mistake. They were very professional and responsive, and the product was immediately withdrawn from the market and renamed. I'm hugely grateful to them.
We were one of the lucky ones and got the outcome we needed. That's rare. Often, the infringement is intentional, with bigger brands brazening it out. This is happening all the time, even in situations where, if it went to court, it would be a nonstarter, slam-dunk case. Smaller brands often can't afford the legal route of enforcement, and I think that's fundamentally wrong. If you have gone to the lengths to protect your brand equity, you should be able to defend it more easily.
All I want is for bigger companies to think twice before they infringe another brands' IP that is getting in their way. I think the assessment from some is that, "This is a tiny company, they won't be able to fight us." They're just seen as collateral damage. Going the public, social activism route is one way to do that, and the route many small brands are finding themselves forced down now.
You don't use the term "clean beauty." Why?
There are a ton of positives to say about the clean beauty movement. It has massively expanded the natural category and gotten consumers interested in ingredients. The challenge of it—and you hear this from many quarters—is that it's an ill-defined term, and it's leading to consumer confusion. We have different brands creating their own standards with no objectivity. In some instances, are they doing a good job? Sure. In some instances, are they not? Yes.
We have tried to help really great retailers do their own standards, but the problem is there is no unified one. We need a very clear standard. We have always described ourselves as "beyond clean," and I really believe we are because we have been certified organic, vegan and cruelty-free for years. We have stated our values and become certified against those values. Those are established frameworks, and that's very important.
Organic has been overlooked. So few people understand the broader dimensions of organic certification. It's about so much more than how the plant is being grown. It's about how the local communities are being affected and minimizing contamination in their environment. It's about how the farmers are being treated. It's about what happens when ingredients go into waterways. It's about not using endangered plants. I could go on and on. Organic is a robust standard.
The longstanding criticism of it, in particular in the UK, was that there was a lack of sophistication or perceived sophistication in skincare formulation and the packaging aesthetics. The other criticism was about applying a food farming standard to skincare. Some people didn't feel it could possibly be a useful standard to apply to a skincare product, but that's changed. In Europe, the Soil Association made a smart move to harmonize with COSMOS for one beauty industry standard. It's a very robust standard and carries the broader ethical dimensions.
I think this is a moment for COSMOS and the USDA to clarify their standards and educate on why they are important. I was drawn to the organic standard years ago because I could see the broader ethical piece, and those are the values I want to be our compass. We have been audited every year for over a decade, and I think customers want that independent monitoring. People want to know that due diligence is being done, and that's also why we love our vertical integration model.
There are a lot more brands targeting consumers with sensitive skin compared to when Pai started. What do you think sensitive skin means in the market now?
I can only speak from my perspective. We have plenty of customers who I would say have challenging or difficult skin, skin that has kept them awake at night or made them lack confidence, and not all of it is sensitive. We see it as much broader now. We reference sensitive, but also challenging or difficult skin. Someone with acne who we feel we can really help wouldn't have skin that they would call sensitive. There are different types of sensitive, too. There are conditions such as eczema and psoriasis, but the much bigger segment is sensitized skin, and that is easier to manage.
What are your goals this year for Pai?
We have aggressive growth targets, but we think they are very achievable. Sometimes when you raise money, the assumption is that it is to help you enter new markets. That's not our strategy. Our strategy is to consolidate and strengthen our current retail partnerships. So, we are not going after new markets at all. We feel there is a lot more to do with our retail partners, and we can use our retailers as brand platforms for us. We are working on a DTC plan. We want to bring in more people to grow the team. The big focus is making sure we are planning for the growth so that we can drive awareness and meet demand. Not enough people know about Pai.