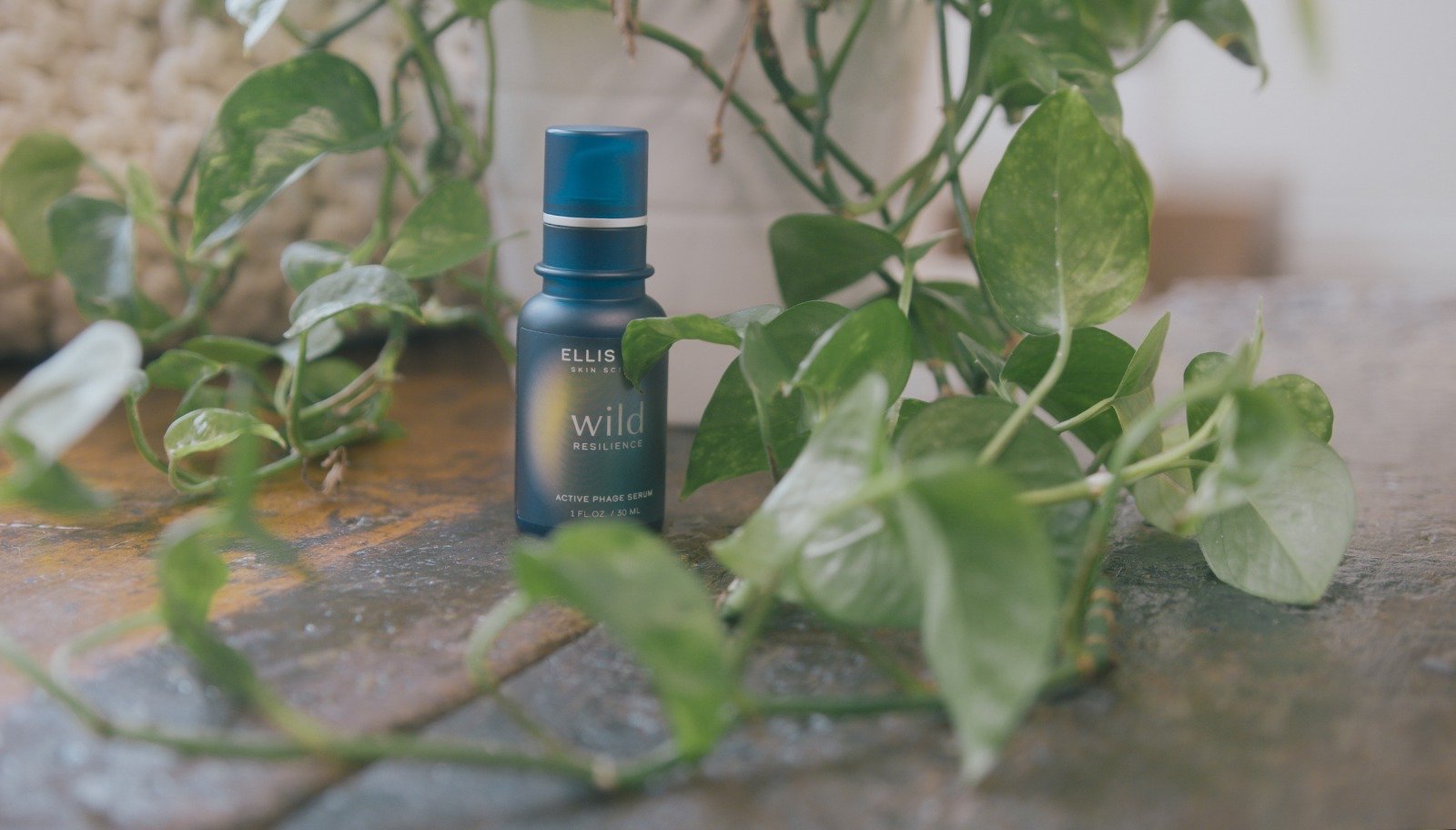 Phage First: New Brand Ellis Day Skin Science Powers Products With Tiny Bacteria Eaters
If there's anything that's been revealed by the pandemic, it's the power of microorganisms invisible to the human eye.
While the coronavirus is a force for ill, many microorganisms are forces for good. Skincare brand Ellis Day Skin Science is harnessing beneficial microorganisms—specifically, phages that keep bacteria in check—to reduce inflammation, redness and blemishes with its debut product, Wild Resilience Active Phage Serum. Believed to be the most abundant organisms on earth, phages, known more formally as bacteriophages, meaning bacteria eaters, are viruses that infect and destroy bacteria.
"This is a brand new active ingredient that's completely natural. It belongs on your skin," says Ellis Day CEO Carol Christopher. "In a perfect world, you would have all the right phages on your skin to kill all the bad bacteria on it, and you would have a perfectly balanced microbiome. In an imperfect world, we are just helping you do that."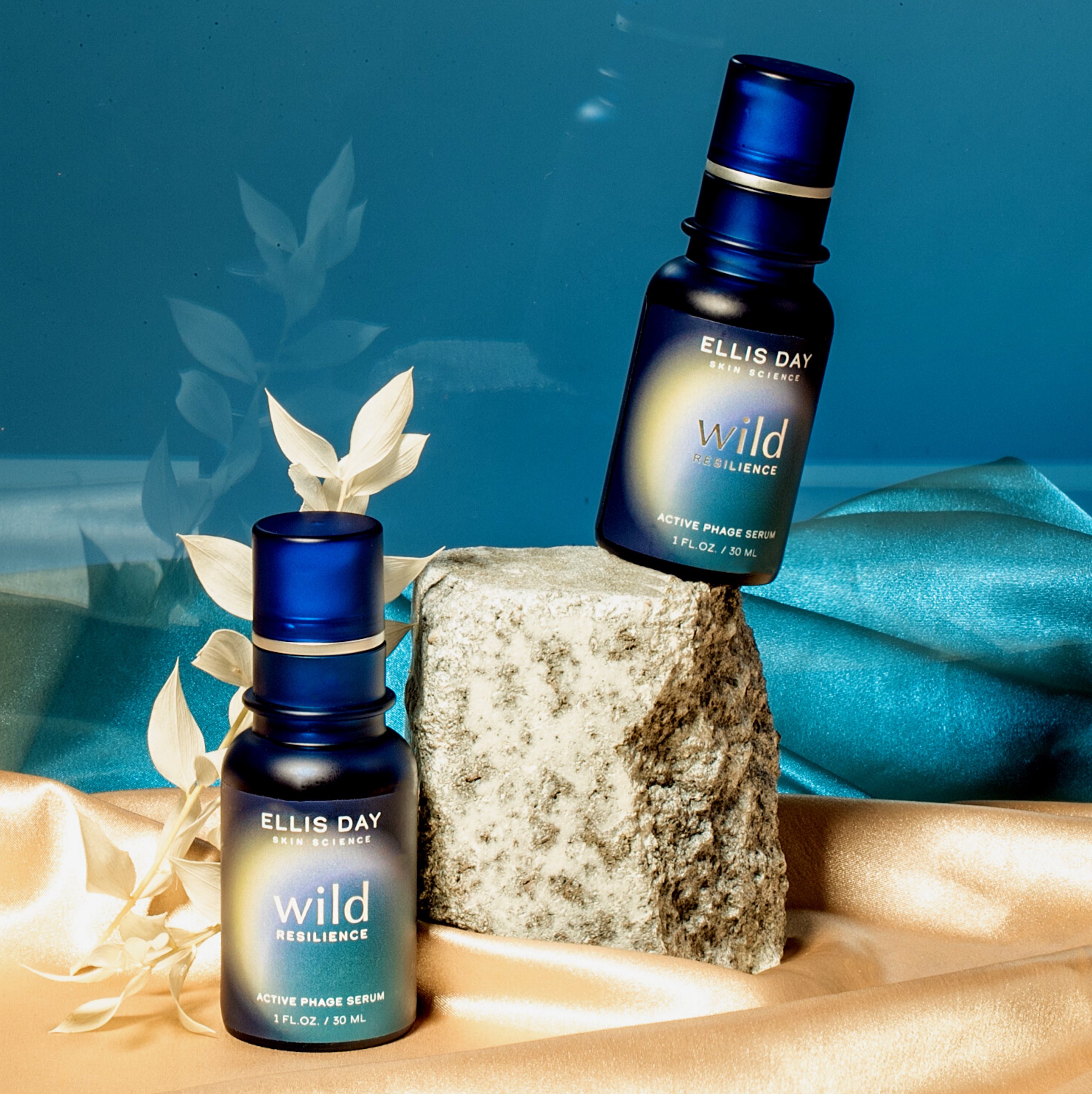 The scientists Frederick W. Twort and Félix d'Hérelle discovered phages in 1915 and 1917. Ellis Day is named for Emory Ellis and Alfred Day Hershey, leading bacteriophage researchers that advanced Twort's and d'Hérelle's work by exploring the roles of viruses in cancer and phage genetics, respectively. In recent years, companies have begun the process of commercializing phages for medical purposes, and phages have been employed on fruits and vegetables to combat E. coli.
The application of phages to beauty products is nascent, but picking up steam. The Dutch company Micreos, for example, has developed a brand called Gladskin tapping phage byproducts to counteract the bacteria instigating acne and eczema. Christopher explains that a major breakthrough to bring phages to the beauty industry is DNA sequencing capabilities to identify bacteria that give rise to skin issues such as breakouts and discoloration, and the phages that target them. Wild Resilience Active Phage Serum features a blend of two phages Ellis Day has dubbed Cutiphage.
"This is a brand new active ingredient that's completely natural. It belongs on your skin."
The brand screened hundreds of phages to ensure the bacteria the phages in its formulas are going after doesn't become resistant to them, and conducted a clinical study to validate the phages eliminate the damaging bacteria they should eliminate and allow favorable bacteria to flourish. "We are very grounded in science and have an evidence-based approach to everything we do," says Christopher. "We are not putting out cosmetics that just look and feel good. We actually have data so that we know what our products are doing."
The phages are suspended in a solution containing glycerin, sodium levulinate and magnesium chloride, among several ingredients. Christopher explains it was crucial for the solution to have the proper pH level to keep the phages alive for a shelf life of six months and beyond without refrigeration. She says, "The phages like being in a plant environment, so all of the other ingredients are plant-derived."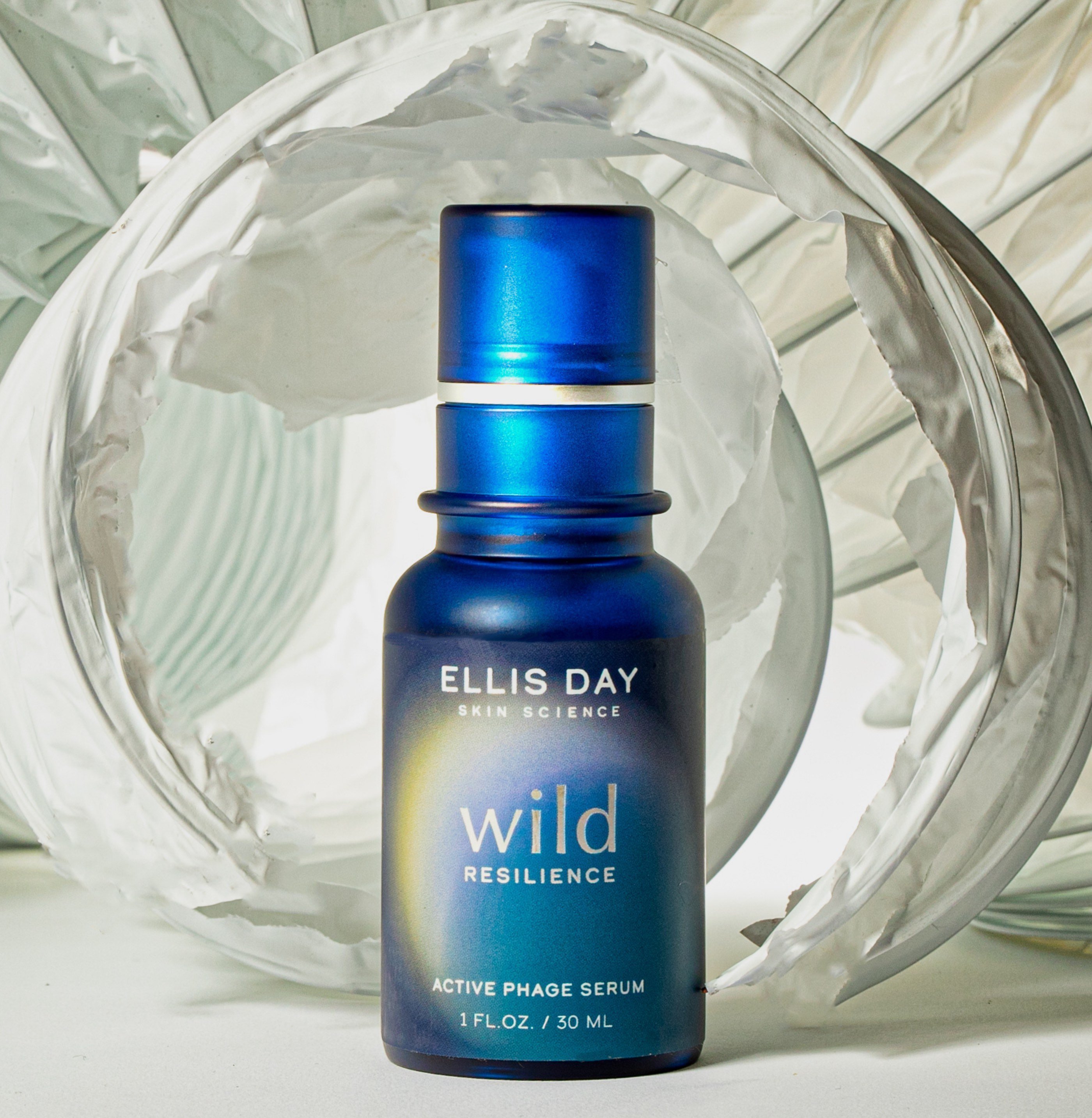 Ellis Day has tested its serum on about 60 people. While the brand created the product to fight blemishes and breakouts, which it's finding are being alleviated with its formula, Christopher reports early testers are most pleased by improvements in skin tone and texture. "They love the way their skin feels," she says. "For our audience of 25- to 40-year-olds, we are realizing that skin health and wellness is a much bigger goal than getting rid of a pimple or wrinkle." Ellis Day instructs consumers to use its serum once daily after face washing.
The 1-oz. serum is priced at $85, but the brand is offering a 20% discount for its first month of availability to entice consumers to try it and provide a break amid the economic slump. The product is housed in 100% recyclable materials. The only packaging element Ellis Day depends on that's not recyclable is a silver infill bag for protecting the serum from ultraviolet rays and heat during transit. The brand has chosen a vibrant blue for its serum bottle accented with luminous circles that represent the glow of the phages in contrast to the minimal, black and white packaging that has dominated the indie beauty segment.
"We are not putting out cosmetics that just look and feel good. We actually have data so that we know what our products are doing."
Ellis Day raised $1.8 million to get off the ground, and 40% of its funding is from institutional investors, including M34 Capital, with the remainder from friends, family and angel backers. The brand is kicking off with a focus on direct-to-consumer distribution. In addition to its website, it's heading to the luxury beauty assortment on Amazon and various e-tailers. Christopher mentions DermWarehouse as an e-tailer it will enter within the next six months. Due to its decision to start with a single stockkeeping unit, she doesn't think Ellis Day would have enough of an in-store presence to justify rolling out to a large retailer yet. It also lacks the infrastructure to support its business at a big retail chain at the moment. For its initial year on the market, Ellis Day's goal is to reach $500,000 in sales.
Christopher envisions Ellis Day expanding across the beauty and personal care merchandise repertoire. It already has plans to introduce a second and third product this year. "We are looking at body skincare. Phages are all about killing specific kinds of bad bacteria. You can think about any kind of bacterial scenario on the human body, and those would be opportunities for phage-based products," says Christopher. "The key activity is about identifying the specific bacteria causing the problem and finding the phage to eradicate those bacteria."
The pandemic has forced Ellis Day to recalibrate its launch strategy. It's pulled back from events, and amplified content and paid social media advertising. The brand is doubling down on its scientific expertise. "We want Ellis Day to be viewed as a credible resource for information about the science of having healthy skin," says Natalise Kalea Robinson, VP of brand marketing at Ellis Day. "We have blogs and videos on our website that we are building upon every day as well as community emails and direct communications with our consumers. We are already seeing organic growth on Facebook and Instagram. What's really exciting to see is that our community is already talking to each other."