Refill Shops Are Proliferating To Combat Personal Care's Plastic Problem
Shopping and sustainability aren't the most likely combination, but a growing number of refill stores popping up across the country are showing people how they can stock up their bathrooms while minimizing their impact on the earth. They enable customers to load and reload reusable vessels with everything from face serum to body wash to prevent plastic from flooding into oceans and landfills.
The advancement of refill retail is happening as consumer surveys are increasingly detecting that people are inclined to pay a premium for sustainable goods. A recent survey of 1,017 American adults by GreenPrint, an environmental technology company, discovered nearly two-thirds would pony up for eco-conscious merchandise. However compelled consumers might be to make sustainable choices, refill stores aren't without complications. There are sanitation concerns, tougher margins than customary retail and shopper unfamiliarity that forces refill store owners to provide a heavy dose of consumer education. Undoubtedly, though, consumers will be learning a lot more about refills.
"I do think we're going to see a wave in the next five, 10 years and eventually have tons of zero-waste stores—and I'm really happy that it's a local, grassroots thing," says Kayli Kunkel, owner of Earth & Me, a refill shop in the New York City borough Queens. "For true sustainability, I personally would never want to have a thousand stores. I can't be present to that. I can't make those local connections. And I think, in a more sustainable world, we would all have connections to the people in our neighborhood who are making some of the things that we need. That supply chain would be very local and personal. So, I'm a big fan of having a store like ours on every block."
Refill stores may not be appearing on every block yet, but they're certainly filtering into many blocks in both tiny towns and major metropolitan areas. Allison Burgund opened Fill & Refill in Edwards, Colo., two years ago and moved it to a new space in the small town's Riverwalk commercial district in August. For the local community of under 10,000 residents, it's aiming to make a dent in the waste stream. Burgund estimates Fill & Refill, which offers shampoo, lotion, dish soap and other essentials in bulk, has saved some 5,630 plastic bottles from heading to landfills.
"Fill & Refill is a business that started in my garage," says Burgund, a graphic designer by training. "The first storefront I had was literally a storage closet. It was tiny. I was brand new to retail, but I felt so passionately about it, I just dove in."  When she set out to start Fill & Refill, Burgund figures she knew of three existing refill stores, and they were in New York and California. Established in 2010, The Refill Shoppe in Ventura, Calif., is a refill retail pioneer.
Since Fill & Refill came to life, the concept of refill has gained ground, but Burgund describes getting consumers accustomed to it as "a slow process." She says, "I'm still educating people every day." Nonetheless, she adds, "This is a wonderful business to be in because everybody who comes in is so happy that this option exists. The typical response from customers is, 'This is awesome! I didn't know this existed.' And, then, the next question is, 'How do I do this?'"
At Fill & Refill, shoppers weigh their empty containers before packing as much product as they want into them. Once they're done, they weigh the full containers. "We take away the weight of the container, and you just pay for what's inside," explains Burgund. Items are priced by the ounce.
Tatyana Reisini owns Good Earth Essentials, which is billed as "Charlotte's First Zero Waste Shop" and debuted in 2019 as a refill station pop-ups at local markets. Similar to Burgund, she's witnessed customers' enthusiasm when they encounter the refill format. "We just started with simple things like body soap and multipurpose cleaner, just to get people to notice us and to introduce them to the refill model," says Reisini. "There wasn't anything like that in Charlotte, except for Whole Foods and things like that. It really caught on. A lot of people would say, 'I've been waiting for something like this to come to Charlotte,' or 'I didn't know you guys existed. I've been looking for this for so long.'"
Good Earth Essentials settled into the Charlotte food hall 7th Street Public Market in late 2020, and Reisini broadened its product assortment. The shop has a refill station with bulk inventory of everyday staples such as face lotion, body wash and deodorant cream. "The accessibility and the availability of these things is really exciting to people," says Reisini. "Business has grown exponentially since the pop-ups. People come in and say they've been following us on Instagram and are excited to fill up their own bottles. I encourage people to bring in any containers that they have. It can be plastic, it can be a Mason jar—whatever it is works."
"I do think we're going to see a wave in the next five, 10 years and eventually have tons of zero-waste stores."
Cristina Guerra takes a different approach to refills. In 2018, the Austin resident founded Luxe Refill. Offering plant-driven bath and body products in refillable containers, it initially sold via direct-to-consumer distribution and delivered locally in Austin. Customers outside of the Austin area rinse their empty bottles and send them back to the company to get sanitized and reused. In September, Luxe Refill is introducing a brick-and-mortar location. "My dream all along was to have a retail store," says Guerra.
Luxe Refill's forthcoming store will sell pre-filled bottles of shampoo, activated charcoal deodorant, beard oil and smoothing hair serum, among an array of items. As for installing a refill station, Guerra says, "I go back and forth on that. My initial plan was to only allow customers to refill cleaning supplies like dish soap and laundry detergent, things like that are pretty acidic, so they don't harbor bacteria and mold, but any personal care products customers will not be able to refill themselves."
She elaborates, "When you're talking about any kind of liquid, whether it be an oil or something water-based like a lotion or a conditioner, you have a really high risk of contamination of bacteria and mold growth. You just don't want that on your skin." Plus, Guerra foresees laws shifting to address the risk of contamination. "The responsibility is on me to make sure that every product a person buys is clean and sanitary," she says. "And that's just not going to happen if you're hand-washing [bottles] or even using your dishwasher at home. That really does need to happen on a professional, industrial level. I just want to make sure that every product my customer gets is sanitary."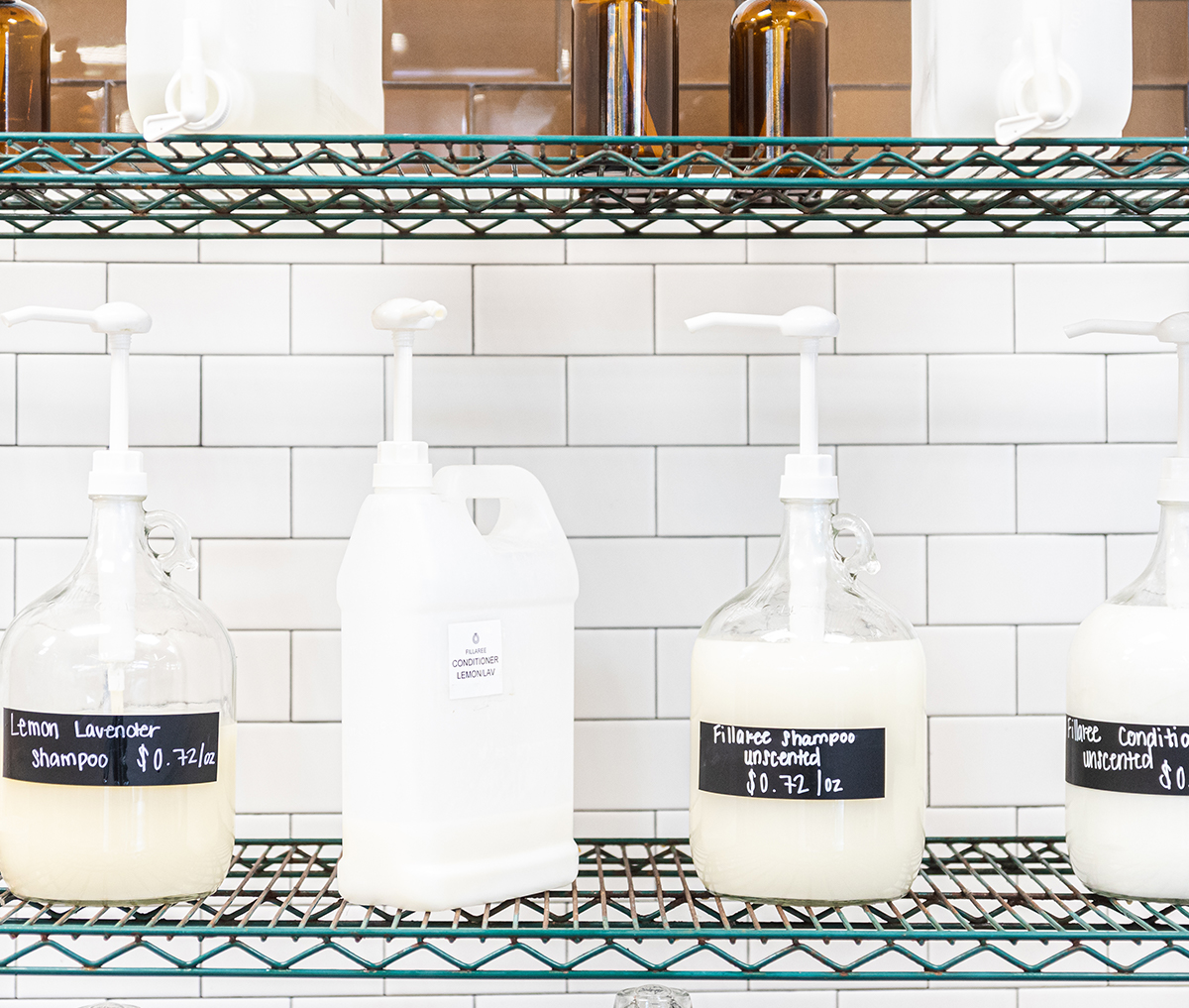 Kunkel opened Earth & Me last year and will relocate it to a larger storefront in Astoria next month. She hatched the idea for her business during the pandemic and the Black Lives Matters protests that occurred in the wake of George Floyd's murder last year. "I made a little challenge for myself to only purchase essentials from Black-owned businesses for the months that I was at home," says the former marketing director. "But, through the process, I realized that there's not really a place to go to [support Black-owned businesses and reduce waste] at once. You have to do a lot of research around Instagram and Etsy. So, opening Earth & Me dawned on me in this one perfect storm. My mission is to reduce single-use plastics, for sure, but it's about intersectional environmental racism as well."
Earth & Me's tagline is, "Eco-friendly items that are good for makers and the planet." Almost all of the items Earth & Me sells are from female-founded, brands based in the United States with inclusive leadership teams. "I look for partnerships where the human behind the brand is very present," says Kunkel. "So, I try to stay away from companies that are so large it's hard to reach the person who originally had the idea. I work directly with the makers as much as possible."
Carrying a range of merchandise, from cleaning supplies to self-care products, Earth & Me stocks muscle rub from Plant Magic by Ndidi and sustainable makeup from Principle. At its refill station, customers can replenish hand soap, toothpaste tabs, body wash and face scrub. Kunkel says, "People use old takeout containers or old glass jars or even their plastic bottles that they bought and refill them with soap."
"The responsibility is on me to make sure that every product a person buys is clean and sanitary."
Kunkel points to her partnership with Priya Narasimhan, the herbalist behind the skin. body, and haircare product line Priya Means Love, as a particularly collaborative one. "She was selling her products on Etsy, but I reached out to her and asked if she'd be interested in selling it at a store and doing wholesale," says Kunkel. "She was really excited about it. We worked closely together to bring her brand to the store and find the right price point and the right materials. As soon as I mentioned the refillery, she was right there, ready to do it."
Reisini has had an analogous relationship with Revival Body Care and its founder Nicole Dzurko. "I just reached out to her on a whim because skincare products were one of the things that I had trouble finding in sustainable form. I asked her if she'd be open to selling her body oils and facial cleansers in bulk, and we could figure it out in terms of cost," says Reisini. "It was a really great process just working with her and figuring it out, and getting her some tougher plastic bottles. She ships them full to me, I refill my containers, then I ship them back to her so she can refill then and ship them back to me, and it just continues the circular economy."
By contrast, Kunkel tested a partnership with a large soap company that sent her its product in 5-gallon plastic jugs and declined to take the packaging back for reuse. She's also encountered resistance from direct-to-consumer brands hesitant to sell locally because they have a subscription or refill model on their existing channels. "I always think it's disappointing when they're not willing to work with local partners because my belief is that, if you're truly passionate about sustainability and reducing the footprint, you would want to have local partners," says Kunkel. "It just makes sense."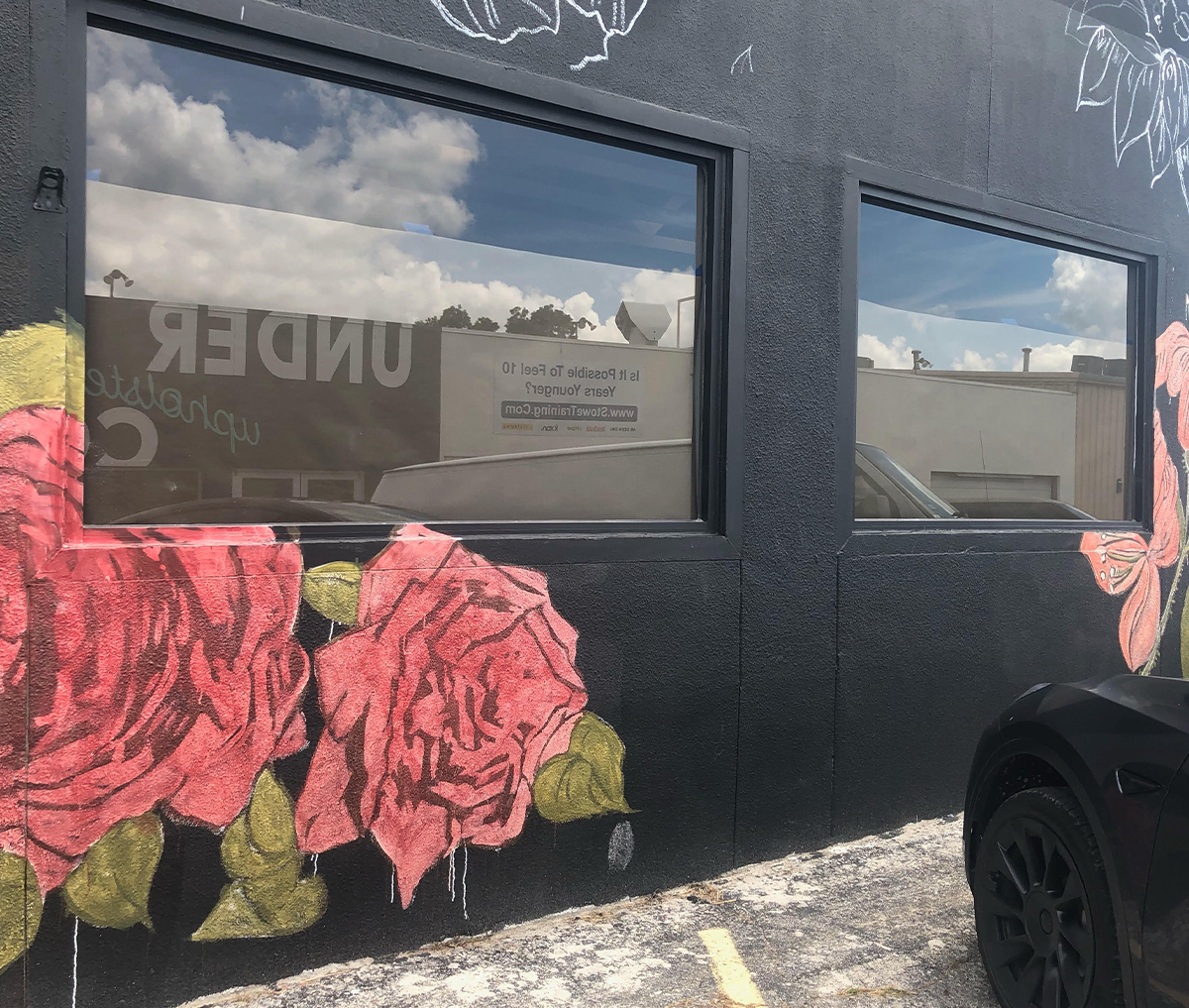 Kunkel is open to sharing her knowledge with beauty and personal care entrepreneurs, and wannabe refill shop owners. She's held free consultation sessions for them—and she keeps in touch. Kunkel says, "We give each other tips and advice, and it's pretty fabulous to see them start their stores and to be a part of that in a small way."
Guerra hopes to serve the refill movement in a bigger way. "I personally would love to have a central Texas hub to service refill stores," she says. "I would be able to take empty bottles and sanitize them and get them back to the small business owners, and really help them transition their business models to follow all the sanitary processes. Generally in this area [of Texas], there aren't a lot of businesses selling to refill businesses. So, that's another gap that could be filled, and I would love to be able to offer those services."
Guerra adds, "You don't really want to have to ship an empty container halfway across the country, it's bad for the environment and, because as a refill business we don't have the buying power of a Target or a Walmart or even a major grocery store, it does cost more money for the consumer. And generally they're the ones that take the hit. As a retailer, it's really difficult to operate on less than a 50% margin just because you're having to factor in the cost of your rent and the cost of employing people to work at your store, and we personally pay living wages. I don't have anybody employed less than $15 an hour. It's the right thing to do, but there is absolutely a price tag associated with that."
"Generally, the idea is a closed-loop system. So, if I'm buying five gallons of shampoo, I want that 5-gallon bucket to be able to be returned and refilled and reused."
Refill shops operate differently than conventional shops, says Guerra. In her experience, traditional wholesale markups don't work for refill. "I don't have the margins to market my product times two times two, basically. I can only really function profitably going direct-to-consumer," says Guerra, continuing, "A complaint that consumers have in general about eco-friendly products is, 'Why are they so much more expensive? Why are all the [synthetic] chemicals so much cheaper? Why is the bad stuff that's bad for the planet and bad for your body so much more cost-effective?' But, in our model, you take all of those factors and, then, you add on the cost of sanitizing and refilling, which is manpower. Because I personally am refilling and sanitizing all my bottles, I do have to factor that into the cost of my product."
As for stores that allow customers to come in and refill vessels, Guerra says, "That's a different model, but you still have the issue of losing product, of spilling, of customers pumping out products and making messes, that's another factor. I wouldn't say that somebody's going to go out of business because of the cost difference, but it definitely changes the way I operate. I have never, in the past three years, participated in Black Friday sales on a huge scale because it's just not feasible, and I know a lot of other shops that feel the same way. There's just really not the margin to go, OK, 'I'm going to discount the whole store 40% off.'"
For brands interested in partnering with refill shops, Guerra advises, "Generally, the idea is a closed-loop system. So, if I'm buying five gallons of shampoo, I want that 5-gallon bucket to be able to be returned and refilled and reused." That's not always doable for brands. As a result, Guerra has had to repurpose containers herself for reuse. "I work with a local company that's here in Austin. They will not take any empty containers back because they are hazmat-rated facility. So, that's a huge hurdle to overcome, especially with products that have a shorter shelf life, and that aren't using super strong, toxic preservatives," she says, noting, "I can only name maybe a couple of wholesale brands that will take those 5-gallon buckets back, and they are covering the cost of that return, and that's not cheap."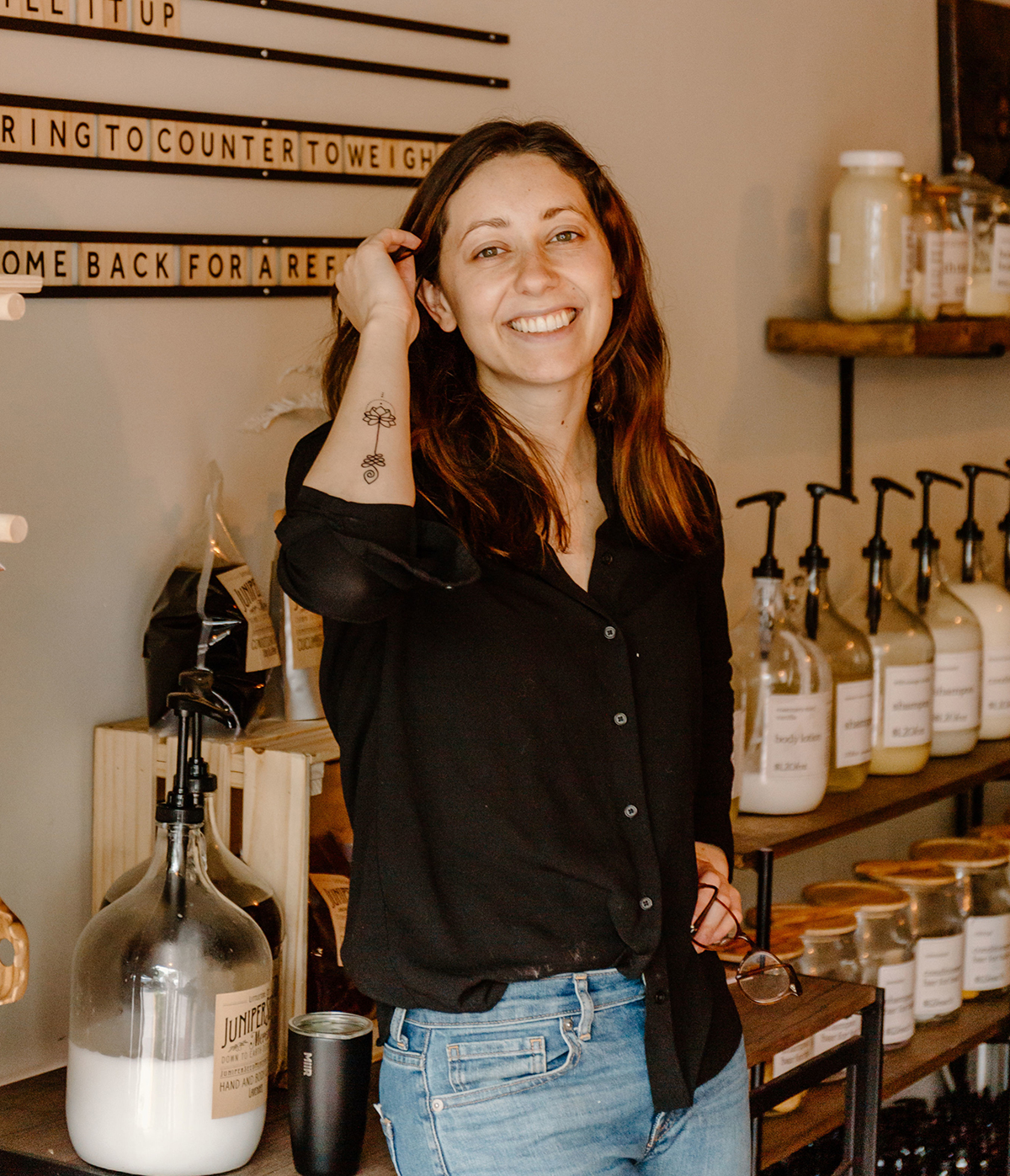 Guerra believes there are several strategies that could augment profits in the refill retail segment. "Have each state or each region sort of takes care of themselves and, instead of having to cover the cost of shipping all the way across the country, maybe it's a co-op type situation where a group of refill stores band together to get greater buying power. Those are all things that will help make it more profitable," she says. "And, as the demand increases, it increases our buying power. As more customers become aware and are willing to change their buying habits, then we're able to buy at a greater discount and pass that savings onto the consumer."
KEY TAKEAWAYS
A growing number of refill stores popping up across the country are showing people how they can stock up their bathrooms while minimizing their impact on the earth.
They enable customers to load and reload reusable vessels with everything from face serum to body wash to prevent plastic from flooding into oceans and landfills.
Established in 2010, The Refill Shoppe in Ventura, Calif., is a refill retail pioneer, but many newcomers have arrived on the refill retail scene. Among the newcomers are Good Earth Essentials in Charlotte, Earth & Me in New York City, Luxe Refill in Austin and Fill & Refill in Edwards, Colo.
Most consumers aren't familiar with the refill concept, forcing refill stores to provide substantial consumer education.
There is a risk of bacteria and mold growth with products at refill stores, so the stores have to be careful to fully sanitize their materials.
Partially because of the sanitization process and oftentimes a comparably high cost of ingredients in the products they sell, refill shops can be more expensive than conventional stores, and refill shops' margins may be slimmer.
There is a limited number of beauty and personal care brands set up to supply refill stores.