Sheet Mask Specialist When Brings K-Beauty To Costco Members
Costco isn't just a place to purchase 64-oz. jars of mayonnaise. It's increasingly becoming a beauty destination, too.
For warehouse club shoppers seeking skincare, When is taking its sheet masks to the company's over 530 locations across the United States as well as 100 locations in Canada. Members get the masks at a price that can't be beat. At Costco, a 10-pack featuring five varieties of When's masks is $20. At regular price, 10 masks would be $70.
"At Costco, your product is recognized to be very good and premium because Costco only carries a selective assortment. Whatever's in there, the buyers have chosen it as the best in that category," says Jenny Jhung, managing director at JC People Co. Ltd., owner of When. "It carries a great image, but, also, the consumers won't pick up something that they don't know. To be successful at major retailers in the U.S., we've found there's a lot of marketing involved, but, with Costco, because they have the volume, the marketing pays off."
Costco regularly orders tens of thousands of units at a time from beauty brands to sell to its huge customer base of 101.8 million cardholders. To put its customer base into perspective, it's not far behind Amazon's 112 million Prime members. Costco is helping drive When's sales on a course to reach $10 million this year. In the first quarter, the brand registered roughly $3 million in sales amid the pandemic.
The coronavirus hasn't slowed Costco's business. For the quarter ended May 10, its sales jumped 7.3% to $36.45 billion. In an earnings call, Richard Galanti, EVP and CFO of Costco, noted shopping frequency in the U.S. dipped by 2% while the average transaction was up 9.3% as shoppers stocked up during the trips they took. About 8% of Costco's sales, e-commerce surged 64.5% on a comparable basis.
For brands, Costco can be a tough partner because its margins are thin. Discussing recent financial results, Galenti noted Costco's gross margin is 11% to 12% versus traditional grocery chains in the 20% range and big-box stores higher than that. Despite the narrow margins, the competition is fierce to land on Costco's racks, and brands that aren't able to sell at it are swiftly axed. To amplify its marketing efforts to thrive in Costco, When is turning to traditional press relations, influencer marketing and digital advertising with video content.
"Costco only carries a selective assortment. Whatever's in there, the buyers have chosen it as the best in that category."
The brand had to prove itself at Costco. It kicked off in seven doors at the warehouse club company three years ago. When's Costco debut came after it was carried by Sephora, where it premiered in 2012 and rolled out across U.S. stores in 2013. Four years into When's Sephora run, the retailer opted to move away from many of its third-party sheet mask resources to handle the sheet mask category under its private-label umbrella. However, the recognition When gained at Sephora interested Costco.
On top of Costco in the U.S., the biggest market for When, the brand is stocked by Belk and Anthropologie. Outside of U.S., it's available in more than 20 countries and 600 doors at retailers such as Rive Gauche in Russia and El Corte Inglés in Spain. The pandemic delayed When's retail launches in South Africa, Saudi Arabia and European countries. As a result, in addition to Costco, it's focusing on its own website and Amazon, which it's participated in previously to control pricing, but not to contribute significant sales. The brand is renovating its site in the hope it will generate $100,000 to $150,000 in sales this year. Ultimately, When aims to have its site be responsible for at least 10% of sales.
Jin Han Lee founded When in South Korea nine years ago to bring treatments from dermatologists' offices and spas to the general public. "His goal was to make the brand global. Even though we started in Korea, we didn't stay in Korea too long," says Jhung, mentioning breaking into Ulta Beauty and returning to Sephora are distribution aspirations for When now. The brand stuck with sheet masks for a long time. It only sold bio-cellulose sheet masks made from coconuts for its initial six years on the market. When's bestseller is the anti-aging sheet mask 10 P.M. with vitamin C, lipopene and watermelon extracts. Its core consumers are busy female professionals in their 20s and 30s who gravitate to impactful, innovative beauty products, according to Jhung.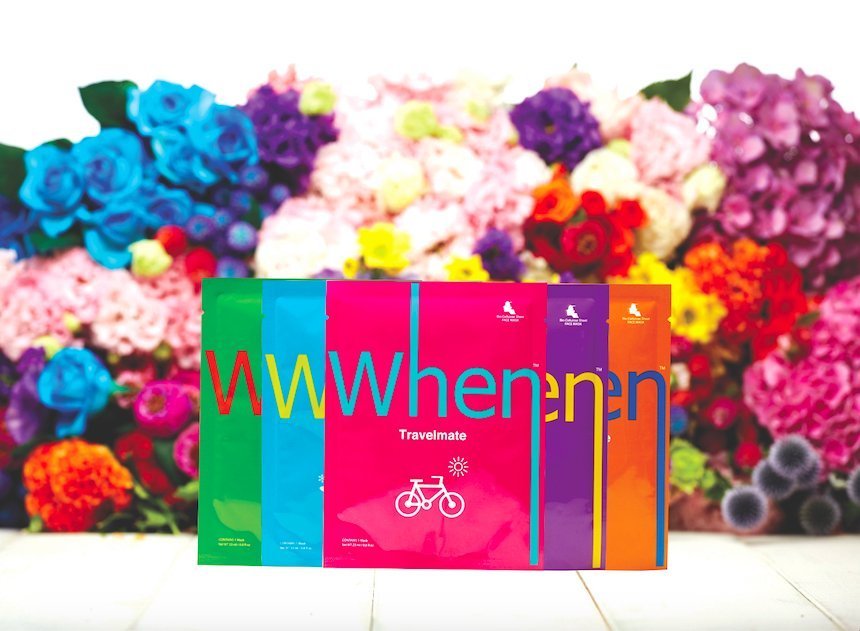 Sheet masks continue to be relevant to consumers in the midst of the pandemic. According to data from Social Standards reported in the publication Global Cosmetic Industry, sheet masks and clay masks rose in social media conversation volume as Instagram in the U.S. saw a 16% drop beauty conversations from March 7 to 21. Allied Market Research forecasts the sheet mask segment will hit nearly $4 billion in global sales in 2026, up from $2 billion in 2018 and accelerating at a compound annual growth rate of 8.76% throughout the period.
When has been been trying to diversify its assortment to not be fully reliant on sheet masks. Last year, it introduced an anti-aging skincare range centered upon green algae extract and has developed a line of essentials with hand sanitizers and feminine hygiene pads for release later this year. The brand currently has about 30 stockkeeping units. To support its product and distribution expansion, Jhung told BeautyMatter When has raised $5 million from angel investors, a Korean venture capital firm and an American biotechnology company.
"There's so much competition in the sheet mask category. It's become much more crowded than before. So, I think we have to become an overall solution, not just sheet masks," she says. "Sheet masks are very effective, and consumers, once they use them, realize how good they are, but they're not something they want to use every day."