Started With A Single Facial Oil, Flora Mirabilis Is Taking The Slow Path To Growth
In an era of instant gratification, Flora Mirabilis founder Jordan LaFragola prefers to take a slow and steady approach to building her skincare brand, even if it means spending three years to perfect a single face oil and rejecting an order from a major retailer.
"I just go with my gut," says the 32-year-old aesthetician, who has more than a decade of experience and used to work at The Beverly Hills Hotel's spa.
LaFragola mixed hundreds of iterations of Flora Mirabilis's face oil, and tested them on herself and clients spanning the age spectrum before finalizing its formula. In 2016, she launched Flora Mirabilis's hypoallergenic product with 10 organic and sustainably-sourced ingredients, and bottled it in a Renaissance-inspired opaque white container made of recycled glass decorated with a floral painting and topped with a wood cap. The brand's name means "wondrous flower" in Latin. Priced at $195, the 30-ml. face oil comes housed in an organic linen bag and eco-friendly wood box.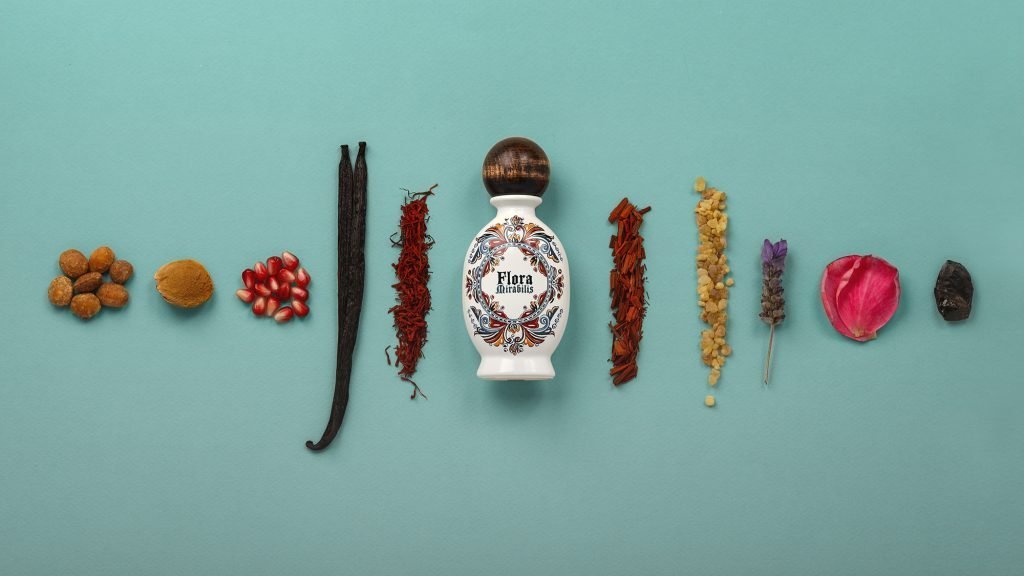 "Everything is intentional," says LaFragola over coffee at the Chateau Marmont in West Hollywood, near the small studio where Flora Mirabilis assembles its bottles as well as her home, where she concocts the formulations in an apothecary room.
Imparting a seductive, earthy scent, the brand's face oil's nourishing base features sacha inchi, apricot kernel and pomegranate seed oils. Infusions of vanilla and saffron give an antioxidant boost, and sandalwood, frankincense, lavender, rose and oud are rich in phytonutrients to address skin issues such as hyperpigmentation and breakouts.
LaFragola says consumers are savvy about the contents of skincare. The descriptor "natural" isn't enough anymore, she asserts. Instead, she shares, "It's more about, 'Well, what are the ingredients? What is it sourced from?'" LaFragola doesn't pay attention to trendy ingredients or the proliferation of competing face oils on the clean beauty market. "It's more about finding what works," she says, "rather than what everybody talks about at the moment."
"It's more about finding what works rather than what everybody talks about at the moment."
LaFragola's famous friends and clients, including social media celebrity Gigi Gorgeous, "Euphoria" actor Shiloh Fernandez and "General Hospital" actress Kelly Monaco, have touted Flora Mirabilis's formula on social media and television. "Good Girls" star and Harry Potter fan Mae Whitman raved in a testimonial on Flora Mirabilis's website that "this face oil is the Dumbledore of all face oils," providing "the ultimate hydration experience."
With laudatory reviews under their brand's belt, it's no surprise that Urban Outfitters reached out to LaFragola and Flora Mirabilis's co-owner, her boyfriend and painter Christopher Cuseo, a year ago with an offer to stock the oil, which is also available in 3-ml. vials for $35. The couple, sole employees at Flora Mirabilis, turned the national chain down.
"We really want to make sure everything is the right thing," says LaFragola of their decision to avoid the retail fast track. "We don't want to scale up too quickly to make money."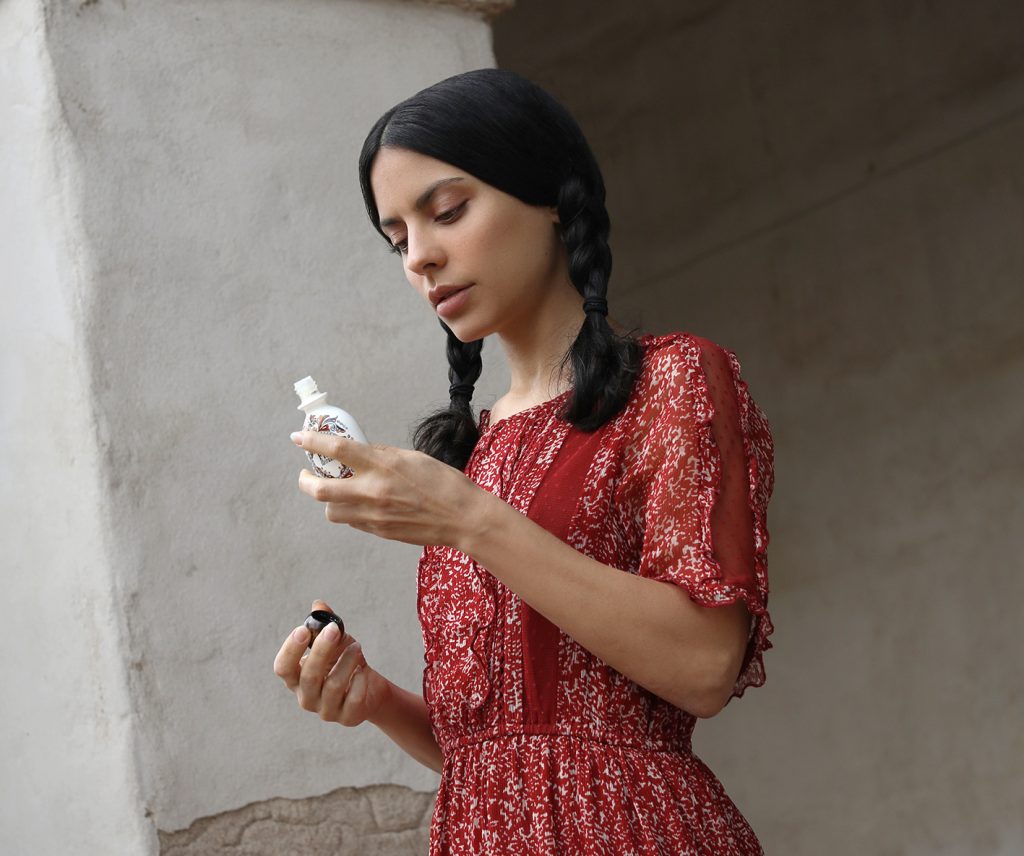 LaFragola and Cuseo are finally ready to grow the Flora Mirabilis. Last month, they brought in an undisclosed investor to help fund Flora Mirabilis's expansion in 2020 with an eye cream, an oil cleanser and a network of new retailers. The brief dalliance with Urban Outfitters spawned LaFragola's desire to create a sub-brand in the future that will pare down the face oil's ingredients and cut the price in half. Women account for about 60% of the face oil's customers, and LaFragola hopes to appeal to more men with the new sub-brand's unscented face oil.
"I want Flora Mirabilis to become a healthy lifestyle brand for all beauty and personal care," says LaFragola. "It's all based on natural ingredients, most in their raw form."
She's been immersed in a natural lifestyle since moving to Los Angeles from New York in 2012. For instance, she brushes her teeth, washes her body and detoxifies her hair with clay. Looking ahead to potential additions Flora Mirabilis like a face mask, she says, "We have a bunch of different ideas for some clays."
"We don't want to scale up too quickly to make money."
Resembling a figure from the Renaissance in a rose-printed dress accessorized with medallion earrings and two plaits in her dark hair, the petite 32-year-old has a healthy, olive-tinted complexion. It's easy to see why someone would want to try whatever skincare she suggests.
LaFragola is still perfecting Flora Mirabilis's forthcoming eye cream and the cleanser, and sorting out their price points. What's certain is that she's eschewing water-fueled emulsifiers for the eye cream because "a lot of those ingredients, I find, can irritate your skin." Containing plant-driven butters for a balm consistency, the eye cream will be placed in a large glass vessel as a safeguard against the cold and heat. "It definitely helps with undereye circles," she says. "It refreshes and gives a sparkle."
The cleanser will contain castor oil for its purifying properties. LaFragola applies it on the faces of the select private clients she tends to. "People really love it," she says. "It takes all the makeup off."
With total sales under $500,000, Flora Mirabilis's primary distribution channel is its e-commerce site, and it has shipped products to customers purchasing via its site to as far as China and Australia. The brand's oil is available at The Beverly Hills Hotel's spa, and the spa integrates it integrates into a $220 facial that's described as "a green juice for your skin." WELL Dermatology, a holistic medical practice in Santa Barbara, Calif., sells the face oil as well.
LaFragola says her aim is to expand Flora Mirabilis's list of retailers to high-end beauty and fashion stores. Among her dream distribution partners are Violet Grey, The Detox Market, Credo, Church and Opening Ceremony. "We value brands that value authenticity," she says. "We started some light conversations with some [buyers]."