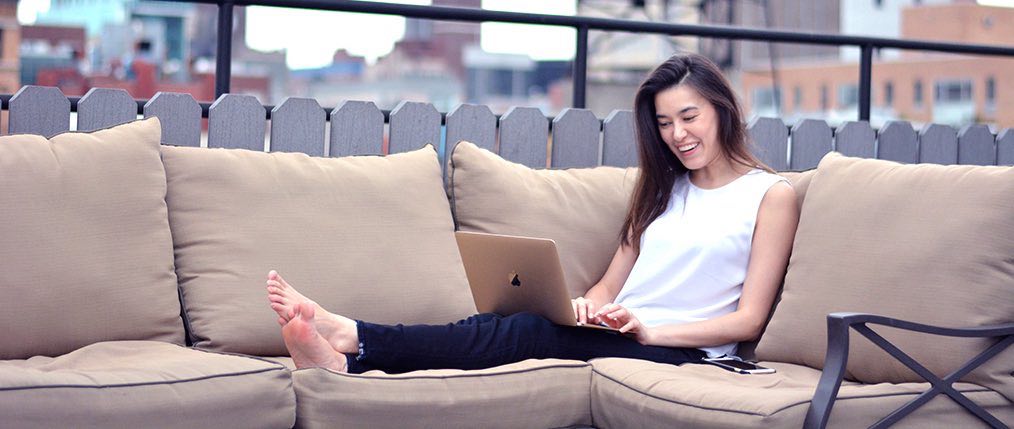 Smoothie Beauty's Stephanie Peterson Serves Up Fresh Skincare
We've heard of skincare that looks good enough to eat, but we've never actually considered taking a bite until Smoothie Beauty came along. The new brand from beauty blogger and model Stephanie Peterson, who's graced Mary Kay, Clinique, Olay and Nivea ads, teems with organic ingredients, including papayas, avocados and blueberries, and ships its face masks to subscribing customers packed in ice for application under optimum conditions. Peterson talked to Beauty Independent about the kitchen experiment that catapulted her brand, the difficulties of sourcing foodstuffs, meditating while masking and following her instincts to shape Smoothie Beauty.   
What was your aha moment?
I was staying a friend's house because I had just moved back from Hong Kong to New York and was in a transition phase. I was making Greek-inspired yogurt masks for blog content. In order to make them, you had to source all these fresh ingredients and make the kitchen explode. I thought, "I wish I had these all the time." I wanted easy access to them. Then, I was having dinner with my girlfriend that I was staying with, and I pitched her my idea to bring fresh face masks to the market. She was like, "It's an awesome idea. You should look into it."
How much money and how long did it take to launch your brand?
It took a little under $100,000 to get the company to launch, and it took a little over a year from my aha moment to have everything to where we wanted it to be to feel confident bringing it to market.
Did you solicit investment to start your brand?
We have two angel investors that are ready to throw more in when we are ready. They put in $50,000, and I put in the rest. Now, we have been running at break even, which is great since we just started. I think we are getting ready to start raising again so we can grow at the level that we need to be growing.
When do you expect to reach profitability?
We are actually bootstrapping everything until we are ready to expand and that might happen sooner than later because we have a couple companies we are talking to and are planning in being a few stores by the end of the year. We are projecting to be profitable in year two to three.
Smoothie Beauty is focused on its direct-to-consumer business now, but is considering retail distribution. What is your approach to retailing the brand?
Our approach is to have an on-the-the ground customer experience where people can physically smell our products—the strawberries, the honey, the Greek yogurt—and really see the difference of our products versus other products. We get people who want to lick them off their hands. They say, 'Oh my god, I'm hungry, and I want to try it.'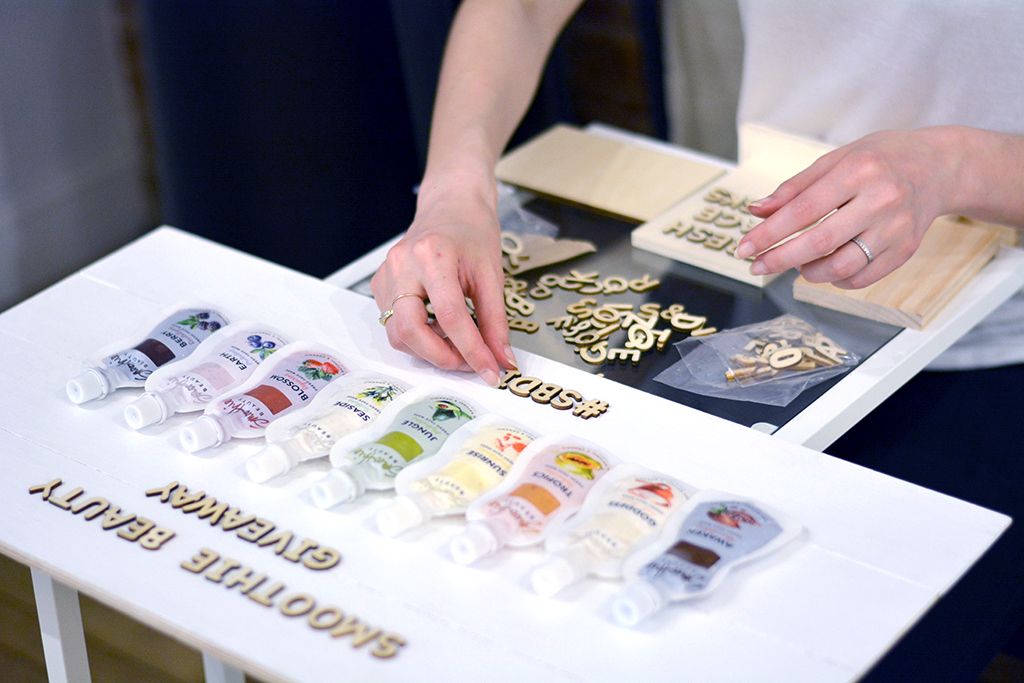 Pretend I'm a retailer. Give me a quick pitch on your brand.
We offer the freshest and cleanest face masks in the market, and we don't have any direct competition. The fact that we are refrigerated makes our company stand out and is a differentiator.
How do you convey the sensorial aspect of Smoothie Beauty inside a store?
In our display, we always have fresh ingredients around. Also, it's about sampling. We put out testers, and we have them on ice. People are able to come and put the face masks on their hands, feel the texture, smell them, lick them. And they are able to feel the difference on their skin after they wipe the masks off their hands.
Amazon. Yes or no?
I would say yes, but just not yet. They are such a domineering online presence. I'm interested to see how they could help our company grow.
What's your hero product and how did it come to be?
Our hero fresh face mask is Sunrise. People naturally gravitate to the key ingredient turmeric. It's such a hot ingredient right now, and it has overall brightening effects. I wanted each of my products to tell a story and have a background. This one is inspired by the Indian wedding preparation ceremony Haldi. Turmeric is used in the ceremony to cleanse and brighten skin. I wanted to recreate this special cleansing and brightening ceremony, and incorporate it into my inspiration for the mask.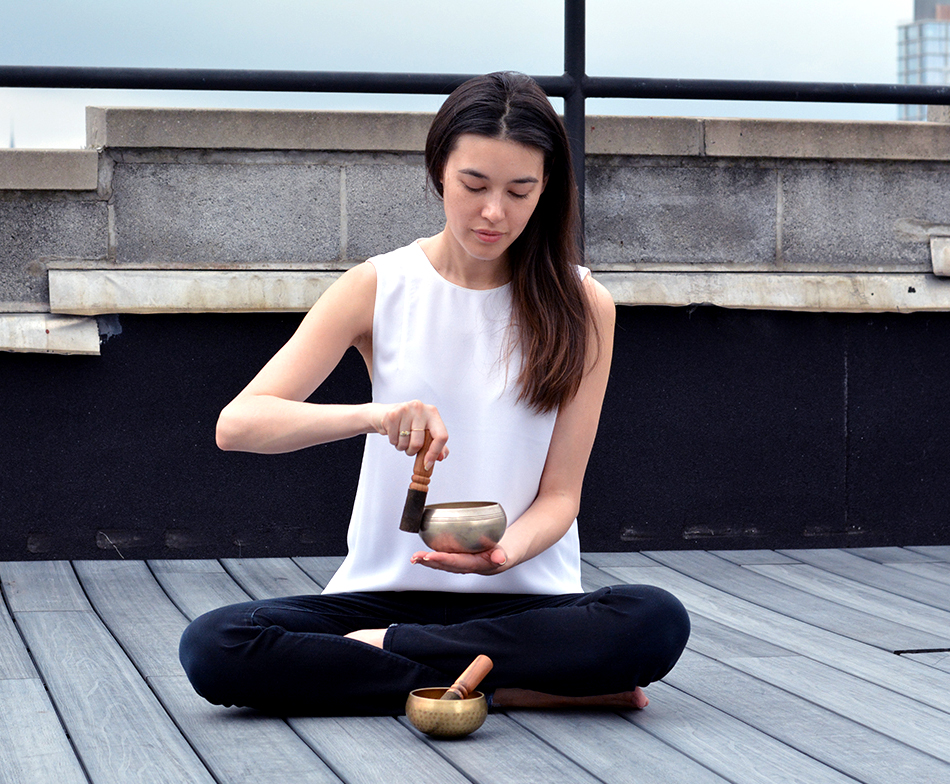 Do you have a mentor? If so, what's the best advice he or she has given you?
Shom Chowdhury, the founder of Indie Fresh, a healthy lifestyle food brand. A friend introduced him to me. I pitched him my idea, and he gave me the courage to pursue it. He was able to align me with people in the food industry and show me how he does his product testing. I wanted to make sure that, if people do eat my masks, that would be OK, which a lot of cosmetic companies don't have to think about. He was like, 'Steph, I think you have a great idea. Go for it.' He gave me my wings.
What's a possession you keep with you at work that's meaningful to you?
Tibetan singing bowls. You use a wooden mallet on them, and they make a sound almost like a champagne glass that sings when you move you finger around the top. It's supposed to be very meditative and calming. Sometimes when I'm stressed, I will listen to their sounds.
You are dealing with finicky ingredients. What's it like to work with them?
They need to be a certain texture and ripeness. The avocados in our Jungle masks need to be at a certain level. They can't be overripe because the coloring and consistency would be off. We don't add any fragrances or artificial colors. So, what you see is what you get.
Are your ingredients always available?
When we were still in development, there was a hurricane that touched down in Southeast Asia, and nobody had papayas anywhere. We couldn't make a SKU because the ingredient wasn't able to be shipped. If one of our SKU's isn't available, that's just the way it is, and we have others to choose from. We are working with mother nature.
If your target customer had a name, what would it be and what would she be doing right now?
She can't be plain, and she can't be too snobby. She has to be somebody who is cool, and you want to be friends with her. Her name would be Sophie. I imagine her right now at the office doing a creative job that she loves. After work, she would head to her yoga class and then, after yoga, she would head over to Whole Foods to pick up organic ingredients to cook at home while having a glass of wine. After that, she would do a face mask while meditating before she goes to bed.
In social media feeds filled with masks, how does your brand stand out?
By the fact that our masks are technically edible. It shows people that they are different. You wouldn't want to put a sheet mask or a clay mask in your mouth.
You held a Mindful Unmasking session that combined Smoothie Beauty masks with yoga led by Sunina Young. How did it come about?
Sunina started doing classes where she would put on sheet masks after. I loved the concept, and I approached her to collaborate. I told her I felt it would be a great way to spread awareness about our product and incorporate them into a wellness lifestyle. Even at the beginning of Smoothie Beauty, I always envisioned pepe meditating while wearing our masks.
What's biggest lesson you've learned so far about what it takes to make it as a beauty entrepreneur?
Trust your gut. In the beginning, people were saying, 'Why are you naming it Smoothie Beauty. You should think of a different name.' Then, they would say, 'Your packaging is cute, but you should go with a tube.' I was like, 'No, I chose my [pouch] packaging because it was a differentiator.' Now, people love the name and the packaging. The smartest decision I made was to hold my ground.