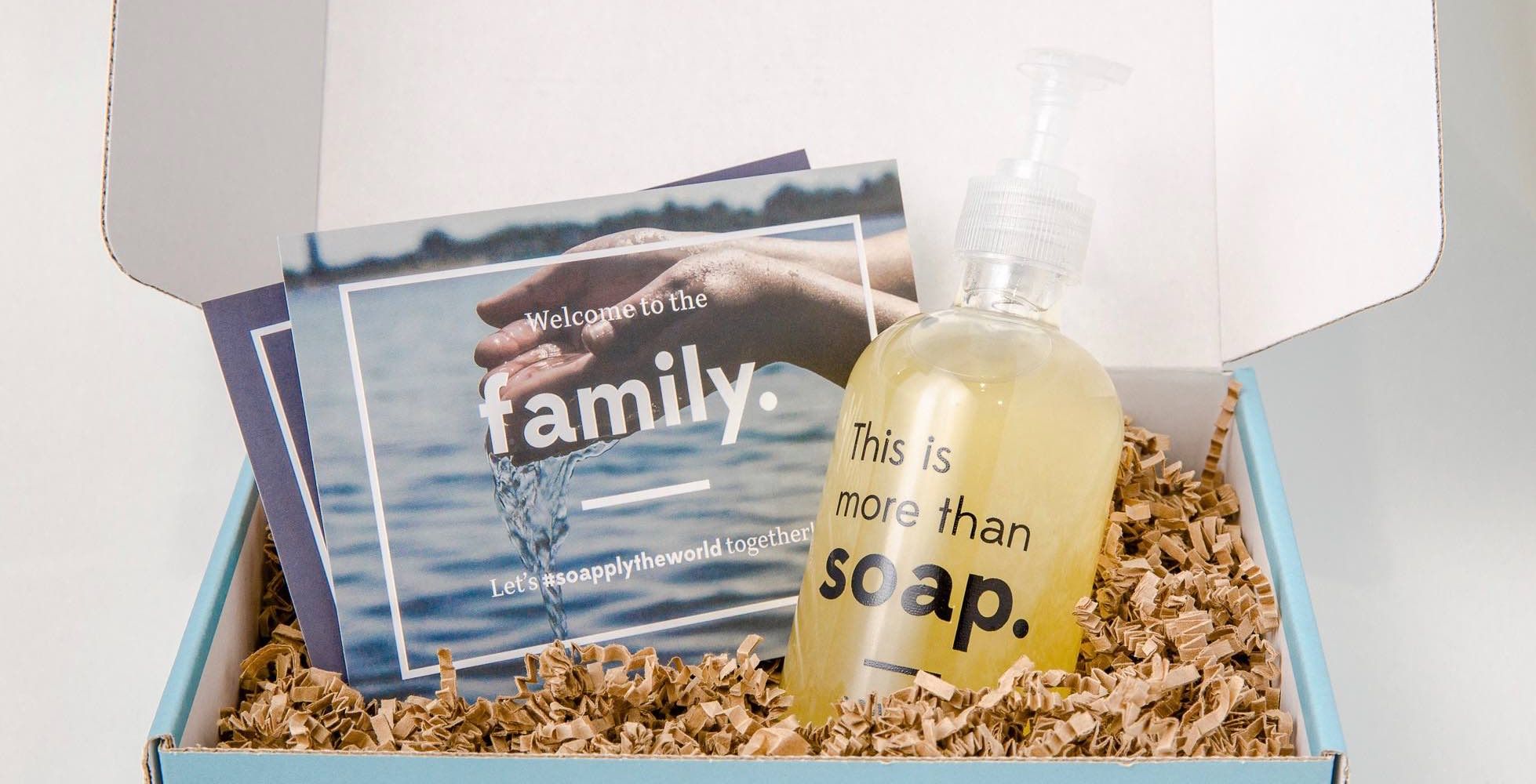 At West Elm And Credo, Soapply Spreads The Message Of Proper Handwashing To Combat Disease
Soapply wants customers to reconsider the stuff on their sinks.
The social impact-driven brand that's entered Credo, West Elm and Feed invests up to $10 in water sanitation and hygiene programs for every 8-oz. bottle of its liquid hand soap sold. Individually, the recycled glass bottles are priced at $25, and house formulas with organic aloe, glycerin, rosemary extract, and coconut, olive and jojoba oils. They leave out synthetic fragrances, parabens, phthalates, mineral oil, color additives and sodium laurel or laureth sulfate.
"Soapply is based on the idea that everyone needs soap. It doesn't matter where you live, what gender or age you are, it's an essential good," says Mera McGrew, founder of Soapply, who previously spearheaded charitable initiatives for a tourism operator in Africa. "I came back to the U.S. with this concept: Sell soap to get soap into the hands of people who need it. I believed the private sector had a role to play. The hope was, with a profitable business here in the U.S., we could create a reliable revenue stream to help globally."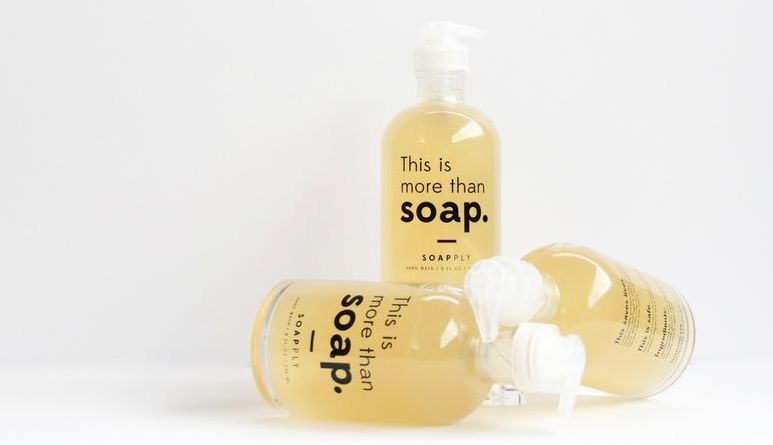 Before Soapply launched in April 2016, McGrew spent nine months scouring soap makers before choosing one in Middlebury, Vt. Its first sale was to McGrew's mom, and it relied on a subscription model at the outside, which remains the largest sales driver despite retail expansion. Today, on its website, Soapply features monthly, quarter and bi-monthly subscriptions, and customers paying for a year's worth of hand soap in advance save more than 20 percent on the cost. One-time shipments are available online, too.
"I sent an e-mail to friends and family and, in a week-and-a-half, we sold more than I was expecting in the first four months," recalls McGrew of Soapply's early experience. "Initially, we only had pre-paid annual monthly subscriptions. It provided working capital for me and Soapply to improve and evolve. Through those initial subscription orders, we were able to bring in revenue that allowed us to go much further than we otherwise would have."
If there are soap gods steering the retail universe, they've smiled down on Soapply. The brand's West Elm partnership resulted from McGrew leaving a bottle of Soapply behind at an apartment she was vacating. The tenant that moved in happened to work for West Elm and became taken with the soap. "At that point, I wasn't interested in pursuing it subscriptions," says McGrew. "We didn't have the money to support retail, but we kept the conversation going over the next year-and-a-half, and West Elm has proved to be an incredible partner."
Soapply landed Credo after McGrew patronized the retailer's location on Prince Street in Brooklyn. "I purchase my makeup and face cream from Credo," she recounts. "I was at the store carrying a Soapply tote, and the store manager asked me about it. She had heard of Soapply and put me in touch with the corporate headquarters. Within a few weeks, we decided to go in there."
Prior to introducing Soapply, Lydia Harter, director of marketing at Credo, reveals the retailer had been on the lookout for a hand soap resource because its customers were demanding hand soap. "Soapply has an incredible mission, and it's unscented, which is great because a lot of Credo customers have sensitive and allergy-prone skin," she says. "And its soap gets the job done."
McGrew is heartened that Soapply's retailers — Credo, West Elm and Feed — reinforce different facets of the brand, notably its clean ingredients, elevated design and purpose beyond pushing purchases. Outside of retail distribution, the brand is putting its products in restaurants, co-working spaces, gyms and hotels. In the Dumbo neighborhood, for instance, it's found at the restaurant Celestine.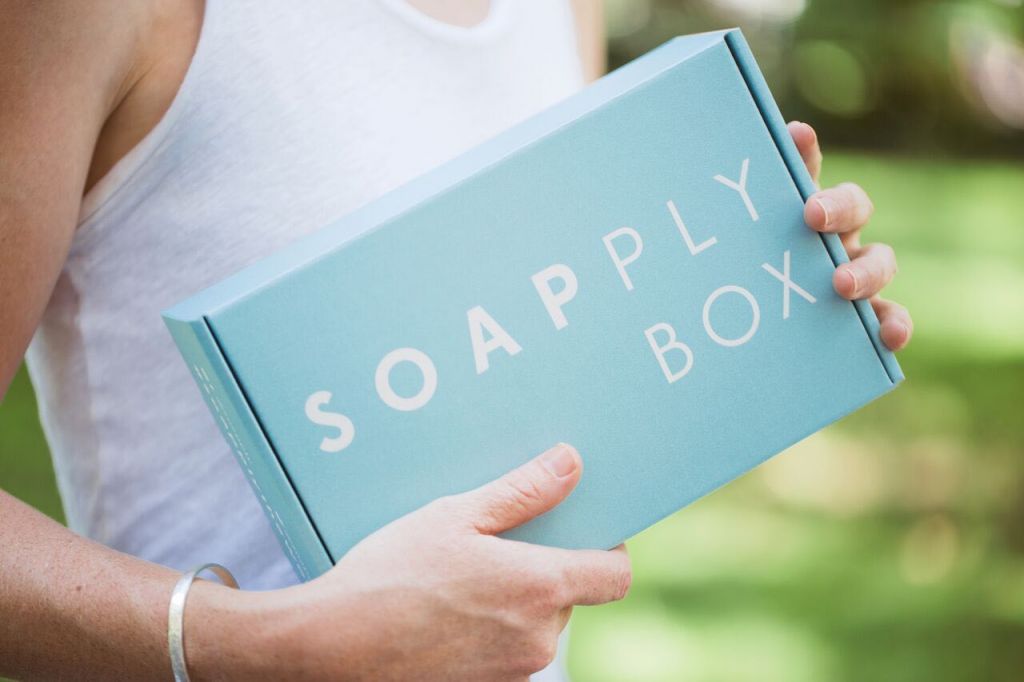 "We are still small and growing, and we make retail partnerships a priority rather than just being at a retailer. We don't want to be in every store right now. We are turning down retailers," says McGrew. "To be true partners and grow, evolve and improve alongside the right retailers, that's something we're very interested in."
Soapply hasn't spent on social media advertising, but generated buzz with an interactive window display in New York encouraging passersby to snap pictures of their hands with three slogans, including, "High five for voting with your dollars," and post the pictures using the hashtag #HandModelsWanted. "Handwashing is an unsung hero," says McGrew, noting that proper handwashing can reduce diarrheal diseases by 50%. "Communicating that in a way that's not preachy was important to me."
The brand premiered with a single stockkeeping unit, although McGrew hints "keep your eyes and ears peeled" for additional offerings. "The idea was to create a product that works for everyone. We obsess over it so consumers don't have to," she says. "We are inundated with causes and issues. As a conscious consumer, I want to make better decisions for my health and for the world, but it's not always easy. We do all these things so the consumer doesn't have to. All they have to do is upgrade their soap."