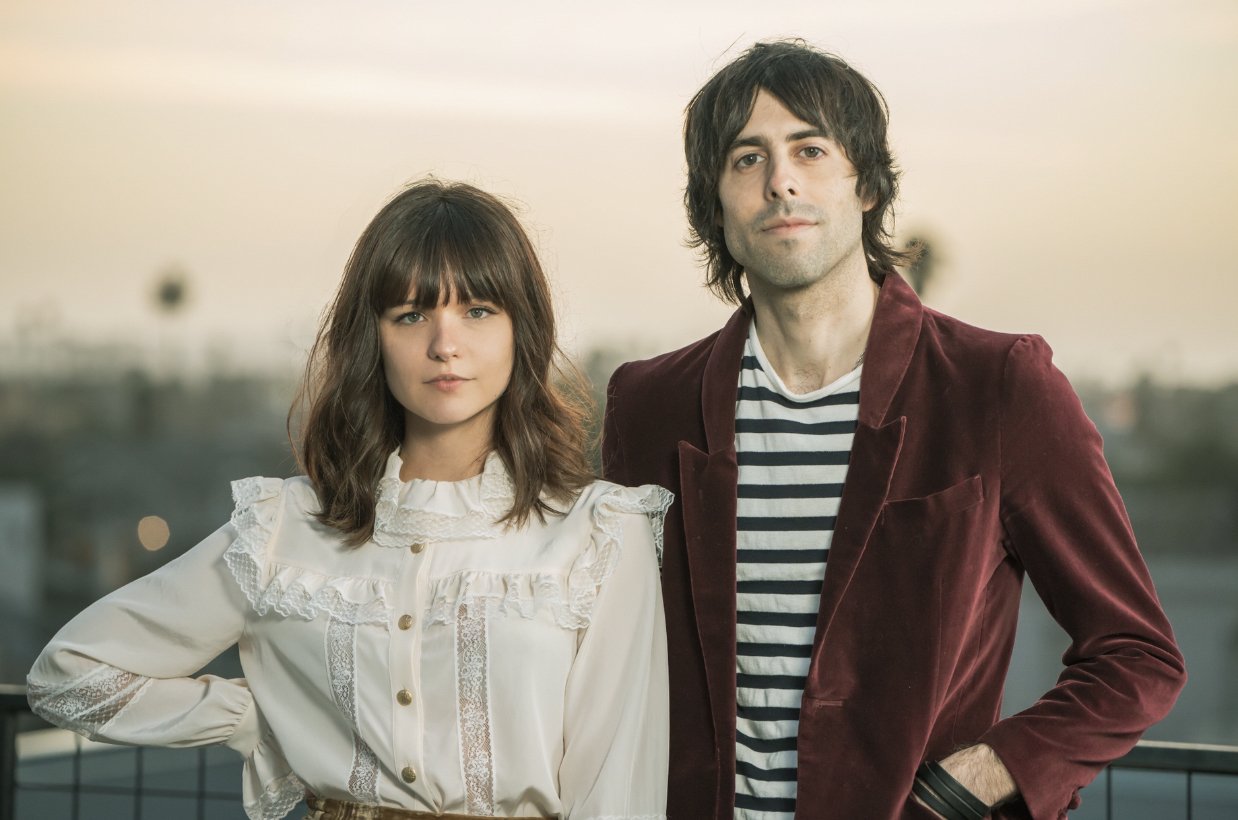 Thin Wild Mercury Makes Perfumes To Wear While You're Listening To Bob Dylan And Van Morrison Records
When Thin Wild Mercury co-founder Cathleen Cardinali goes to her perfume lab in Los Angeles, she has perhaps one of the shortest commutes in history.
An L-shaped nook measuring about 18 square feet extends from her apartment's midcentury modern-style living room. It's furnished with a metal table, a small desk sandwiched between a pair of narrow bookshelves, and a mini refrigerator storing some 250 ingredients from her perfumer's organ. A white lab coat is draped on a chair and rows of little brown envelopes, pre-assembled for the company's sampler kit, are stored under tidy clusters of droppers, beakers and 32-oz. glass bottles in which Cardinali mixes fragrances. The shipping supplies are kept in the garage.
"I've been working on it for two years," says Cardinali, 33, of her scrappy beauty venture. "I'm still learning. There's so much creativity." Established with her husband, musician Anthony Polcino, self-funded Thin Wild Mercury offers unisex scents priced at $165 for 50 ml.-bottles that are quickly attracting the attention of specialty retailers such as Curated Vintage in Seattle and Classic Rock Couture in Bisbee, Ariz. Thin Wild Mercury also has amassed 500 customers through Instagram from among its 13,700 followers.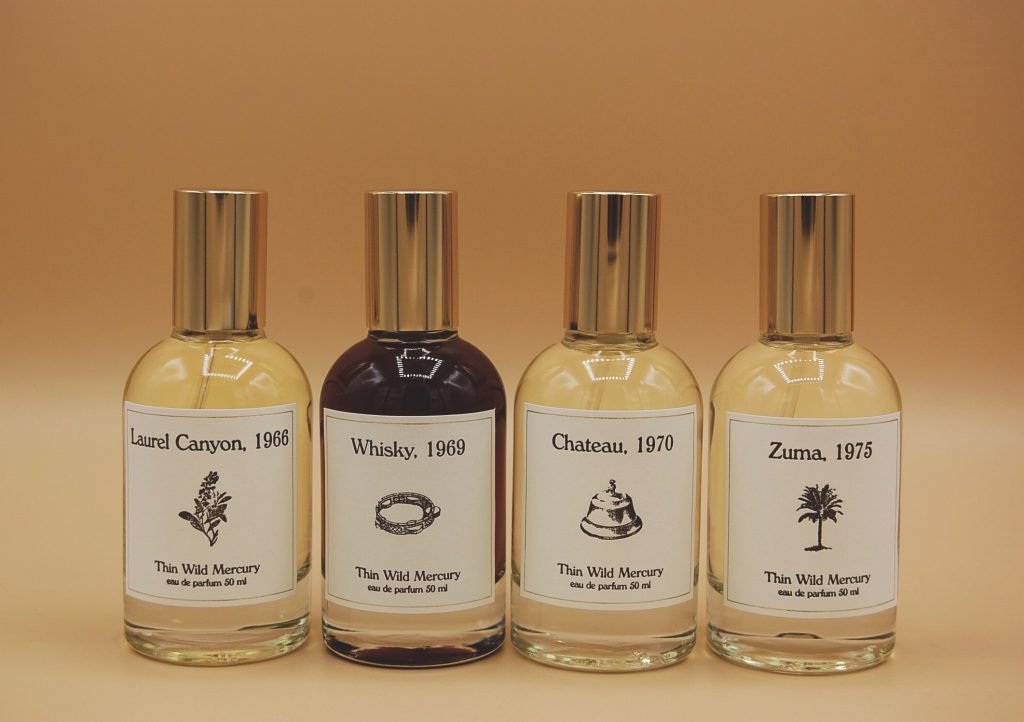 "I can't design clothes. I can't make music," says Cardinali, sitting next to Polcino at the couple's dining table. "I wanted to make something that is an extension of me, and something I'm interested in. If other people like it, it was a bonus." Inspired by L.A.'s heady culture circa the late 1960s and early 1970s, Thin Wild Mercury's debut group of four fragrances is aptly titled The Los Angeles Collection.
After playing with essential oils and taking courses at Institute for Art and Olfaction in L.A., Cardinali spent 10 months formulating her brand's first scent, Whisky, 1969, named after the infamous Sunset Strip nightclub and the year that Led Zeppelin, The Velvet Underground and Van Morrison performed there. To blend the scent, she layered notes of raspberry and cardamom atop ylang ylang and nutmeg. In the base, she used oak moss and labdanum, which imparts a warm brown color to the juice. "I wanted to tell a story," says Cardinali, adding that her aim was to conjure "a dark club but kind of sexy…youthful and dirty."
"I wanted to make something that is an extension of me, and something I'm interested in. If other people like it, it was a bonus."
Another fragrance, called Zuma, 1975, features jasmine sambac for both the top and middle notes, and is mixed with bergamot, coriander seed, vetiver, a watermelon keystone and sandalwood accord. The scent's musky grounding came from ambrette seeds to evoke, in Cardinali's words, "sitting by a bonfire after a day at the beach." Laurel Canyon, 1966 was the penultimate concoction. It combines patchouli, geranium, sweet orange and Italian cannabis oil. The Italian cannabis oil doesn't contain CBD or THC, but imbues a fresh green smell.
The last in the bunch was Chateau, 1970, Cardinali's take on a rose perfume. "She described it as old armoires, roses, fresh linens," says Polcino of the subdued scent. "That opened my mind up to a rose fragrance. I've worn that before…Just because it has rose, it doesn't mean it's a feminine thing." Thin Wild Mercury sells a $30 sampler kit containing 2-ml. vials of each fragrance. It's set to release a travel spray for a holiday season that will be $30 for an 8-ml. size.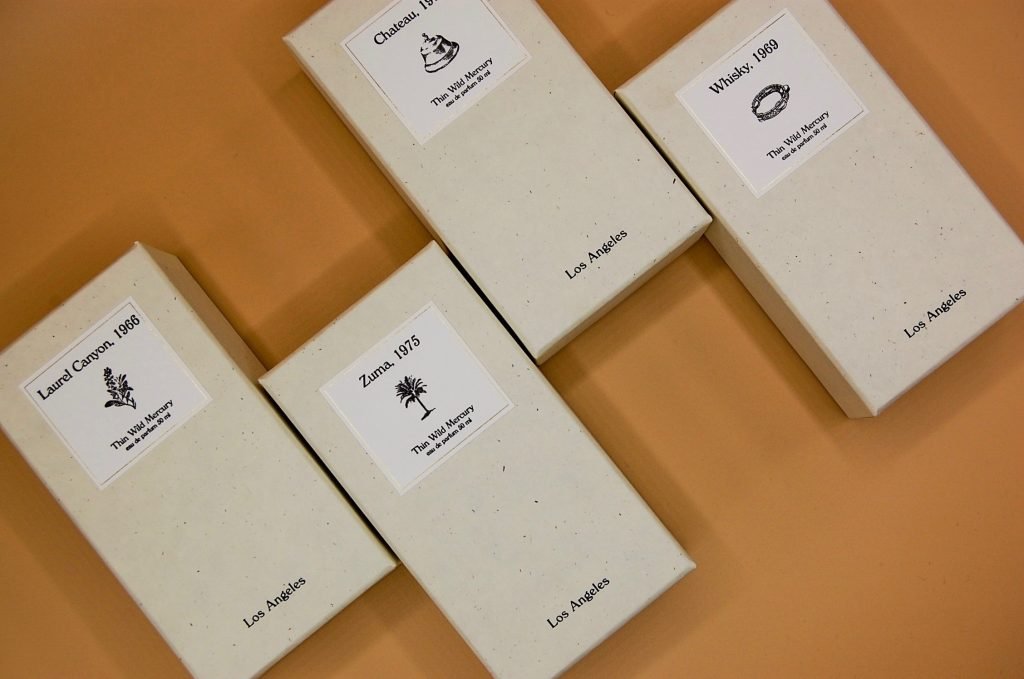 Projecting sales of less than $100,000 in its initial year, Thin Wild Mercury joins a growing circle of perfume brands, including Heretic, Régime des Fleurs, Skylar, DedCool and Michelle Pfeiffer's Henry Rose, that have turned L.A. into a burgeoning hub for niche fragrance. According to The NPD Group, artisanal fragrances constitute the fastest-growing category within the perfume segment.
With a boost from Quentin Tarantino's film "Once Upon a Time… in Hollywood" and Hedi Slimane's spring-summer 2020 collection for Céline, the late 1960s-early 1970s aesthetic that Cardinali and Polcino gravitate to is pervading the cultural zeitgeist. "It's really a reflection of our style," says Polcino, 37. Thin Wild Mercury's moniker was plucked from a magazine interview that Bob Dylan did in the late 60s. Known among musicians, Polcino explains thin wild mercury suggests a sound that's "hot and wild and underground."
"Just because it has rose, it doesn't mean it's a feminine thing."
Cardinali toils away at their perfume business when she's not at her full-time job managing a women's fashion boutique in Beverly Hills. The scents trickled out to the couple's friends and family last November. A few months later, one of Cardinali's friends was wearing the perfume when she ran into Allison Heutsche, the manager of jewelry and home decor store Esqueleto in the L.A. neighborhood Los Feliz. Heutsche prodded Cardinali's friend about the perfume, asking, "What is this? You smell delicious."
After ordering the $30 quartet of samplers to try out Thin Wild Mercury, Heutsche liked Whisky, 1969 enough to buy a full-size bottle for herself. She then picked up its entire line to sell in the boutique, where it's the only fragrance brand. Since July, when the minimalist boxes began arriving at Esqueleto, Heutsche reports she's reordered three times. She points to Whisky and Zuma as the top sellers. Prompted by a customer inquiry, Esqueleto's New York store began carrying Thin Wild Mercury. "Part of the draw for me is that it's manufactured here in Los Feliz," says Heutsche. "I always love supporting small businesses."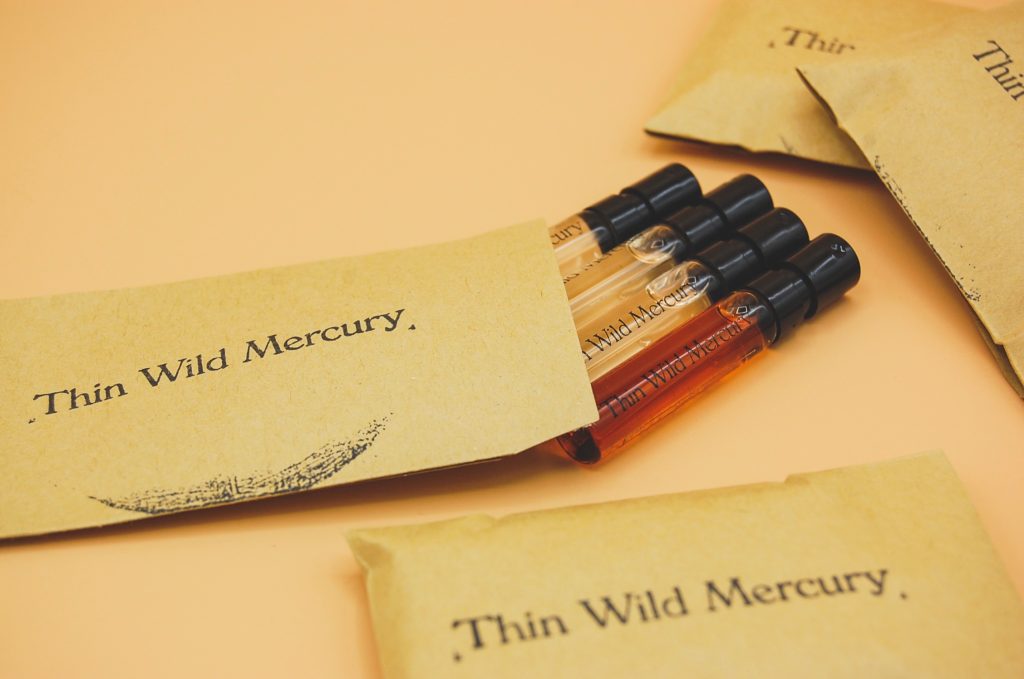 Cardinali and Polcino take pride in supporting local economies as well. Thin Wild Mercury's recyclable boxes made with undyed paper and rigid chipboard are produced in Rhode Island. Bordered in gold foil, its debossed labels are prepared by the family-owned enterprise Aardvark Letterpress that's marking its 51st anniversary in Los Angeles this year.
Cardinali and Polcino limit Thin Wild Mercury's advertising to Instagram at the moment. They're shipping to customers in California, Oregon, Texas, New York and Canada, and have notched a 15% return customer rate on website sales so far. For customers beyond L.A., Cardinali is broadening her horizons. By the end of next year, she hopes to release a new portfolio of perfumes centered on New York. She could take cues from Andy Warhol in the 1960s or the 1980s music she loves. Cardinali says, "It's just whatever feels natural."