From Twitch To Flip, Social Media And Livestreaming Platforms And Tools Moving The Needle For Emerging Beauty Brands
The importance of TikTok to a brand's social strategy is only rising, according to
Jacquelyn De Jesu, founder of stylish shower cap specialist
Shhhowercap
.
"For any brand that's starting out right now, TikTok has the chance to hit in a way that Instagram no longer does," she said. "There was a virality that used to exist, but evolved out of that platform and TikTok still has it." 
De Jesu was joined for last Wednesday's episode of Beauty Independent's webinar series In Conversation by Leila Kashani Manshoory, CEO and founder of multifunctional beauty brand Alleyoop, and Jill Krakowski, CMO of Cosnova, the German parent company of the cosmetics brands Catrice and Essence. They discussed their brands' social selling strategies and the livestreaming platforms they are plugging into as the medium becomes increasingly relevant to American consumers.
Krakowski hailed the prompt sales effects of TikTok. A viral TikTok video drove a soon-to-be discontinued product to sell out entirely and resulted in Karkowski's realization that Cosnova needed to establish a presence on the social media network to get products in front of the masses. "If something works, you immediately see it in your sales," she said. "But we need to do more than cross our fingers and hope that something goes viral."
Krakowski, who cut her teeth in marketing positions at L'Oréal and Revlon, identified Twitch as an unexpected platform Cosnova is beginning to leverage. The video and gaming streaming service allows fans to watch gamers play online and has more than 41.5 million users in the United States, according to Statista. That number is expected to jump to 51.6 million by 2024. Much like with Instagram, TikTok and Pinterest, Cosnova seeds product to Twitch creators or Twitchers with engaged followings to open the door to larger partnerships with those who genuinely connect with its products.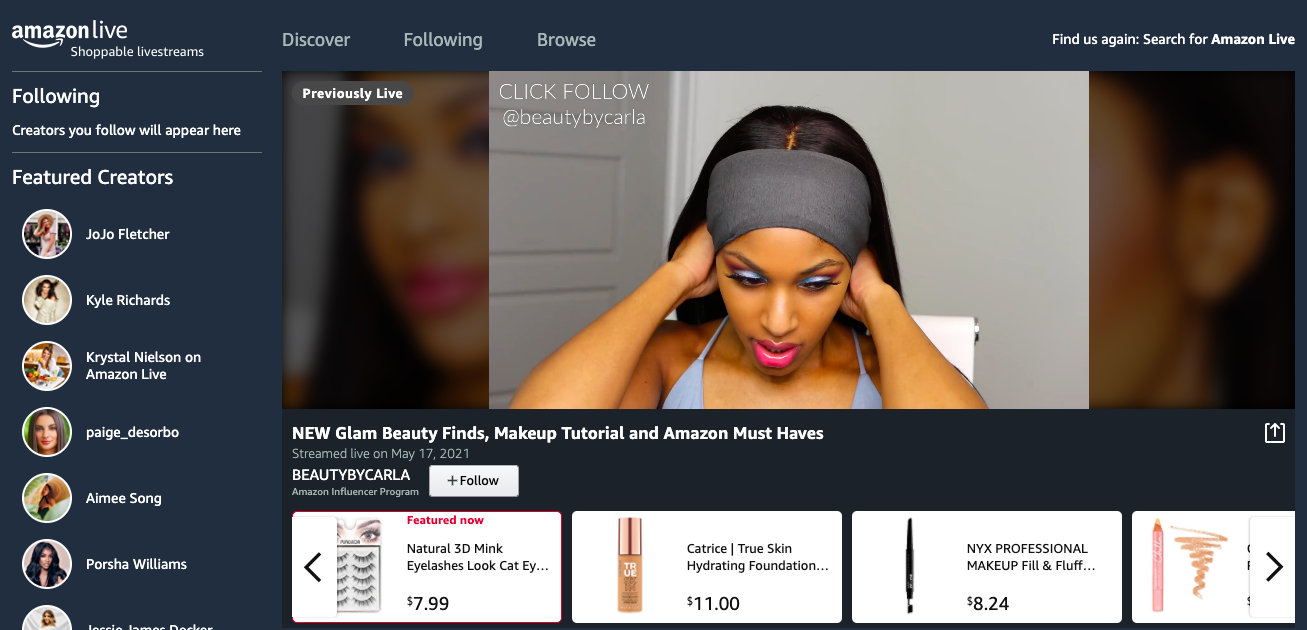 TikTok and Youtube drive significant sales for the Cosnova brands, which primarily focus on direct-to-consumer distribution. One-fifth of its brands' web traffic is coming from TikTok content. However, leaning into Amazon's suite of services, including its livestreaming, is a priority for expanding brand recognition. Krakowski said affordable cosmetics brand Essence is the No. 1 beauty and personal care brand on Amazon. Catrice entered into a partnership with creator Carla Stevenné, aka Beauty by Carla, for a series of 22 livestreams through the e-commerce destination.
"What I love about Amazon live is that there's a direct link to your product right underneath the stream so the path to purchase is cut down by maybe 15 clicks. This is completely seamless," said Krakowski. "Given our value proposition and our price points, there's a very low barrier to trial and something like an Amazon livestream, where everything's happening in that ecosystem. It's been a great tool." 
De Jesu initially introduced Shhhowercap by posting product pictures on Instagram. DTC distribution accounts for 80% of its sales, but it's also sold in luxury retailers and e-tailers like Net-a-Porter, Violet Grey and Bluemercury. The brand has embraced buzzy livestreaming vehicles like Flip in order to spin content into sales. "Even six years in, we're still seeing that it's very much about discovery and awareness," said De Jesu. Instagram remains a pillar of the Shhhowercap's business, and the brand, which is profitable on first orders, will double down on Instagram advertising in the coming year.
Kashani Manshoory touted the effectiveness of working with aspiring rather than established content creators. She suggested brands start by zeroing in on TikTok before breaking into Instagram. Kashani Manshoory built out a performance-based paid partnership strategy with incentives like inclusion in product development and testing, offering feedback about the content and sharing performance metrics.
"Those people are really hungry to try to go viral," said Kashani Manshoory. "They're working exceptionally hard to improve their metrics ,and they'll go above and beyond using your product, trying to figure out how to get there." She added, "We're in a Slack channel together. We share content together. There are prizes, there are rewards. We really built a community around it. I consider them co-creators with us and an extension of our team. They believe in our brand, they love a product, and it's very authentic for them to talk about it." 
Alleyoop repurposes high-performing organic content into paid advertising for TikTok and Instagram. "TikTok is starting to work with ad performance, at least in terms of traffic. And once we get that traffic, they funnel into our email, and we've seen really good conversion rates," said Kashani Manshoory. DTC accounts for 70% of Alleyoop's sales. The brand is stocked by Ulta Beauty and Asos.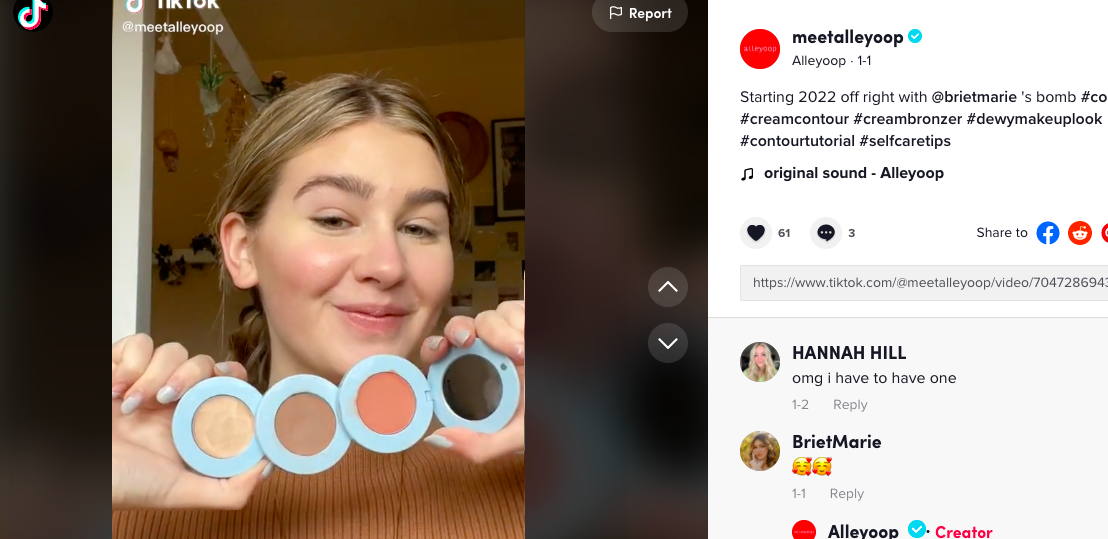 Kashani Manshoory highlighted that tapping into various social selling platforms is critical because a multi-pronged approach amplifies peer-to-peer discovery. Reviews have traditionally been a strong selling tool for beauty brands, and the show-and-tell nature of social selling adds another layer of customer validation. Aside from Instagram, Facebook and TikTok, Alleyoop is selling through Flip and the live virtual shopping event platform BuyWith. Kashani Manshoory asserted brands have a greater chance of being seen on Flip than at traditional retailers or social sites.
Blog content has become expected for beauty and lifestyle brands. While it can be integral for SEO, Krakowski doesn't believe the return on investment is always there if a brand has to hire a resource to churn out posts. Karkowski suggests emerging brands concentrate on paid social media partnerships and advertising over native website content. "There's really a long tail with SEO," she said. "So, if you are just starting out, it's probably not the first dollar I spend to get a copywriter and have somebody write a bunch of articles just to put up on the website."
Developing a network of influencers and creators is key, especially when testing out new content formats. Flip offers an influencer seeding program, which De Jesu said has worked well for Shhhowercap. Still, the brand continues to work with influencers it's vetted that get its merchandise. Mini Social is a user-generated content tool independent brands can tap into to scale social selling via content creation. The platform pairs brands with micro-influencer creators to produce UGC on demand. "What's really nice about that is that, as long as the influencers are credited through those programs, you're able to use them to upload and cross-sell on social platforms," explained De Jesu. 
She underscored,  "At the core, it's always about how authentically people can speak to your product no matter where it's popping up. We've always found that it's so much more impactful when they actually care, and it's more than just about the PR gifts and an unboxing video."