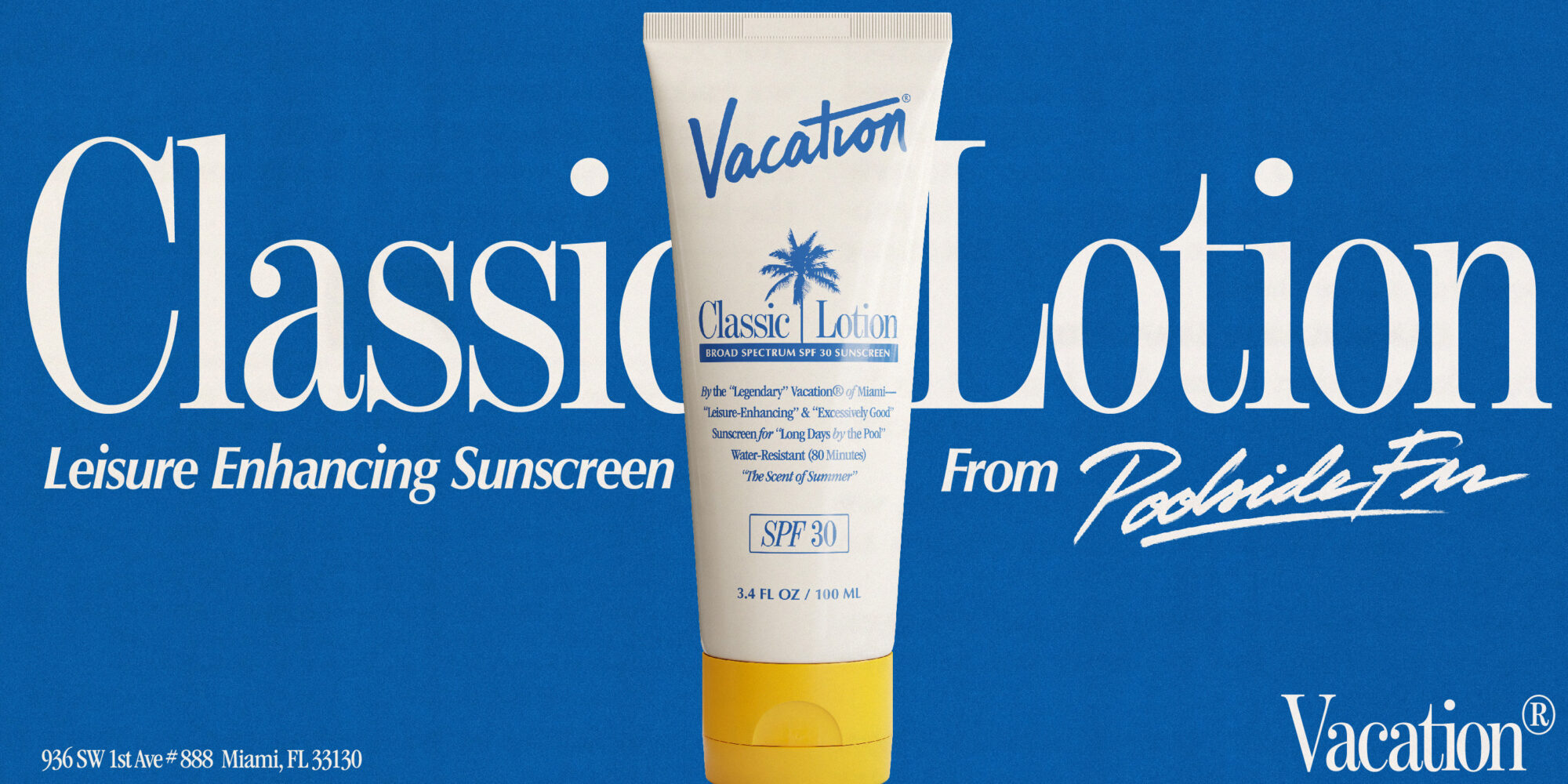 VC-Backed Vacation By Poolside FM Is Bringing Nostaglia, Good Vibes And Some Serious Sunscreen To Market
Last Thursday, people took to Twitter and Instagram to gleefully declare career changes by sharing digital business cards adorned with a palm tree. Though the cards were simply designed, the job titles on them were anything but basic. "President of the Jimmy Buffet Society," "SVP of Speedboat Weddings," "Emergency Tequila Shot Salt Secretary" and "Head Chairman of Beach Umbrella Services" were just a few of positions announced. The company seemingly hiring several Poolside Vibe Specialists was, according to the cards, Vacation Inc, A Poolside FM Company. 
The jobs weren't real but the company is. The elaborate and entertaining stunt heralded the launch of Vacation by Poolside FM, a sunscreen line touted as leisure-enhancing. It's debuting with a 100-ml. tube of SPF 30 Classic Lotion that retails for $20 and is available for pre-order. Orders will ship in early June when five additional sun protection and personal care items, including a mineral version of Classic Lotion, along with Vacation Inc merch will drop, all at masstige price points. The brand reports that over 10,000 people have claimed honorary Vacation Inc job titles so far. It declined to share pre-sale numbers for Classic Lotion.
"We thought that was this little gimmick that the Poolside FM audience would find funny and absolutely love because they followed us for years," says Vacation by Poolside FM co-founder Marty Bell of the viral campaign. "We didn't realize how much just anyone would completely get it and find it really funny. It definitely exceeded our expectations massively."
Vacation by Poolside FM was created by Bell and entrepreneurs Lach Hall and Dakota Green to be an IRL extension of Poolside FM, the popular internet radio station started by Bell in 2014. Poolside FM became a beloved online destination for synthy, jazzy party tunes as well as a nostalgia-laden virtual world, complete with carefree and festive 1980s beach vibes and more feathered hair, fast cars and graphic short-shorts than a vintage Juicy Fruit commercial.
Thoughtful flourishes like the business cards abound in the Poolside FM and Vacation Inc universe. The interface for Poolside FM's website, overhauled in 2019, looks like it's run on Windows 1.0, with pop-ups of grainy vacation videos and pixelated icons. If you visit Vacation's Instagram page, you'll see the company only follows one person: Jimmy Buffet.
Bell is also behind Glasgow-based financial services app Nude, which has raised $7 million, and sunglass specialist Tens, which he co-owns with Richard Branson. Hall and Green are sunscreen entrepreneurs who were working on a launch when they linked up with Bell, who was looking for a way to build upon the passionate community he had amassed around Poolside FM. Over the years, Bell had been pitched a number of product partnerships for Poolside FM, but none of them felt like a fit. 
"[Poolside FM] is not really a business, and I haven't wanted it to be a business because I've been busy. I think it would overwhelm me if I tried to turn it into a business as well," says Bell. "The stuff we're always offered are a beer brand collaboration or to do a swimwear collection. I never thought about sunscreen as a product category, but, as soon as Vacation came up, it was so obvious."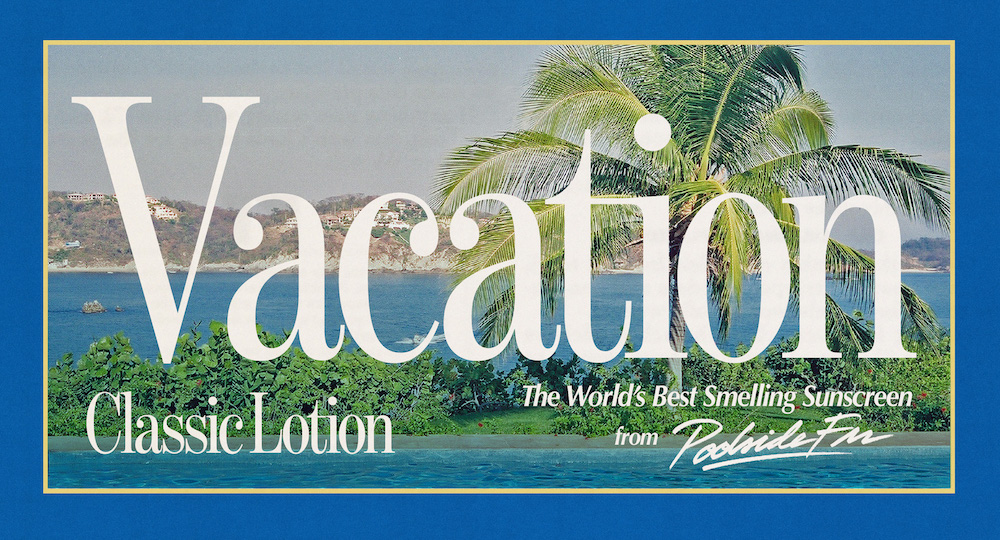 To fund the venture, Vacation by Poolside FM raised $1.5 million in seed funding from a group of consumer-focused VC firms and individual investors, including Zitsticka backer BFG Partners, Crown Affair investor Brand Foundry Ventures and Finn Capital Partners, which has injected capital into Winky Lux, Kjaer Weis and Tatcha. Rothy's founder Roth Martin is one of Vacation's angel investors as is Kat Cole, the former CEO of food conglomerate Focus Brands and avid investor who knows a thing or two about what makes a standout consumer company. "[Bell, Hall and Green] certainly have set a bar on immersive brand experiences," she says. "They know how to build community and bring a broad spectrum of products and connections to market to delight that community."
While the company is heavy on vibe and world building, it's attempting to release tangibles that are standouts, too. Cole says, "They are making seriously better products, from following all the standards from Hawaii for reef consciousness to removing all the big no-nos as ingredients to be a cleaner product than popular alternatives, using recycled materials for packaging, to adding amazing high-quality natural moisturizers and working with one of the top skin cancer doctors in the world, this product is [an] effective, cleaner, delicious-smelling sunscreen that is better than most popular products by a mile."
Cole's effusive praise touches on two of Classic Lotion's points of differentiation the Vacation Inc team is proud of: Its enlistment of New York City dermatologist and VP of the Skin Cancer Foundation Elizabeth Hale to help make Classic Lotion a best-in-class sun protection offering, and the painstaking creation of Classic Lotion's scent to be worthy of the tagline "the world's best-smelling sunscreen." 
Vacation by Poolside FM teamed up with Carlos Huber, founder of fragrance house Arquiste who Green connected with over Instagram, and Rodrigo Flores-Roux, a nose at fragrance giant Givaudan, to devise the scent of the sunscreen. "Carlos invited me over to his studio and showed me all this stuff he'd been working on and, then, told me his favorite fragrance, [Arquiste's] Sydney Rock Pool. It was based on a sunscreen that I'd tried in Australia called Le Tan," recounts Green. "He said it was like when he wore Le Tan at the Sydney Rock Pool, that the way his skin smelled in the sun, from the salt water with the little bit of coconut, that's what [the Sydney Rock Pool] scent is based on. So, he already had a really deep connection to sunscreen and that moment."
When Green informed Huber of his goal to produce the next iconic sunscreen smell, Huber called Rodrigo. "Then, basically, we got started on smelling a bunch of stuff," shares Green. "I think we did around 30 different versions of it." The end result is an amalgam of beach vacation highlights, tropical drinks, exotic florals and the sea. The hope is that the scent and the sunscreen's spreadable formulation will make it a product consumers will look forward to reapplying.
"Our whole thing is around making sure that people are using sunscreen to protect themselves from getting skin cancer," says Green. "In terms of developing the formulas, we were chasing a few very specific variables, all around getting people to wear sunscreen to protect themselves, The main barriers were, is it greasy? Does it make you feel gross when you're maybe taking your clothes off for the first time since winter? You want to feel nice. Then, does it rub in fast? Are we able to help people not have an excuse [not to] reapply?"
Currently, Classic Lotion is only available online, but Vacation by Poolside FM has ambitious distribution plans. "We have big dreams of being ubiquitous and being everywhere that sunscreen is sold," declares Bell. "I think right now we have a really good opportunity online and keeping the Poolside community growing and happy. The challenge, and where I want to get to with the brand, is being able to be on QVC and in Soho House at the same time, and nobody thinking that's strange."