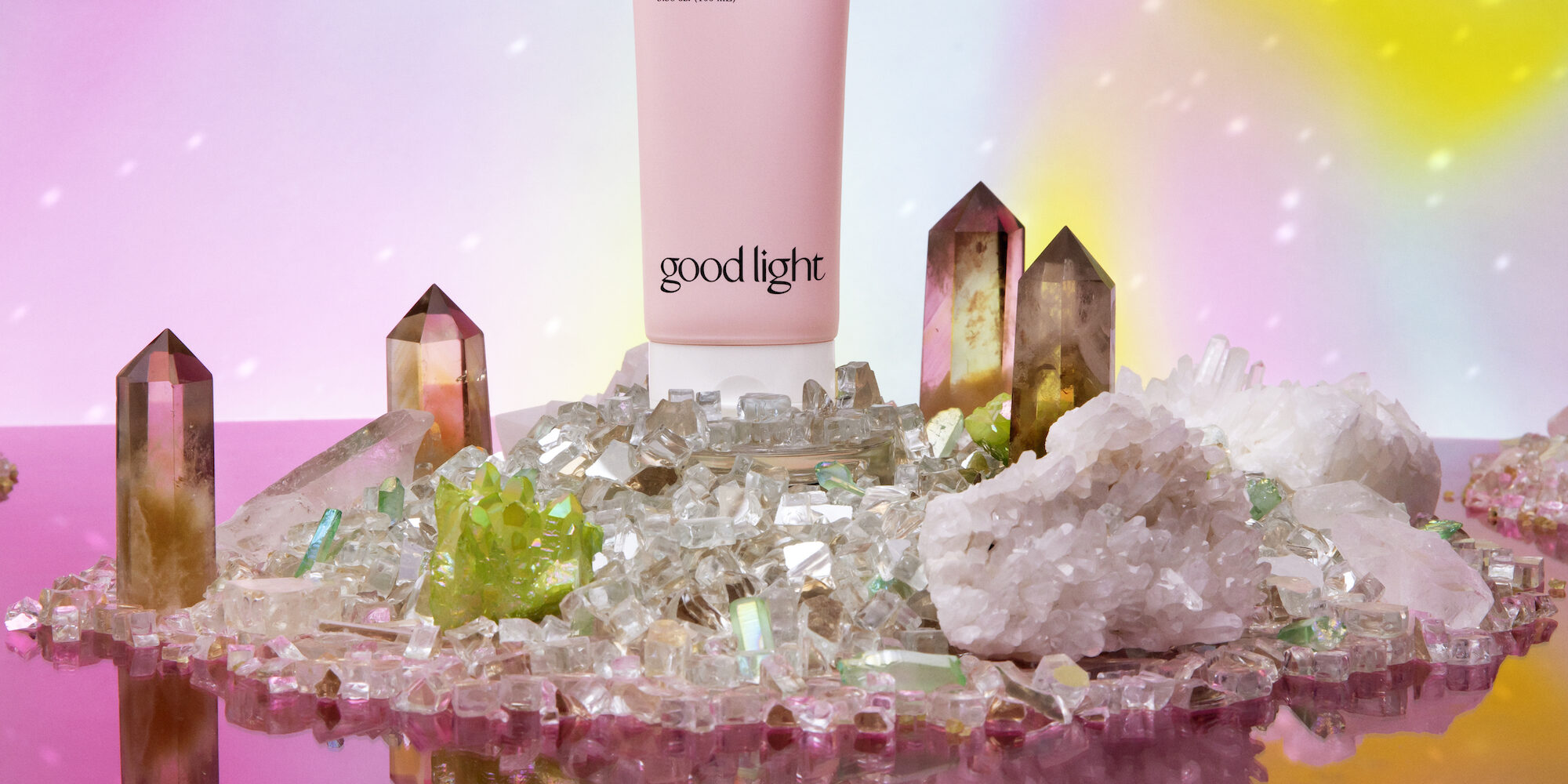 Very Good Light Expands From Content To Skincare With The Launch Of Gender Barrier-Busting Brand Good Light
Since beauty content website Very Good Light launched in 2016, it's been a champion of diversity and equity in the beauty industry. Now, its co-founders David Yi and Michael Engert are bringing transferring those principles from content to commerce with the introduction of Good Light, a skincare brand designed to be inclusive of all gender identities and skin types.
Good Light is debuting on Wednesday with a trio of face care products priced from $18 to $24—Cosmic Dew Water Cleanser, Moon Glow Milky Toning Lotion and We Come In Peace Probiotics Serum—available on the brand's e-commerce site. Its virtual launch event was hosted on Newness last week. As one of the first beauty livestreaming platform's early creators, Yi has been working closely with Newness founders Jenny Qian and Youri Park on testing its technology. Yi says, "It only made sense that we have a full-circle moment and announce our brand launch with Newness as they and our community there has been with us from the beginning." 
Good Light's mission of "beauty beyond the binary" means a brand that's not just genderless, "because I really do believe that we should celebrate gender identities. We should celebrate people's pronouns," explains Yi. At the outset of Very Good Light, he continues, "I felt very siloed in a way, where the beauty industry wasn't so welcoming for folks who weren't hypermasculine or hyperfeminine. I always felt as if the grooming section was only about beard oils or shaving creams and, then, the other section was about makeup and skincare, but only for women or very femme-presenting people. Where does someone like me who loves to sheet mask and loves to also wear makeup belong?"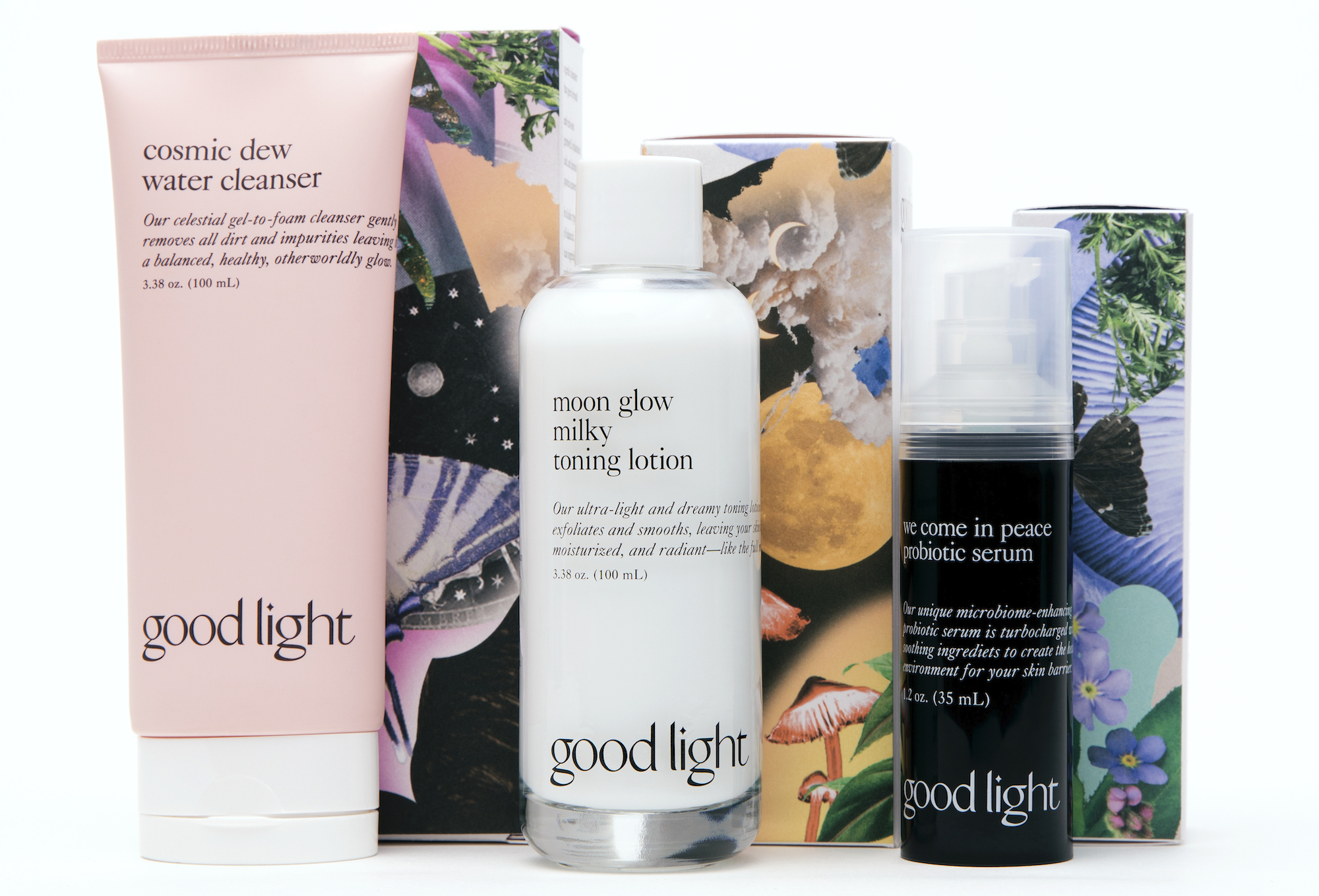 Though Good Light is in direct-to-consumer distribution now, Yi and Engert plan on rolling the brand out to retail in the near future, citing niche beauty shops as well as Target, Ulta Beauty and Sephora as possible partners. Almost more important than the exact retailer Good Light will enter is the question of where the brand will sit in that retailer. "We have had conversations around not sitting in either [the men's or women's] aisle and maybe sitting on an endcap onto ourselves or helping them curate a third section or a more inclusive section, which I think is a big opportunity," says Engert, who, prior to joining Very Good Light in 2019, led Supergoop's DTC business. "At the end of the day, we are looking for great products for a skin challenge or issue that help to give us confidence or empower us in some way."
Yi adds, "If there isn't a section for non-binary folks who are then relegated to only two different aisles, why not be in both? I think that that could be an interim solution. Beauty products have never had a gender identity or sexuality attached to it." On the latter concept, Yi has written a book, "Pretty Boys," publishing in June. "Powerful people throughout existence have all always empowered themselves with beauty," he says. "I don't think that beauty should be relegated as masculine or feminine. It is something that empowers all folks, no matter who you are. I think that this is a larger conversation, and I think that perhaps we should be the leaders in that space and trailblazing this new section."
For Good Light, the idea of inclusivity goes beyond breaking down gender barriers. The products are intended to be accessibly priced, and packed with anti-inflammatory botanical ingredients such as oat kernel extract, red-root gromwell, blue tansy and niacinamide to support and soothe the skin without masking imperfections. The brand's promotional material features people with dewy yet real complexions."The entire brand is about creating a robust skin barrier function because that's where all skin ailments, from cystic acne to rosacea to eczema, come from, an impaired skin barrier function," says Yi.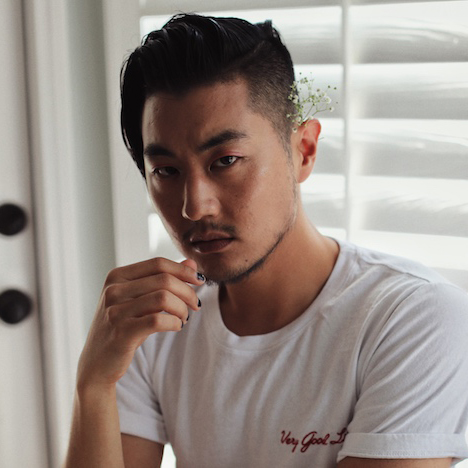 Engert believes quality ingredients shouldn't preclude skincare products from being affordable. He and Yi didn't enter the formulation process with the goal of hitting a particular margin. "We wanted to hold ourselves to a really high standard when it came to product," says Engert. "Full stop, is this a great cleanser, toner, serum? Then, we could figure out how we can price that. How can we make sure that it's affordable for everyone without sacrificing the quality of the product? At the end of the day, we all know and the consumer knows that your cleanser does not have to be $45." 
Very Good Light follows in the footsteps of sites like Goop and Into The Gloss in extending from content to merchandise. As the outgrowth of a content entity, Good Light comes out of the gate strong in what's become a crucial aspect of DTC brands: community. Over the last five years, Very Good Light has built a large audience of mostly gen Z and millennial fans that offered input on Good Light's product development. Engert and Yi predict the avid audience will keep Good Light's customer acquisition costs down.
"We are maybe not as beholden to some of those early startup costs as some others," says Engert. "We already have millions of readers. We were able to lean on them to help inform the products, the marketing strategy, all of the things that are required to create a legit brand. That's also, frankly, what the investment community wants to see. Can you build a brand without spending millions of dollars on paid media?" Yi and Engert raised a pre-seed round to aid with getting Good Light off the ground.  
Yi is quick to chime in that Very Good Light will remain independent from Good Light and won't be inundated with promotions. "It would be disingenuous to do otherwise," he says. "We want people to love the products and buy them again because they want to, because it's helping them in some way. We want them to tell their friends about it."
A substantial portion of Very Good Light's readership is international, providing Good Light further market advantage. "We have as many readers in London and Singapore and Sydney as we do in some large American cities," says Yi. "So, I think there's an opportunity for us to move international a little more quickly than some others. If we can be an inclusive brand and platform and voice in those places, that would be something we'd be interested in as well."