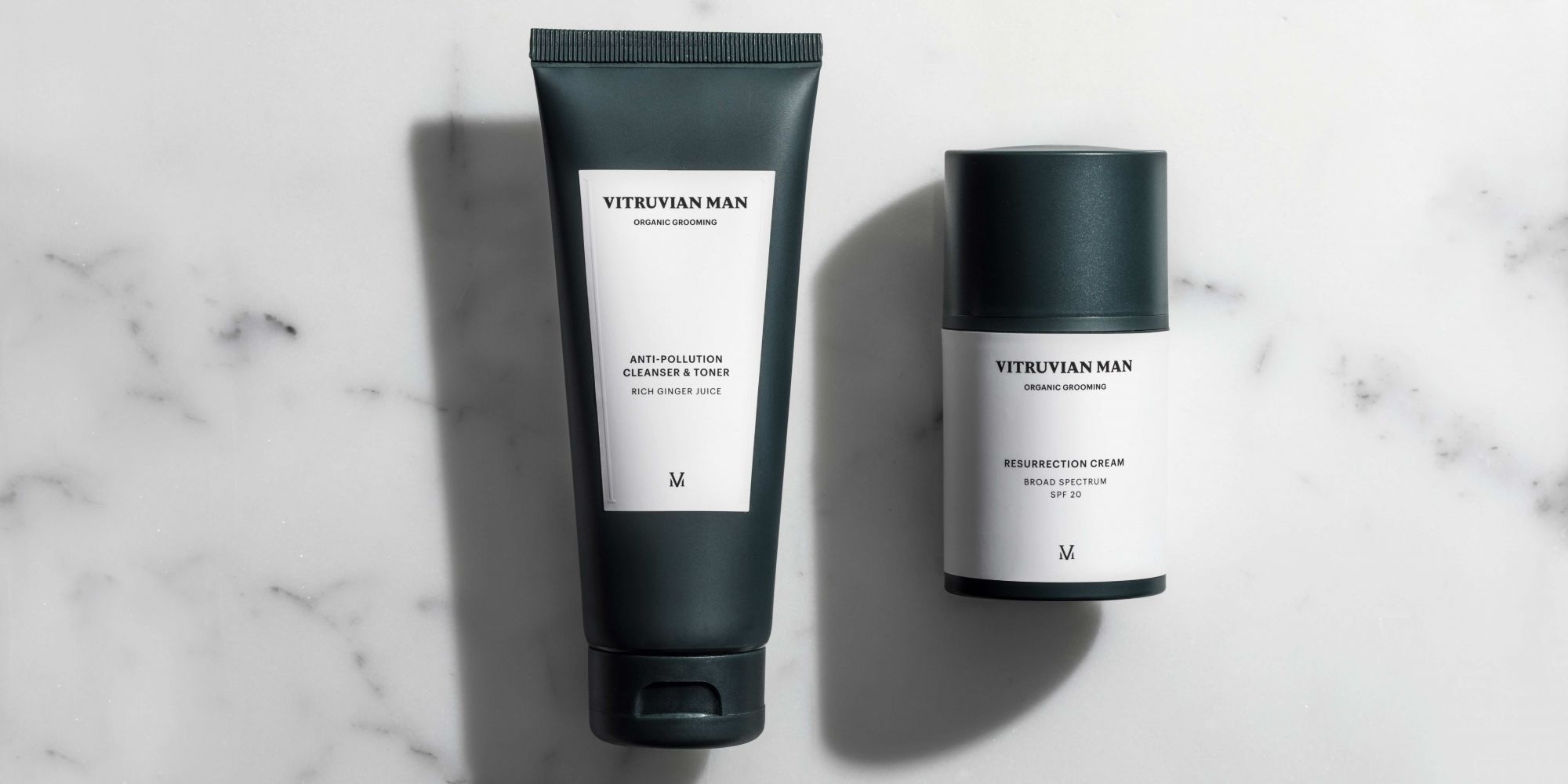 Sophistication In Simplicity: Vitruvian Man Elevates Men's Morning Routines With Two Products
Vitruvian Man is entering the grooming market with a tight morning routine.
The Hong Kong-based brand from Vivian Lau has launched with two products priced at nearly $45 and $81 — Anti-Pollution Cleanser and Resurrection Cream — to get guys ready for their days. Its formulas contain 90% organic ingredients or more, and are designed to hydrate and combat signs of aging.
"The idea is grooming essentials that are simple and easy for guys to understand," says Lau, whose career wound through pharmaceuticals and hotel amenities prior to developing Vitruvian Man. "Guys aren't in the habit of washing their face at night, but they'll clean in the morning or after they go to the gym. My face wash, which is a face wash and toner, can be used in the morning or after the gym. Right after they use it, they can put on the moisturizer with SPF 20 to fortify their skin."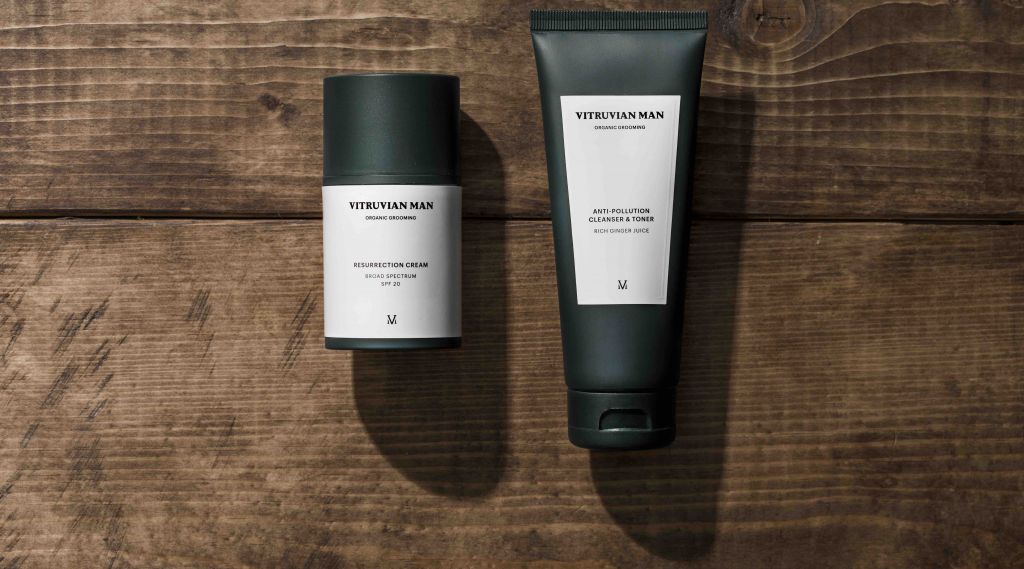 Vitruvian Man features sleek forest green packaging with white labels, and the scent of its products stems from lavender, vetiver and orange blossom. "It sounds girly, but it's not because the lavender isn't the super fragrant part," says Lau. "When you use the products, the fragrance is earthy, green and refreshing. It invigorates your senses."
The Anti-Pollution Cleanser is another entrant in a growing class of skincare products countering contamination's effects on the skin. Lau is confident anti-pollution merchandise isn't a fleeting trend. "I've lived in cities, and it's quite polluted. When I go home, I always clean my face with a toner, and the cotton ends up yellow and black," she says. "Guys may not do [an extra toner] step, but this cleanser cleans off the pollutants and unclogs the pores."
The lightweight Resurrection Cream is intended to boost moisture and offer sun protection. The product is named for the resurrection plant, and extract from that African plant is in its contents. "It's a plant that really retains moisture. Even when it totally dries up, if you give it one drop of water, it will return back to life," details Lau. Zinc oxide and pongamia seed oil give the product its sunscreen properties. Other notable ingredients in Vitruvian Man items include sunflower seed oil, silver ear fungus, and ginger root and nut grass root juices.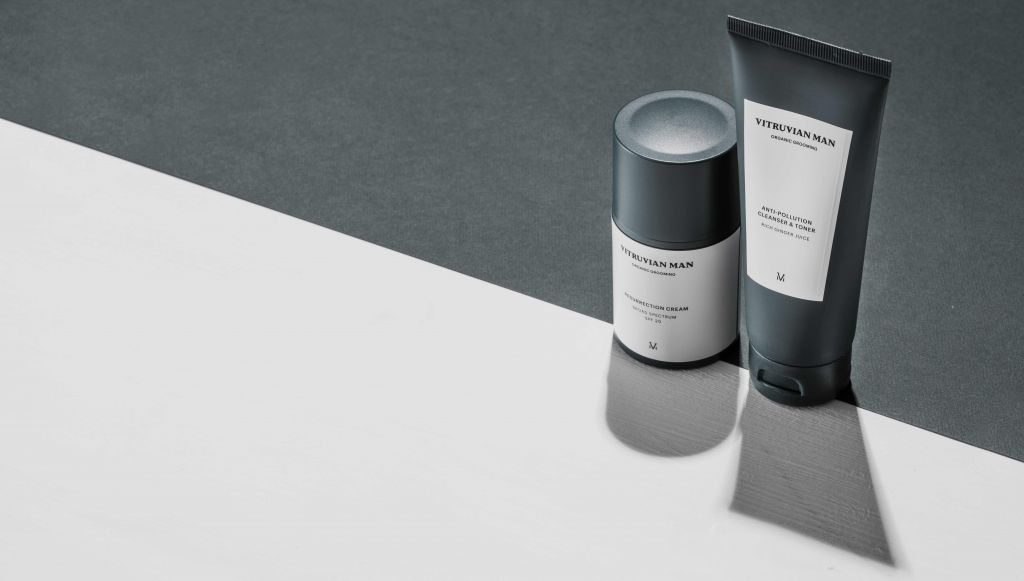 Lau invested $130,000 in erecting Vitruvian Man. She acknowledges it could be a while to recoup the investment, but is hopeful she might see some return in as little as six months. "There's definitely an opportunity for guys' products. Guys are more interested in personal care than ever before," says Lau, identifying Vitruvian Man's core customer as a health enthusiast. "They really want something that's good for their body and the environment."
Vitruvian Man is concentrating on e-commerce first, but Lau envisions the brand at retailers, particularly ones oriented toward green beauty and grooming. "At the moment, I'm doing small production [runs] to test out the market. The idea is to focus more on boutiques," she says. "I'm looking at grooming, health and food stores." Vitruvian Man is already E.U. compliant, and Lau points to Asia and Europe as target areas for the brand.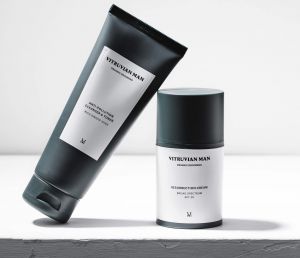 Vitruvian Man is sticking to the morning routine for now. Lau says she'd like to release a conditioner, shampoo, body wash and body oil. However, she's not going to introduce them without soliciting input from Vitruvian Man's customers. "I want to talk to the community about what they want next," says Lau.
She came up with the concept for Vitruvian Man during a trip to Italy to study perfumes, and the brand name and positioning resulted from that experience. "I wanted it to be a mix of art and science, something sophisticated and elegant," explains Lau. "Vitruvian Man fits that perfectly. It's inspired by Leonardo da Vinci's contemplation of the body that relates the body to nature. I want people to be aware of the brand's natural and sustainable story."