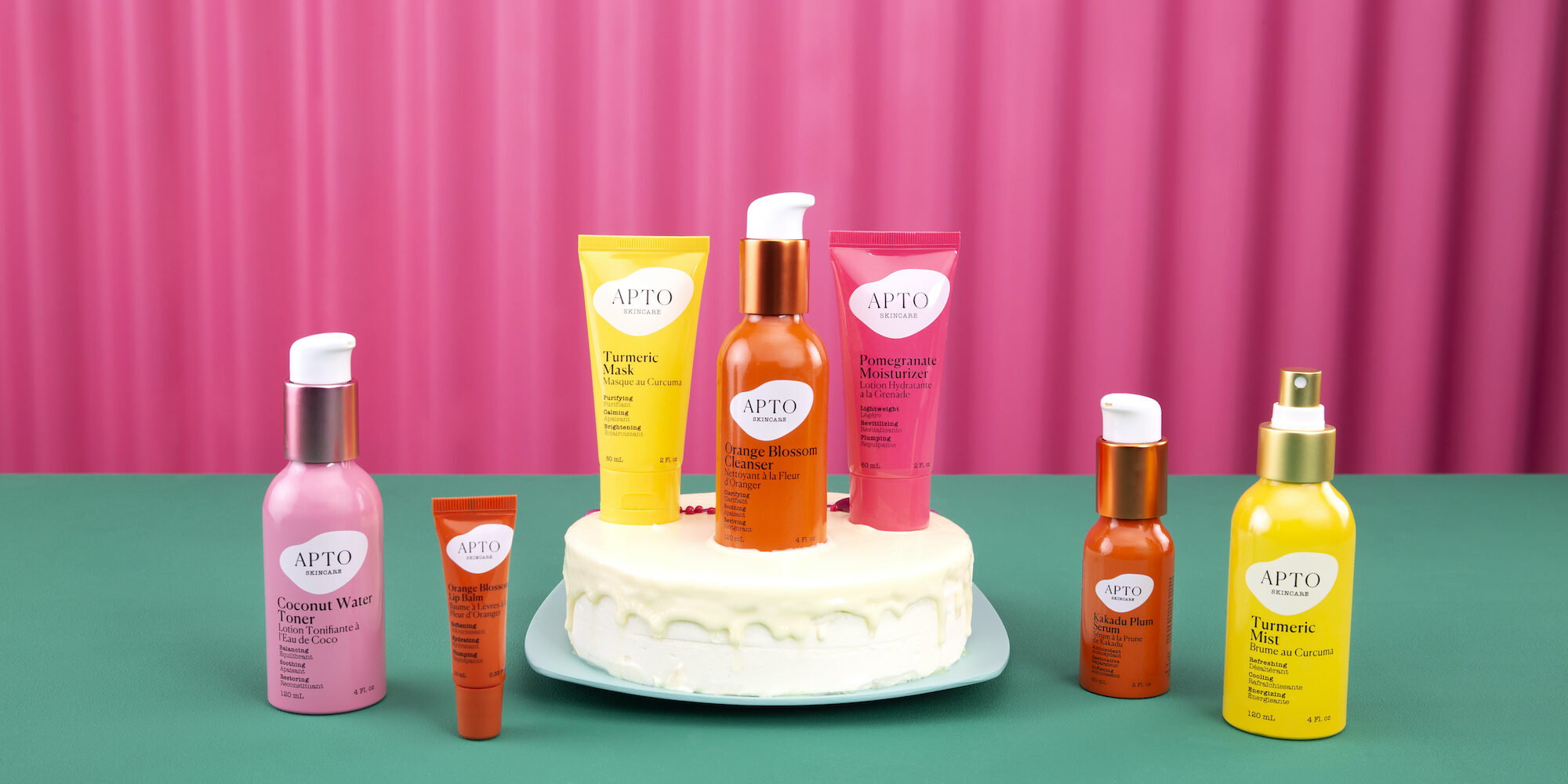 Why Apto Skincare Underwent A Major Sustainable Rebrand In The Middle Of The Pandemic
Apto Skincare founder Marta Cros landed in the Dominican Republic in March 2020 with a shared suitcase for herself, her husband and their two kids. Then, the pandemic hit, and the borders closed. Cros's one-week vacation stretched into a three-month stay.
"It was stressful at the beginning, especially because my kids were 2 and a half years old and 6 months, but, after a few 'adaptation' days, it became a very liberating experience," she says. "Everything was super simple: What to wear, toys, kid's stuff and, of course, how to take care of my skin with the few items I had selected to pack…This whole experience impacted tremendously our lifestyle priorities and even shifted some of our family's core values."
For Cros, the forced retreat was also a chance to rethink her five-year-old business. "It sounds philosophical, but, at some point, I thought, 'Why are we selling five or six different masks?' For most people, it's unnecessary," she says. "And that's where we decided, 'OK, why don't we narrow it down to some products for each category that works for universal skin types and are just delivering what they are supposed to do, no more or less.'"
Before doing that, though, Cros and her team at Apto, which had always been remote, went into what she describes as survival mode. The brand cut costs as much as possible, negotiated out of a lease for a brick-and-mortar store they had to close three weeks after opening it in Brooklyn, and reassessed strategies moving forward. Once it seemed like Apto's business was under control, Cros turned her attention to whittling down its nearly 30 stockkeeping units to seven.
She gleaned data from subscription boxes such as Ipsy and retailers to determine trends and the most popular products. Some products weren't changed more than a little fine-tuning. Apto's Turmeric Mask, for example, has remained large the same, but underwent a constructive adjustment. "One thing that we were seeing is it has a high percentage of curcuma, so there were people that were using the mask and, then, having a bit of a yellow hue, which goes away," says Cros. "So, we worked to incorporate a higher percentage of azelaic acid because we were seeing that people were having more of a discoloration when their skin was not properly exfoliated."
It's advantageous that Cros's partner Christine Valmy Inc., owns the factory where Apto creates its products. She says the partnership enabled Apto to test a lot of iterations and "really try to come up with the best of the best for each category."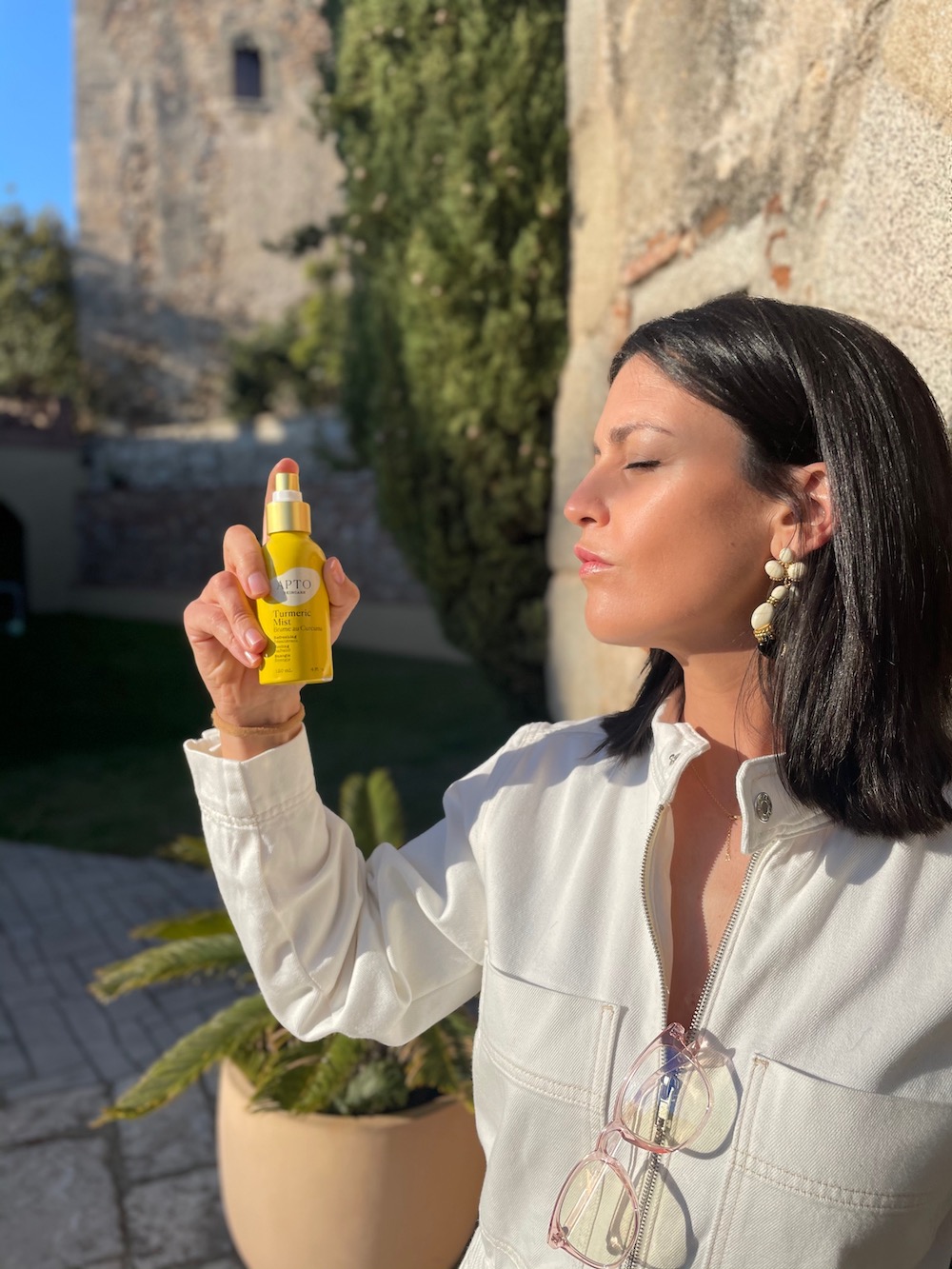 Right now, Apto's lineup spans a cleanser, mask, moisturizer, mist, lip balm, toner and serum. Cros shares she has an "internal commitment" to cap the brand's skincare category at 10 products moving forward, a number that has emerged as important. "We just started realizing that we could do a lot of things in tens…For instance, we wanted to make sure that all of our products can be applied in 10 seconds: Clean your face in 10 seconds, apply your mask in 10 seconds, wait 10 minutes for it to work," says Cros. "We took it as a sign and it's kind of like a north star where every time we are tempted to launch new things or to relaunch things that we used to have…When you have these moments of weakness, it's good to have a number there."
Apto has been a clean brand—it relies on vegan, ethically sourced ingredients—since its inception in 2015, but the pandemic prodded Cros to contemplate ways to improve it in the sustainability department. She says paring down the collection was part of that, explaining, "You don't want to be constantly pushing products and creating more products. You just want people to buy fewer products, really love them and use them all instead of having shelves on shelves of half-used products."
Packaging was another part. Cros got rid of Apto's carton units. "It was a super painful decision because we loved our carton units," she says. "We've done a ton of collaborations in the past with emerging female artist that would decorate the boxes for us or would write poems, so it's an amazing real estate where you can play and express the creativity of the brand, but we decided it was an unnecessary waste." Next, Apto transitioned from plastic to aluminum bottles and from plastic to post-consumer resin tubes.
Apto initially kicked off with travel-sized items because Cros wanted to offer a size customers would actually finish. Additionally, she was also concerned about how the product would perform long-term because the brand doesn't use any chemical preservatives. Due to consumer demand, the brand increased the size of its masks back in 2019 (from 1 fl oz to 2 fl oz) and has since doubled the size of the rest of the collection while keeping the price the same (between $5 and $25). Cros and her team donated old inventory to Project Beauty Share, a Seattle-based organization that donates personal hygiene, beauty and cosmetic products to non-profit organizations that serve women and families overcoming abuse, addiction, homelessness and poverty.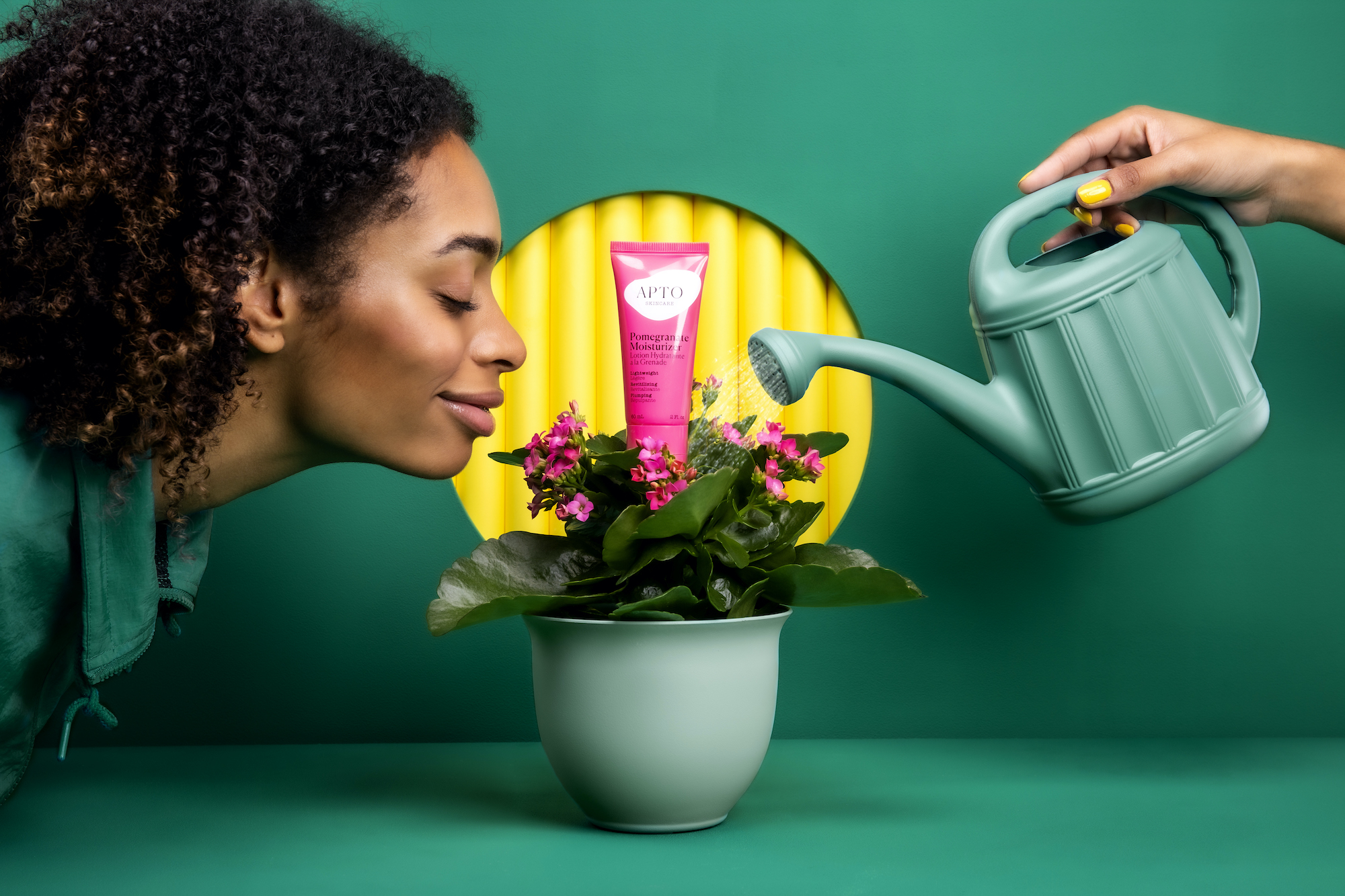 Between formula development, manufacturing, creative direction, sustainable packaging research and testing, among other elements, Cros discloses Apto's rebrand cost around $100,000. The revamp came with a few headaches. At the beginning of the packaging switch, Apto fielded emails from customers informing the brand that its aluminum bottles arrived dented or scratched. Instead of rushing to swap out the material, Cros instead encouraged the customers to view the dents and scratches as badges of honor. "Put it on your shelfie and be proud of having something that's not going to look perfect, but is so much better for the environment," she says.
Cros recognizes Apto can take further steps to lessen its environmental footprint. She hopes to introduce a replenishing system in the future, and she hasn't yet figured out a good eco-friendly alternative the product's virgin plastic tops, which Apto offsets, but she's proud of the brand's progress to date. "I'm not going to be able to figure everything out, but, at some point, we said, 'OK, can we do better?' Yes, so let's start with what we can actually activate fast and make an impact fast, and let's not be so obsessed with getting it perfectly right because we need to take into consideration that we're a small brand and we have limited resources," she says. "If the big, big guys still don't have it 100% right, we're not going to either, but let's not have that block our way to making progress."
Apto's revenues suffered in 2020, but Cross says thanks to the rebranding the company is predicted to double its pre-pandemic sales in 2021. A goal of hers for the year is to expand Apto's mass distribution. Currently, it's available via Anthropologie, Verishop and Ipsy. The brand debuted on Walmart's website in 2019, but departed after there was shuffling internally within Jet.com and Walmart involve a clean skincare initiative. Cros participated in the Target Takeoff accelerator program earlier this year. She declined to disclose if Apto is pursuing the chain as a partner, but credited the accelerator program with providing her knowledge and tools to build the brand at a huge retail player.
Cros says Apto's rebrand has helping it get back on track both financially and morally. "It's always a question of authenticity and when you feel that your products represent the values that you have as a company and even as a founder or person," she says. "I feel so much more comfortable sitting in front of retailers now because this product really represents what I value and that makes it so much more natural for me to be excited and be super confident about the future of the line."