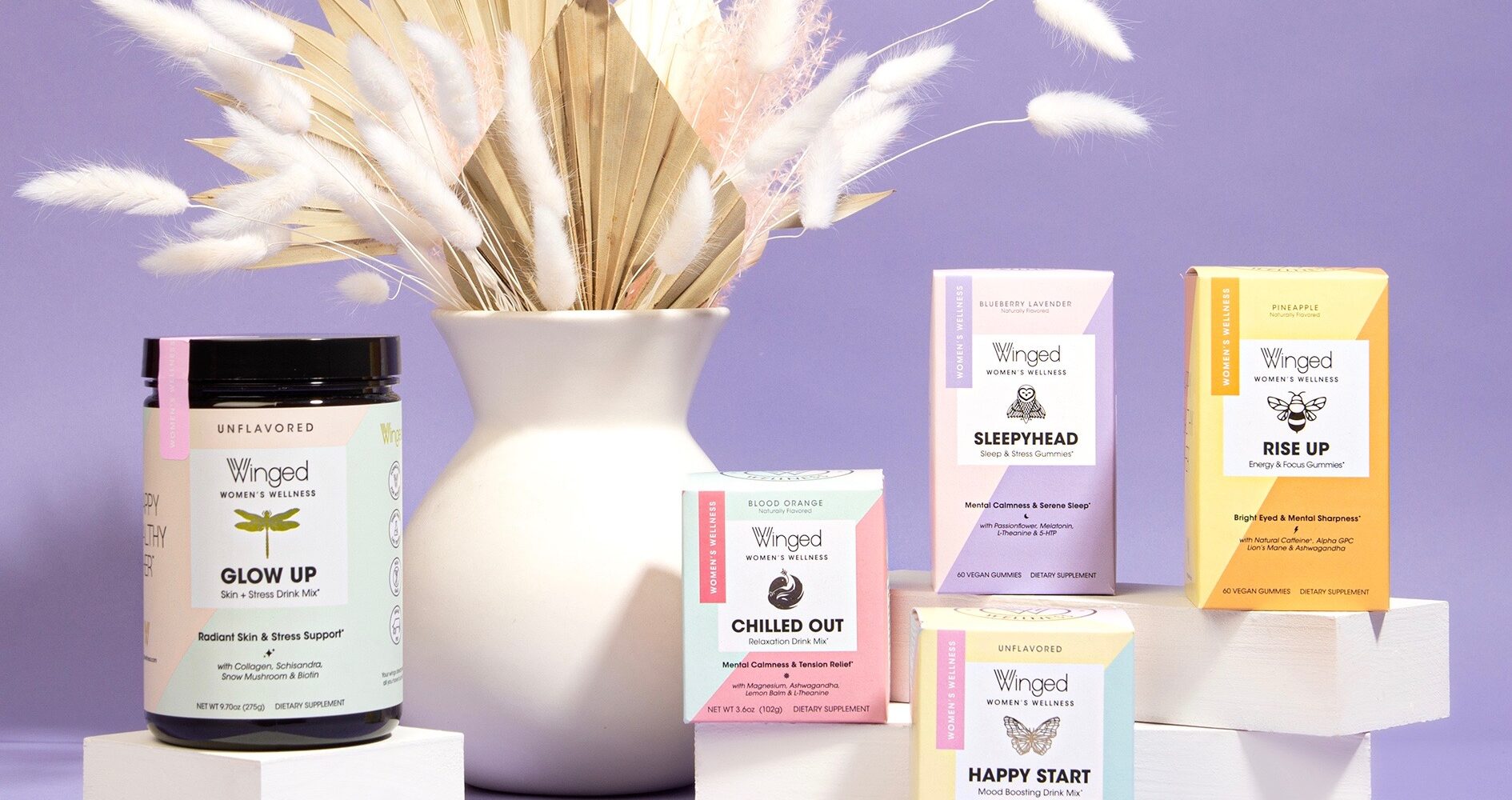 Women's Wellness Specialist Winged Expands To Whole Foods Nationwide With Its First Non-CBD Product Range
"Winged was always meant to be a woman's wellness brand, not a CBD brand," declares Jess Mulligan, co-founder of the nearly 2-year-old Winged whose
other baby, her son, turned 1 in May. "Winged launched with supplements formulated for women that are rooted in helping us overcome stress. When we launched our first ingestibles, they included CBD. I love all cannabinoids for their incredible effects on women's health, and they are still a part of who we are, but who we are is larger than that, and we want to offer a myriad of effective solutions to help women with stress."
Winged is showing it's larger than CBD with five adaptogen-powered ingestibles: Happy Start, a soluble adaptogenic powder designed to be added to morning coffee to boost mood; Rise up, an energizing nootropic gummy with lions mane and ashwagandha; Chilled Out, a relaxation powder made with bioavailable magnesium, chaste tree for  hormone balancing, and other adaptogens and herbs; Sleepyhead, a gummy to aid women with falling asleep and staying asleep containing 5HTP,  melatonin, jujube, theanine, gaba and chaste tree; and Glow Up, a collagen and schisandra formula for skin and stress health. The ingestibles are priced at between $25 and $30 each.
Winged has scored global distribution at Whole Foods Market and will launch in stores in September. Other retailers launching the adaptogen products include Pharmaca, Sprouts, Thrive Market, Wegmans, The Vitamin Shoppe, Mom's, C.O. Bigelow, Amazon and niche beauty retailers nationwide. Overall, the brand's door count has increased 53% because of the adaptogen range. "With our new non-CBD SKUs, we are able to launch in retailers we haven't been able to before," says Mulligan, noting, "We've seen success at natural health stores as well as amazing independents like WTHN."
Mulligan is projecting an 83% increase in 2021 sales for Winged based on the new distribution. The increase takes into account retail traction Winged lost due to the pandemic. "We had just launched at Anthropologie the month before the pandemic and started to make inroads with a lot of those kinds of stores, but it didn't end up working out because of COVID," shares Mulligan.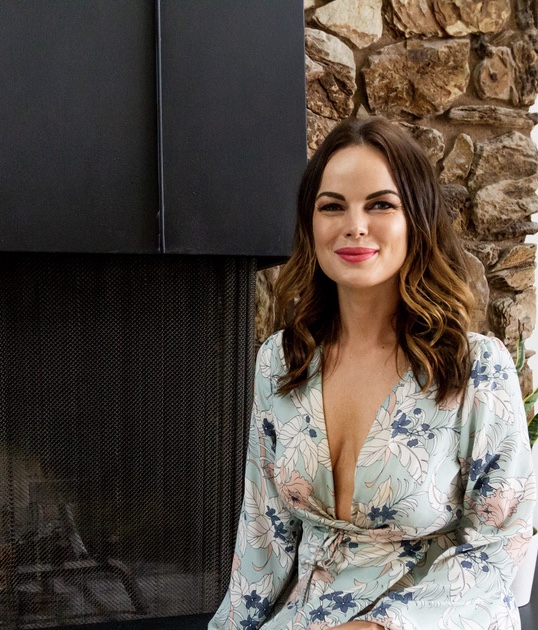 The brand will still offer its original seven ingestible and five topical CBD products that it debuted with in 2019, and that have fueled the company's impressive growth thus far. Winged's direct sales jumped 400% from March 2020 to May 2021 as women sought sustainable solutions for unprecedented stress amid the pandemic. A post-consumer survey conducted by Winged revealed that 95% of its new customers heard about it from a friend or family member. "Products that help with stress and anxiety have never been more important than right now after what we've all gone through together," says Mulligan. "Women are statistically twice as likely as men to experience anxiety, depression and insomnia." 
The entrepreneur founded Winged in response to dealing with debilitating stress and anxiety that CBD assisted her in overcoming. "Someone sent me a big box of CBD, and I slept through the night for the first time in eight months," she recalls. "Before that, I was waking up at like 2 or 3 in the morning, stuck in fight or flight with a pounding chest. I figured it was a hormonal thing. I went to endocrinologist. I went to Peru twice and did five nights of Ayahuasca ceremonies, which is the hardest thing I've ever done, but I was so desperate to feel like myself again." At the time she was introduced to CBD, she was already taking an array of herbal supplements such as lemon balm and evening primrose oil because she read about their myriads of benefits. She had the idea to combine the plant-based hormone-supporting remedies with CBD, and Winged was born.
Mulligan was no stranger to the world of ingestibles when she developed Winged. She spent 11 years at NeoCell, creator of the first ingestible collagen on the market, where she was formerly VP of sales and marketing, and led the consumer-facing aspects of the business. NeoCell sold to Nutranext in 2017 for $100 million. Then, seven months later, the company was sold to Clorox as part of a $700 million brand portfolio deal.
Tim Mount, Mulligan's co-founder at Winged, is a master herbalist and was NeoCell's formulator. The pair raised an angel round for an undisclosed amount to get Winged off the ground. "My experience during the acquisition of NeoCell led me to Winged," says Mulligan. "I had these new CPG bosses breaking up my team, I was a stress bucket. I had social anxiety. I was uncomfortable around, not just people, but even my friends and family, I felt very outside of myself."
Now, two years into entrepreneurship, having made it through the worst of the pandemic and her first year of motherhood, and orchestrated her brand's major product launch, Mulligan is taking a moment to celebrate what she's built. "Our products are really helping women live better lives," she says. "So many women have written in that Winged helped them come off of antidepressants. I'm so proud of that."