5 Major Trends Driving The Cannabis Beauty And Wellness Market
When retail buyers from the likes of Ulta Beauty, Bloomingdale's, Kith and The Vitamin Shoppe show up for a conference, you know it's a big deal.
And that's just what Luxury Meets Cannabis Conference was last month. In its fourth year, the B2B summit's fall 2022 edition from Oct. 20 to 21 featured 40 premium cannabis brands across beauty, wellness, recreation, accessories and food and beverage, including Daily Habit, Candor and Errbshop, that drew the buyers as well government officials, notably Tremaine Wright, chair of New York's Cannabis Control Board, who spoke on the state's legal recreational cannabis market.
As a New York City-based event, LMCC's show floor vibe has been especially buzzy since New York became the 15th state to legalize recreational marijuana in March 2021. While the fate of New York's dispensaries, stores where consumers can legally purchase cannabis products, is still shaky, cannabis leaders are preparing for the day when the massive industry will be fully operational in the state. 
Even for brands that play in the CBD space, modern dispensaries offer compelling sales prospects. With marijuana legalized in neighboring East Coast states such as Massachusetts, Pennsylvania and New Jersey, elevated retail concepts like Rebelle, Farnsworth Fine Cannabis, Maitri Medicinals and Brwnbox have popped up, providing shopping experiences that rival any premium or specialty store. 
Deep-pocketed developers are waiting to break ground on luxurious New York locations. No matter when those will pop up, there are ample opportunities that the rest of the planet offers, and LMCC's exhibiting brands were poised to seize on them with offerings in every possible product category. Tom Hadnot, assistant buyer at The Vitamin Shoppe, was intrigued by what he saw. 
"I saw compelling differentiation from a number of CBD brands at LMCC, including app-based dosing kits, transdermal patches and high-quality infused chocolates," he says. "The show was an immersion into unique packaging concepts, scientific advancements and novel luxury approaches to the category. As a specialty retailer, The Vitamin Shoppe is consistently looking for innovation, quality and a point of differentiation. This was a great showcase for new thinking in the CBD category."
At Beauty Independent, we look for innovation, quality and point of differentiation, too. Below, we highlight brands and products that demonstrated those attributes across five major trends.
1. Luxury Consumable Cannabis Brands, Travel and Events 
The fall 2022 edition of LMCC marked the debut of an entire hall of the exhibition floor dedicated to food and beverage brands. The move made sense given the explosion of premium cannabis-centered consumables, including from brands like Cloud 11, which sells ultra-luxe CBD- and THC-infused confections housed in sculptural black and white packaging that come in mesmerizing flavors like black sesame yuzu and pink peppercorn. 
Customers will pay for the prettiness. A pack of 11 chocolates from Cloud 11 sells for $90. Other standout brands offering cannabis-infused food and beverages were Kiva, which has chocolates, mints, gummies and chews, including the indica-forward Tangerine x Sunset Sherbet Chews with 10 milligrams of THC per chew, and THC seltzer specialist Cycling Frog. Chef for Higher, another exhibiting brand, was founded in 2015 by Hawaii Mike, whose services include made-to-order gourmet cannabis-infused dinners.
Katie Motta, founder and CEO of cannabis branding agency Jade Stone, was impressed by the elevated experiential aspect of consumable brands' packaging, and mentioned stylish and sustainable company K'Dara's upscale look. She was a fan of a book of K'Dara's that holds gummies. 
"The soft touch and minimalist design was simple, but effective in showcasing the quality of their products," says Motta. "I also loved Drew Martin Co. and Cloud 11's table design. Same energy as K'Dara, but, almost in an opposite direction, theirs felt more modern maximalist to me, but the design of the table made you feel as though you were at an exclusive dinner party. They also had a custom octagon box for their chocolates, which stood out to me as well."
Motta and her fellow industry insider attendees agree that luxury consumable brands are ones to watch going forward. Mitchell Baruchowitz, managing partner at cannabis-focused private equity fund Merida Capital Partners, envisions them as integral to a thriving cannabis-themed travel and party scene. 
"If you're having a bachelorette party, instead of drinking your faces off in New Orleans, you'll go to a cabin in the Poconos and do spa stuff, and one night rock your faces off," he says. "Luxury travel experiences, food pairings, cooking luxury infused dinners, I think the luxury experiential component hasn't even started yet."
2. The Full Alphabet Of Cannabinoids 
Pick a letter other than "D" and slap "CB" in front of it, and you've probably got an active ingredient found in a number of modern beauty and wellness brands. Supplement specialist Plantwise harnesses the power of plant-based ingredients like thymoquinone, a phytochemical compound from black cumin seed that helps regulate pain signaling to the brain, with adaptogens from regeneratively grown whole hemp phytocannabinoids CBD, CBE and CBG along with others to feed the endocannabinoid system. The intent is to modulate inflammatory responses in the body.
Plantwise drew attention with the eye-catching dual-capsule design of its Mind Spark, Immune Prime and Pain Support supplements priced from $36 to $44. But the pills were more about function than form. Recently launched hormonal wellness brand Looni employed similar striking technology for its Balance Beam Mood Complex. 
At Plantwise, co-founder and chief innovation officer Jimmy Brophy says, "We developed a variety of capsule options, but we went with the dual-capsule design because it enabled us to combine a diverse spectrum of lipid-soluble and water-soluble ingredients into each formula in a novel, function-first way. The capsule design showcases the regeneratively-grown organic hemp oil and the sealed membrane. It's a great solution to prevent the oxidation of the ingredients."
THC-V and Delta-8 also had huge presences on the floor. Small-batch CBD brand The Healing Rose is about to launch a range of wellness offerings featuring TCH-V, a non-psychoactive cannabinoid purported to support weight loss, and a range of CBG-infused suppositories that can not only help with painful sex, but used anally may support gut health and body pain resulting from chronic disease. Due to her enthusiastic proselytizing on the power of suppositories, co-founder Laura Beohner has earned the nickname "The Suppository Fairy."
Select brands are creating hero products with no CBD at all. Instead, they're zeroing on on the strength of cannabinoids beyond CBD. One is wellness specialist Astraèa & Co. Its hero products is Sleep | Dream Oil, a CBD- and THC-free oil formulated with a proprietary blend of CBN, terpenes, linalool and beta-caryophyllene to assist with falling asleep and instigating deeper sleep. Dream Oil can be taken orally and applied to temples, wrists, and lips before bedtime.
Astraèa & Co. co-founder Tamar Builder says, "It doesn't only help restore our REM and sleep cycle, but also aids in recovery sleep so that we wake up actually feeling restored." 
3. Cannabinoids As A Recovery Tool
Pain balms have been a staple of the CBD topical category since day one, but brands have gone outside often sticky pain salves to deliver real relief on several fronts. Olympic track and field athlete MacKenzie McClain Hill, a new mom, knows a thing or two about pushing the human body to its limits. She launched her CBD-infused personal care line LumiBloom at the very beginning of the pandemic with products priced from $12.50 to 74.99 like Pain Relieving Spray, Muscle Soothe Stick, Muscle Relief Stick and Recovery Bath Salts to loosen stiff muscles, ease pain and promote recovery.
At the onset of the pandemic, McClain Hill noted that LumiBloom's CBD bath bombs were being snapped up on the brand's website. Now, as consumers are out more and have less time to indulge in long soaks, the brand's shower steamers available in CBD and CBD-free versions have become bestsellers.
Astraèa & Co.'s robust relief range includes a reusable transdermal patch priced at $18 for a pack of four with CBD, lidocaine and menthol. For people seeking to avoid popping Advil, Tylenol or something stronger to manage muscle and joint pain, Plantwise developed the supplement Pain Support as a natural alternative to over-the-counter pain pills that's safe to take regularly.
In addition to cannabinoids and pytocannabinoids, the Pain Support formula contains ginger-derived gingerols to aid with delaying temporary muscle soreness and support articular cartilage repair, curcumin to reduce pain and encourage a healthy inflammatory response, and 5-LOXIN boswellia gum resin, an extract purported to be beneficial to joint health.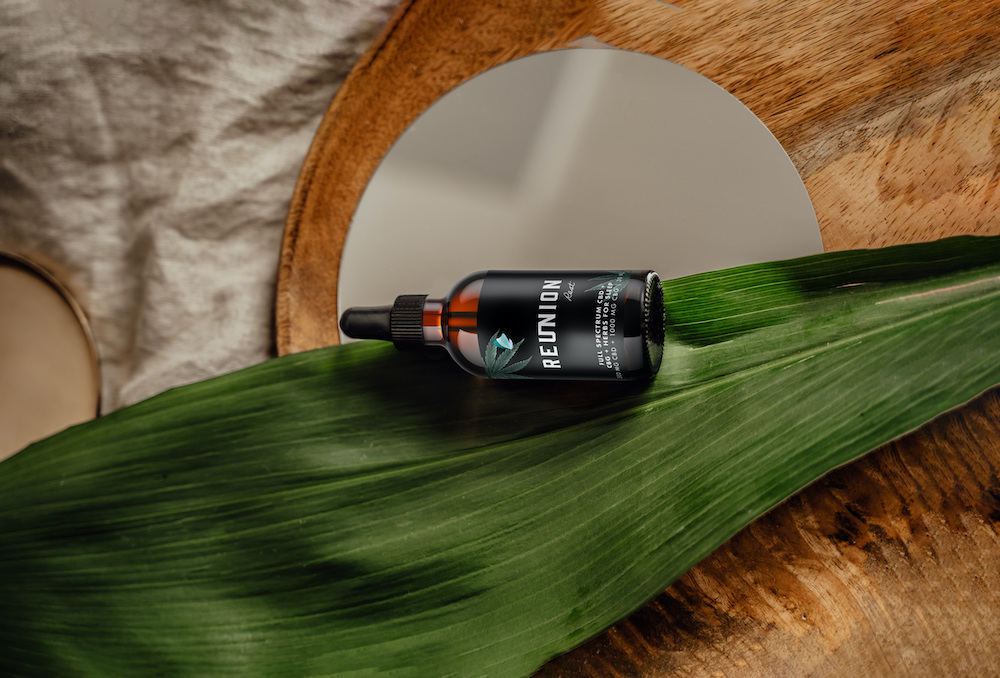 4. Cannabis And Psychedelic Culture Crossover
As psychedelics have become more widely accepted for medicinal and recreational purposes, opportunistic entrepreneurs who entered the cannabis space early on have jumped on psychedelics. They view psilocybin, ketamine, MDMA and other plant-based and synthetic psychoactive substances as a goldmine they want to tap as legalization spreads in the country. Oregon and Colorado have legalized psilocybin use. On a federal level, it remains illegal. 
Reunion founder Eve Simonsen is passionate about psilocybin specifically. Reunion is launching on Dec. 12 with a trio of CBD tinctures, but it will branch out in the future. Simonsen says, "As a brand committed to working in reverence with nature and the spirit of the land, cannabinoids, functional mushrooms and psilocybin are all part of our projected path forward." 
K'Dara concentrates much of its communication on "microdosing" CBD. The concept of microdosing, which entered the zeitgeist, is rooted in the usage of psychedelics, mostly mushrooms, in small non-hallucinogenic doses. At the fall 2021 show, previous LMCC exhibitor Rebelle introduced Halo Mist, a flower-infused mist with one milligram microdose of THC per spray. The THC is paired with complementary ingredients like chlorophyll and green tea. 
As the consumable cannabis category expands into a variety of doses and delivery systems, insiders posit that weed-based products could give actual psychedelics a run for their money. "Clearly the adoption of cannabis versus psychedelics is not the same, but I think the biggest competitor to microdosing of psychedelics is cannabis edibles," says Baruchowitz. "Psychedelics are about life changing, cracking of the egg, whereas edibles are more of an experience of being bent without cracking the egg."
5. Advanced Cannabis Skincare
Cannabinoid-infused skincare has sputtered—and its dip was evident on the show floor. However, the brands that did bring new facial and body care products to LMCC took a thoughtful approach to them. At the start of the CBD rush that arose after the 2018 Farm Bill legalized the hemp trade on a federal basis, a thoughtful approach was rare as many brands just dusted standard skincare formulas with CBD. 
Entrepreneur Scott Kanyok's near-death experience 14 years ago inspired his journey to launch comprehensive nutrition supplement company UB Super. The brand's wellness items like its bestselling CBD and CBD-free smoothie mixes and muscle rubs put Kanyok on his path to recovery. 
At LMCC, Kanyok debuted his next creation, Meticulous Skincare. It has four facial care products priced from $68 to $77 intended to be used on their own or in conjunction with UB Super's ingestible products for holistic beauty and wellness. 
Along with cannabinoids, Meticulous products contain what the brand calls its fulvic acid trace mineral complex, which has over 70 trace minerals, electrolytes, amino acids and antioxidants derived from decomposed organic matter. The complex is purported to prevent and combat free radical damage and signs of environmental aging. 
One of the most luxurious brands on the show floor was Japanese CBD brand Walala. Born in Tokyo and raised in California, founder Mike Eidlin is fluent in the cultures of both Japan and the United States. His goal is to educate the Japanese market on CBD and wellness through skincare, and introduce quality Japanese cosmetics to the U.S. CBD market.
"Japan has the third largest cosmetics market in the world," he says. "If you use the cosmetics market as a proxy for the potential of any given country's CBD market, it wouldn't be crazy to think of Japan as being one of the larger CBD markets within the next few years. Additionally, out of the biggest East Asian countries, China has banned CBD domestically, Hong Kong is banning CBD by the end of this year and South Korea doesn't allow for CBD consumption, even though it has allowed for FDA-approved medical cannabis drugs. This makes Japan a very interesting market to consider." 
Eidlin hopes to score Walala a stateside retail partnership with a prestige beauty retailer like Sephora, Bluemercury or Ulta Beauty. The brand's bestselling Enrichment Serum will be priced at around $75.