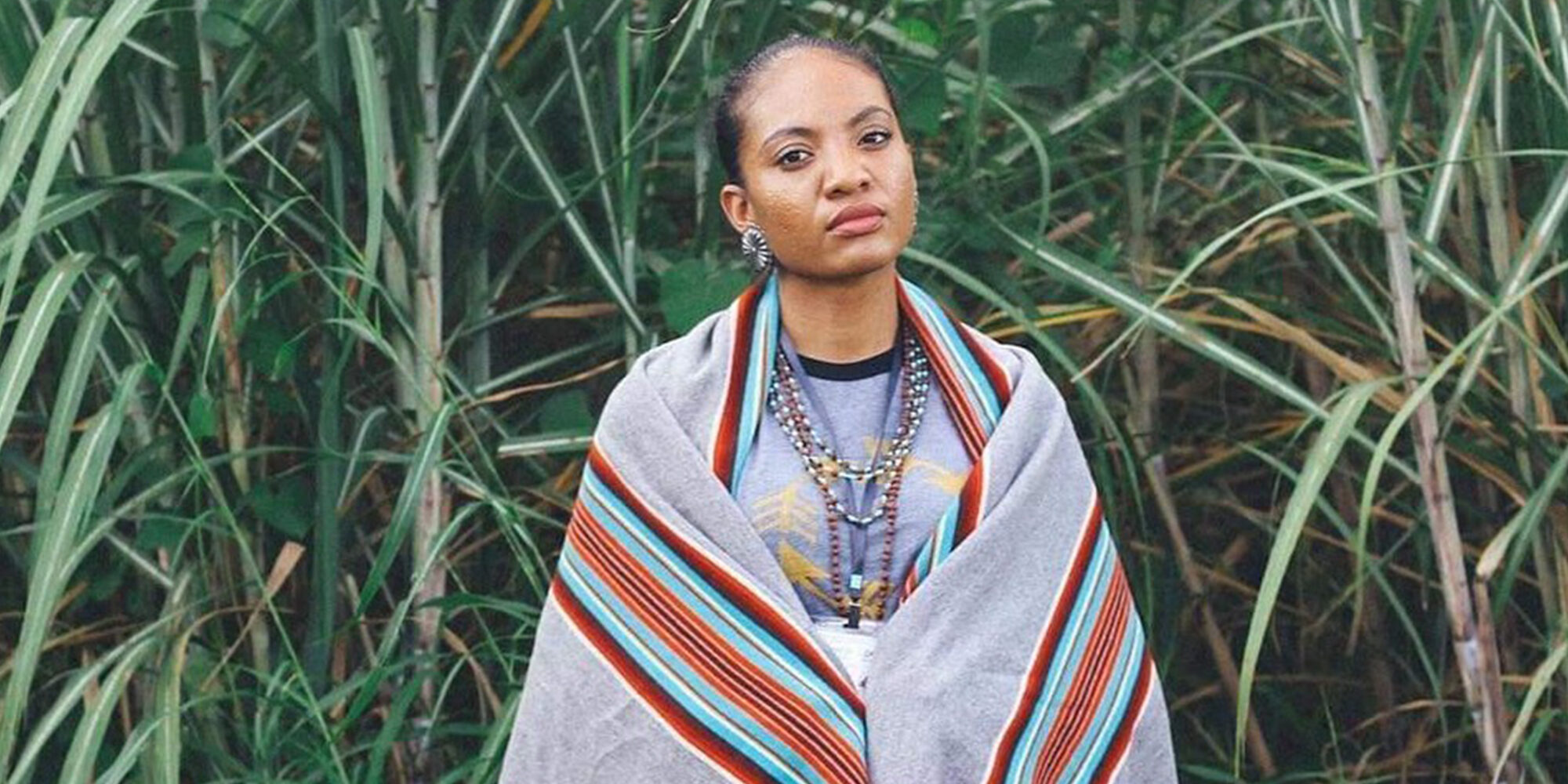 I Opened The First Cosmetics Store From A Native American-Owned Brand. Here's What It's Been Like To Build My Business And Operate During The Pandemic.
Ah-Shi Beauty founder Ahsaki Báá LaFrance-Chachere is trying to create a makeup company that's never existed before: A large beauty industry player led by a Native American bridging products and physical locations, and celebrating people no matter what they look like. As if that task wasn't hard enough, LaFrance-Chachere's growing brand has been challenged by a pandemic that's hit Native American communities particularly hard. Here, LaFrance-Chachere tells Beauty Independent about the inspiration behind her brand, forging ahead during a difficult period and the future of her business.
From a very young age, I longed to see someone in the beauty industry I could relate to. As I got older and started to purchase makeup for myself, I noticed it was very hard to find my foundation shade. I had to settle. In 2012, my junior year of undergrad at the University of Arizona, I had a vision in the library. I saw Ah-Shi Beauty as clear as day, a beauty brand that shows the world how diverse indigenous people are from all native reservations coast to coast. I knew I couldn't stop until I made it happen.
The next year, 2013, I was diagnosed with ovarian cancer. I was 23 years old, and I couldn't believe it. My mom is a breast cancer survivor, and she told me, "You have a choice to let it get the best of you or you take control of your body now. It is up to you. I did not raise you to be weak." She was right. I dug deep and fought for my health. In 2015, my test results came in, and I had defeated cancer. The vision of Ah-Shi Beauty really saved me from falling into a dark place. I kept my mind on building the brand. When I heard, "There is no sign of the cancer," I knew, if I can defeat this, I can do anything. I am here for a reason. I found my purpose.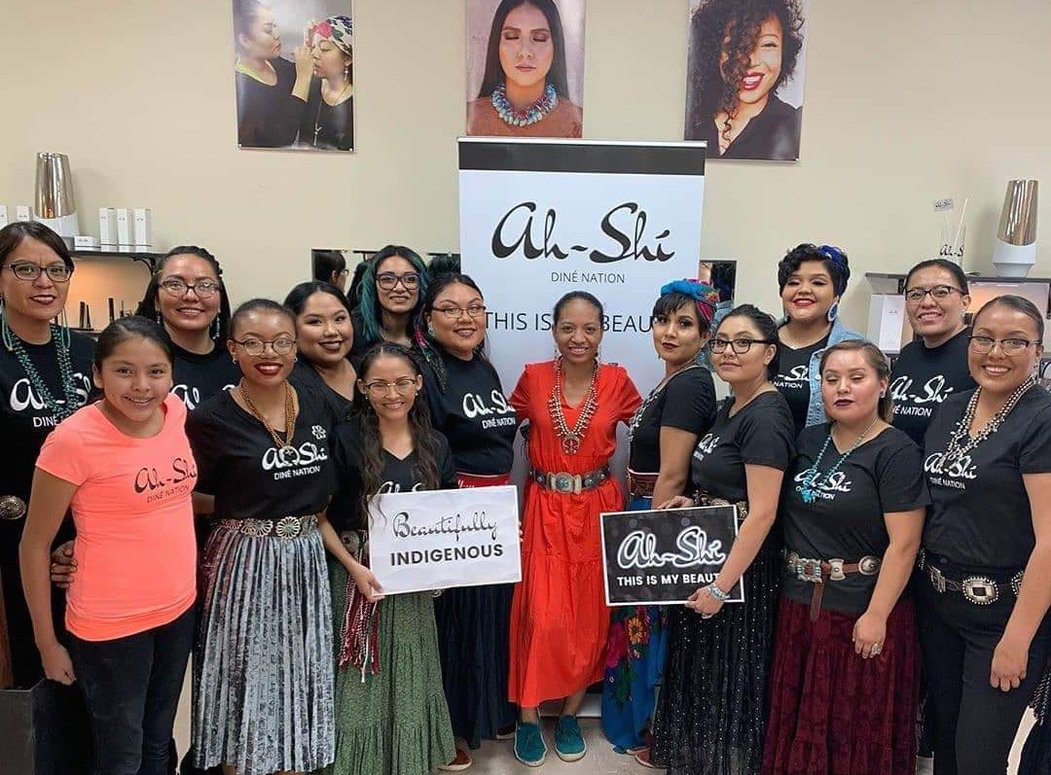 I am a proud Diné tribal member and African American woman. Even with all odds against me, facing social challenges as a dark-skinned Native American, I know I have the power and responsibility to show the world an untapped community of people who balance multiple cultures at the same time, to show the world that we as Native Americans are diverse, not the cookie-cutter look the media created for us. Ah-Shi in Navajo means, "This is mine." Ah-Shi Beauty means, "This is my beauty." It is my responsibility to make sure my customers see themselves and to empower to love the skin they are in.
While Ah-Shi Beauty was founded in 2012, it launched on July 4, 2018. Like many beauty brands, the amount of time that went into research and product production was very important. Because we specialize in our indigenous complexion, I couldn't just launch when I had one product. So far, we have 35 foundation shades and are still creating more. No longer do my people have to purchase two foundation shades or settle for a foundation that is close enough. AThey need to have a foundation that is perfect. Our skincare line is also 98% botanically-based, gentle, yet effective. Life is already complicated, and my goal is to make sure our products are uncomplicated and easy to use.
On Dec. 21, 2019, we opened the Ah-Shi Beauty Studio in Gallup, New Mexico. We have a multimedia set, official showroom, gift shop and main distribution center. On March 7, 2020, we opened the nation's first Native American beauty brand storefront in Window Rock, Arizona. Ah-Shi Beauty officially operates on and off the Navajo Nation. Why? So I can create jobs for my people, and eventually expand to Houston, LA and New York City. I have so many dreams and goals for Ah-Shi Beauty. I run on momentum, breaking barriers and pulling off red tape.
"I am building Ah-Shi Beauty to give my people the opportunity to provide for their family."
Then, momentum came to a stop. COVID-19 came in full swing and put everything on hold. Unfortunately, I had to temporarily close my two locations just when I got moving and business was going well. It hurt me more than anything to close these locations I worked so hard to open, but I could not put my staff and customers' health at risk. Within six weeks, my sales had dropped 50%. I knew I had to get creative and fast. I used social media as a way to get closer to my customers. I worked hard to bring the Ah-Shi Beauty experience to them via virtual appointments and video tutorials, which helped increase my sales. From April 20 to May 30, our sales rose back by 45%. We are getting close to making our sales figures again. I believe now states are reopening, and my customers off the reservation are slowly getting back into their normal routine. However, on the reservation, we are still on curfew and a stay-at-home order is still in place.
Everything is different on the Navajo reservation. We have a weeknight curfew from 8 p.m. to 5 a.m. and a 57-hour curfew starting Friday at 8 p.m. to Monday at 5 a.m. We all saw on the news my reservation was affected badly, and it's no joke. The news is not over exaggerating our situation. The Navajo Reservation is as big as West Virginia, but our hospitals are not equipped for COVID-19. We do not have the luxury of driving five minutes to a local Walmart or grocery. We travel on average of an hour or more. The amount of traveling for a gallon of milk, a loaf of bread or eggs is a true mission.
Not every home has running water and electricity. It is not as easy as people think to set up water lines and electricity. We cannot just drill a well because people need to understand our reservation is trust land from the federal government. We do not have any legal rights to our land. We will never own our land. That alone puts everything on hold. My people do not have money to run their own water lines and power lines. Even if they could, most move off the reservation to build a better life for themselves. We work hard. Then, we hit another wall. There are not enough jobs on the reservation. That is where I come in. I believe the only way my people can overcome this is to create opportunities. I need a serious team, and my people are talented. All of my employees are from the Navajo Nation.
I am building Ah-Shi Beauty to give my people the opportunity to provide for their family. It is more than selling makeup and skincare products. This is my way to give back and help improve the economy on my reservation. There is only so much the Navajo Nation government can do for us. There is only so much the federal government can do for us. As a business owner, I have more control to use my resources to make a serious impact on my reservation and others across the country.
I'll leave you with one of my favorite moments during my grand opening in Window Rock, Arizona. I was greeted by a little girl. I kneeled down and shook her little hand, and we danced because the band was playing my favorite song. It was that moment that made everything clear I am where I need to be. This little girl was the vision I had in 2012 in the library at the University of Arizona. I created Ah-Shi Beauty for her generation and future generations to come. They will never feel out of place and unrepresented in the beauty industry. I am just getting started and not as big as I want to be yet, but I get reminded that it is not how big you are, it is how you make your people feel. Yes, my tribe is fighting COVID-19, and my tribe and others across the nation all deal with the lack of resources and industries, but we have hope. I must make Ah-Shi Beauty into the next timeless, iconic beauty brand for my people.