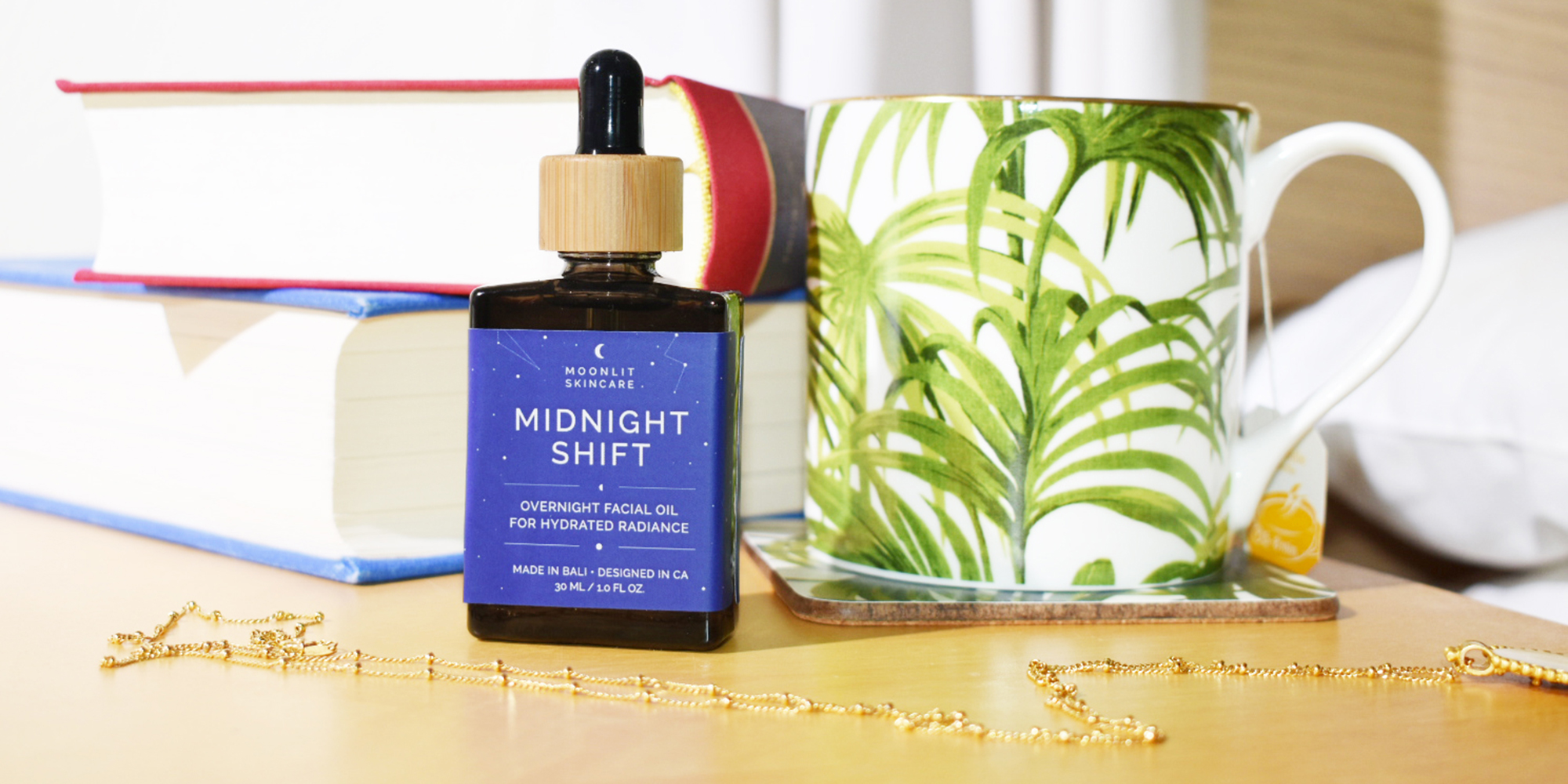 This Beauty Brand Supports Supple Skin And Sweet Dreams, No Pills Necessary
Moonlit Skincare takes the concept of beauty sleep very literally.
Founded by Parsons School of Design alumnae and former roommates Stephy Kim and Kriszta Matyi, the brand's three debut products – Midnight Shift Overnight Facial Oil, Cloud 9 Silk Pillowcase, and Let Me Sleep Sleeping Eye Mask – revolve around improving skin while snoozing. They're enclosed in oh-so-dreamy packaging with moons and constellations to broadcast their evening orientation.
"The idea was born out of noticing how much better our skin was when we got enough sleep. People forget how detrimental lack of sleep is. We're creating a brand that focuses on the roots of health, and sleep as a pillar of that is essential," says Los Angeles-based Kim. "As a consumer, I was frustrated that sleep was an afterthought, and it shouldn't be."
Moonlit Skincare arrives on the skincare scene as the wellness movement, which pushed yoga and meditation beyond hippie and new agey circles to the masses, embraces sleep as a key priority. The New York Times went so far as to call sleep a status symbol. In the beauty industry, p.m. skin products and routines have long been part of brand propositions and consumer habits, but the emphasis on skincare designed specifically for use during sleep is just beginning to gain traction.
"Skincare and sleep to me go hand in hand. It's only going to get bigger and bigger. I predict, in two to three years, sleep skincare will be sold in Target and Duane Reade," says Kim. "We are on the pulse of it. The idea of skincare at nighttime and Moonlit being dedicated to those eight hours or so of sleep is what we are all about. We really don't want to focus on anything else."
If I get enough sleep, I feel ready. I can take on my day. I can take on anything. It's an investment in your life and happiness.
Well-known retailers are already contacting Moonlit Skincare, validating Kim's belief that sleep is the next frontier in beauty. The brand is sticking to a direct-to-consumer model for now, although it has priced its products to head to stores once Kim and Matyi feel they can handle the demands of retailers. A brick-and-mortar presence is definitely a goal.   
"We don't want to overwhelm the customers, but we also don't want to overwhelm ourselves. It's important to consider bandwidth with startups," says Kim. "The great thing about having an independent business is that you can start off slow."
No beauty industry neophyte, Kim, who worked at Dr. Dennis Gross Skincare and on projects with L'Oréal-owned Kérastase and Shu Uemura while at the agency VM Group, learned early into her entrepreneurial tenure that small brands encounter unanticipated challenges. It took twice as much money to get Moonlit off the ground as originally expected. Despite the cost increase, the brand is on track to reach profitability next year.
Moonlit Skincare sought ingredients from Bali, a country tourists flock to for renewal that resonated with Kim, to suit its get-some-zzz's for optimal skincare mission. The brand's $34 moisture-locking facial oil contains ginseng for toning, jojoba for softening, green tea for antioxidant power, papaya for cell turnover, and lavender for calming the nerves before bed. Mulberry silk was picked for the $15 sleeping eye mask to block out light and for the $40 pillowcase to combat hair breakage and wrinkles.
Judging by Kim's sleep patterns, Moonlit's products are doing their jobs. She's notching eight hours most nights even as she's toiling away to introduce her brand to skincare customers. "If I get enough sleep, I feel ready. I can take on my day. I can take on anything," she says. "It's an investment in your life and happiness." And in good skin, too.