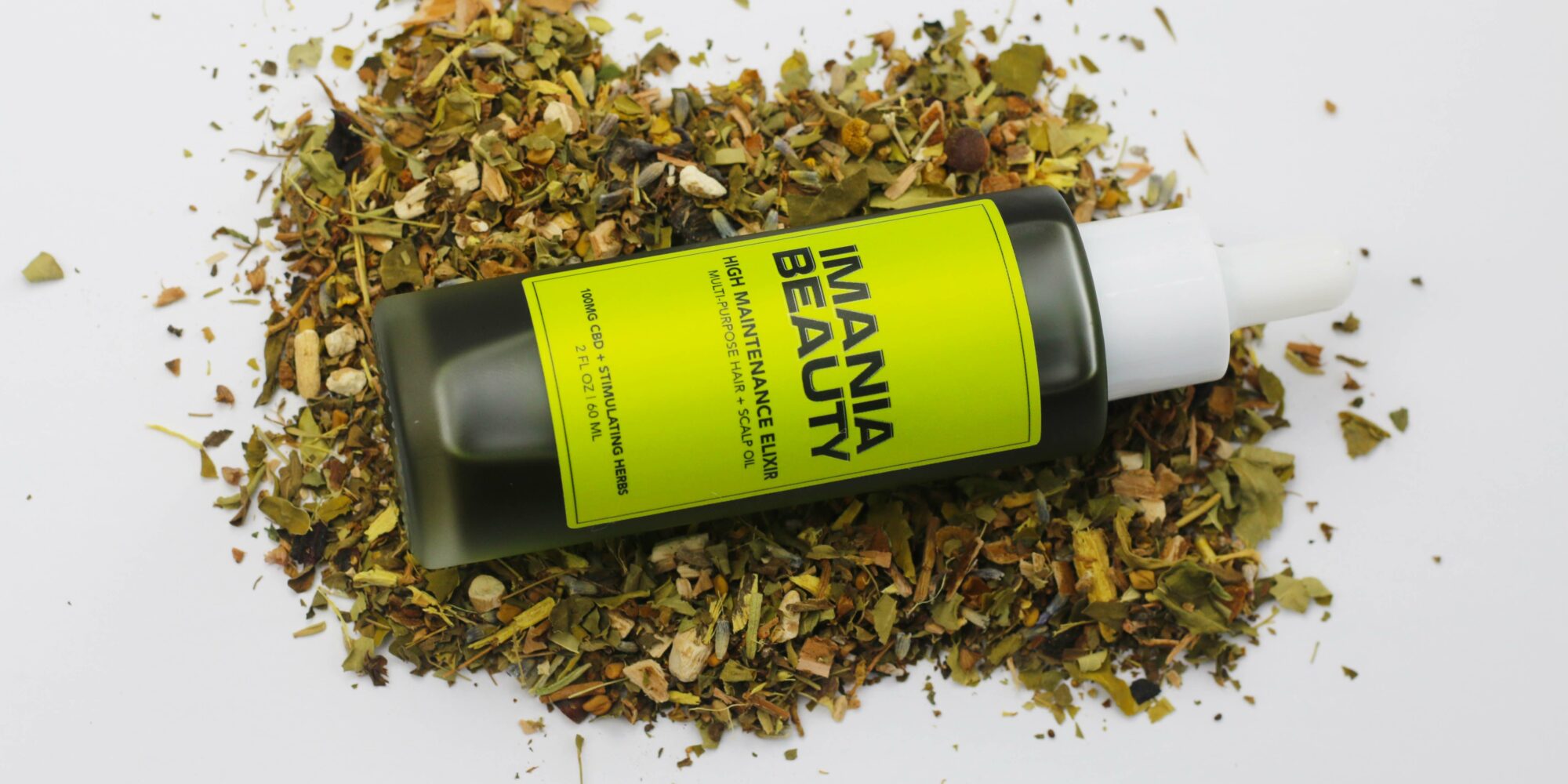 Influencer Nia Imani's New Clean Brand Imania Beauty Takes A Scalp-First Approach To Haircare
For years, natural haircare influencer Nia Imani collaborated with brands such as Mielle Organics, The Mane Choice and Shea Moisture on activations and content, but, after amassing more than 100,000 subscribers on YouTube, she decided it was time to use her skills for her own brand.
Imani has launched Imania Beauty with High Maintenance Elixir, a $41.55 multipurpose hair and scalp oil she formulated herself. Created with a blend of broad-spectrum CBD and Ayurvedic ingredients neem oil, black seed oil, brahmi and amla, the hair treatment is designed to help stimulate hair growth, soothe itchy scalp and lock in moisture.
"Our tagline is essentially to 'give your hair a break.' We want people to understand that it doesn't have to be a hassle to wash your hair or do your hair. We want the experience to be relaxing and fun," says Imani. "We want to ensure that every product we're going to make allows someone to feel more confident and happier with how their hair and scalp feels."
Clean haircare brand Imania Beauty is entering the market at a moment of progress for the prestige haircare products category. According to The NPD Group, prestige haircare sales jumped 11% in the third quarter to hit $232.5 million. As a whole, prestige beauty sales dipped 17% to $3.7 billion for the period. With the pandemic interfering with the salon business, consumers have been concentrating on improving their at-home haircare regimens.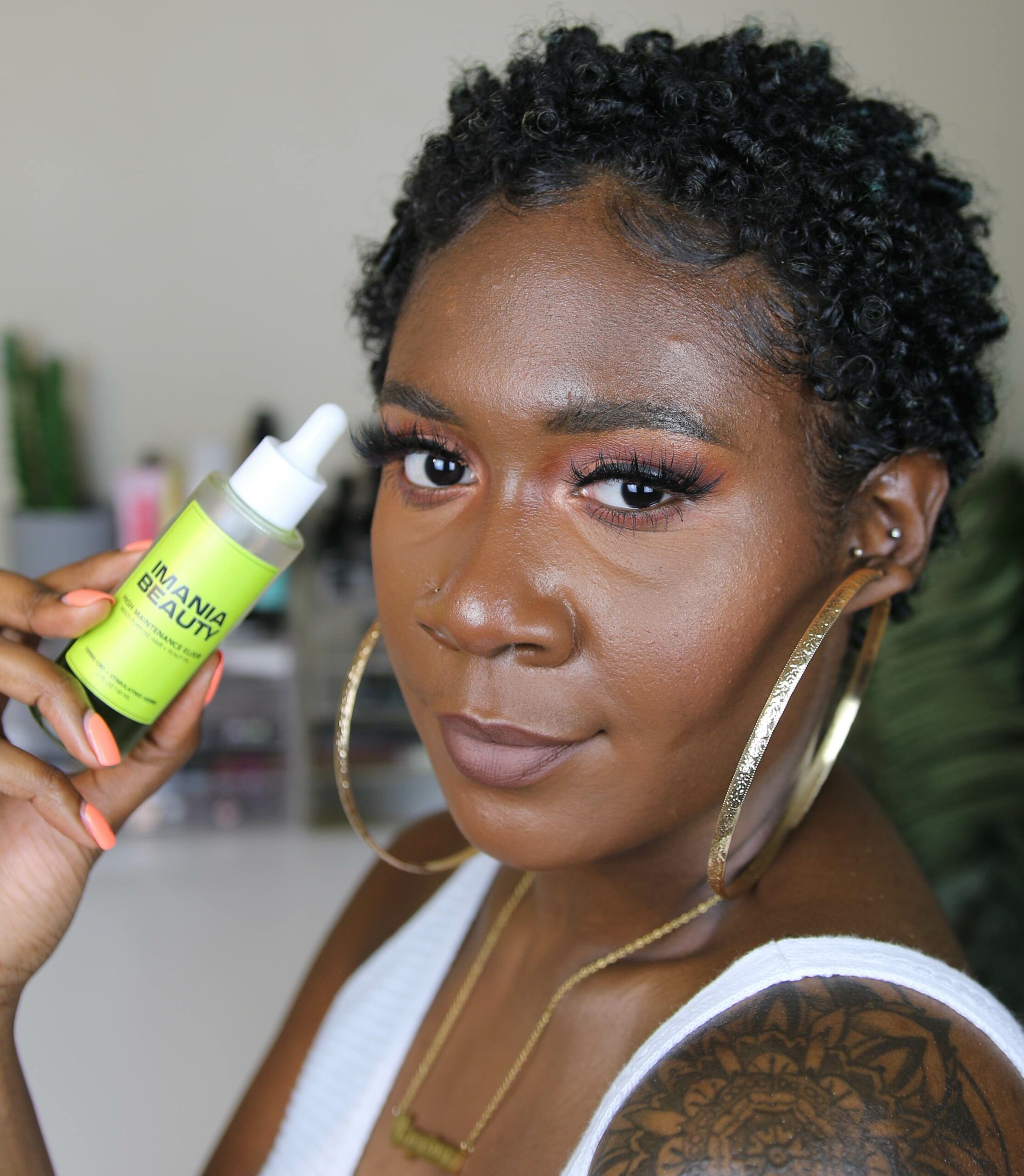 Imani invested close to $3,000 to get Imania Beauty up and running, an amount that covered purchasing the brand's website domain, bulk ingredients and equipment to produce High Maintenance Elixir by hand. To prepare for the brand's launch on Aug. 22, Imani produced 300 bottles to sell and, in two days, customers had already snapped up 107 of them.
Imani describes Imania Beauty's core customer base as consisting of men and women who are either hair aficionados or newbies on a journey to embrace their natural hair. The brand's product pricing stemmed from its premium CBD and Imani's market research on the haircare landscape. She's attempting to strike a balance between top-tier ingredients, labor requirements, and accessibility for millennial and gen Z consumers.
"When it comes down to a quality product, I don't think price necessarily means quality," says Imani. "I did have to take into consideration how much our raw materials cost and that this a product that is made by hand."
"We want to ensure that every product we're going to make allows someone to feel more confident and happier with how their hair and scalp feels."
As a beauty influencer, Imani understands the value of a digital audience. A central aspect of Imani's social media strategy for Imania Beauty was to build up momentum via Instagram prior to its debut by connecting with her following and cultivating the brand's email list. On its first day, Imania Beauty had around 1,000 email subscribers. "Launch day was chaotic. I had been showing people how I was using the products and a lot of the behind the scenes of filling the bottles. People were very excited," says Imani. "At midnight [before the launch], people were DMing me to purchase, and I was like, 'It's not even up yet!'"
To indie beauty entrepreneurs with little knowledge about how to expand their brand's digital reach, Imani advises authenticity is key. "People can tell what's real and what's not real. People aren't really even interested in traditional media anymore. That's why social media like YouTube and TikTok is working more than traditional ads that you see on television. People are more interested when it's coming from people who look or dress like them," she says. "Focus on your strengths, nail a niche and, mostly importantly, be consistent."
Imani's objective is to keep Imania Beauty bootstrapped as it grows. "It's important to always take others into consideration when you're involved in a brand, but this is something that I want to keep for myself as well as my family for years to come," she says. "I'm such a headstrong person and, when you take on investors, you're also taking on the ideas and direction of other people. This is something I'm very passionate about, and I would like to keep within myself."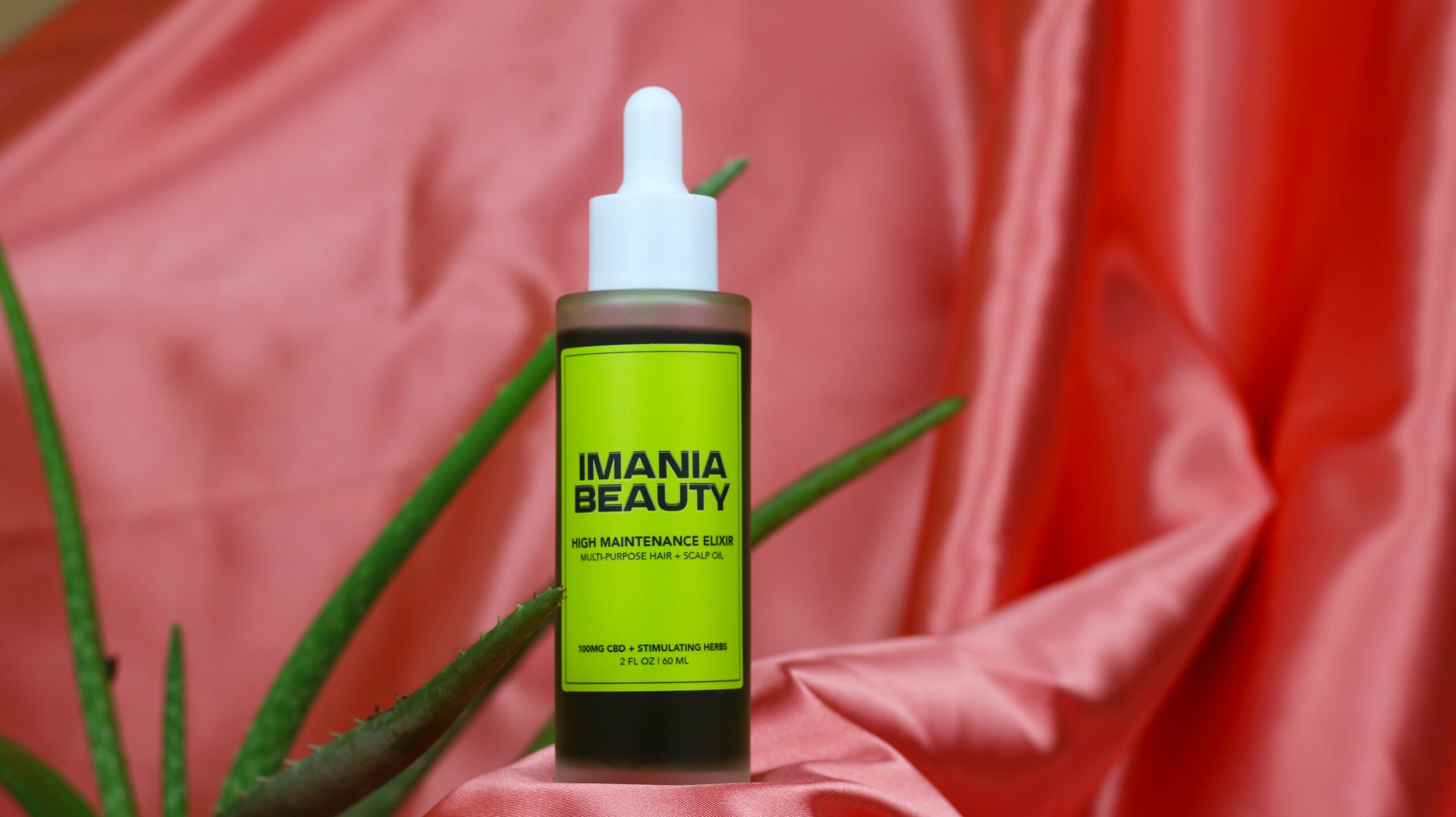 Imania Beauty has only been available on its website so far, and Imani hasn't yet embarked on retail distribution efforts. However, eventually, her aim is to land partnerships with retailers and e-tailers such as Sephora, Bluemercury and Poplar. By the end of the year, Imania Beauty's assortment is slated to increase to three products. The expected upcoming releases are a scalp scrub and healing scalp serum. Imani plans to keep manufacturing in-house to maintain full control over the products.
As she leads Imania Beauty, Imani hopes to encourage other Black women to take the leap into beauty entrepreneurism. "We essentially have been left out, especially when it comes to traditional marketing and investing. I would say to anyone interested in creating their own brand, 'Just go for it!' Take the money out of what you do have," she says. "It's very much possible to create something out of nothing, and we deserve to be in this space. We deserve to be represented and to be trailblazers of this space."
She adds, "Don't wait for anyone to give you anything. When I go on YouTube, I see so many girls making their own skincare brands, making lip glosses in their mothers' kitchens. Just do it! You don't have to have heavy equipment. You don't have to have a million dollars to start something. Record your journey. There's always someone out there who is waiting on you to inspire them or to know that someone like them is trying to accomplish their goals. You can start with where you are, and I promise you that will get you to your next level."