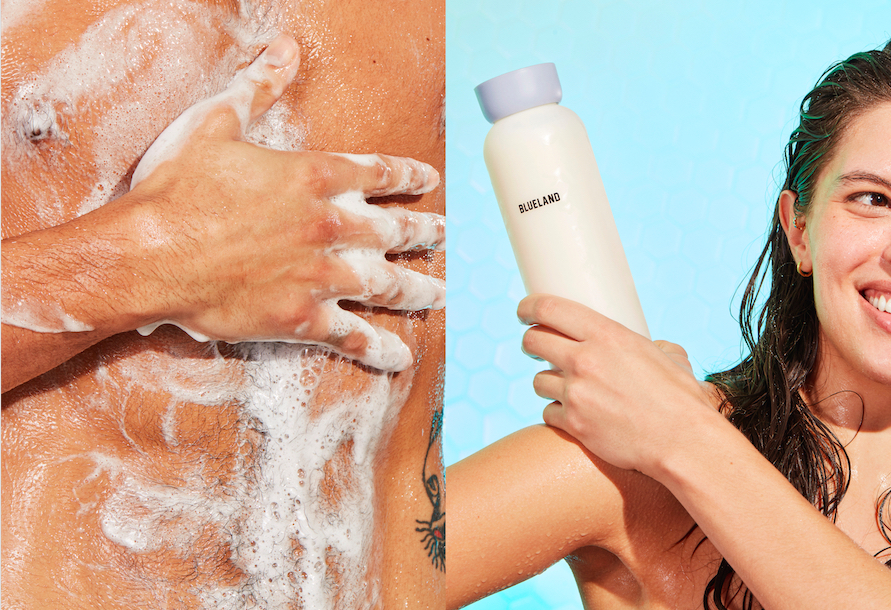 Blueland Extends Into Body Care With Its Mission To Eliminate Single-Use Plastic Packaging
Blueland is taking its mission to end single-use plastic packaging into the shower with a new body wash.
Unlike the brand's previous tablet-to-product formulas, the body wash results from mixing a sachet's worth of powder with water inside what it calls a Forever Bottle, a reusable container constructed from glass and Tritan, a durable plastic, to last indefinitely through countless body wash refills. It takes an hour to initially activate the creamy gel body wash, which Blueland finalized after vetting over a dozen formats and 100 iterations.
A Body Wash Starter Kit containing a Forever Bottle and refill pouch producing 18 ounces of body wash is priced at $18. Subsequent body wash refills housed in compostable paper pouches are $9. As a comparison, body washes from Dove, Harry's and Olay largely sell from $7.99 to $9.99 at Target. Body washes at Sephora are easily double or triple the price. Certified by Made Safe, Cradle to Cradle and EWG, Blueland's body wash features the ingredients oat, vitamin E, vitamin B, kaolin clay and coconut acid.
In the last three years, Blueland has been steadily extending into more areas of consumers' homes by releasing roughly 15 products. It began in April 2019 with Multi-Surface Cleaner, Glass + Mirror Cleaner and Bathroom Cleaner, and introduced Foaming Hand Soap in August the same year. It then ventured into laundry detergent, dish and dishwasher soap, and toilet bowl cleaner prior to plunging into personal care. Product expansion has been integral to Blueland's sales and the lifetime value of its customer climbing 400% and 80%, respectively, from last year.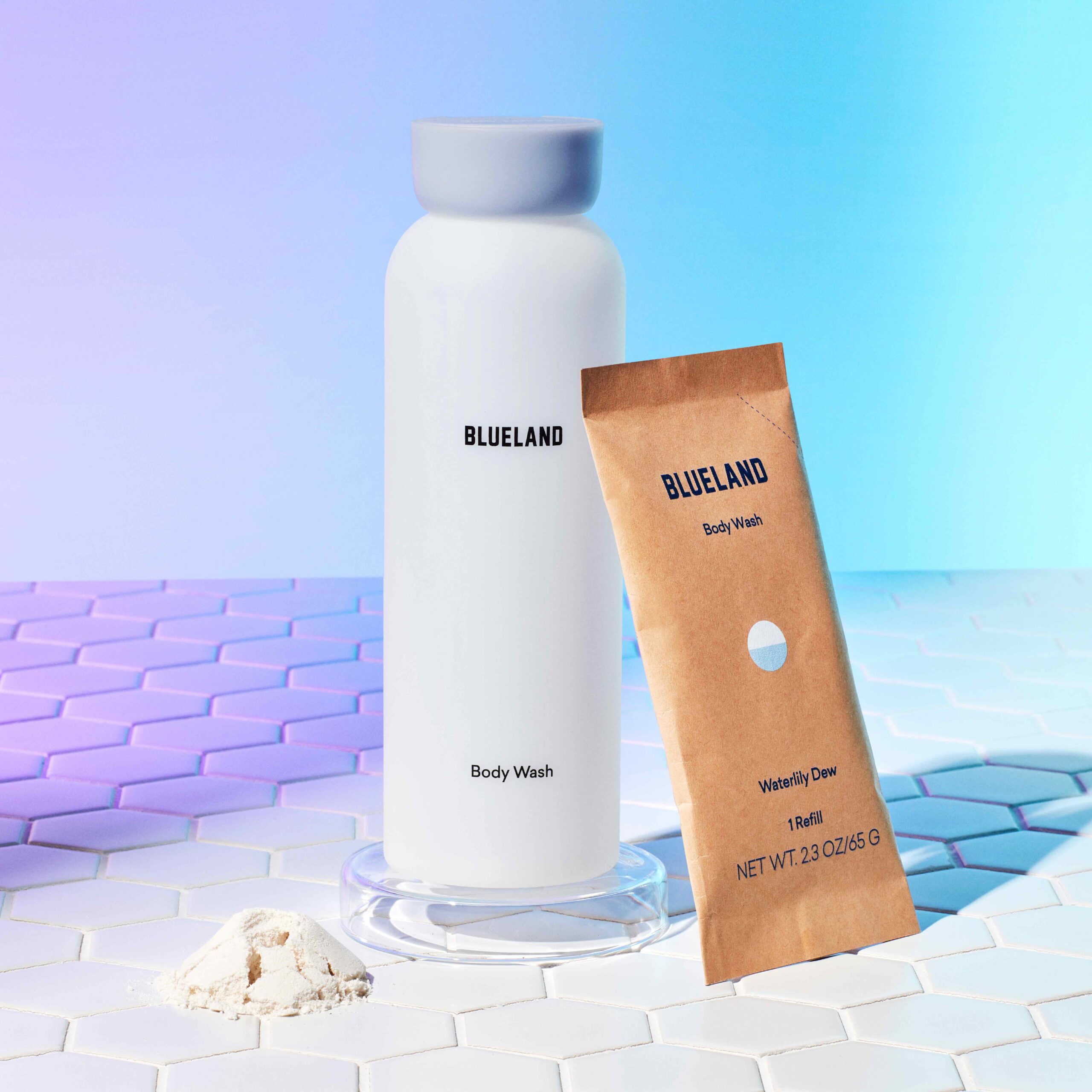 "Our goal really has not been to be a cleaning company, it's about how we can have the greatest impact and eliminate single-use plastic," says CEO Sarah Paiji Yoo, who founded Blueland with COO and fellow Harvard Business School alum John Mascari. "Once we looked at research and talked to our consumers, we realized body wash was a huge area that we can have an impact, not only because body wash is a high-frequency product in personal care, but because it's typically one of the bulkiest."
Blueland's plan this year is to launch two hero products, according to Paiji Yoo. On top of launching products usually purchased repeatedly to stem the inordinate stream of plastic packaging they generate, she explains the brand aims to put out products wide swaths of consumers seem to be willing to change their habits around for the sake of the planet. In beauty, she posits it's harder for consumers to adjust haircare habits than body wash habits.
"We realized body wash was a huge area that we can have an impact, not only because body wash is a high-frequency product in personal care, but because it's typically one of the bulkiest."
Blueland tries to make it as seamless as possible for consumers to switch to its products from traditional products. "When we told people conventional cleaning sprays were 90% water, that concept really made sense to them, and what helped is that we weren't changing the use case," says Paiji Yoo. "Ultimately, you dropped a tablet into warm water, and that was it. We really removed the friction by making sure there wasn't stirring involved. It doesn't feel like an extended chemistry project. We focused on that for body wash as well, the end format being the same creamy gel format that Americans love about body wash."
In theory, the refill revolution could slash the single-use plastic packaging barrage. In a statistic often cited by beauty brands, the beauty and personal care industry is reportedly responsible for 120 billion units of plastic packaging yearly. But the theory rests on the premises that consumers continually refill durable packaging such as Blueland's Forever Bottle, and physical retailers, where the substantial majority of beauty and personal care sales are conducted, embrace refills and educate their shoppers about reuse. Otherwise, brands are simply compounding environmental problems by creating durable packaging requiring greater energy to manufacture that, similar to the single-use plastic it hopes to replace, winds up generally in landfills.
Paiji Yoo says Blueland's customers are refilling its Forever Bottles. She characterizes its repeat customer rates as "incredible," and underscores the design of the brand's Forever Bottles and the savings provided by its refills foster reuse. "Because we are designing the last body wash bottle or cleaning bottle you will ever buy, we are putting thought and care into it," she says. "People will want to keep it around because it's more beautiful than the alternative." Blueland estimates it's diverted almost 2 billion single-use plastic packaging units from landfills and oceans.
Paiji Yoo shares retail distribution is on deck for Blueland later this year, but declines to offer specific information about the retailer or retailers. She says the brand has been careful to have a direct relationship with customers up until this point to receive feedback that's informed product tweaks. Among the many improvements it's executed due to feedback are bettering its nozzle, diminishing its cardboard packaging and multiplying its scents.
"Body wash enables us to reach a different type of customer."
At the outset, Blueland had a single signature scent: iris agave. Today, its hand soap is available in three scents—iris agave, perrine lemon and lavender eucalyptus scents—and the brand unveils seasonal hand wash scents. "That was a game changer for our hand soap business," says Paijii Yoo of the scent variety. The body wash is premiering with three scents: raspberry hibiscus, waterlily dew and sandalwood sage.
Blueland has raised $35 million to date from venture capital firms and investors the likes of Prelude Growth Partners, pop star Justin Timberlake, actor Adrian Grenier, Rent the Runway co-founder Jennifer Fleiss, Sweetgreen co-founder Nicolas Jammet and Nick Green, CEO and co-founder of Thrive Market. The funding supports the brand's research and development process, in-house manufacturing, product pipeline and distribution. Blueland says it took three years to complete its patent-pending body wash. The company has 40 attained or pending patents.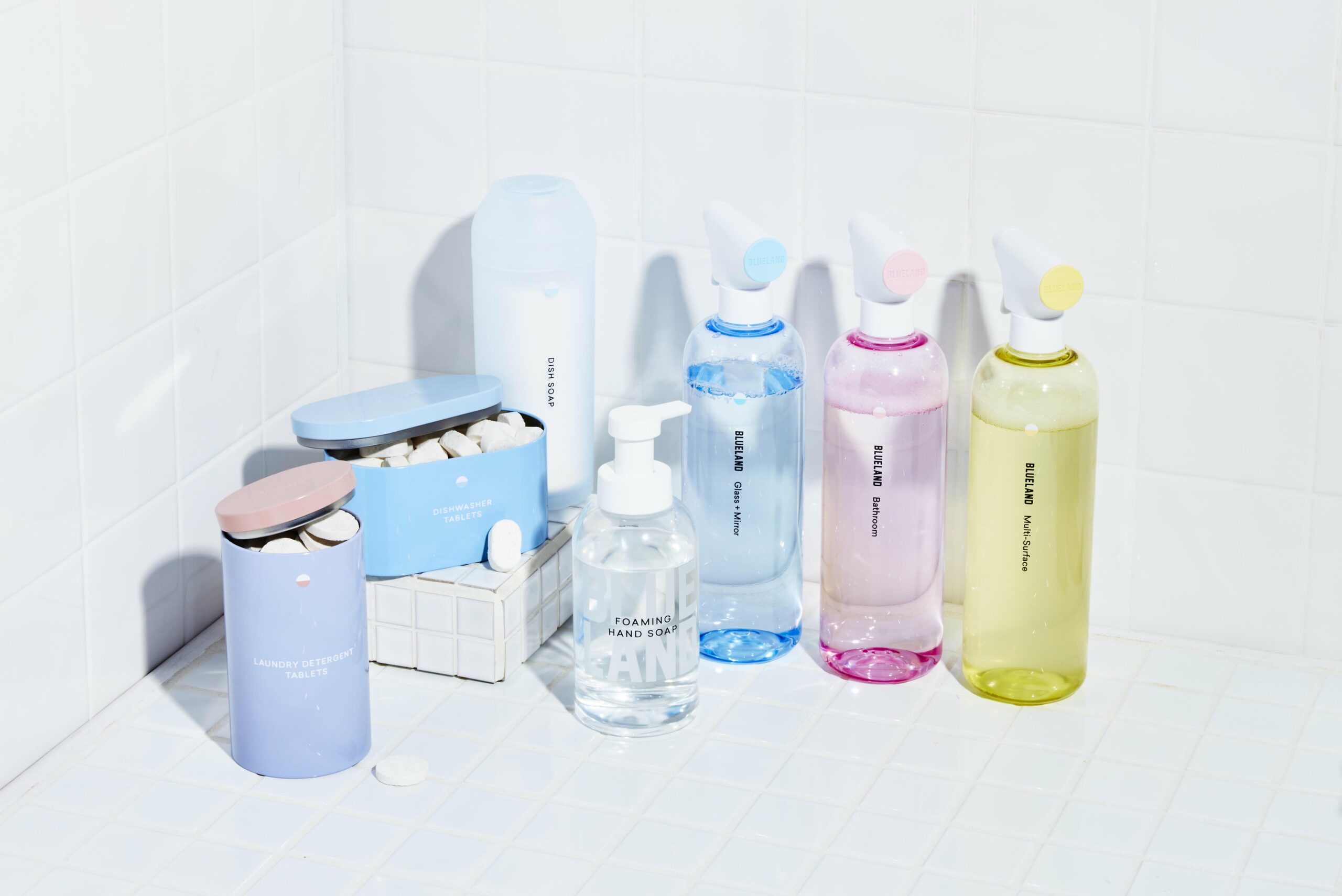 "In five or 10 years, I would love to see ourselves as a global brand across a wide range of categories. We started in cleaning, and now we're in personal care, but there are certainly other opportunities in beauty and even food and beverage," says Paiji Yoo. "There are all these snacks that come in single-use plastic packaging."
To determine the success of its body wash, Blueland will examine adoption by its existing customers and its ability to attract additional customers. "A body wash can be a way to get them into our ecosystem and a step to a more eco-conscious lifestyle," says Paijii Yoo. "Cleaning products aren't the most exciting products for a lot of people and also a lot of younger folks may be still living with their parents, and cleaning products may not be as relevant to them, and there are households that bring in professional cleaners, and there may not be as much of a relationship with their cleaning products. Body wash enables us to reach a different type of customer."
Paijii Yoo describes Blueland's current customers as not "dark green" or steadfast environmentalists. Rather, she labels them "eco curious. "They want to do their part and have good intentions. They are also busy and savvy, and want products that are convenient and are affordable," she says. Underscoring Blueland's draw to "eco-curious" consumers, she mentions Blueland ships to all states virtually every day. "And we have since our first year of business, which hopefully is representative of the base of customers that we have and the wide, inclusive appeal that we have," says Paijii Yoo.