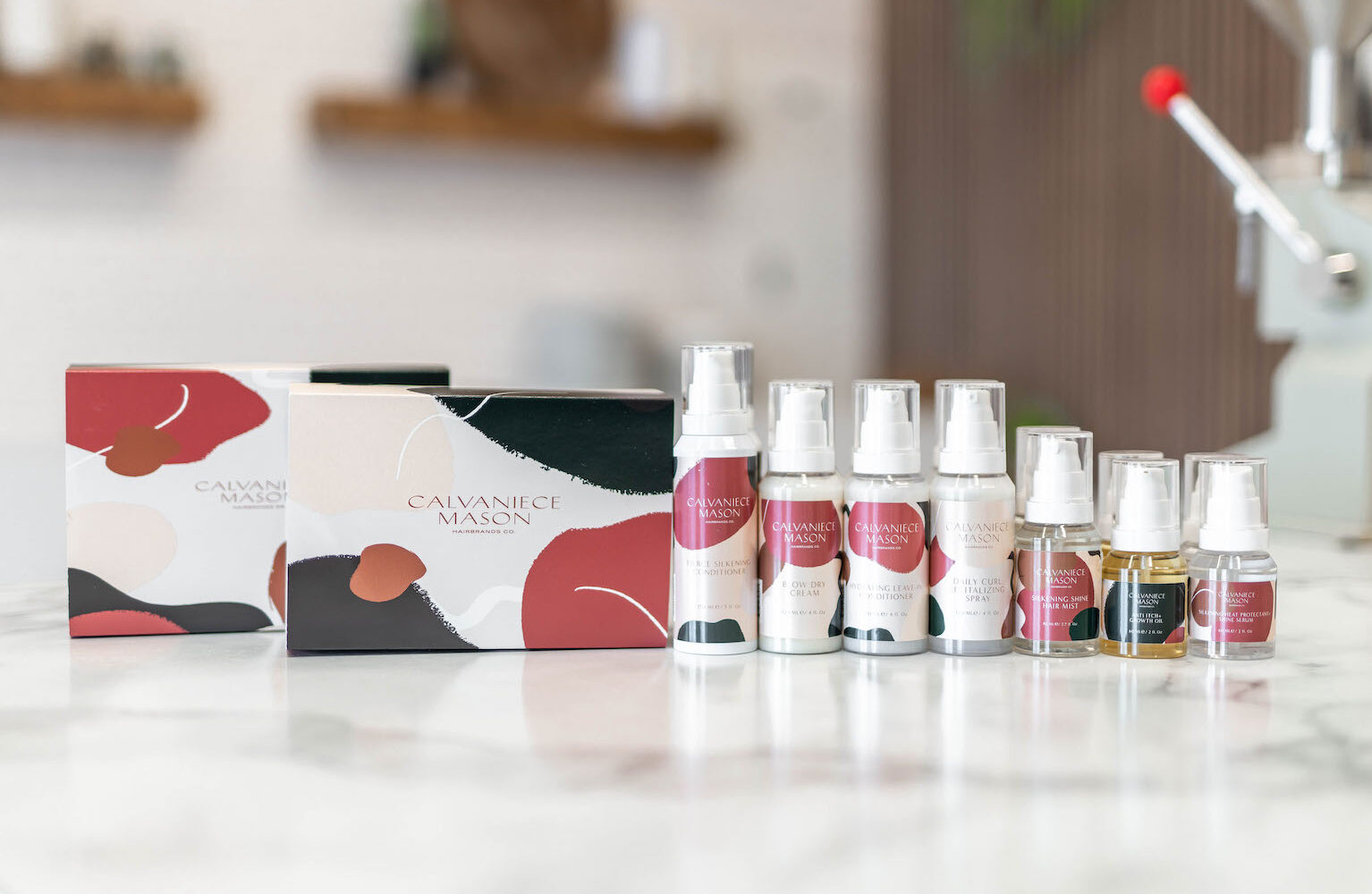 Calvaniece Mason Relaunches With A Modern Look, Haircare Products And Renewed Sense Of Purpose
Calvaniece Mason was born into and came of age in the beauty industry.
As a teenager, she officially kicked off her beauty career lending a hand at her mother's salon and styling classmates' hair on the side. After graduating high school, she headed to cosmetology school and trained at the Francesco Group's hairdressing academy in the United Kingdom before working for the haircare companies Aveda and Bronner Bros. In 2015, Mason stepped out on her own to launch the namesake company Calvaniece Mason Hairbrands Co. with Elite Pro Turbo, a hairdryer designed to reduce hairdressers' work-related injuries, and later added hair extensions to its offering. However, the brand identity wasn't as fully fleshed out as it could be, and she ran it relatively quietly until the end of 2018.
That's when she began suffering from hair loss brought on by grief and depression. Searching for a solution to her hair loss, she decided she'd create one, and the result is Anti Itch + Growth Oil, the centerpiece of the relaunched Calvaniece Mason. "Hair loss is a big thing for African American women, especially alopecia, so I want to be able to help other women grow their hair back and share my passion and love for the beauty industry," says Mason. Including Anti Itch + Growth Oil, the updated Calvaniece Mason assortment launched in late 2021 and has a total of 13 products across the scalp care, cleansing, conditioning and styling categories. Prices range from $26 to $61.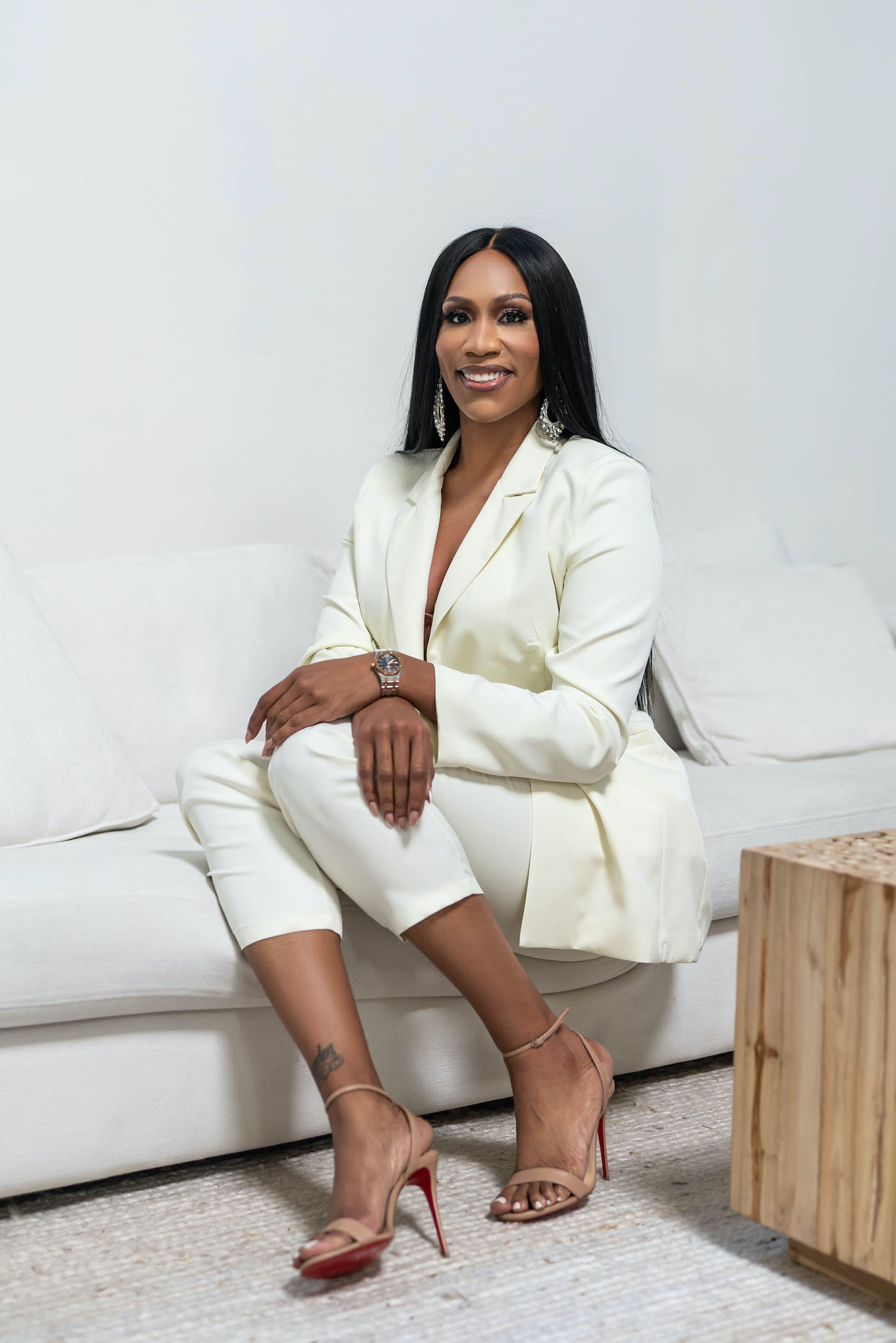 Calvaniece Mason's products are effective when used together as a system. "Let's just say, if you want to do a blowout, you can start with the deep moisture shampoo and conditioner, follow up with the leave-in, use your below dry cream, use the serum, the shine mist, and then that's your style," says Mason. "I wanted to have a hair line that worked cohesively together and where the products are interchangeable so you can get the best results at the end of the day."
With the design agency Creeight, the brand updated its packaging to be minimalistic and modern. It features the colors crimson, green and brown. "I wanted something that gives off maturity, classiness and was feminine, but not super luxe," she says. "Even though I'm a small business and based online, I wanted it to look like it could be on a retail shelf." In terms of distribution, she expects to concentrate on driving traffic to Calvaniece Mason's website for the first two years subsequent to the relaunch and scaling into retail from there. Sephora and Ulta Beauty are dream retailers for the brand.
Calvaniece Mason's relaunch was timed with Black Friday to get the brand out in front of people as they were shopping. "They're looking for new products to buy, they're looking for Black-owned brands to shop with," she says. The line had preexisting customers it informed about the relaunch date, and it's retained the products that initially attracted them to keep them in its audience—the original blowdryer priced at $129.99 and hair extensions starting at $71. Currently, Anti Itch + Growth Oil is the bestselling product as the haircare industry generally is having a scalp care moment. To spread the word about Calvaniece Mason's products, Mason plans on recruiting micro- and nano-influencers.
"I know some people are looking at bringing in revenue, but that's not the biggest deal for me right now because I know that the money will come," she says. "My focus is just creating that brand love and that community with the audience that I already have in place and pouring into them through the emails that I send out, through my social media strategy, through asking them questions and sending out surveys."
Mason turned to an African American female chemist in Texas to assist with the formulations of her brand's products. The formulations contain organic and natural ingredients, and are housed in recyclable packaging. "The conversations are easier because we just get each other," says Mason. "Being U.S.-based, I feel like I can be more hands-on and keep my dollars circulating here as well." Calvaniece Mason, which is headquartered in the Atlanta area, partners with Matter of Trust, a nonprofit in San Francisco that repurposes used hair extensions into mats that assist in the clean up of oil spills.
"I want to be recognized as an African American purpose-driven brand, from making sure our extensions are sourced ethically to making sure my ingredients are non-harmful and that the packaging is sustainable and pushing that green blueprint moving forward as a woman of color," says Mason. "You can have products, but the products that we use should be good for us at the end of the day. You shouldn't have to compromise people or the world that we live in to put something into the market."