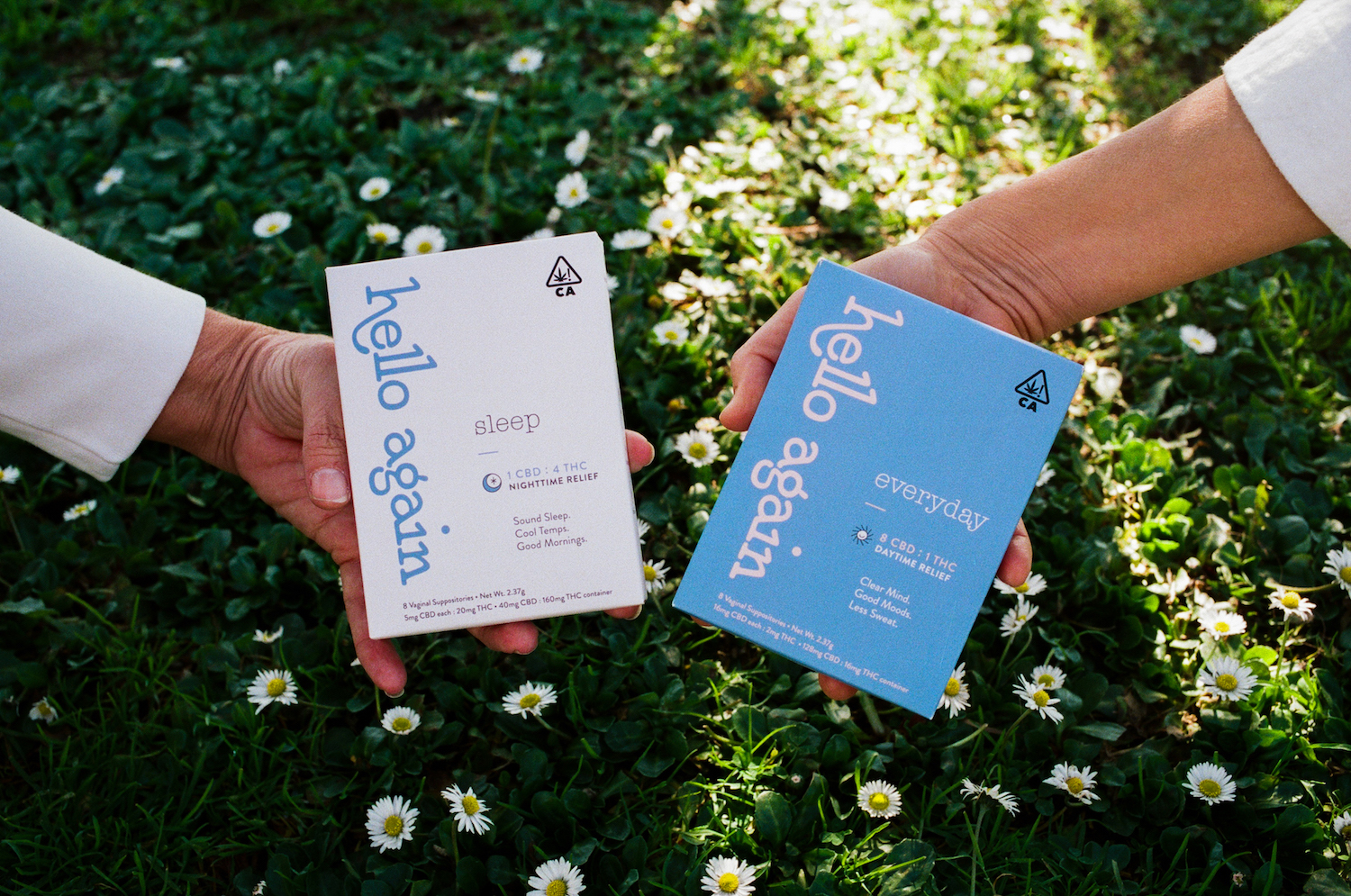 Cannabis-Powered Menopause Brand Hello Again Is Not Your Average Dispensary Find
With the legal situation of products containing CBD, THC and Delta 8, a trendy and less trippy type of THC, still murky across the country, many brands and retailers have rethought their approaches to cannabis-infused products, but menopause wellness specialist Hello Again is staying true to its cannabinoid roots. "For right now, we don't believe this product is as effective without the THC," says co-founder Patty Pappas.
Pappas launched Hello Again in February 2020 with friend Carrie Mapes, and the pair have been steadily growing the brand in the cannabis-friendly California market since then. During the pandemic, that task wasn't easy. "We couldn't do all the in-person events and education that we wanted to when we launched, so we had to pivot to all online, getting on and any educational podcast or live event that would have us," says Mapes. "We learned a lot through that, and now we're getting to get back out, going to different in-person events. We're not going to have to operate in a silo anymore."
In the face of harsh realities, Hello Again enlarged its distribution from just two dispensaries, one in Los Angeles and one in Santa Barbara, the award-winning, woman-owned The Farmacy, to over 30 dispensaries and delivery services, making Hello Again products available from Redding to San Diego. Since launch, the brand's sales have increased 300%, and it's forecasting a 400% leap by year end.
Hello Again currently offers two products, Everyday and Sleep. Both are vaginal suppositories designed to offer relief from the most common and disruptive menopause symptoms such as hot flashes, moodiness, fatigue and especially vaginal dryness. Everyday contains THC and CBD combined with botanicals outside the cannabis sphere like hops, green tea, schisandra and rosemary.
Sleep is formulated with THC and CBD as well, but with a higher concentration of the former along with valerian root, chamomile, neroli oil and lavender to support uninterrupted sleep. Everyday and Sleep suppositories have helichrysum, which is reported to have antimicrobial and anti-inflammatory properties, and apple cider vinegar for helping maintain pH balance. They feature a base of cocoa butter, vitamin E and avocado oil to address dry, sensitive and irritated tissue. 
Because the products contain THC, they can only be sold through cannabis dispensaries. Even the brand's website has to redirect customers to authorized cannabis sellers for purchases. "We set up our website to feel like e-commerce, which is what our demographic really wants," says Pappas. "[A brand site for purchasing] is not possible in the cannabis space yet, but the buy-now button can source you on the backend to the dispensary." 
The dispensary channel instigates pricing variety for consumers. Hello Again's eight-count boxes range in price from $42 to $48 depending on city cannabis taxes in addition to the state cannabis tax and dispensary pricing structures. Mapes details, "It would be $40, but, then, the taxes make it vary between $42 to $48 generally. That comes down to, per suppository, about the price of a specialty coffee, cold pressed juice. As an entry point, it's a little expensive we realized, so we came out with the two packs for about $15. That's an easier 'try it and buy it.' For younger women, too, it's an easier price point."
The co-founders discovered the products were appealing to a younger audience through budtenders or dispensary workers who were using Hello Again to cope with menstrual pain and recommended it to customers for that purpose. Because Hello Again's products generally require more explanation than an average gummy or vape, relationships with dispensary staff are key to the brand's success.
In fact, the dispensary itself can matter deeply given Hello Again's main consumer. Mapes says dispensary aesthetics can range from "a high-end jewelry store to a hold over from the illegal days. It depends on how they [merchandise] their products and how they're trying to educate their customers as they come in." For a healthy chunk of the women looking to purchase Hello Again, they're entering a dispensary for the first time to buy it. "Certainly, the more comfortable, the more it feels like a regular retail experience, that's always better for us," says Mapes. "We have a couple of them that are in areas where people have second homes, somewhere where people would go on vacation, and those seem to do pretty well." 
Hello Again's incorporation of THC limits its expansion. For companies to sell products with THC in a state, they typically have to be vertically integrated in that state, though regulations aren't the same from state to state. Mapes and Pappas have their sights set on Michigan as Hello Again's next territory as Michigan's laws are similar to the laws in California. The right partner is key as the co-founders are keen on maintaining control over Hello Again's quality and branding.
In order to create Hello Again products within the states it operates in, a facility has to have a pharmaceutical-grade suppository filling machine, an investment Mapes and Pappas have made themselves. "That was our moment when we jumped off the cliff like, 'We're doing this,'" says Mapes.
Another way for Hello Again to go national is to eliminate the THC in its formulas. Mapes and Pappas aren't ready to go that route yet, but they're keeping their eyes on emerging cannabinoids that don't carry without the legal restrictions associated with THC. Pappas says, "There are so many other cannabinoids they're learning more and more about all the time. If we can formulate [effectively without THC], we will do that."