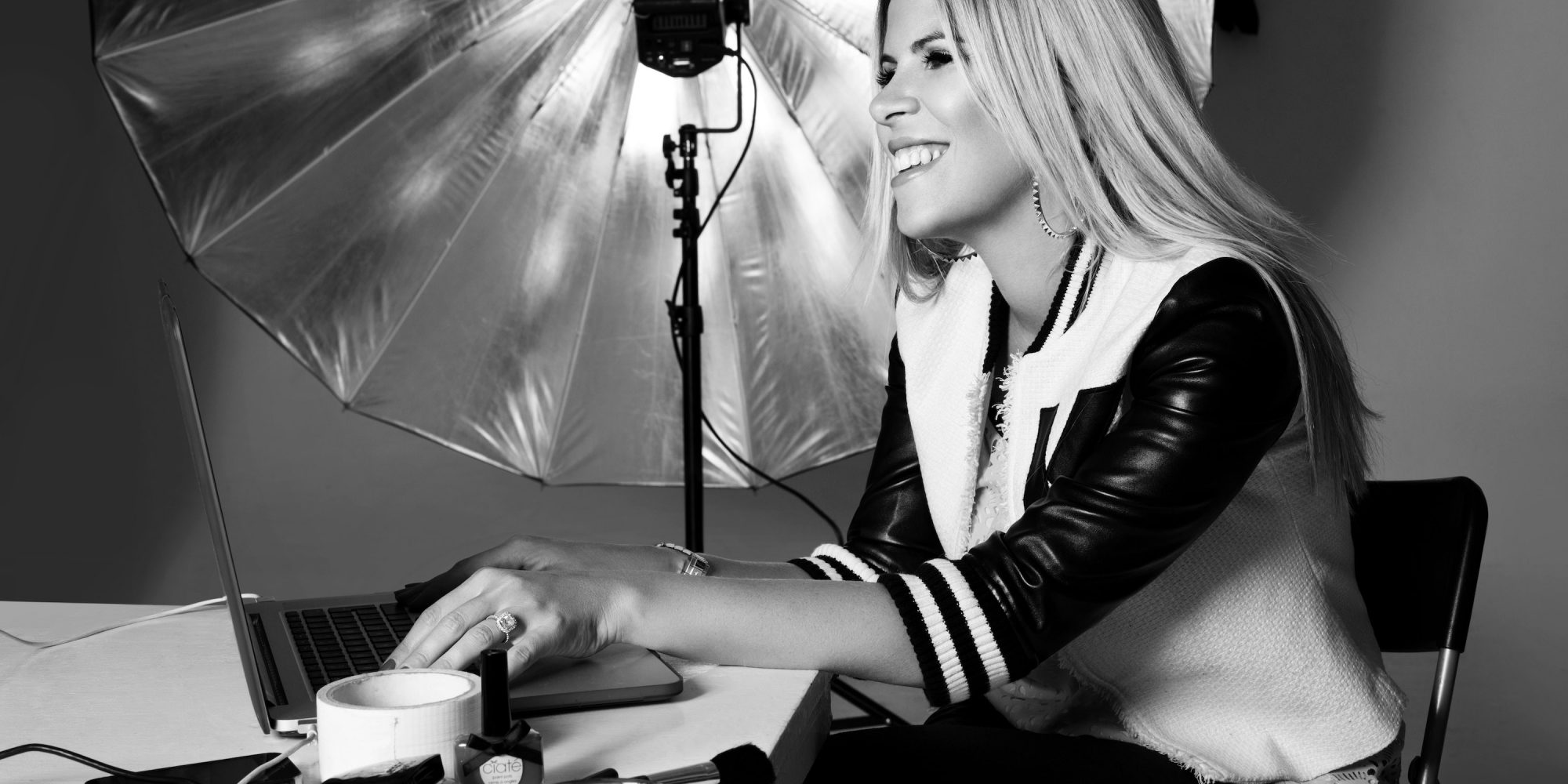 Why Not A Third? Charlotte Knight Launches New Brand Skin Proud While Growing Ciate And Lottie London
As quarantine stretches into a months-long ordeal for much of the Western world, beauty brands are struggling to take care of customers, retain valuable employees and simply stay afloat until the threat of the coronavirus pandemic passes. Triple that stress, and you have an idea of what Charlotte Knight is dealing with these days.
The British entrepreneur leads a stable of three brands—Ciate London, Lottie London and, as of last week, Skin Proud—and a workforce of 30 people. The new brand is designed to make skincare fun, affordable and accepting. Its nine products priced from 8 to 15 pounds or around $10 to $17 at the current exchange rate are encased in pink and white packaging festooned with suns and moons to convey when they should be slathered on.
"Skincare was seeing triple-digit growth before COVID," says Knight about why she moved forward with Skin Proud's launch. "It seemed like the right thing to do because it's a product that people are actually looking for, searching for and wanting in their lives right now. People want to be able to have beautiful face masks and skin active-enriched products for this time that they're at home."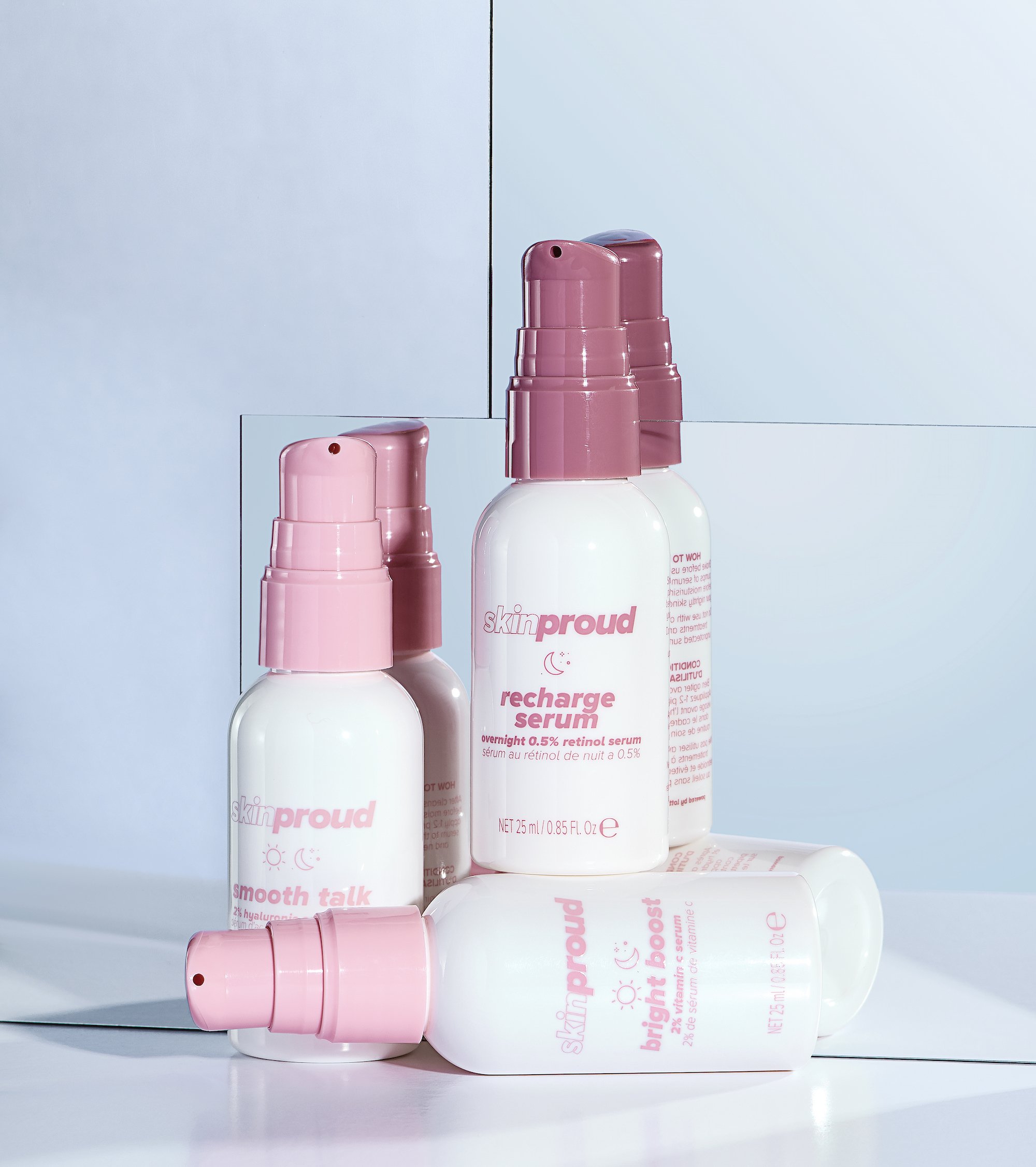 E-commerce destination Asos is Skin Proud's exclusive retailer for the brand's first three months. Knight chose to partner with Asos because of the retailer's massive reach to a relevant millennial and gen Z audience. "Launching a brand in these times, we can't host press events and influencer events, and we can't do any out of home or IRL strategies, but we have been able to achieve so much digitally," says Knight. "Asos has a huge fashion and beauty breadth of brands. Their audience is really vast, and it's our target market. We decided to do all of our activity with them."
With a digital-only launch, influencers are a major facet of Skin Proud's marketing approach. Knight says she condensed the launch partnership calendar to increase momentum on social. She explains, "Any relationships or partnerships that we were going to enter into on a staggered basis with various KOLs, we've bought them up the calendar and are doing more of that activity now." Knight uses the term "KOLs" or key opinion leaders to refer to doctors, makeup artists and other beauty experts rather than the typical beauty influencers on YouTube and Instagram.
"It's a product that people are actually looking for, searching for and wanting in their lives right now."
Each brand within Knight's portfolio tends to work with four to five KOLs. The KOLs usually have significantly smaller followings than beauty influencers. What they lack in raw numbers, though, they make up for in engagement and cache. Knight gives the example of The Guardian beauty columnist Sally Hughes as a KOL she seeks out. Skin Proud has linked with Ewoma Ukeleghe, the doctor founder of Skn Doctor. She's hosted Instagram Live sessions about its products on Asos's Instagram account that boasts over 10 million followers. Ukeleghe has under 5,000 followers on her Instagram account, but Knight points out her fans are highly engaged, and she's respected by media outlets, an important dimension of brand perception that influencers don't provide. She says, "We [also] launch with influencers because you are targeting their audience, [but] they're not as press-worthy as a KOL."
As is de rigueur for gen Z-focused brands today, Skin Proud will incorporate TikTok creators in its influencer outreach. "We are speaking to agencies, getting advice on what our strategy should be," says Knight, adding, "We're really excited about this platform. When we do it, we want to do it right and ensure that we don't just end up with 5 billion impressions, but also have a call-to-action, and we can convert those impressions into some kind of brand loyalty, brand following or brand interaction."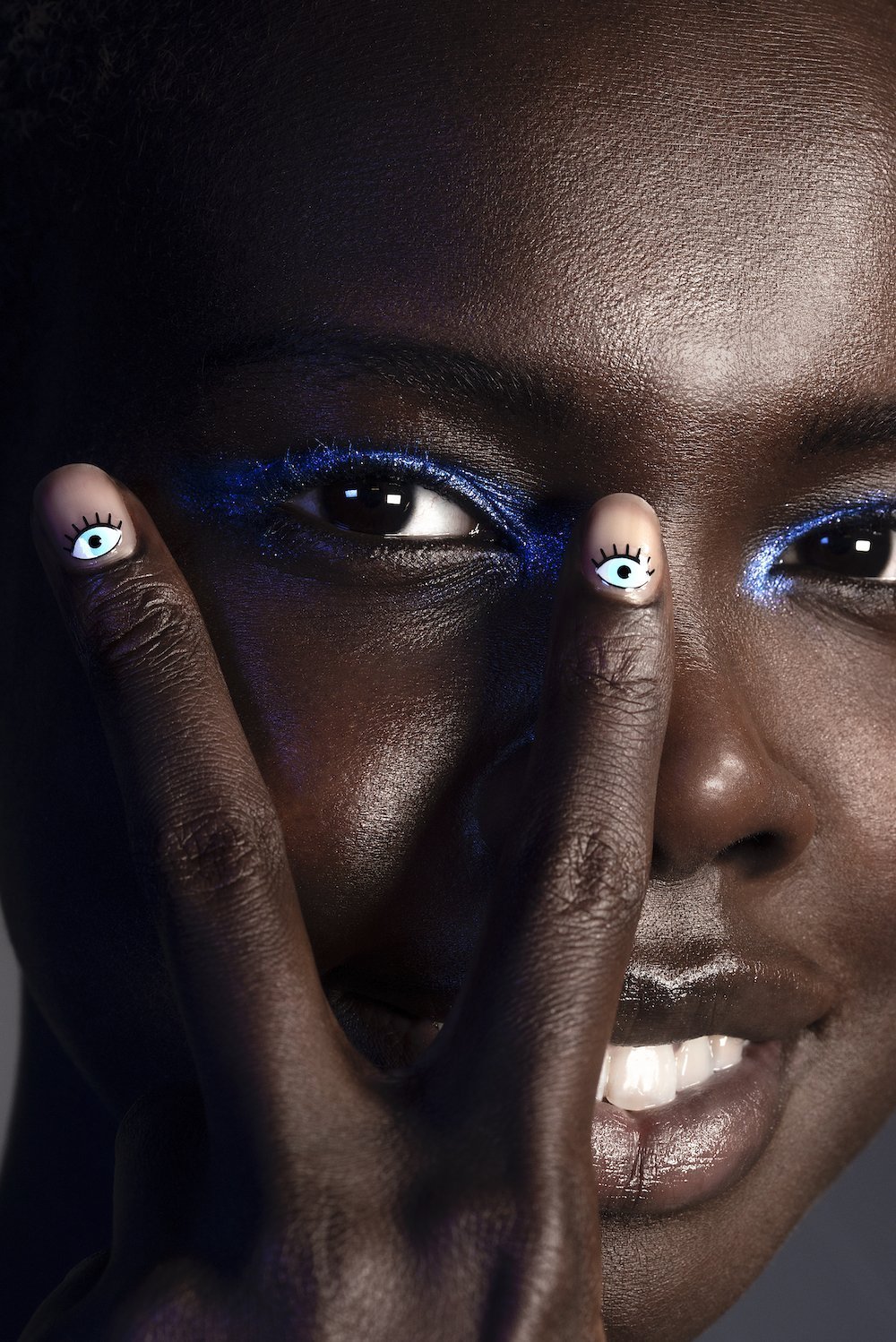 Ciate, which started 11 years ago in the nail category, was the genesis of Knight's burgeoning beauty empire. The brand extended into color cosmetics in 2015. Ciate is the premium brand in Knight's trio by a wide margin. A nine-shade eyeshadow palette by sister brand Lottie London retails for 5 pounds or $6 while a similar palette from Ciate is 39 pounds or $49.
Knight watched the nail category peak in 2012 to 2013 before experiencing a huge downturn in 2014. "Celebrities and runways were no longer interested in any type of nail artistry," says Knight. "Retailers [were] shrinking their spaces, reducing the number of brands that they listed." Back then, Knight was shown Mintel data that indicated the nail category experiences seven-year cycles of expansion and retraction. Knight chose to diversify Ciate's portfolio beyond nail care to mitigate the hit to Ciate's revenue during nail care's down cycle, but understood the category was projected to comeback in 2020 to 2021.
"If we only sold to one channel, that would be incredibly tough right now."
Informed by Mintel, Knight's assortment planning worked. The nail category revival began in a big way in 2019, as evidenced by the elaborately designed nails of celebrities such as Billie Eilish and Zendaya. Not even COVID-19 appears to be derailing the talon train. This year, nail product sales on Ciate's website have surged 450% over last year.
"We were seeing nail starting to bubble, and we were obviously really excited," says Knight, noting she'd been working on nail care innovation during the nail category slump. "When the time was right, we would be ready to launch [the new products], it was all about waiting for that time to come."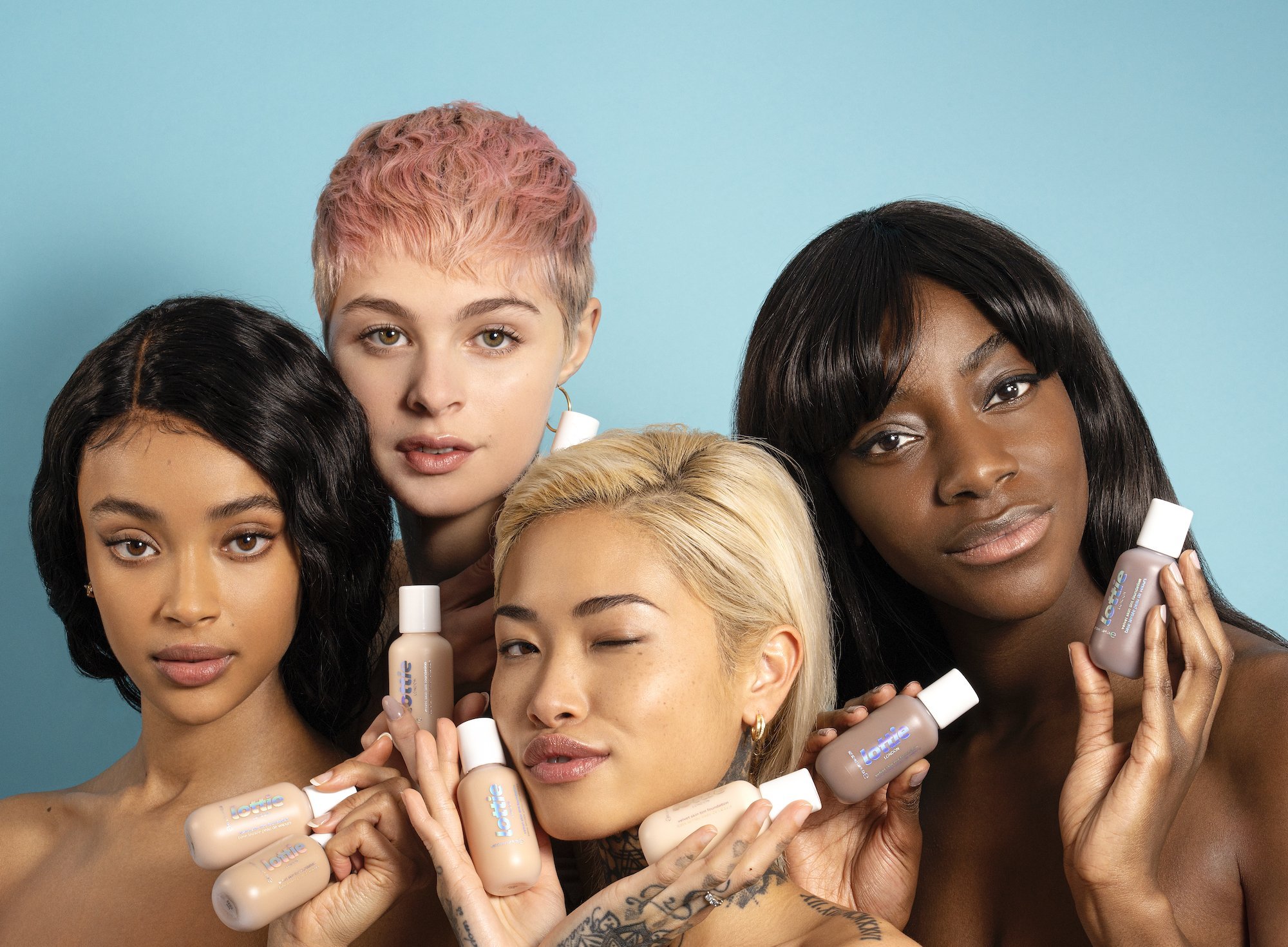 Ciate has also been able to weather the current troubles thanks to a multifaceted channel mix, including substantial online and brick-and-mortar presences at prominent beauty players like Sephora and Mecca. "We have a really strong dot-com business with Sephora. So, where our bricks-and-mortar sales have suffered, we've been seeing amazing growth on our dot-com sales with them. The same goes for Mecca in Australia," says Knight. "We're comping downwards on our brick-and-mortar, obviously, but our dot-com sales are in double-digit growth."
Currently, Ciate's wholesale e-commerce business represents 10% of its total turnover, but she has ambitions to grow its share to 25% over the next 24 months. For both Ciate and Lottie London, Knight is forecasting a 25% drop in sales due to brick-and-mortar store closures. "At this time, we've decided not to put our team under extra pressure to try to replace that 25% by increasing e-commerce budget or the third-party e-tailer budgets," she says. "Where we've cut the budget by 25%, we're equally cutting costs. That's a cost saving, so the two are netted off against each other as much as possible."
Knight is pleased with how her team has been able to guide Ciate, Lottie London and Skin Proud through this difficult period. She says, "If we only sold to one channel, that would be incredibly tough right now. The model that we've created over the years with diversifying into multichannel and multi-brands in our stable has really enabled us to move through this time in a much calmer manner."