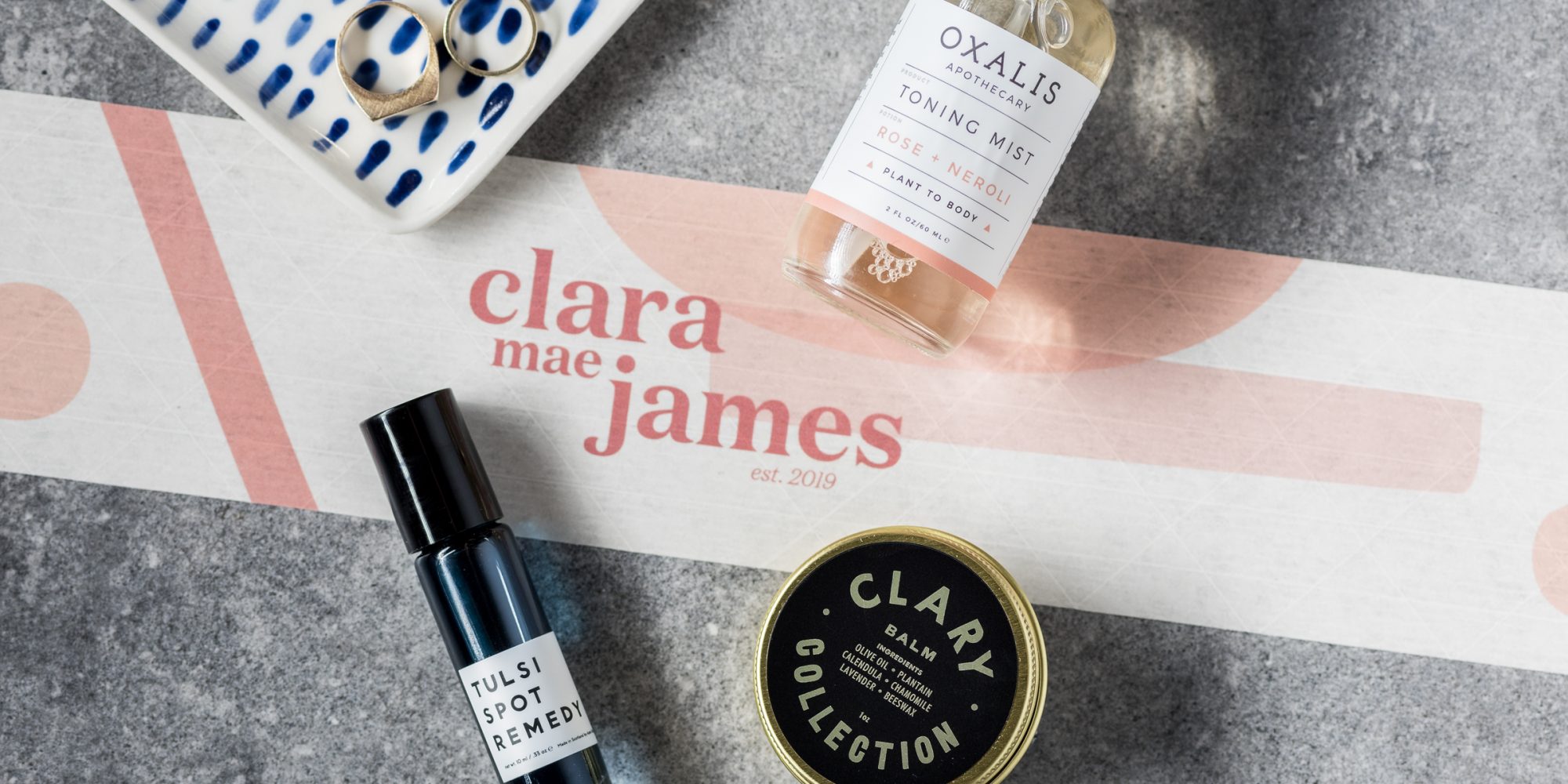 Clean Beauty Isn't Intimidating At New E-Commerce, Event And Community Concept Clara Mae James
After Jamie Sylves had her daughter in 2017, she felt off and struggled to leave her house. She'd been watching for signs of depression, but that wasn't it. The mystery was solved when Sylves attended a mommy-and-me group session, where a speaker talked about postpartum OCD, a condition she ultimately was diagnosed with.
"I had no idea that was a thing. People need access to this kind of information. That's what inspired me to have wellness events to give women information about their bodies, so that they know how to care for themselves," she says. "It's important to me to create a community and a space to lift women up."
That space is Clara Mae James, a new clean beauty e-commerce and content concept that stretches from the screen to the street with events and pop-ups. The beauty component draws upon Sylves's extensive background working with beauty brands like Pantene, CoverGirl and Olay as a digital strategist and public relations professional at firms such as DeVries Global, Pierce Mattie, Tractenberg & Co. and Smith Brothers Agency, and her clean beauty awakening during pregnancy.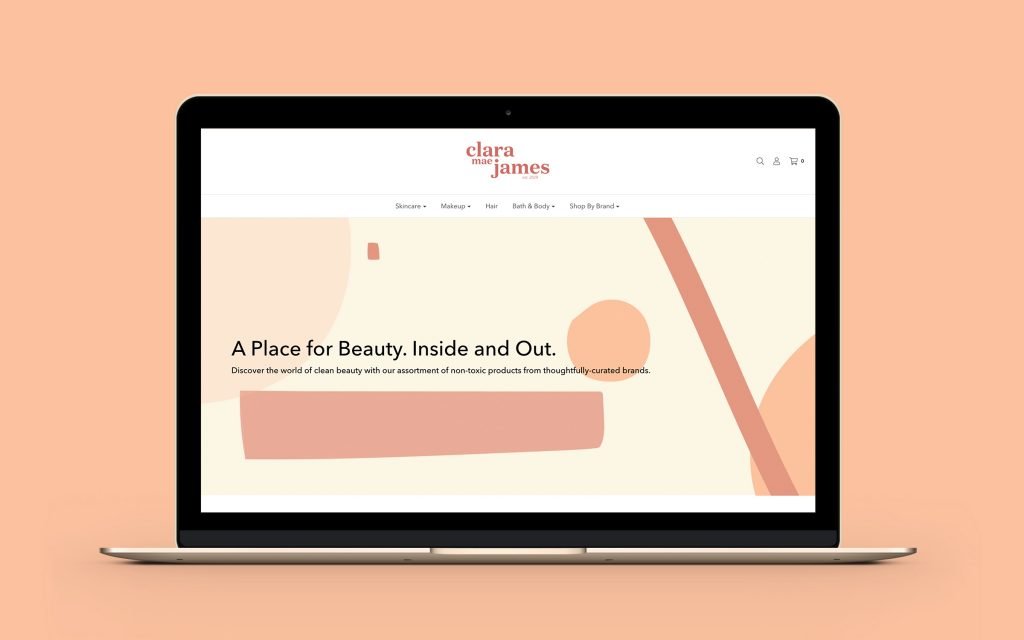 "When you're pregnant, you always have a list of things to avoid. I found myself taking a closer look at everything, and that's when I started to transition to more of a clean beauty routine," says Sylves. "But you should do what works for you. I don't like scare tactics. If you want to try one clean beauty product or swap out all of your products, what's best for you is what's going to work for you at the end of the day."
Many clean beauty and wellness retailers cultivate an elitism that can shut out the uninitiated, but Clara Mae James is an accessible, judgement-free zone welcoming to clean beauty neophytes. Because customers are often made aware of it through events, not searching for clean beauty terms on the web, a substantial chunk of them in the early goings aren't clean beauty experts. Clara Mae James has hosted four pop-ups this year.
"It's important to me to create a community and a space to lift women up."
"They're starting to see more in the media about clean beauty. They might see a documentary and think, 'Hey, I should think about what I am putting on my skin.' It may start with their diet and, then, they think about their skincare," says Sylves. "They know about the bigger clean beauty brands at Sephora or Ulta, but they are excited about a place where they can find brands they aren't familiar with."
Products on Clara Mae James are under $100, and its edit of skincare, makeup, haircare, and bath and body merchandise is tight to not overwhelm shoppers. The e-tailer currently stocks nine brands, including Palermo Body, Clary Collection, Organic Bath Co., Esker, Kari Gran and Earth Tu Face. Sylves evaluates brands based on ingredients (she has a no-no list of 15 guided by ingredient resources like the Environmental Working Group), efficacy and ethos. Its website explains, "We consider the spirit of the brand and their intentions to ensure it matches the culture and beliefs of Clara Mae James."
The assortment is coupled with blog and Instagram posts uncovering the stories behind the brands and their products as well as sharing Sylves's insights. On Friday nights after her toddler is asleep, she hosts a so-called "Beauty Monitor" series on Instagram Stories where she discusses products and parenthood with her baby monitor in tow.
"It doesn't feel like an online shop. It feels almost like you walked into a boutique," says Sylves. "The website is a fun place where I can curate products and help people discover ones that they may want to put in their routines. We are on this journey together. That's how I've always seen it."
"The website is a fun place where I can curate products and help people discover ones that they may want to put in their routines. We are on this journey together."
Clara Mae James's journey began long before June, when the e-tailer went live. It has roots in a lifestyle blog Sylves launched in 2012 as a creative outlet while enmeshed in the PR hustle in New York. The blog got its name from a combination of Sylves's grandmother's and grandfather's names. Her name, Jamie Claire, is after them, too. Sylves says, "I've always loved my name and where it came from. It's a way for me to make them proud."
In 2015, Sylves moved from Pittsburgh to step away from the stress of New York and explore entrepreneurism in a city where it would be cheaper and less competitive than New York. She'd always dreamt of opening a store, but couldn't pin down how it would take shape. Last year, as she settled into motherhood, Sylves thought seriously about evolving her blog, and conceived of the e-commerce and experiential format that Clara Mae James is growing into. A physical location is planned for the future.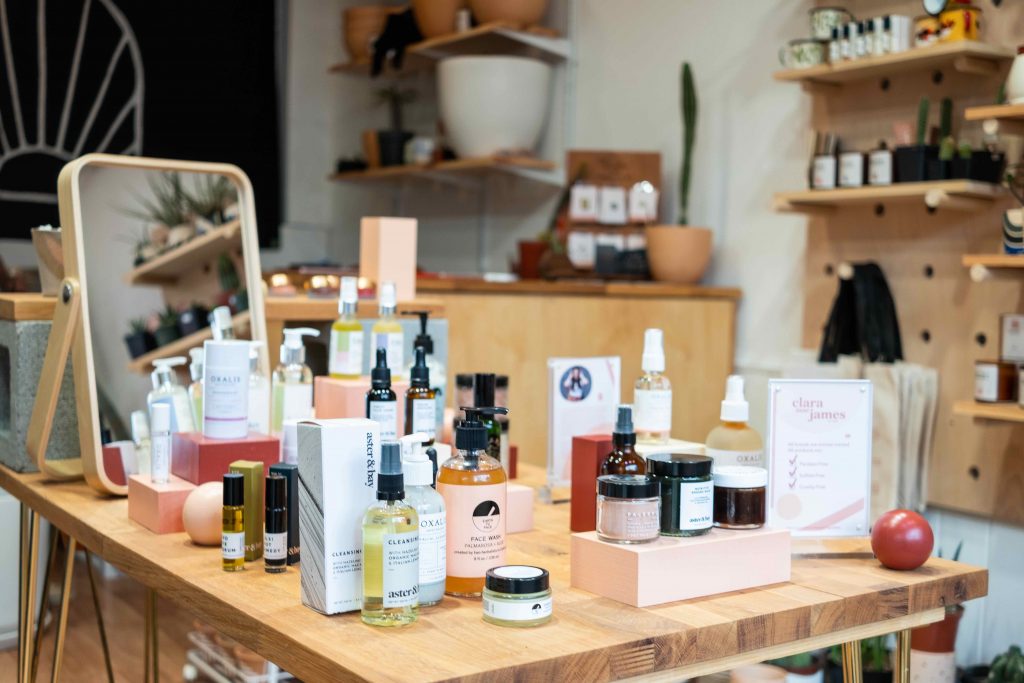 Sylves poured $8,000 into turning Clara Mae James into an e-tailer—her graphic designer husband Jason Chiusano created its 1970s Scandinavian punk-inspired retro look—and raised $2,000 through a Kiva loan for wellness events that are due to kick off later this year. In her loan documentation, Sylves estimates that speaker and venue costs will amount to $300 and $200 per event. Her digital marketing for events is expected to be roughly $400. Sylves doesn't have aggressive revenue goals for Clara Mae James. Breaking even in its first year would be a win.
"I would love to build brand recognition. A lot of people are talking about it in Pittsburgh. They have seen me doing pop-ups at other businesses that fit the same vibe, aesthetic and customer profile," says Sylves, adding, "I'm making small steps to expand my presence in this region to become a go-to destination for clean beauty and a platform for self-care."