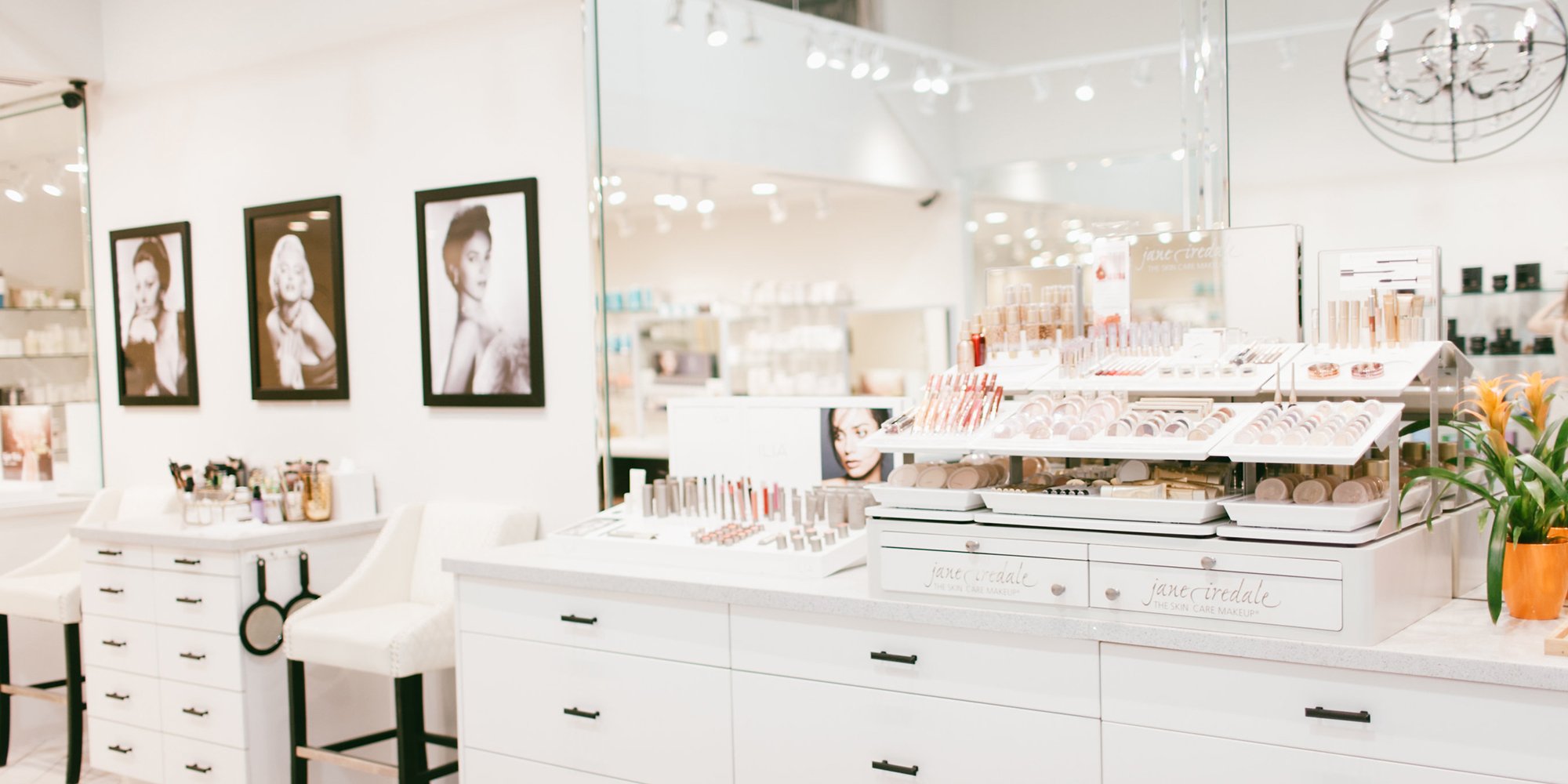 At Clean Beauty Store Citrine, Experience And Expertise Are More Important Than Instagrammability
In an age when anybody with an iPhone can quickly disseminate skincare advice, Melissa Lenberg believes expertise that goes beyond what can be crammed into a 15-second Instagram Story resonates with clean beauty customers. The employees at her Phoenix store Citrine Natural Beauty Bar are trained aestheticians and makeup artists skilled at deciphering clean beauty for curious shoppers to identify the ideal products for them. "Our store is different because we don't sell products. We educate our clients and that turns into a sale," says Lenberg. "My staff is very educated about the brands that we carry, and they really have deep knowledge about every single product." Beauty Independent chatted with the clean beauty veteran about what drew her to the category, curating her store's selection, spreading the Citrine experience beyond Arizona, creating a line and improving the industry.
What were you doing before Citrine?
I went to cosmetology school while I was finishing up high school, already knowing I wanted a career in the beauty industry. I originally wanted to be a hairstylist, but I was diagnosed with rheumatoid arthritis, an autoimmune condition, and I knew being a hairstylist wasn't going to work. So, I became really interested in makeup. I lived in LA for seven years doing makeup on sets. Due to my health declining, I moved to Arizona, where I'm from, and I got more into a natural and organic lifestyle and way of eating. Then, I started looking at what was in beauty products. This was before green or clean beauty was big. I came up with the idea of doing my own thing in 2011 and opened in a 200-square-foot space in 2012 with myself as the single employee. I now have more than 2,000 square feet with over 14 employees.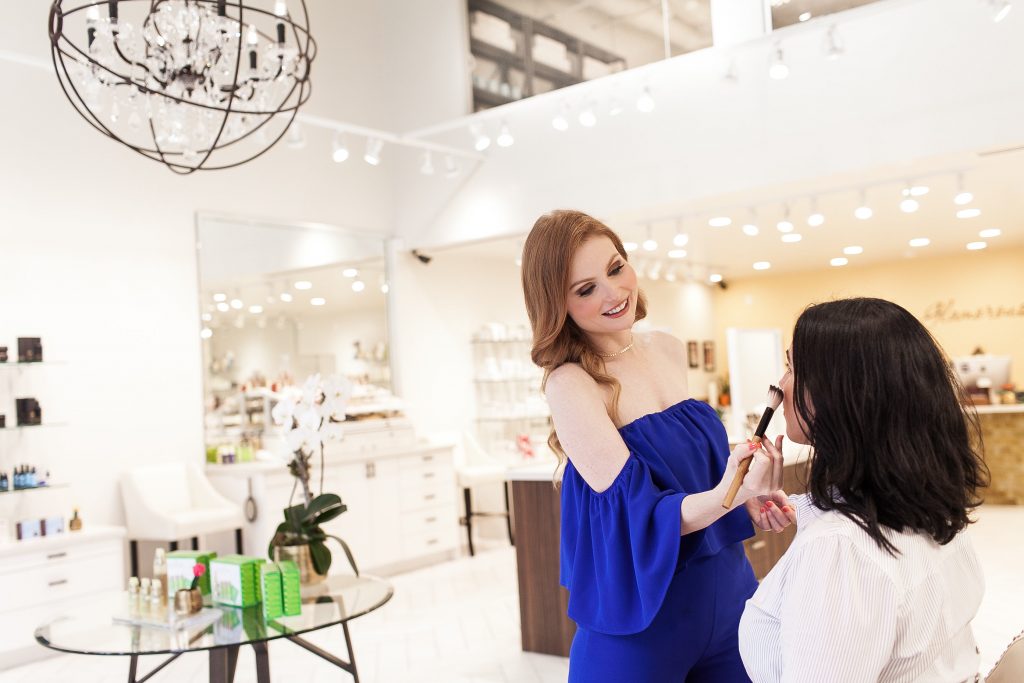 What was it like at the beginning?
I was not selling online at all at that point. I was only local. I was doing local marketing and press, and I was working with every client that came in. With my employees, that's something that's really important to me to this day. We give the customer the same experience I gave them when I started. We really create relationships with our customers at our brick-and-mortar. We do it online as well. We are very active on social media, and our customers can reach out to us via e-mail. Next month, we are implementing Skype consultations. People will be able to talk to us face-to-face even if they can't come see us in person.
When did you expand your location?
I expanded after my first year. The store next to mine moved out, and I knocked down the wall to became a 500-square-foot space. I was there for another year. I started selling online and getting 15 to 20 orders a day. I had two more employees. So, now there were three of us. Then, the mall I'm in had a larger space open up with two stories: a main floor and an upstairs mezzanine area. A year after that second expansion, I moved into the space I'm in today in 2014.
What your buying process like?
I'm really particular. We really strive to educate every single client that comes in the door, and I expect my staff to be knowledgeable about every single product that they are speaking to. There is no way I can have a staff member know 90 brands like the back of their hand. I'm right under 30 brands, and we have 12 main brands and others that are smaller. I really strive to curate brands that not only meet my expectations when it comes to ingredients, but that also have great packaging and a founder I connect with. If we can't connect with a founder, and talk about eventing and growing the business together, then it's not something I'm interested in moving forward with. It's very important to me that we share a passion and are trying to grow this industry together.
What are some bestselling brands?
May Lindstrom is our top-selling brand. I think it's because our customer really loves the ritual of the brand. May Lindstrom does a beautiful job of that. It's simple, but you can combine the products to use them in so many different ways. I also have a great relationship with her and in team, and she has a great relationship with our clients. We do events together, and May participates in something we call Glam Bag every six months. Tata Harper is another one of our bestselling brands. She's coming to Citrine in two weeks for an event. She's really active in reaching out to our customer base, and she has amazing products. The technology is there, and she's really at the forefront of clean beauty.
Another top-selling brand for us is Fitglow Beauty. I have a really strong connection with the founder Anna [Buss]. We talk a lot about business and ways we can grow our businesses together. She's constantly coming out with new products, which I really love in makeup. Unlike skincare, where you can introduce products a couple times a year, it almost has to be seasonally with makeup. You have to keep coming out with new products to keep people engaged, and she's really on top of her game with that.
What's your approach to social media?
I used to be a lot more active on it before my daughter. I am really lucky that I have a team that helps out with that and keeps us really consistent. Honestly, prior to my daughter, we were really ahead of the social media game. We had a huge presence. Since I had my daughter, things have fizzled a little bit for us, but we strive to do tutorials and constantly engage our customers. We are in a space where we are looking to revamp social media-wise. People want to hear from me, and I can't be as active as I used to be. I have a baby that requires a lot of my attention and also a business that is growing. As much as social media used to be such a huge priority, it's taken a bit of a backseat. As a mom and as an entrepreneur, you have to ask, "What's really important?" I can't get this time back in my business, but I also can't get this time back with my daughter. You have to know what's your priority and be OK with that. That's what I've been doing, but we are getting ready to amp things up on the social media front.
Why do you want to do the Skype consultations?
One of the things that makes Citrine very different is that I am an expert and every single person working with me is an expert. They are licensed aestheticians and makeup artists with tons of experience. Most of them have been with me for years. People are going to be able to book the Skype consultations to talk to our beauty experts. They can do a skin consultation, makeup consultation or both. We have a reservation fee to book a Skype consultation, but they can use it toward their purchase. We have so many clients that buy from us from all over, and so many clients that engage with us on social media that live nowhere near any store that has these types of products. This is as close to the Citrine experience that we can give them without being in the store. For me, more than having a thousand likes on a photo on social media, being able to engage and develop a relationship with a client in person or on Skype is more valuable to me in terms of what my business philosophy is.
How has Citrine's clientele changed over the years?
It's become younger, which is surprising to me. When I first started, our main client was anywhere from 35 to 55. Now, she's 25 to 45. They've heard about Citrine through word of mouth. Even before I sold online or had a social media presence, word of mouth brought them into the store. They had a mother or sister or friend that told them about Citrine.
What's your biggest category in terms of sales?
Skincare is 70% of our business, which is interesting because people view us as more of the glamorous green beauty retailer, but the base of any makeup look is great skin. We get the comment a lot, "You guys have such great skin," and that's because every person who works at Citrine is very serious about skincare.
You often use the term green beauty. Why do you use that rather than clean beauty?
I call it green beauty still because I'm kind of an OG. I know now that it's clean beauty or nontoxic beauty. I don't think it matters what people want to call it. We use green beauty, clean beauty and nontoxic beauty, but I'm not sure anyone knows what each of those terms means. I really strive to make sure everything meets my criteria in terms of ingredients, but I also make sure there's performance, too. I don't carry nail polish in my store because there's no such thing as clean nail polish, and I really want to create a safe space for people. We are not the purist, but we strive to have everything nontoxic.
Some retailers are more lenient when it comes to where they position themselves, and some use scare tactics. We take an educational approach. We are here to lessen your toxic load and take the guessing game out of it for people, but I don't want people to feel ashamed if they come in and have been using Estée Lauder for 20 years. We are not here to scare them, and tell them they are going to get cancer from it. We want to create a safe place for beauty to educate women and help them make empowering choices for their lifestyles.
How do you think green beauty could improve?
There are a couple of things that come to mind. More inclusivity is one. A lot of brands are doing a better job and making makeup products that suit a variety of skin tones, but I still think we have a very long way to go. Another thing I would like to see a little bit different is with wellness products. There's room to introduce wellness in a way that's not overwhelming to people. Not everybody knows what maca or reishi are. I think there should be more everyday wellness products.
What trends do you see rising?
People are really into CBD at the moment. We carry Lord Jones products, and the most popular one is the body oil. People are also falling more in love with the ritual aspect of skincare. We talked about May Lindstrom, and another brand that has created a ritual around their products is Agent Nateur.
How much of your business driven by e-commerce versus the store?
Right now, it's 50/50. We don't outsource our e-commerce. That second story is where we do all of our e-commerce. My team packages every order, and talks to every person that asks us question on Instagram or by sending us an e-mail. If you visit the store, it's the same girls doing those things as are on the floor. Even though it's technically two businesses, it operates as one business. We find that our bestsellers in store are the bestsellers online. That's because of our marketing and the products that we feature the most, and the brand partnerships we have that are really strong. If we have a great partnership with a brand, we talk about it a lot, and the brand talks about us.
Do you care if brands Citrine carries are on Amazon?
I don't love it because I think that it takes away from it being special, but I get it. I never used Amazon before I had my daughter and, now, I use Amazon all the time out of convenience. I'm a realist. Is there a chance a couple of my clients won't be able to get to the store and will shop on Amazon? Sure, if something's on Prime and they need it that day, but they are not going to get the same level of service that we provide. So, I don't worry about it. I really don't.
When a brand seems to be stumbling at your store, what do you do?
We have conversations to talk about ways we can reengage customers with the brand through marketing. We are dealing with this right now with a brand. I love the brand, but it's newer in the space, and its presence isn't super large, and its product needs a lot of education, especially for a client to purchase it online. There's a difference between in-store and online sales. We talk to the brand about how we can educate people more on it. How can we get people to click on it? Do we need to do video? Can we do more e-mail marketing? We will give it a go for a few more months. We really try with brands. Just because a brand isn't selling, I'm not going to give up on it tomorrow. I chose to carry the brand because I saw potential there. We are going to work it until we can't work it anymore. At that point, we will have a discussion about it not working with our clientele.
How has your role evolved over the years?
I don't work on the sales floor anymore. I miss connecting with clients, but it makes me happy to hear the stories that my girls have about educating clients. I like connecting with people on social media, and I love marketing. Although you don't see me as much on the sales floor, I'm still very present in my business on a daily basis whether on social media, e-mail or planning events. That's what I focus the most on.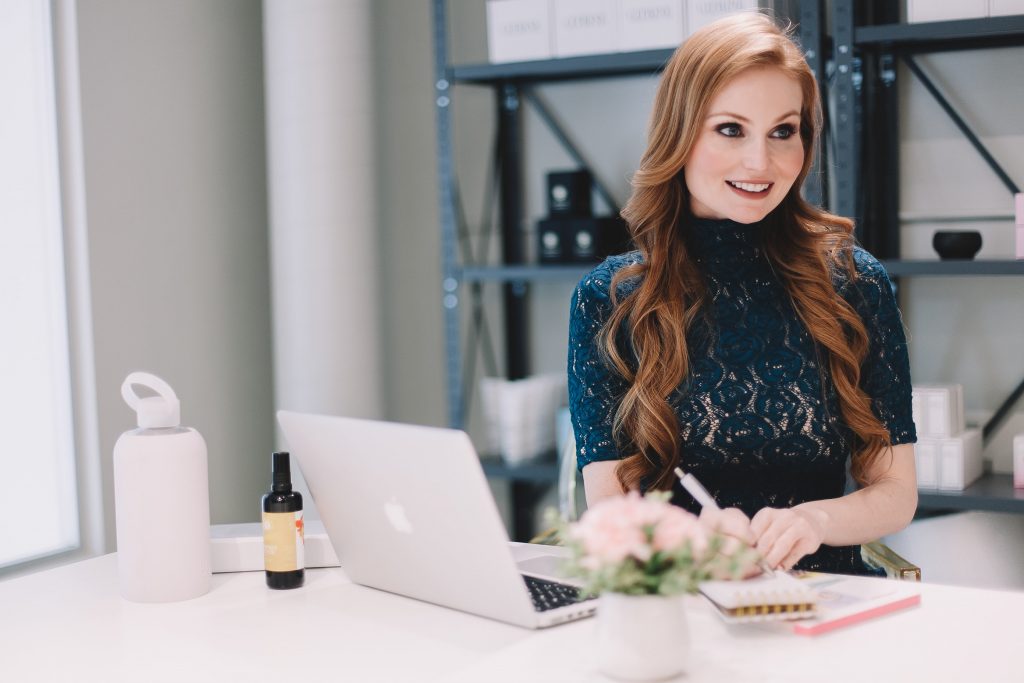 Many clean beauty retailers have started their own product lines. Would you?
I love all my brands, and I love all their products, but I see certain gaps I want to fill. I've been in the beauty industry over 20 years and in clean beauty for seven years working face-to-face with clients most of the time. I have a really good sense of what their needs are, and a product line is something I feel passionate about doing just for me. The founders of my brands all know I have ambitions to do my own line. It's not designed as a Citrine line. It's actually a brand outside of Citrine.
How else do you want to expand?
I would like to continue to grow online. A lot of people always ask me if I'm going to open another store, and that's not in the cards right now. Sure, I could go open a store in LA, but there are already 10 other clean beauty stores in LA. Does there really need to be another one? There are so many people in Middle America that I can reach online and form relationships with. Everybody wants to make money, that's what business is about, but it's also about connecting with people and making a difference in their lives. When that's your mission and the mission of the brands you bring in, I think that's a recipe for success.