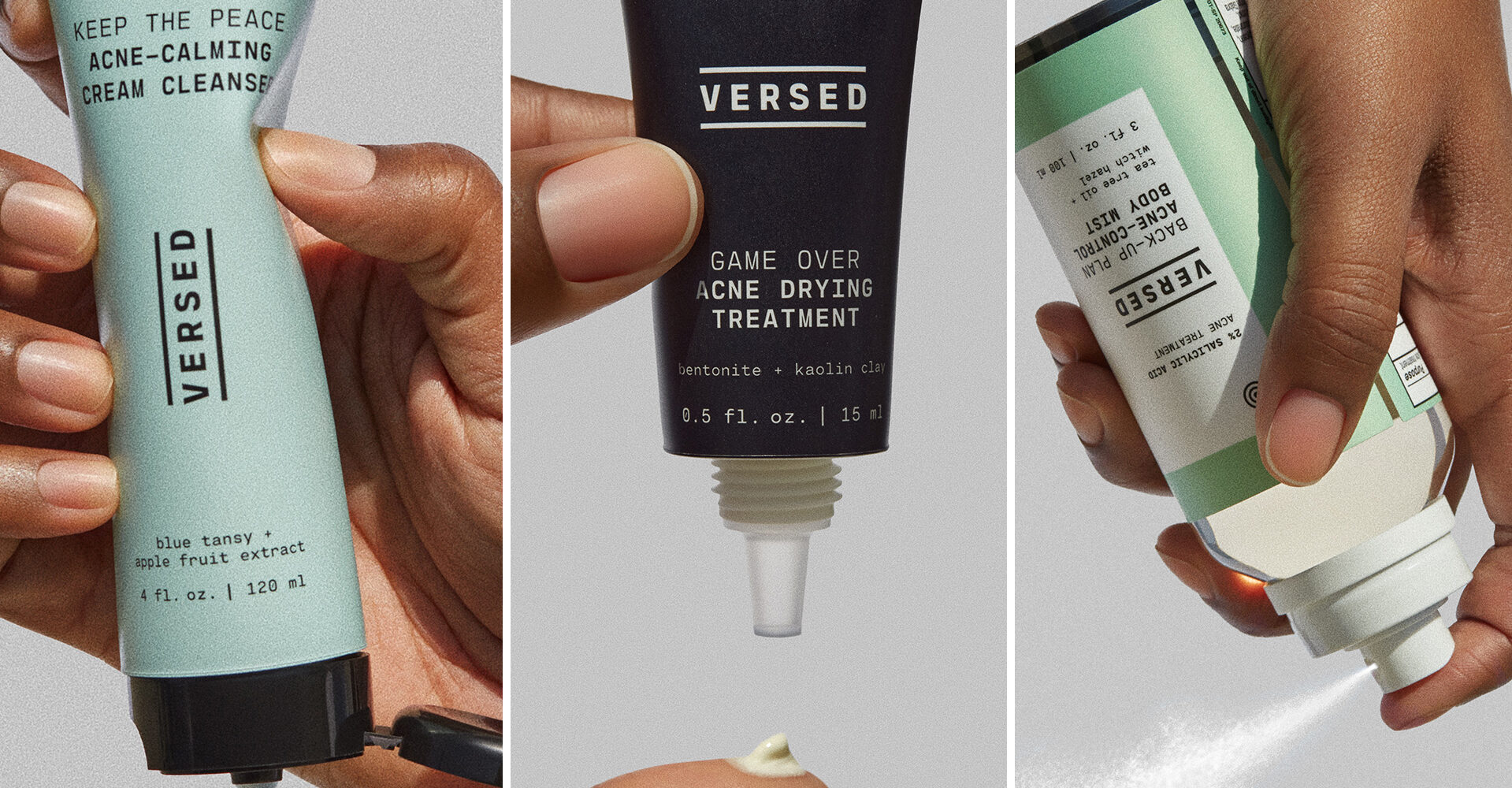 Clean Skincare Brand Versed Ventures Into The Growing Adult Acne Segment
Once you have adult responsibilities, you should be able to forget about acne. Unfortunately, that's not the case—and pimples rear their stubborn blackheads and whiteheads on the faces of people of all ages.
At the very least, Versed is making it so adults don't have to depend on the acne antidotes they purchased for their pubescent breakouts. The skincare brand and sister company to media property Who What Wear is releasing a trio of acne solutions priced from $14.99 to $16.99—Back-Up Plan Acne Control Body Mist, Game Over Acne Drying Treatment and Keep The Peace Acne-Calming Cream Cleanser—enabling consumers to stick to clean, sustainable products as they zap zits.
"We continually listen to feedback from our community, and acne comes up again and again. They had acne in their teens, and they have it now in their 20s, 30s and 40s, but it's different," says self-confessed hormonal acne sufferer Melanie Bender, GM of Versed. "They had used harsh chemicals like benzoyl peroxide in products that weren't clean. It felt like there was a big gap between when they were shopping for anti-aging and when they were shopping for acne."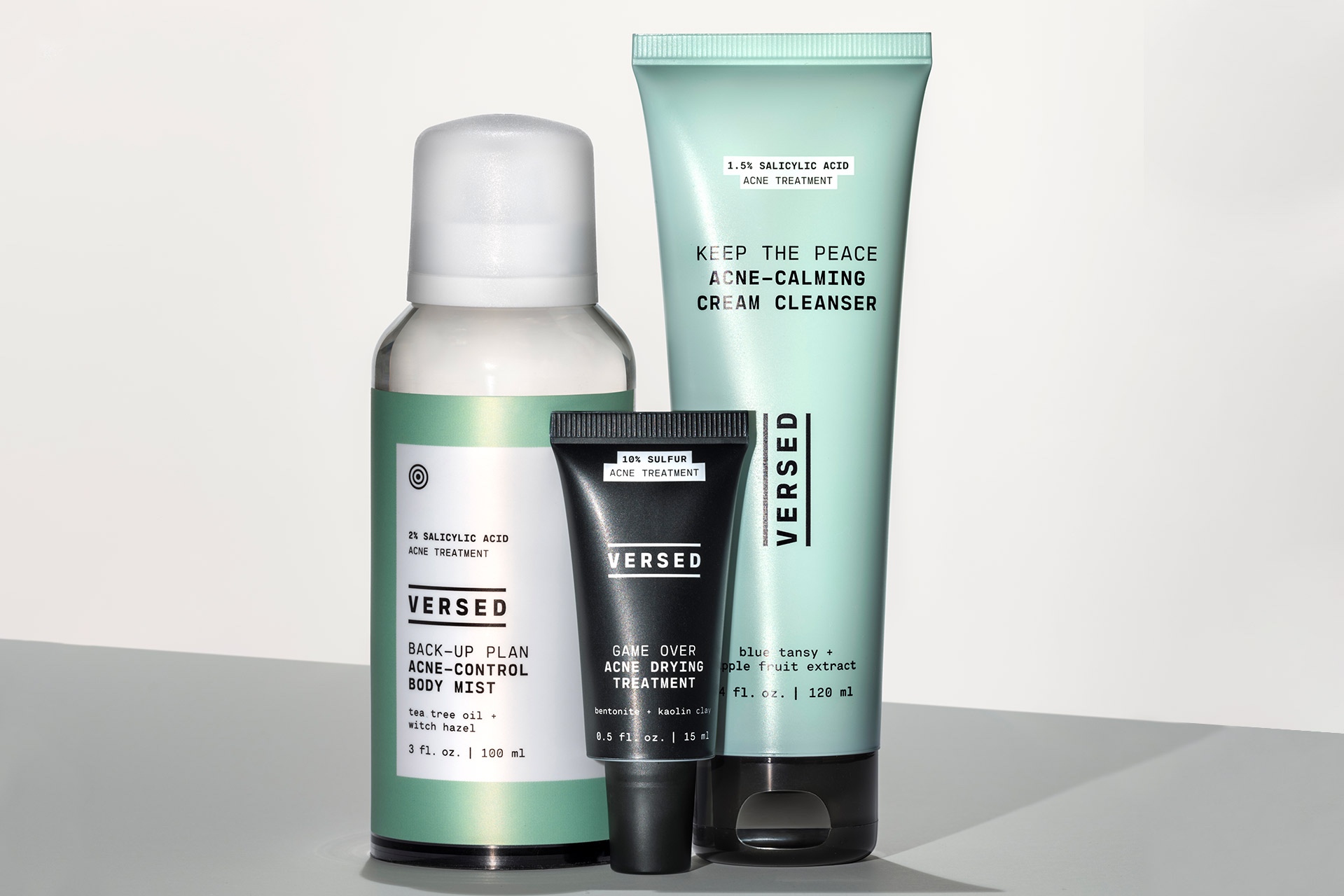 Versed is entering a burgeoning field of brands including Tula, BioClarity and SkinKick out to remake an acne category dominated by entrenched players such as Proactiv, Neutrogena and Clearasil with better-for-you ingredients, contemporary design and values relevant to millennial audiences. In the category, they're jumping into an adult end that's large and relatively underpenetrated. In a survey published in the Journal of the American Academy of Dermatology, 73.3% of respondents reported experiencing acne at 20 years old and older. As a whole, the acne care market is projected to rise from $4.9 billion in 2016 to $7.35 billion in 2025, according to Statista.
Versed previously dipped its toes into the acne segment with the products Just Breathe Clarifying Serum, Nix It Complexion Solution, Find Clarity Purifying Mask and Wash It Out Gel Cleanser grouped in offerings for problem skin concerns. The new acne trio pushes the brand into the over-the-counter medication arena and sets it apart from competitors with a body mist addressing body pimples often ignored by acne merchandise. The cream cleanser and drying treatment provide preventative and reactive measures, respectively.
"With these three products, we really wanted to cover every type of acne. There are a lot of different types and stages, and we also wanted to look head to toe because acne can be anywhere on the body," says Bender, adding she anticipates the items will "do well" for Versed. "It's a growing market, and it's been slower to the clean movement than other categories within skincare. There's definitely a lot of pent-up need and demand for these products."
"We continually listen to feedback from our community, and acne comes up again and again."
The United States government hasn't defined clean beauty. Without an official definition, retailers have stepped in to clarify the term. Target has determined products avoiding a long list of ingredients (triclosan, retinyl palmitate, oxybenzone, hydroquinone and phthalates among them) are clean, and Versed, which calls itself "the cleanest drugstore skincare brand" and adheres to European Union ingredient standards, has received its clean seal. The brand is available in the chain's 1,870-plus locations nationwide. Target has a two-year mass-market exclusivity agreement with Versed. The body mist and cream cleanser are rolling out to stores today, and the drying treatment will arrive at them in the fall.
Bender says Versed's customers care especially that its products are free from artificial fragrances and colors, sulfates and parabens. They key into ingredient concentrations, and vegan is an important designation to them, too. On packaging, Versed communicates its body mist has 2% salicylic acid, cream cleanser has 1.5% salicylic acid and drying treatment has 10% sulfur. On its website, the brand taps ClearForMe technology allowing customers to click on ingredients in its products to read information about them.
"They are always desiring more transparency into what we are doing, what the ingredients are and the active levels of them," says Bender of Versed's customers. She elaborates, "What we do see is the consumer will do research on a brand and really understand the brand's position and, once they are comfortable with how the brand is thinking, it's easier for them to shop that one brand than do research every time on a product basis. That's why we are really putting out there what clean means to us."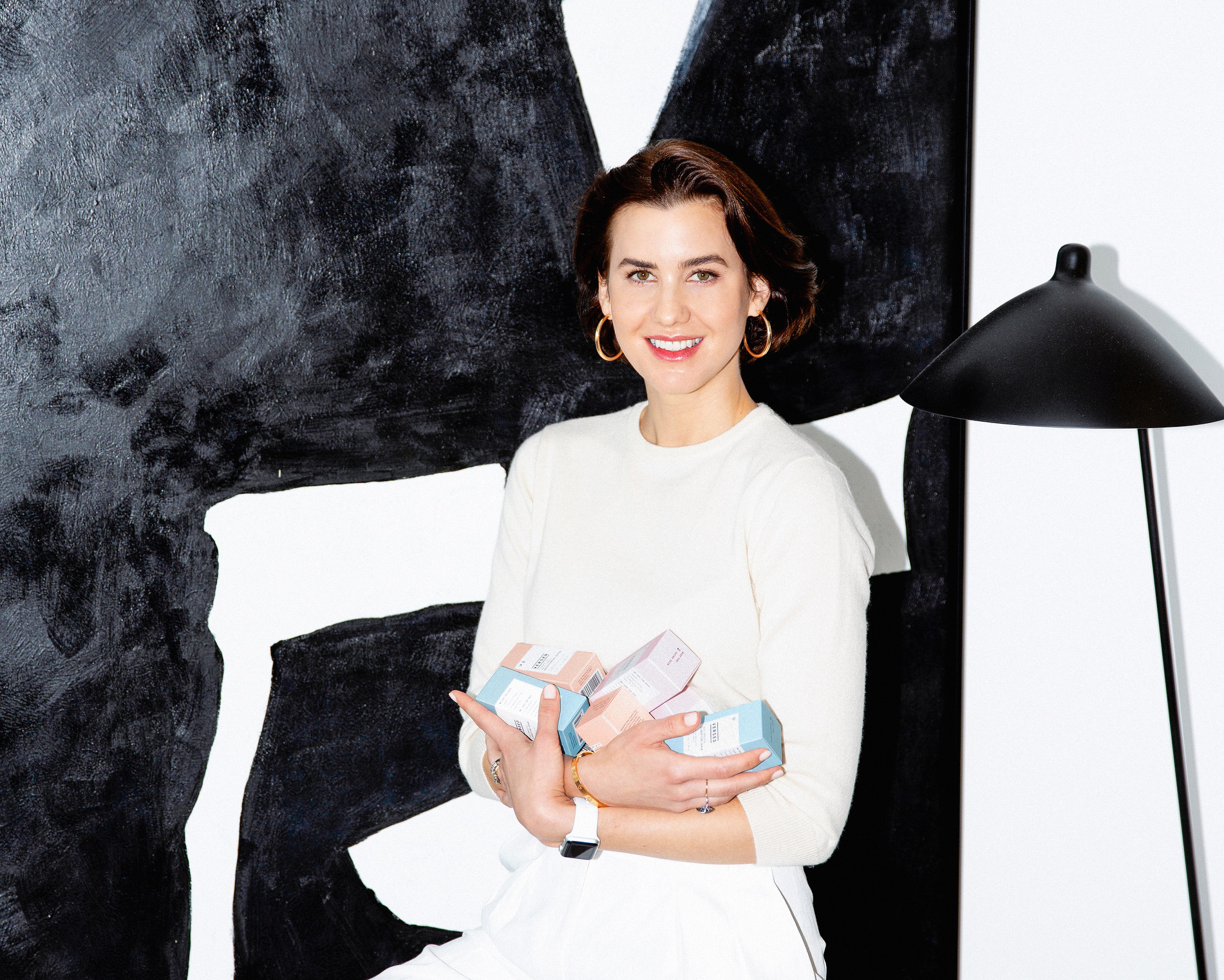 Bender outlines that Versed has four pillars of sustainability—waste, carbon, ecosystem and education—and a dozen initiatives dedicated to them. The brand is moving to greater percentages of post-consumer recycled plastic or PCR in its tubes. The cream cleanser's and drying treatment's tubes are 79% PCR. The acne trio was produced in the U.S. Bender estimates about half of Versed's products are manufactured domestically, and the brand is increasingly relying on U.S. factories to reduce environmental impacts. Versed describes its operations as nearing carbon neutrality.
Started by Hillary Kerr and Katherine Power, Who What Wear is one of a few digital publishers that has branched into brands. In beauty, Into The Gloss and PopSugar have introduced brands as well. Who What Wear began its branded endeavors in apparel, and launched the Who What Wear line in 2016 and JoyLab line in 2017.  Target carries both lines. A Women's Wear Daily article from May last year on the debut of Versed mentioned Who What Wear "is said to generate over $100 million in sales across its commerce network in the U.S." Back then, Power noted the business could double in 2020.
Of course, much has changed since last year. The pandemic and Black Lives Matter protests prompted by the killing of George Floyd have transformed the fabric of humanity around the world. In the wake of the protests, Power was under fire for a lack of representation in Who What Wear's editorial content and opportunities in its workplace. In an Instagram post on June 4, Who What Wear pledged that it's "listening and learning," and committing 15% of its monthly content to "Black brands, designers, companies, creatives, talent, artists, and entrepreneurs." In a statement to Beauty Independent, Versed emphasized, "Versed and its leadership team are dedicated to standing with and supporting the Black community. They do not tolerate racism or injustice of any kind, and they are committed to fostering diversity and inclusivity both internally and externally as a brand."
"A lot of the trends that we built the brand for were only accelerated by COVID."
The pandemic has altered some ways consumers have shopped for beauty and reinforced others. With many stores closed, shopping tilted more heavily online in a beauty industry where brick-and-mortar retailers had been reasonably resilient. Mass-market stores, however, stayed open and remained destinations for beauty. Skincare and clean beauty upswings that predated the pandemic have persisted. Versed is situated to withstand the pandemic and even succeed during it. Compared to January and February, Bender shares the brand's sales spiked 85% in March and April. Versed's assortment has 27 items, and recent bestsellers are Guards Up Daily Mineral Sunscreen, Press Restart Gentle Retinol Serum, Dew Point Moisturizing Gel Cream, Day Dissolve Cleansing Balm and The Shortcut Overnight Facial Peel.
"January and February were also up significantly from the prior months, so it was growth on top of growth," says Bender. "A lot of the trends that we built the brand for were only accelerated by COVID. We are digitally-driven, we are clean, we are sustainable, we are accessibly-priced, and we are distributed through a central retailer. For us, it has been an opportunity to double down and fuel the business." Last year, industry sources told WWD that Versed could hit $20 million in first-year sales. The brand declined to comment on sales. Bender says, "Our performance has consistently exceeded what we expected we would do."
After taking into account the numbers, investment firms Sonoma Brands, Greycroft, LVMH Luxury Ventures and Marcy Venture Partners backed Versed in a $11 million series A round revealed in January. The capital is helping Versed broaden its retail and product reach. By the end of the year, the brand is forecast to be in 3,000 doors globally. In January, it premiered on London e-tailer Cult Beauty's website, and it's slated to break into another major international retailer in the third quarter.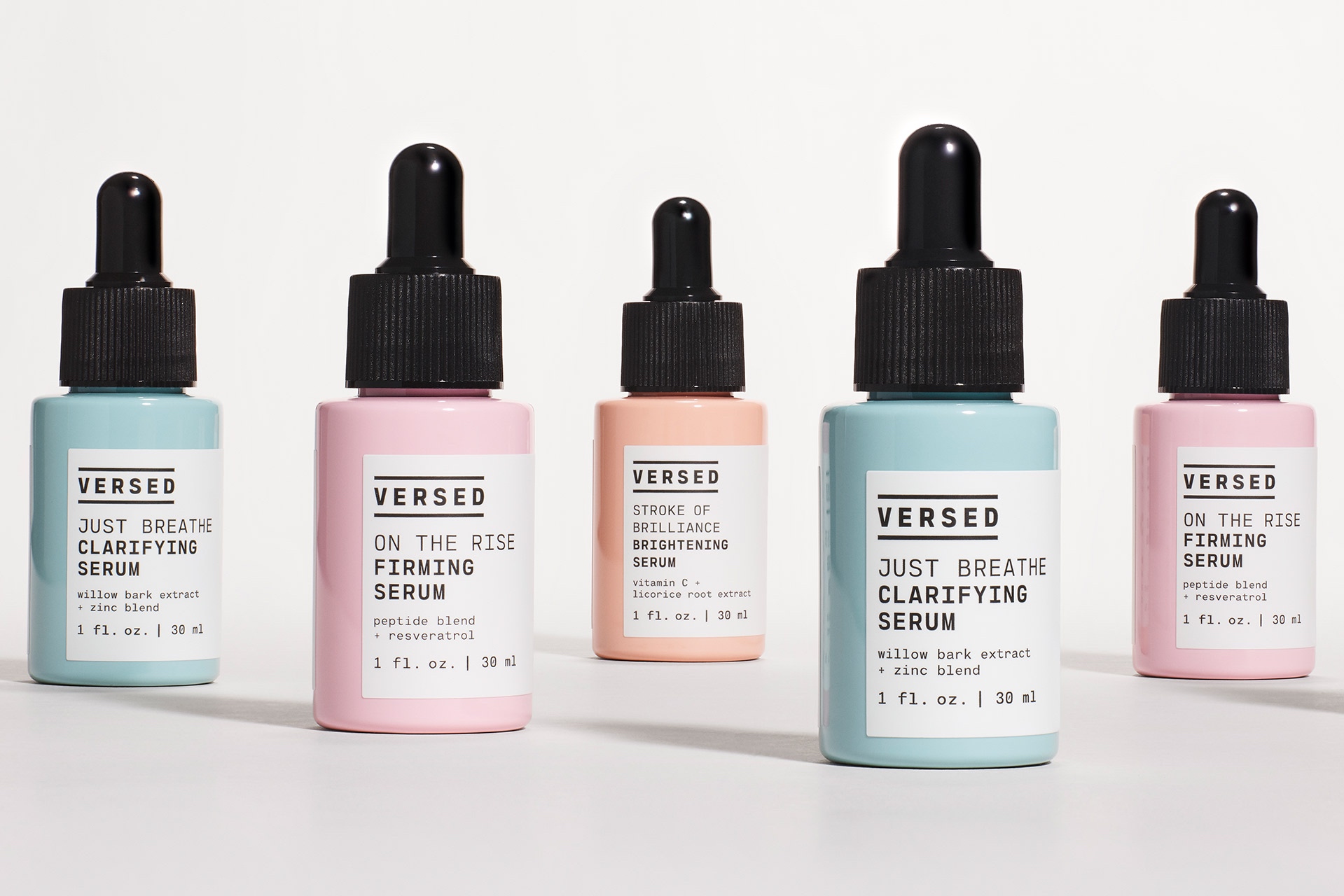 If Versed can win in an acne category in which efficacy is paramount, it will undoubtedly gain loyal customers for current and future products. Bender hints Versed will be launching products bringing dermatologist treatments into consumers' homes, and extending further into body care and cosmetics. Unveiled in May, Silk Slip Tinted Lip Oil nudged Versed into makeup. Bender says, "We love what we stand for, and we are never looking to really change or expand beyond that, but where our value proposition makes sense and the consumer is having a hard time finding solutions, that's where we will go next."