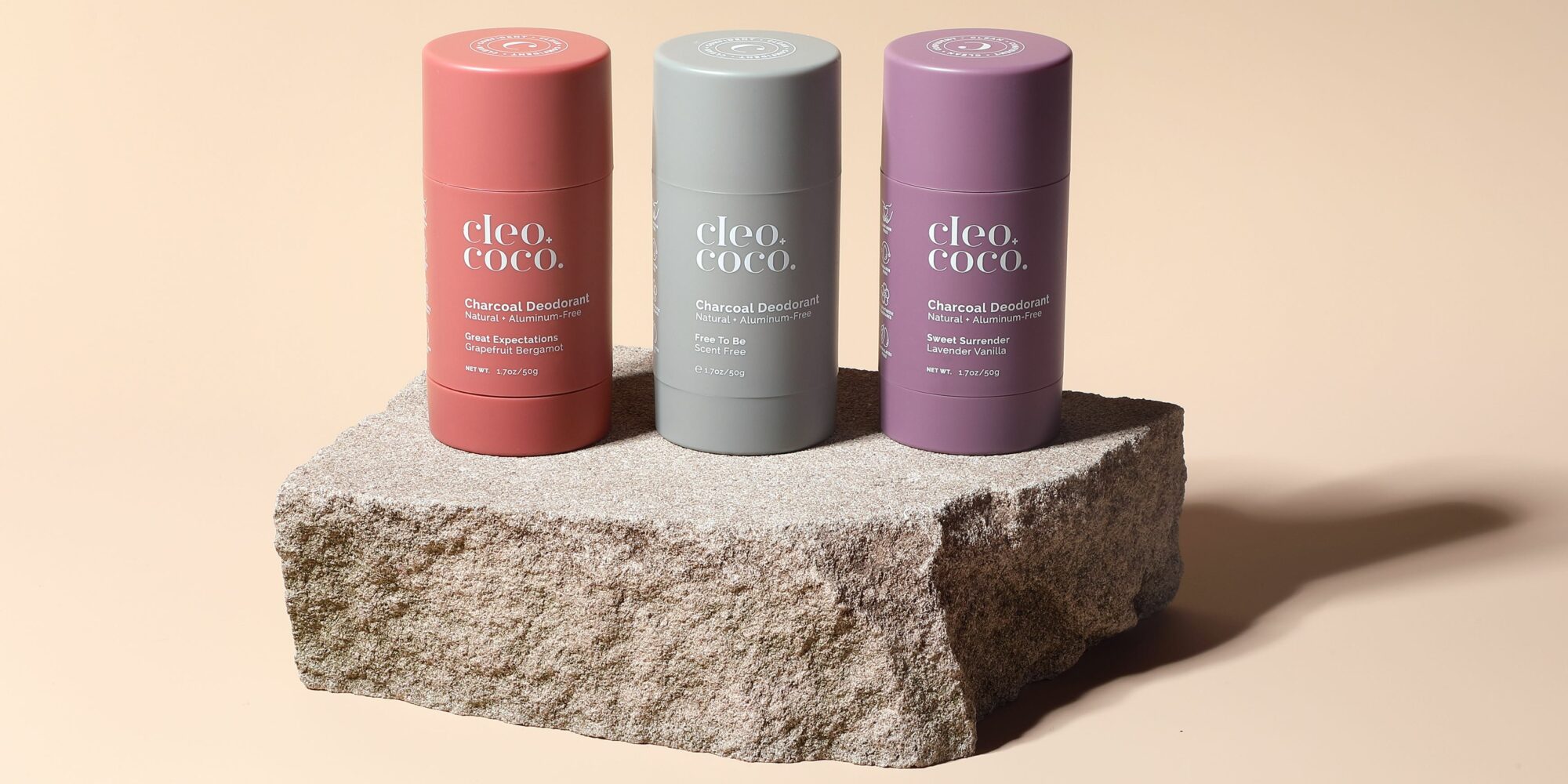 How Cleo+Coco Beat The Deodorant Sales Slump Last Year—And Continues To Grow This Year
There were a lot of pretty stinky people last year.
With offices closed and parties cancelled due to the pandemic, deodorant sales tanked. Nielsen reports that, after a brief uptick when panic buying took hold at the inception of the global health crisis, sales of the odor-fighting product remained at lower than pre-pandemic levels for the year. In a survey of British consumers last year, Mintel discovered nearly a third pared down their deodorant usage, providing yet another reason for social distancing.
Cleo+Coco, one of the first brands to put out natural charcoal deodorant, beat the anti-smelly stuff slump. Its 2020 sales multiplied 10X to cross $1 million and, in 2021, as deodorant sales rebound a tad (IRI Worldwide data shows they inched up 2.6% in the 52 weeks ended Sept. 5), the brand is on track to outpace the category and double its business. Why did Cleo+Coco progress during the deodorant depression?
Founder Suzannah Raff identifies macro and micro reasons. On the macro side, she senses aluminum-free deodorant has truly arrived. "I saw years ago that this category was going to shift. That's why we launched Cleo+Coco," she says. "It just takes time for something to become mainstream, and I think what we are experiencing is that aluminum-free deodorant has become much more mainstream. Everybody has heard of it. They have either tried something or want to try something."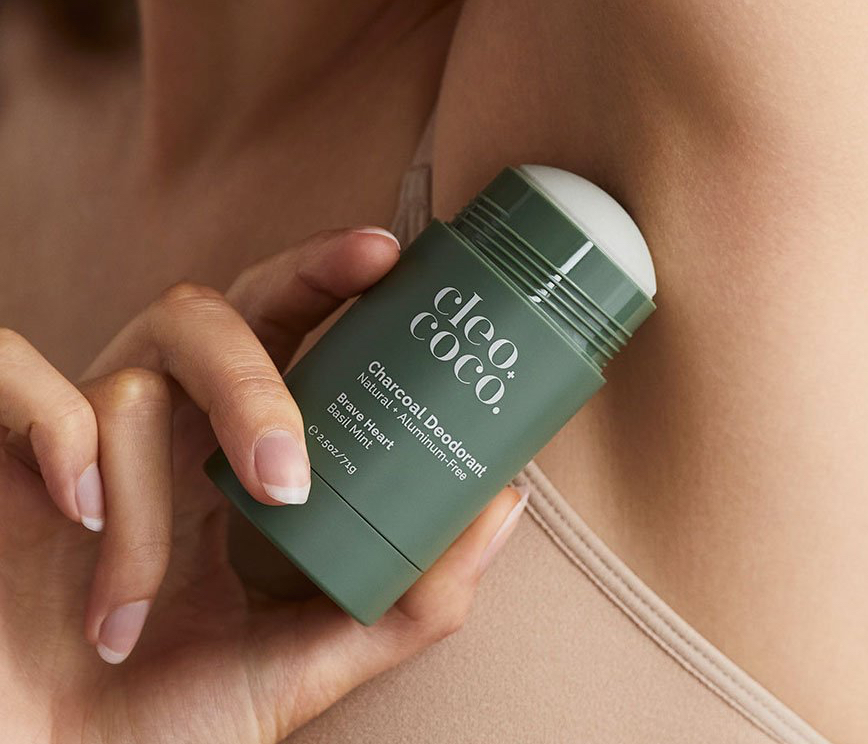 The mainstreaming of aluminum-free deodorant is evident in one of the micro reasons Cleo+Coco swum against the slumping deodorant sales tide: QVC has warmed up to the brand and, generally, the aluminum-free deodorant trend. Cleo+Coco premiered on the television and livestreaming shopping platform as part of its The Big Find competition for emerging brands. It joins a growing group of aluminum-free deodorant players on QVC that includes Curie, Freedom, Megababe, Whish and Milk + Honey. Across categories, QVC and HSN thrived last year, with combined revenues climbing 3% to $8.5 billion.
In February last year, Cleo+Coco sold out within 10 minutes in its QVC debut. The brand's success has persisted in subsequent appearances. "I love being on air and selling with them. That's been a huge bonus," says Raff. "It was never our vision to be a QVC business, but we are very happy that we are. Still, we want to build our direct-to-consumer model."
She explains she didn't originally envision Cleo+Coco because she imagined it as a brand aimed at 25 to 30 year olds. That age group does constitute a sweet spot for the brand, but its presence on QVC as well as elsewhere at distribution venues like Beauty Heroes and Amazon has widened its reach. The average age of a QVC customer is around 50. "It's really all over the place because everyone uses deodorant," says Raff of the demographic profile of Cleo+Coco's customers.
Currently, the brand's DTC channel constitutes roughly 50% of its sales. Its website underwent an overhaul unveiled in the summer that encapsulates its message of elevating personal care and nurturing health through self-care. Meanwhile, its retail distribution expansion hasn't slowed. Cleo+Coco recently cracked Goop and Rite Aid online. The brand is available at 100-plus retailers and e-tailers such as Beauty Heroes, Thrive Market, Verishop, Von Maur, Aerie, Neiman Marcus and Target's site. It's top 40 for natural deodorants on Amazon.
"We want Cleo+Coco to take care of your personal care and skincare needs in a very efficacious way that allows you to feel confident and good about the ingredients."
Certainly, Cleo+Coco's merchandise is a major micro reason the brand has been on the upswing. It rolled out a cleansing bar last year that was relevant for pandemic-related hygiene practices, but didn't stray from its core personal care competencies. "We decided we weren't going to take our resources and start to create other products," says Raff. "We felt comfortable in our products and didn't need to jump on hand sanitizers to bring in cash."
In total, Cleo+Coco today has approximately a dozen products. Its signature deodorant comes in the lavender vanilla scent Sweet Surrender, grapefruit bergamot scent Great Expectations and basil mint scent Brave Heart. In addition, there's an unscented option and a sensitive skin option with blue tansy.
In a 2.5-oz. size, the deodorants are $18, but Cleo+Coco has introduced a 1.7-oz. size for $12 for consumers and retailers looking to pick up its deodorant at a lower price point. The brand has a mini deodorant sampler with four .5-oz deodorants for $30 that's been popular. The deodorants have received thousands of five-star reviews. "Our scents have a cult following. They are not overwhelming. They don't interfere with your perfume, but they offer a mood-lifting experience when you open the product," says Raff. "I think customers love the mini kit to experience all the scents."
Cleo+Coco's selection also spans the cleansing bar, a dry shampoo and body powder, and a version of its deodorant it calls zero waste wrapped in compostable paper and packaged in a Forest Stewardship Council-certified recyclable paper box. The regular deodorants are in plastic tubes Cleo+Coco describes as recyclable. The brand is planning to extend its scent portfolio. It's largely letting its customers' input guide its product development decisions.
In the future, Raff says Cleo+Coco, which teamed up with the agency We Are Purpose for a packaging refresh revealed last year, will house its products in aluminum, refillable cases, paperboard or post-consumer recycled (PCR) plastic. "We are taking the lead for what's going to be happening in five years," she asserts. "I still think it's going to take years for consumers to adapt just like it took them time to adapt to aluminum-free deodorant." Raff recounts, "I had a meeting with a buyer from a very big retail chain and I said, 'What are customers wanting? Do the they want paperboard?' She said, 'I'm looking for you brands to take the lead. We really don't know.' So, it comes back to surveying to hear from our customers."
Raff, who previously worked in technology and marketing, began Cleo+Coco with a formula she made for herself. She says the brand secured friends and family money to get off the ground. Overall, Raff says it's raised about $1 million. A substantial chunk of the funding was dedicated to paying for inventory for QVC. Raff declines to disclose the names of the investors in the brand. "You really can't scale and grow without capital. There's no other way," says Raff, noting she retains most of the equity in Cleo+Coco.
As Cleo+Coco forges ahead, Raff doesn't believe the micro and macro reasons for its surge are abating. She predicts the market will continue to move in its direction. "Consumers are becoming more educated. They are reading and understanding ingredients, and brands need to be not just held accountable, but really honest and authentic," says Raff. "We want Cleo+Coco to take care of your personal care and skincare needs in a very efficacious way that allows you to feel confident and good about the ingredients."