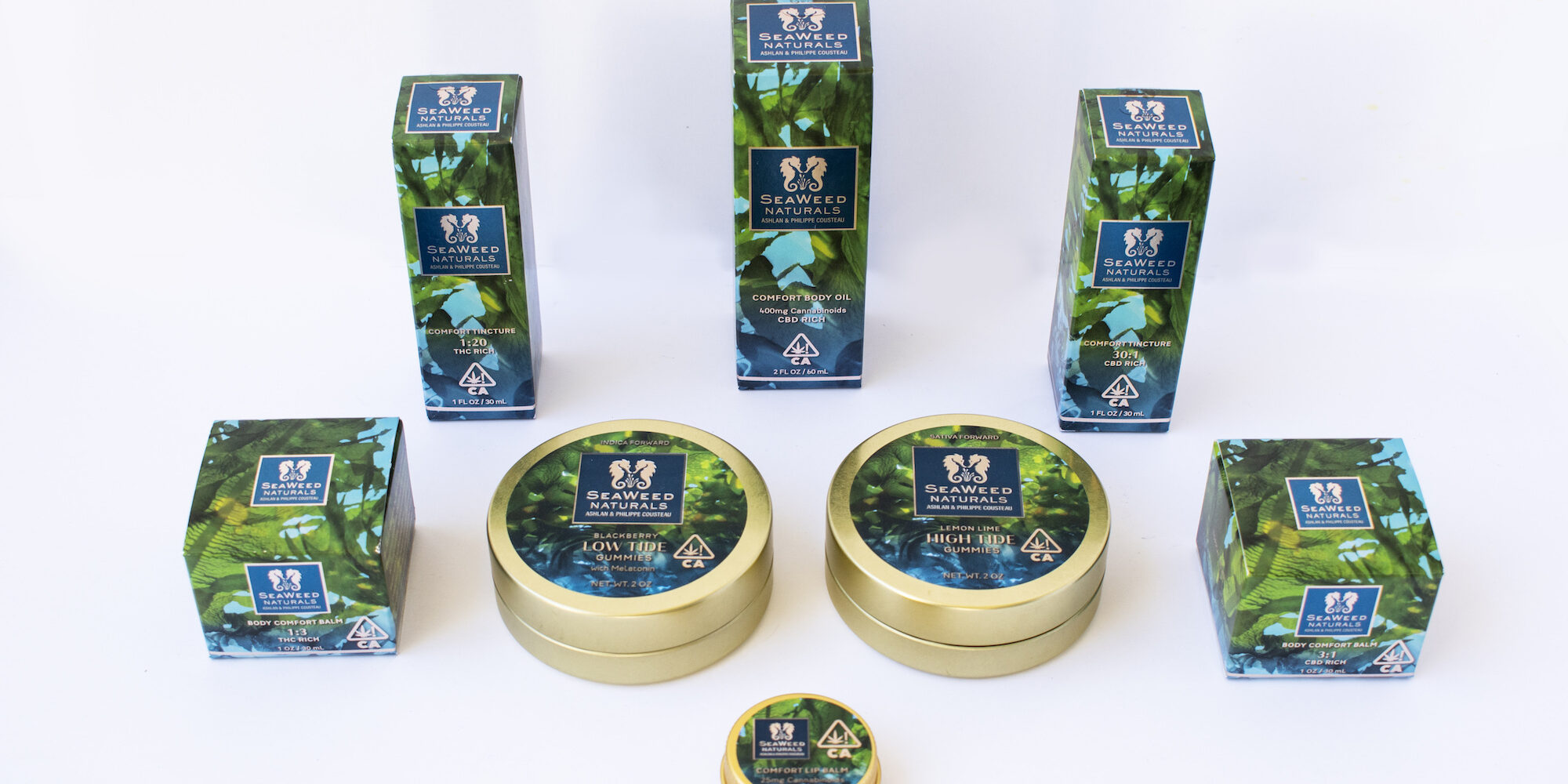 Cousteau Family Members Bring Seaweed And Land Weed Together In New Wellness Brand SeaWeed Naturals
It certainly makes sense for a Cousteau to launch a seaweed-enriched wellness brand aiming to save the oceans. What if that brand added actual weed into the mix? Two Cousteaus—married couple Ashlan and Philippe
Cousteau
, grandson of the explorer, scientist and conservationist Jacques Cousteau—
have done just that with SeaWeed Naturals.
The brand's premium wellness and beauty products combine marine plants seaweed, algae and kelp with cannabis to tap into the benefits of both land and sea power plants. Its launch range spans eight products. Some of them, like Body Oil and Comfort Lip Balm contain hemp CBD, while others like Comfort Tincture and Body Comfort Balm are available in CBD and THC varieties. High Tide gummies designed for day use and Low Tide gummies designed for night use have 10 milligrams each of sativa and indica, respectively, per gummy. In a charming homage to the ocean, the gummies are starfish-shaped. 
For the Cousteau co-founders, it wasn't an easy decision to go the cannabis route because it limits where the brand can be sold. For example, the products are currently only available in California at select dispensaries and for delivery statewide through SeaWeed Naturals' website via third party service Grassdoor.
"We spent a lot of time agonizing over this," admits Philippe. "We saw a gap in the cannabis market, which is very early and very young and unsophisticated in many ways. In the traditional wellness cosmetic space, seaweed and algae…are pretty well established. People are used to them, but no one's doing it in the cannabis space. That was really exciting from a business perspective."

The plan is to expand SeaWeed Naturals' distribution soon from California to other key cannabis states, including Massachusetts, Colorado, Washington and Oregon, as well as develop CBD-forward products that can be sold nationwide in more traditional beauty and wellness retail environments.
The choice to launch cannabis-first down to efficacy. The Cousteaus are believers in the healing power of THC for a myriad of issues. Older family members and friends with chronic muscle and nerve pain experimented with numerous remedies, but nothing was effective except for THC-enriched creams and balms.
On a personal level, Ashlan was plagued by insomnia brought on by postpartum depression until friend and SeaWeed Naturals interim COO Jill Belasco, former CEO of beauty incubator Maesa, gave her THC gummies. "Not being able to sleep was truly debilitating for me," recounts Ashlan. "I tried the gummies, and it helped. Within a week or two I felt back to my old self because I was sleeping. I was able to feel normal again."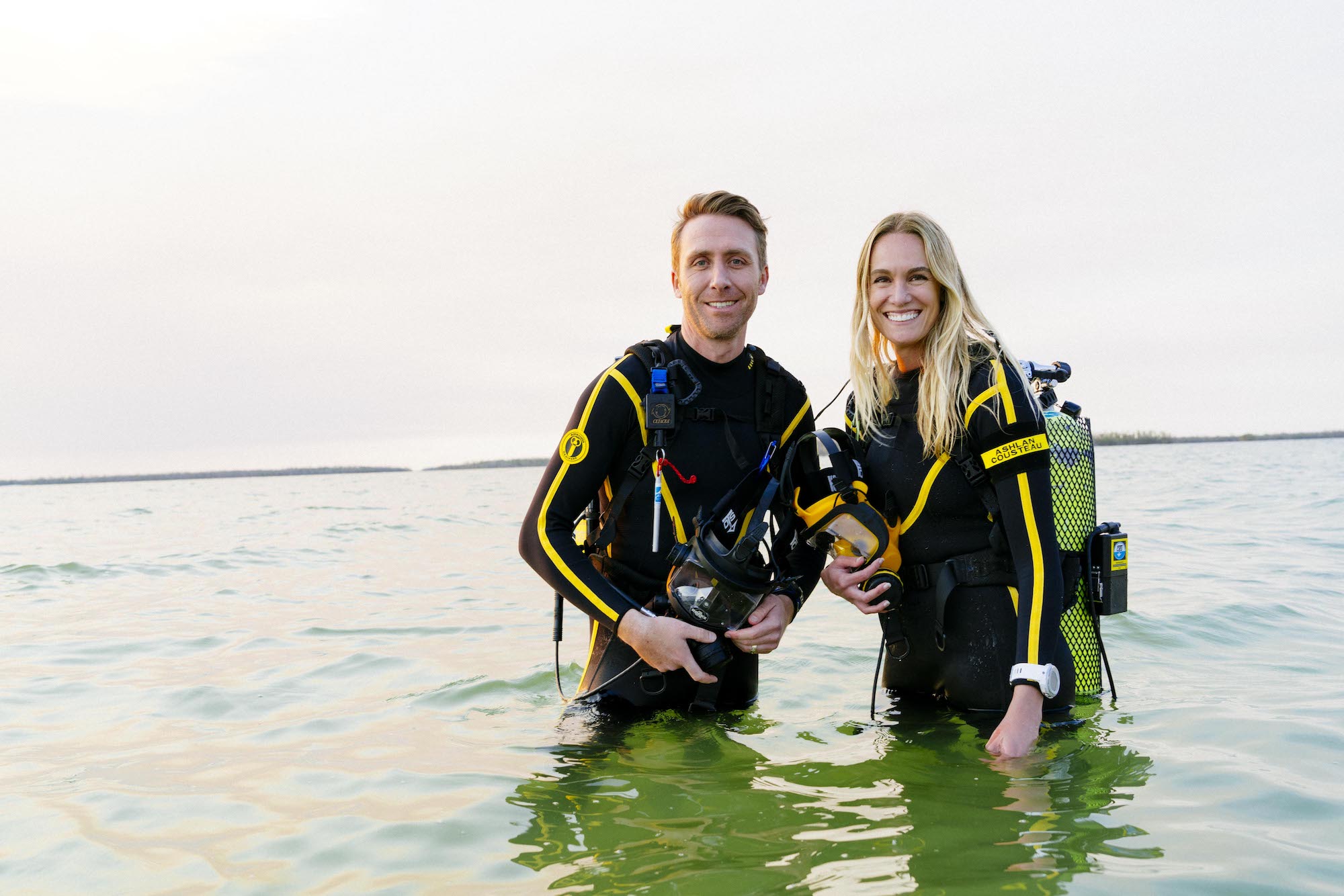 Building a brand in the compliant market can feel incongruous to a brand like SeaWeed that is built to be as sustainable as possible due to safety requirements around packaging for products containing THC. For example, all bottles must have childproof caps, which are currently only made from virgin plastic. The Cousteaus are loooking to change that.
"At every step of the way we can innovate," Phillipe says. "We're looking at [making the childproof caps] from post-consumer recycled plastic. We hope that in us doing this other brands in the cannabis space, or even in the beauty and wellness and food space could use what we're innovating in their product line, which is really how you can change the world, when you get a mass movement to adopt something that's better for the planet."
Environmental protection is integral to SeaWeed Naturals. Ashlan and Philippe are driven to support the emerging blue economy with lofty goals of restoring the ocean, combating climate change, cultivating ocean life habitat and providing sustainable jobs in coastal communities. "We wanted a business that was truly an impact business from conception," says Ashlan. "We wanted to make sure that we were having a positive impact on the planet or at least a non-negative impact. Obviously, for all of our work with the oceans and the family legacy that Philippe has, we wanted to make sure that we were putting the ocean front and center. We worked backwards and backed into the wellness space and backed into the cannabis space."
The Cousteaus and Belasco funded the brand themselves until they linked up with Sarah Lucas, general partner at Lucas Venture Group and partner at Celesta Capital who has come on board as an angel investor. SeaWeed Naturals anticipates raising an official funding round later this year. Until then, the Cousteaus will be busy putting together boxes and sticking labels on SeaWeed Naturals' bottles in their Los Angeles home. "It's our third baby," says Ashlan, a journalist, co-star of Travel Channel series "Caribbean Pirate Treasure" and executive producer, along with Philippe, of the Discovery documentary "Nuclear Sharks." 
The Cousteaus don't mind putting in the grunt work up front for a brand they're incredibly passionate about. "At the end of the day, Philippe and I didn't need to create a cannabis line," says Ashlan. "We truly believe that this brand can help change the world because everything we do in our life, from our books and our speeches and our television shows and our documentaries to this wellness line is to help save the planet. Business and market-based solutions have got to be part of the solution to the climate crisis."