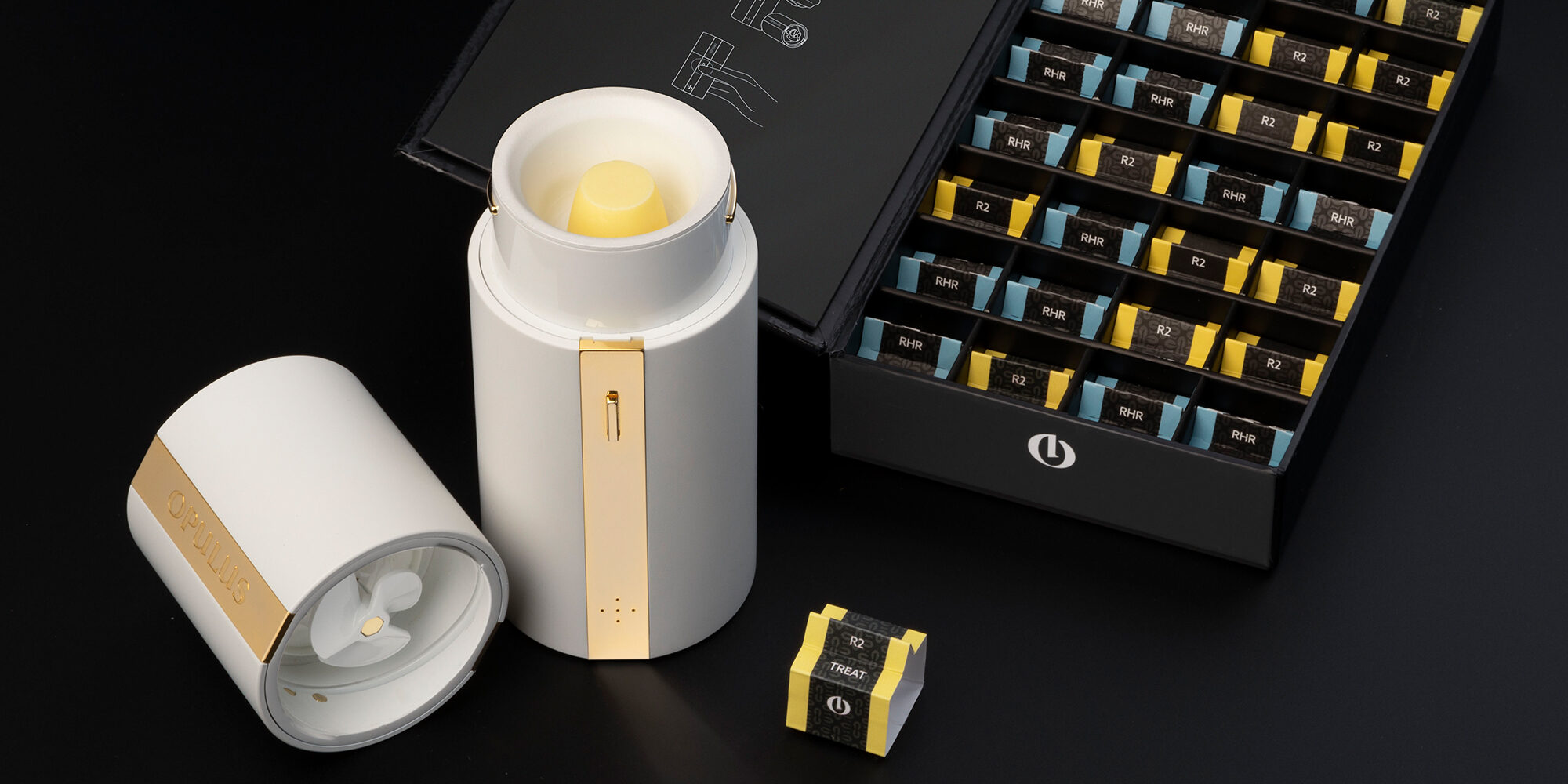 Dr. Robb Akridge's Opulus Beauty Labs Whips Up Fresh Supercharged Skincare At Home In 90 Seconds
Humans have been drinking coffee for thousands of years and from a drip coffee maker for over a century. It took Keurig making a kitchen counter contraption quickly brewing up fresh coffee by the cup to change household coffee habits to suit the speed and taste preferences of modern consumers.
In skincare, Opulus Beauty Labs aims to do the same. From Robb Akridge, the scientist co-founder of Clarisonic better known as Dr. Robb, the new brand has created an on-demand high-tech skincare blender for discerning beauty consumers who'd rather slather on formulas at peak potency than depend on the stuff that's been sitting in their cabinet for weeks with the active ingredients in it degrading. Launched Monday for pre-order, the blender or Opulus Activator in the brand's parlance heats up to 120 degrees in 15 seconds to produce a single serving of skincare for the face, neck and chest in a minute and a half.
"I was in a chocolate shop, a very elegant one, and I looked at all the individual pieces of chocolate—there were small ones and large ones, and different textures—and I thought, 'Why can't skincare be the same way?'" says Akridge. "Obviously, I'm known for devices, and we are launching this in the skincare category, but we are different from our past experiences with Clarisonic. It's going to be skin treatments, body treatments and hair treatments. It's a totally different way of imagining beauty routines."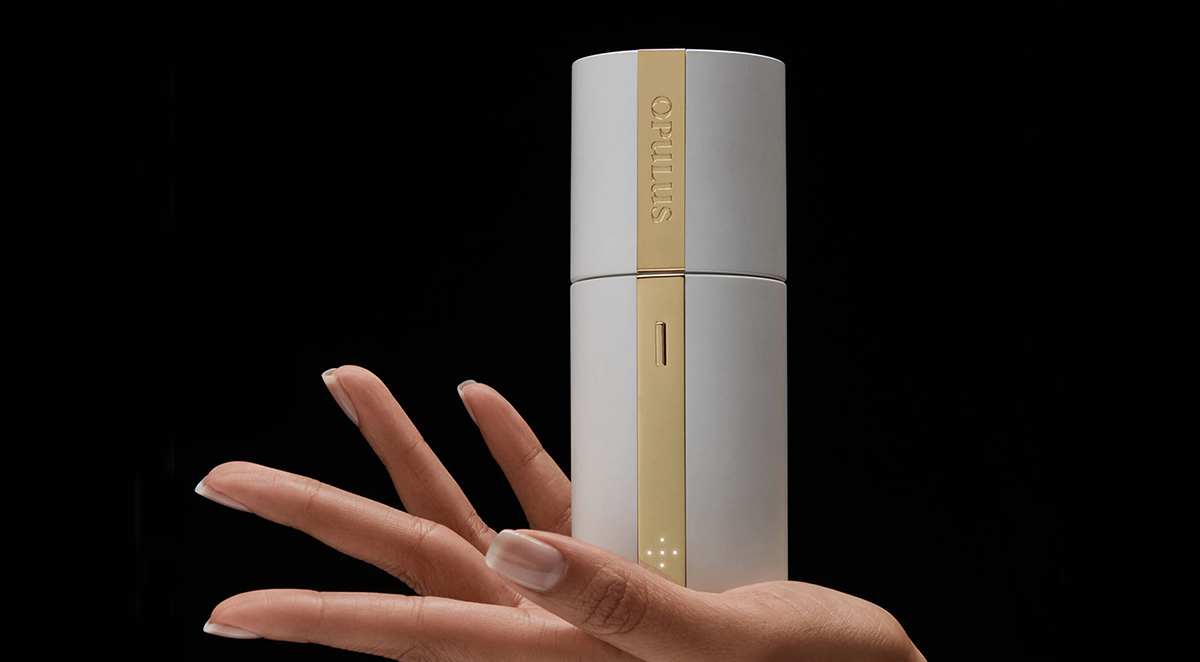 Opulus Beauty Labs can be totally different because its machine and single-dose helpings provide the ability for consumers to customize beauty routines in their bathrooms without combining goop from a smattering of jars, tubes and bottles. It's debuting with a Retinol Ramp-Up Regimen that offers clues to its capacity to tailor beauty products by seasons, benefits, occasions, ingredients and more. The Regimen comes in three strengths that users can pick from depending on their history with and tolerance of retinol. The first strength level contains what Opulus Beauty Labs calls opoules or pods with a .025% retinol concentration, the second has opoules with a .05% retinol concentration, and the third has opoules with a .1% retinol concentration.
"Retinol is the gold standard for rejuvenating skin, but there's a challenge because people start with retinol and give up because they get flaky, and there's so much information out there about how to cocktail or dilute it," says Michelle Balmer, chief brand officer at Opulus Beauty Labs and former VP at Clarisonic. "We looked at that and thought, 'How can we make it simple and easy so they can get all the great benefits from it?'" Akridge chimes in, "We are basically allowing your skin to build up resistance to the issues that you might have with retinol."
"We are basically allowing your skin to build up resistance to the issues that you might have with retinol."
Balmer and Akridge steer clear of the term "pod" to define the daily opoules that are churned into skincare by the Opulus Activator because they feel the term "pod" connotes plastic. The opoule has no plastic. It's made completely from skincare ingredients. There's a hard outer shell that has ceramides, and vitamins E and C, and there's a soft center with fragile active ingredients. Because the ingredients in the outer shell and soft center aren't commingled until they're stirred in the Opulus Activator, Opulus Beauty Labs' formulas can bring ingredients together that may not be stable for long periods.
"We have a system in skincare where we dump preservatives into skincare to last for two years on shelves. We don't want to do that," says Akridge. "We want to make sure we have just the right amount of preservatives—and sometimes we don't have preservatives." The anhydrous Retinol Ramp-Up formulations have low amounts of preservatives, according to Opulus Beauty Labs' website. Akridge points out that the brand can put 2% allantoin in its Retinol Ramp-Up Regimen, a concentration of the natural moisturizer not easily achieved in traditional skincare, because of the ingredient separation it maintains before users hit the button on the Opulus Activator. Balmer describes the appliance as consumers' "personal lab slash forever bottle."
The forever bottle isn't cheap. Currently, the price of a starter set for early adopters is $395, and it includes the Opulus Activator, wireless charging base, cleansing brush, applicator and protective pouch. Customers receive a four-week supply of 28 opoules with their starter set. As Opulus Beauty Labs builds out its assortment, Balmer says the price of an opoule will range from $3 to $8.
"Our burden is that people have to fall in love with it and see the value. I'm confident that they will," she elaborates. "Once you use it, it's super simple and streamlines everything in your bathroom. We can take it from retinol to having a lot of fun with it because people can curate, but we didn't want to launch with many, many different lines. We start here, but the vision is to make a program where we can have a relationship with the customer, and he or she can choose the product they want, and we can do monthly subscriptions."
"It's super simple and streamlines everything in your bathroom."
Opulus Beauty Labs will also eventually roll out products in an array of price points to broaden its audience. As it matured, Clarisonic, which was purchased by L'Oréal in 2011 and shut down by the conglomerate last year, introduced less expensive items to grow its customer reach and sales. "I always equate it to the car industry," explains Akridge. "People may all love having an Audi A8, but not that many people can afford that. They create an A4 and A6 so people can still be part of the club, but not spend as much money as an A8 costs."
Opulus Beauty Labs is drawing other lessons from Clarisonic, too. Clarisonic entered the professional channel to establish credibility. While Akridge plans to have a heightened direct-to-consumer focus and doesn't plan to blanket dermatologists' and spas with Opulus Beauty Labs like Clarisonic, he expects to strike key partnerships with them to highlight specific attributes of the brand. For example, Akridge mentions dermatologists have been fascinated by the potential of the Opulus Activator's warming function for eczema patients. In addition to the professional channel, QVC, the television shopping platform that sold $250 million-plus worth of Clarisonic products, is on Akridge's distribution wish list. Clarisonic struck partnerships with a number of brands as well, a practice that will be continued at Opulus Beauty Labs.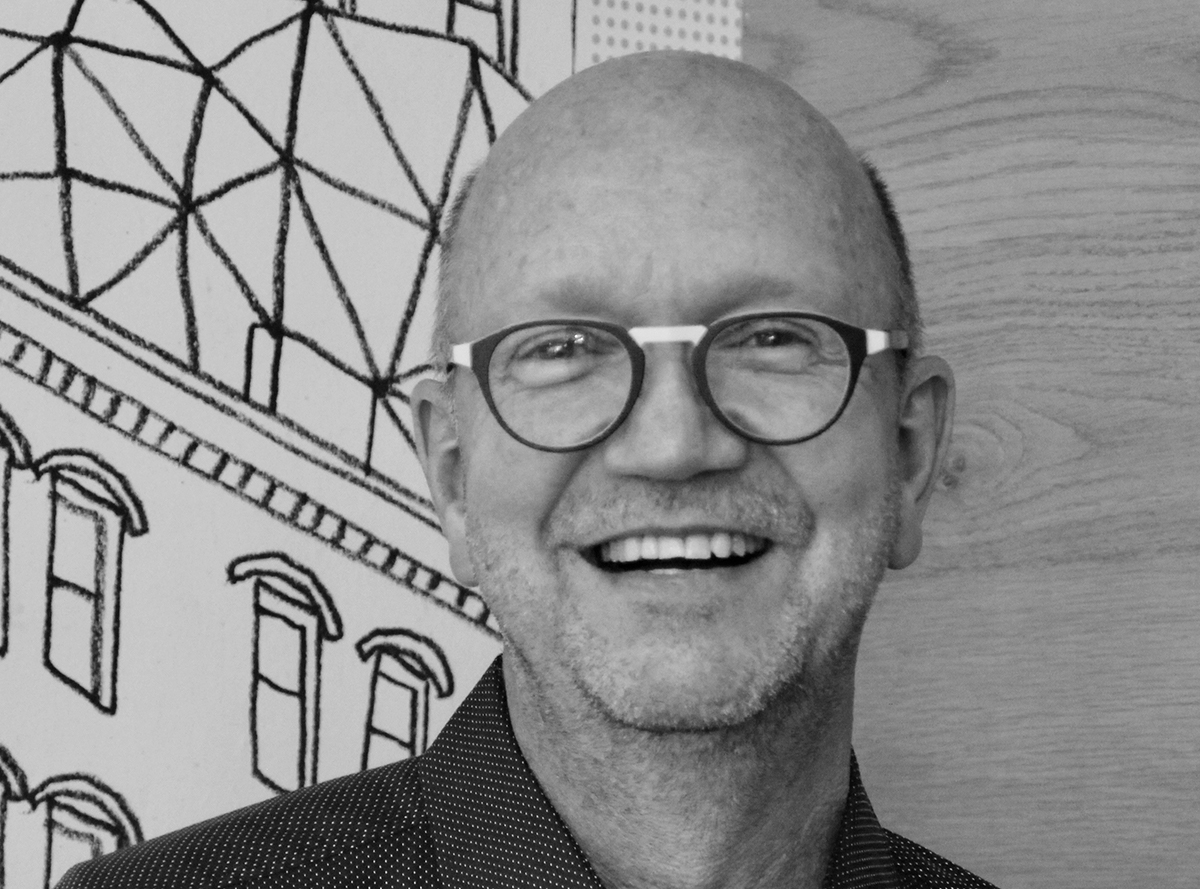 Prior to launch, Akridge estimates Clarisonic amassed $12 million from hundreds of investors. The myriad of investors rendered it almost as complicated as a public company, he says. He sought to avoid that route with Opulus Beauty Labs. Akridge shares it's raised about $8 million from about a dozen investors. In its initial year on the market, Opulus Beauty Labs projects it could generate $6 million in revenues.
Akridge isn't shy about his ambitions to have a big company acquire the brand in the future. "The risk people have when they have that in mind is that they try to satisfy a big company, and that's not our goal," he says. "Our goal is to be the best luxurious brand out there and, with that, comes people starting to sniff around for an acquisition."
Clarisonic was hurt by a flood of copycats, but Akridge isn't concerned about that problem derailing Opulus Beauty Labs' at-home beauty appliances. "They are not mass produced. I couldn't find contract manufacturers to do this. If you tell them to set up a new technology, they are not interested. So, I said, 'OK, we are going to do this ourselves,' and it cost a lot of money to do that," he says. "We have gone through so much strife developing this brand that there is no way in god's name that anyone will knock it off in the same way. They might end up coming out with a plastic mixing container, but it will be background noise. We will be the first and people will follow, but that increases awareness."