Essential Apothecary Alchemist Showcases Carefully Crafted Products In A Small Seattle Shop
Essential Apothecary Alchemist founder Kate Poole is coming out of her shell at the brand's quaint new shop in Seattle.
"I'm hoping the storefront gives me a little bit more legitimacy I suppose. It puts the brand more out in the public. I tend to hide a bit," she says. "I'm introverted, but I'm good in one-on-one conversations, and I love sharing my brand and what I do."
What Poole has done for five years is formulate Essential Apothecary products herself with pure essential oils and organic ingredients. She infuses hydrofoils into her skincare and hair care items rather than water, which she considers a filler, and pays attention to picking preservatives that nourish the skin while protecting what's inside the bottles.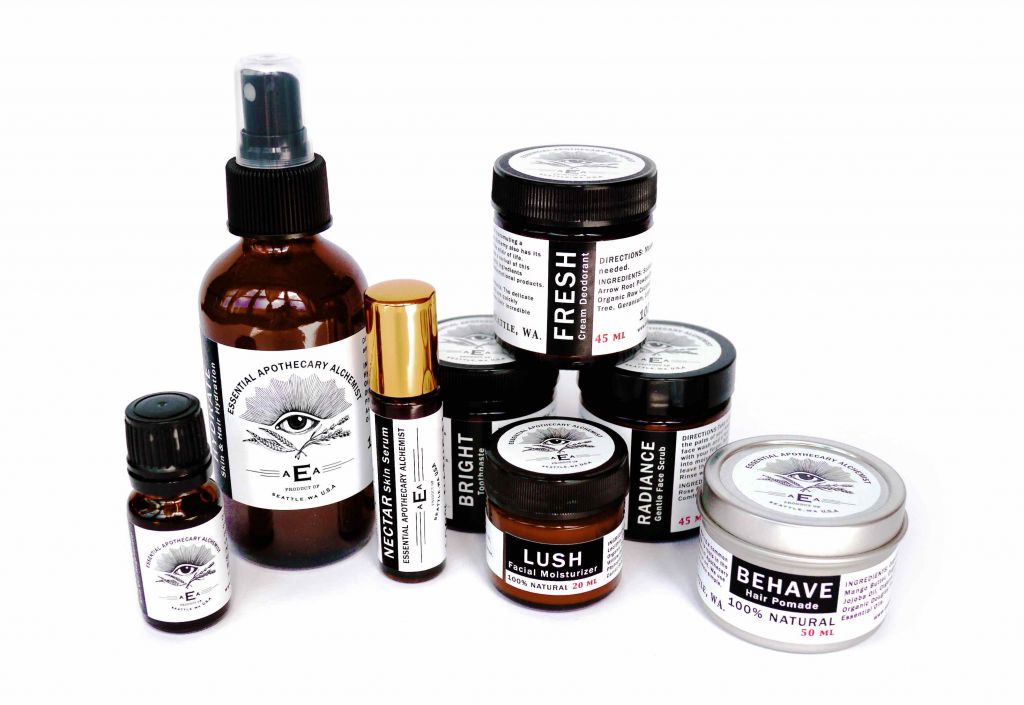 "The focus of my products is essential oils that have an affinity for the skin and make tiny molecular changes that are powerful over time," says Poole, whose passion for plants dates back to childhood. "They smell incredible, so you are treating your skin at the same time as you are treating your mind and spirit because they affect the brain through the limbic system."
The nearly 400-square-foot Essential Apothecary store resulted from Poole's quest to find studio space. It's housed in a former barbershop that operated for a century and ensconced in a quiet Ballard neighborhood called Sunset Hill.
Poole's production area is in the back of the shop, where there's an industrial sink, galvanized cupboard and wood work table. The front of the shop has a large gray apothecary cabinet and sizable window featuring Essential Apothecary's logo that puts a natural, modern spin on the Eye of Horus. In addition to the brand's products, the shop carries soaps from Pep Soap, homeopathic remedies from Liddell Laboratories, and chocolates from The Chocolate Conspiracy, Dick Taylor, Ritual Chocolate and Rózsavölgyi Csokoládé.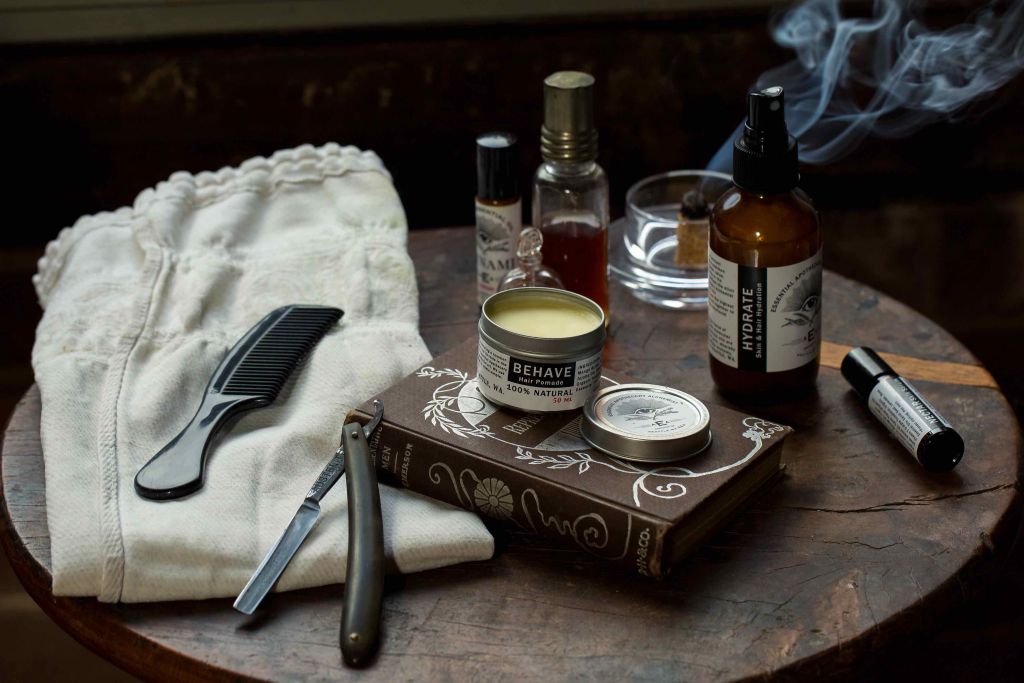 Outside of the shop, Essential Apothecary's distribution network encompasses about 20 retail, spa and salon doors, including Take Care, Erica Tanov and E. Smith Mercantile. Poole recently brought on board a salesperson to strengthen the brand's wholesale business, although its sales have roughly tripled over the last few years without her being aggressive in the pursuit of retail shelves.
"Most people beat the streets, talk to people, and sell, sell, sell. That's not been my trajectory. I'm an alchemist. My focus is finding the best ingredients, playing around with essential oils, and coming up with recipes," says Poole. "I don't really want to focus on the sales part. It's not my jam. That's why I hired someone to help me who really enjoys pushing product out into the world."
Essential Apothecary's price range is $5 to $46, and among its products are the facial moisturizer Lush, skin serum Nectar, lip moisturizer Kiss, hair pomade Behave and eight essential oil perfumes. Poole is increasing prices as she refurbishes the look of the brand's products.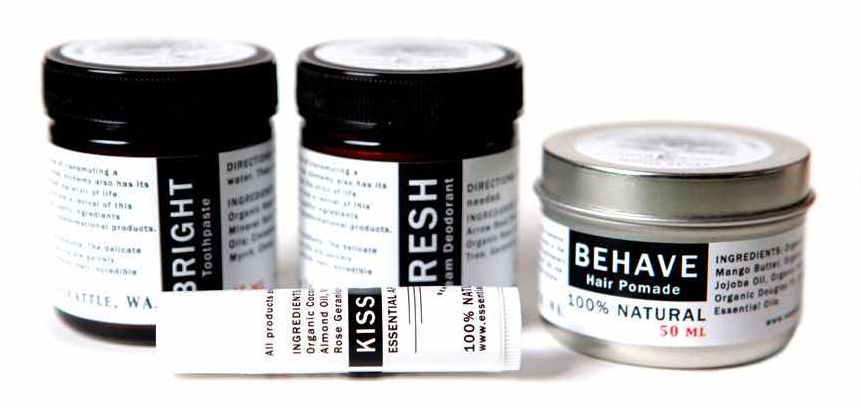 "My prices are lower than most people's prices, and that's been detrimental to me. People equate price with quality," she explains. "I wanted it to be something everybody could have and afford, but that backfired."
Currently, Essential Apothecary's packaging is enveloped in white labels, and there is no packaging design differentiation between skincare products and products in other categories. Poole is moving toward delineating skincare products by employing black labels for them and placing them in boxes. She relies on dark glass bottles to safeguard the ingredients in Essential Apothecary's formulas.
Poole isn't interested in building a gigantic brand. The ingredients she chooses limit her ability to balloon distribution. "Some of the ingredients I use are not procurable every day," says Poole. "With the hydrosols, I have to guesstimate what I'm going to need down the road. I can't make rose geranium hydrosol in January, so I have to guess how much I'm going to need when I can make it. Because my ingredients are unique in that way, I'm never going to be in the big-box stores or major health food stores."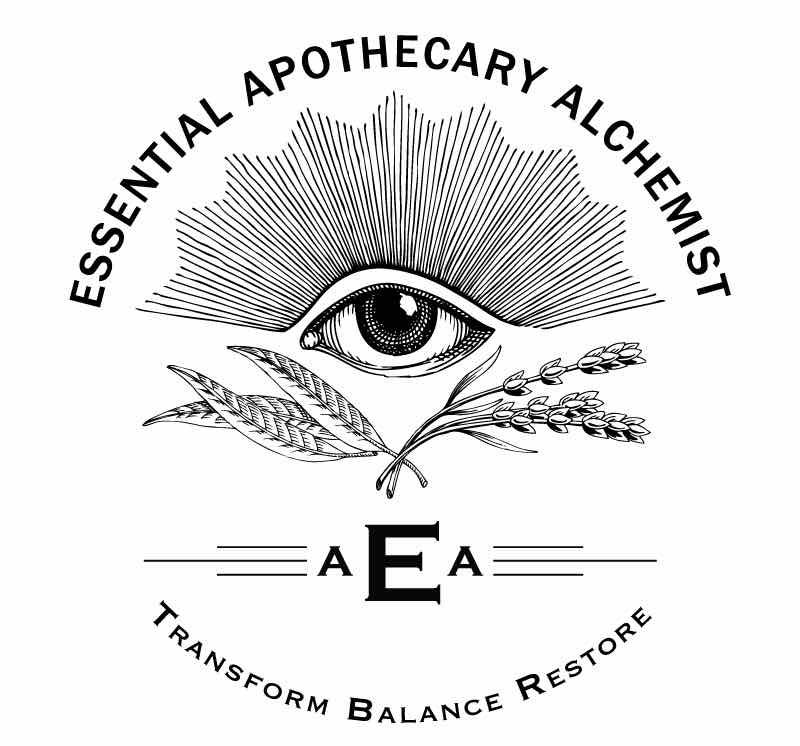 Given the constraints, Poole's objective for Essential Apothecary is relatively modest. "I'm hoping to someday make some money at it," she muses. "It's special, and the people that find me, use it and love it realize that. I think I'm a great catch."