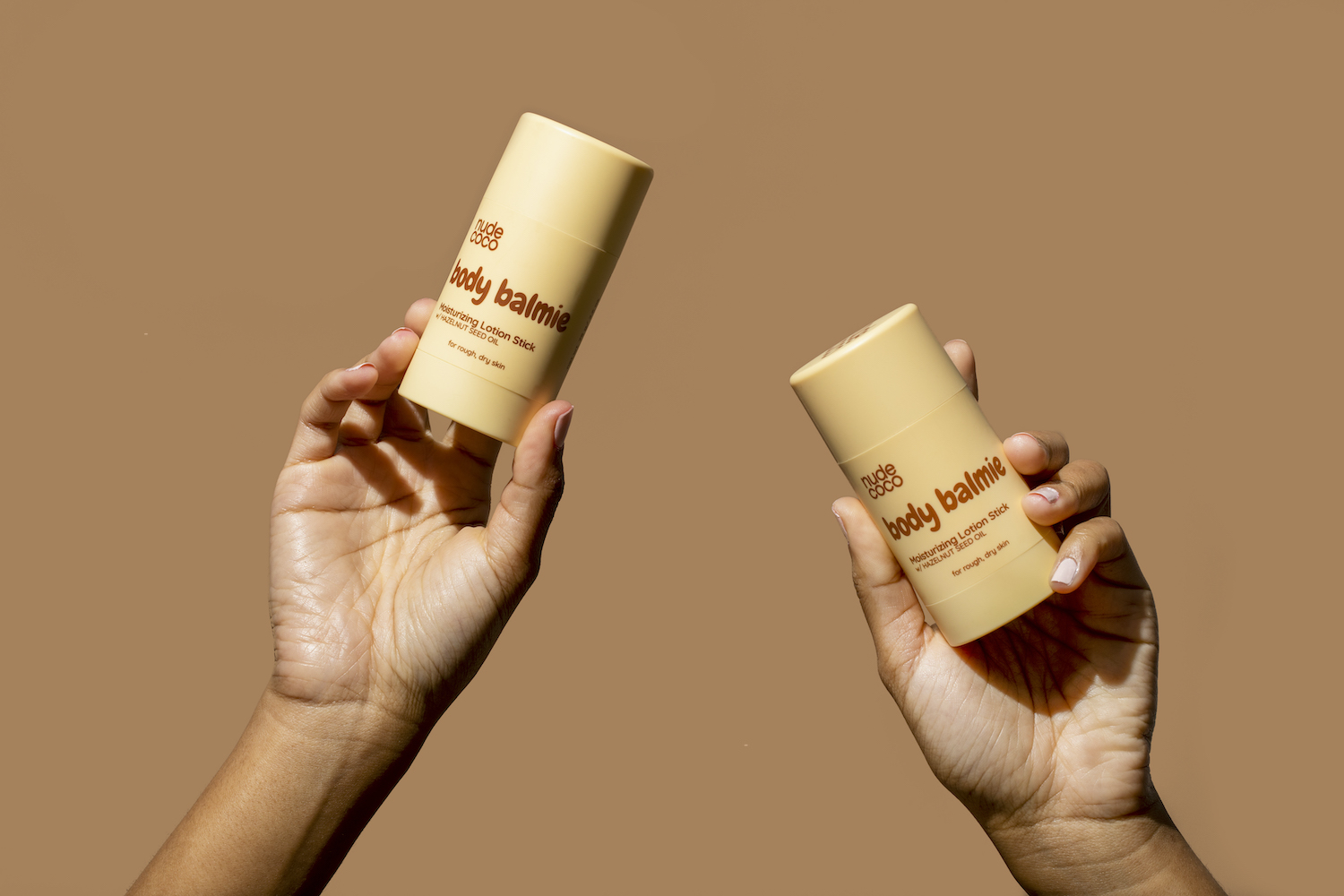 Fearless Fund Winner Nude Coco's Lotion Stick Is Good For The Bod (And Not Bad For The Bathroom Cabinet Either)
The brand Nude Coco was born out of sibling love. Specifically, the love founder Courtney Carter has for her younger sister.
When Carter went on vacation with her family in the summer of 2019, she noticed her sister was suffering from eczema. While Carter suffers from the skin condition as well, for both siblings, their flare-ups typically occurred in the winter. "Usually in the summer, it's hot and you're skin more or less stays moisturized," she says. "So, when I saw that she was dealing with it during this time, I was like, 'What's going on?'"
Concerned, she started to do some research. "I was finding solutions that were either these really heavy, greasy, oily natural-based products that didn't smell good, or I'd find a cute product, but it didn't actually work, and she was going to be dry again in two hours," says Carter. "I was like, 'Oh, wow, this is a problem.'" She also detected a discrepancy in skincare solutions for the face versus the body. Carter says, "There were a lot of products for dealing with eczema on your face, but not the body, or there are a crap ton of products for hyperpigmentation that you have on your face, but, if you have it on your body, it's nonexistent."
Carter, whose undergraduate degree from the University of Florida is in hospitality management, decided to sign up for an online organic skincare formulation course at Formula Botanica to learn how to develop what she felt was missing in the market. "I love chemistry, but, you know, I'm not a chemist," she says. On top of emulsions and body washes, the course taught her the process for making a lip balm, which ended being the blueprint for Nude Coco's first stick body care product, Body Balmie ($20). Carter explains, "You can think of the base of the product as a lip balm, but, then, I had to figure out, one, how to scale it to be larger because it's not in a little tube and, two, to make sure it had a nice glide on the skin and to make sure that there were enough penetrating ingredients: Butters, oils, etc, to actually moisturize your skin without leaving you greasy."
Two years of research and development later, Nude Coco launched in April 2021 on Carter's sister's birthday. Nude Coco is a one-woman business, and Carter conceptualized everything herself, from the product packaging, color and logo to the marketing and proprietary formula. She manufactures the brand's products in her basement and ships them from her home in Atlanta.
Body Balmie comes in a yellow deodorant-style container that contains brown cartoon-like font. On the brand's overall vision, Carter says, "I wanted to make sure that people could tell and understand that I was a serious brand and that I was really trying to solve their problem, but I did not want it to be boring. I'm not a boring person. My sister's not boring. Some of our favorite brands like Too Faced are loud. So, I wanted to mix, like, we're cutesy, we're girly, you're going to love how it looks, but, then, you're going to try it and you're going to fall in love with the fact that it actually works." She adds, "When I was thinking of the color and the name and how it looks, I thought about how it would look on the shelf: Would it capture someone's attention if they had never heard of me before? Would it entice them to want to try it?"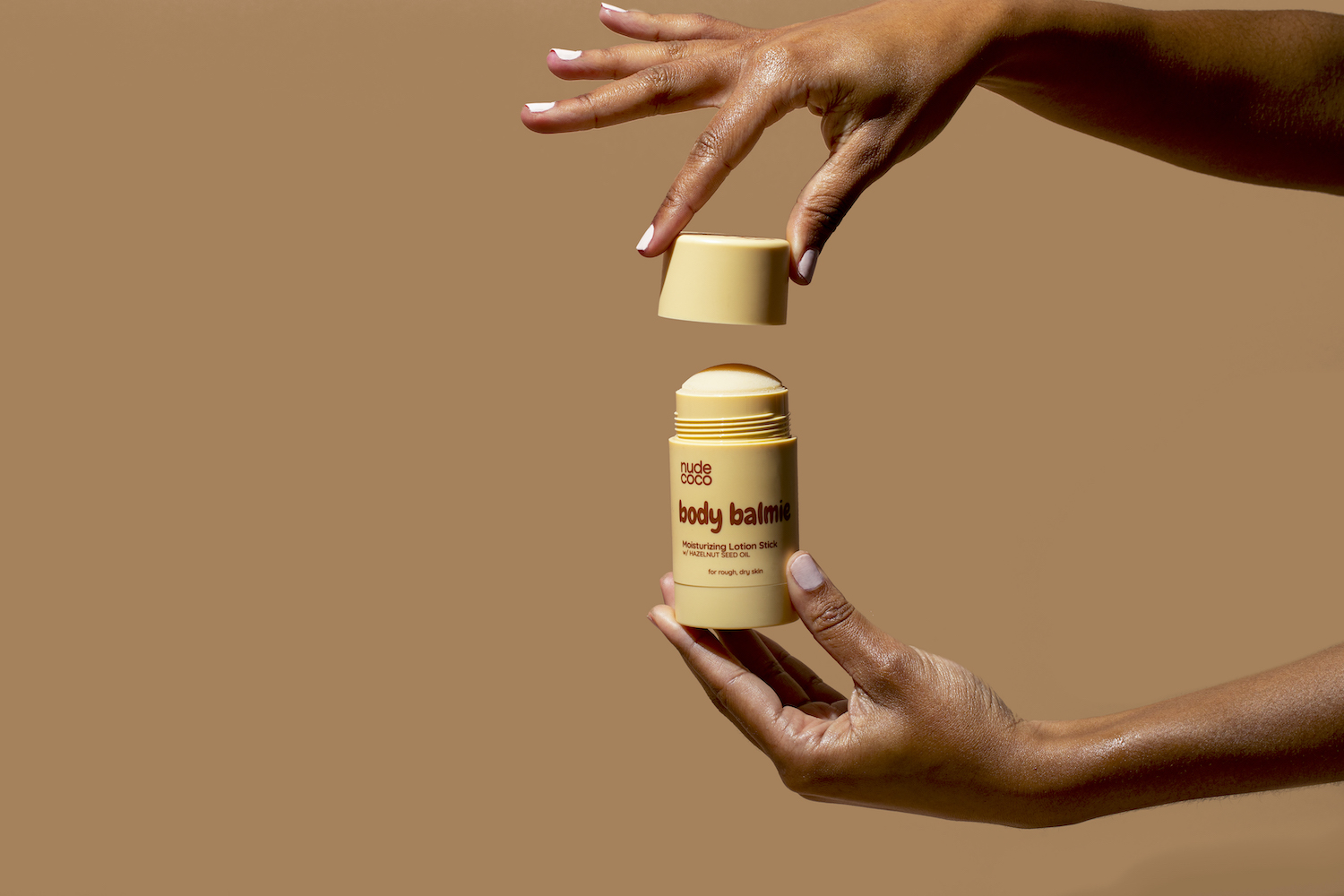 Carter invested around $19,000 from her personal savings to start Nude Coco. She initially anticipated spending up to $30,000. "I saved so much money because I did so many things myself," she says. "Had I reached out to have someone build my website, that would have made my costs go up. Had I had someone design the packaging and my logos, that would've made my costs go up." She allocated most of the money to custom packaging made in China that cost over $10,000. "I had to buy a minimum of 10,000 units," shares Carter. "So, that was the meat of it." Obtaining raw ingredients and setting up her own lab ate up a decent portion of funds, too.
She received welcome financial relief in August by winning a $50,000 grant from investment firm Fearless Fund. She's applied to another 20 pitch competitions and grants programs since. Carter credits her marketing experience working for companies like Warner Media, Time Inc. and Essence for helping her land the Fearless Fund grant. "I feel like I had a leg up on some of the contestants because I know how to tell a story, and I know how to present something so that it is visually appealing and makes sense," she says. She still works full-time in brand marketing and expects to keep her current job for the next two to three years.
Carter's brand marketing background also came in handy to help her identify Nude Coco's target customers. She describes them as women between the ages of 18 to 34. The racial makeup varies. "The ingredients being cocoa butter and mango butter, those are highly used within the Black community, so that makes it very easy for me to obtain Black women as consumers," says Carter. "With white women, they're drawn to the brand because I'm introducing them to new ingredients, so it's innovative." No matter the customers' racial background, they are intrigued by the lotion-in-stick format and that it travels well.
"Our mission is to elevate body care to face care status."
Carter hasn't done any paid advertising at this point, focusing instead on getting in front of Nude Coco's customer. "My marketing budget has heavily been concentrated on pop-up markets, expos and trade shows," she says. Nude Coco debuted in retail via a partnership with HerMarket, a Black- and female-owned pop-up in the Buckhead area of Atlanta. At the pop-ups, expos and trade shows, Carter says, "You get to meet me, you get to smell the product, you get to feel the product, you get to see the product in person. And, then, from there, people are more inclined to share my product on social media. I've had influencers that have popped up in a lot of these markets that have shared my brand, which has then allowed me to gain more followers and people that have signed up for email."
Armed with her Fearless Fund haul, Carter intends to allocate a chunk of change to paid social media down the line. Other priorities include bringing on assistance to flesh out a public relations strategy and launching a companion product to Body Balmie. A cleanser and exfoliator in stick form is in the pipeline. "I decided to launch Body Balmie over that one because I felt like I can't give someone a cleanser and not allow them to moisturize themselves, but I can give someone a moisturizer," says Carter. She hopes the product will be out in April 2022 on the brand's first birthday.
Nude Coco's name isn't a reference to the cocoa butter in the Body Balmie or coconut oil. Rather, it's short for Courtney. "When I was thinking of naming my business, I thought, 'What is a gift I can give to my sister to make her feel beautiful?' And I was like, 'I want my sister to feel as beautiful in her skin naked as I do,'" explains Carter. She laughs, 'The name literally means naked Courtney. I just want women to feel beautiful and to feel good about what it is that they're putting on their bodies."
After Nude Coco's impending cleanser and exfoliator is released, Carter wants to continue to solve issues pertaining to the body. "Our mission is to elevate body care to face care status," she says. "I plan on having a multitude of collections. I want us to be the go-to destination for women who have issues with their skin."