Femtech Company Vella Bioscience Launches With The Mission Of Prioritizing Women's Pleasure
Vella Bioscience wants to make "hot girl summer" a reality for all women this summer.
The femtech company debuts today with its flagship offering, Women's Pleasure Serum, a pre-play topical serum designed to promote frequent, intense and satisfying orgasms. The water-based and latex condom safe intimate area serum retails for $65 for 30 milliliters, enough supply for a month, and is available for purchase on Vella's website. Product will ship on May 1, and Vella will launch its first digital ad campaign the same day.
The brand's launch is powered by $1.6 million in funding raised on a total $5.5 million round it expects to close by May 1. Its post-money valuation will be $50 million. Vella's cap table includes high-net worth individuals and beauty and medical veterans, including Cos Bar founder Lily Garfield, who will serve on the company's board. 
 The science-driven luxury sexual wellness brand founded by a team of medical researchers, scientists and beauty industry experts, including the lead investigator for Viagra and Cialis, Dr. Harin Padma-Nathan, a co-founder and chief scientific officer at Vella, and chemist and chief product officer Dr. Michael Frid. The scientist pair were brought on by Vella Bioscience's CEO Nial DeMena, a serial entrepreneur who most recently co-founded Manna Molecular Science, a cannabis extract pharmaceutical manufacturer.
"Women's sexual wellness hasn't been taken seriously," declares DeMena. "We saw the need for science and research conducted by experts in women's pleasure, and we are committed to doing it right."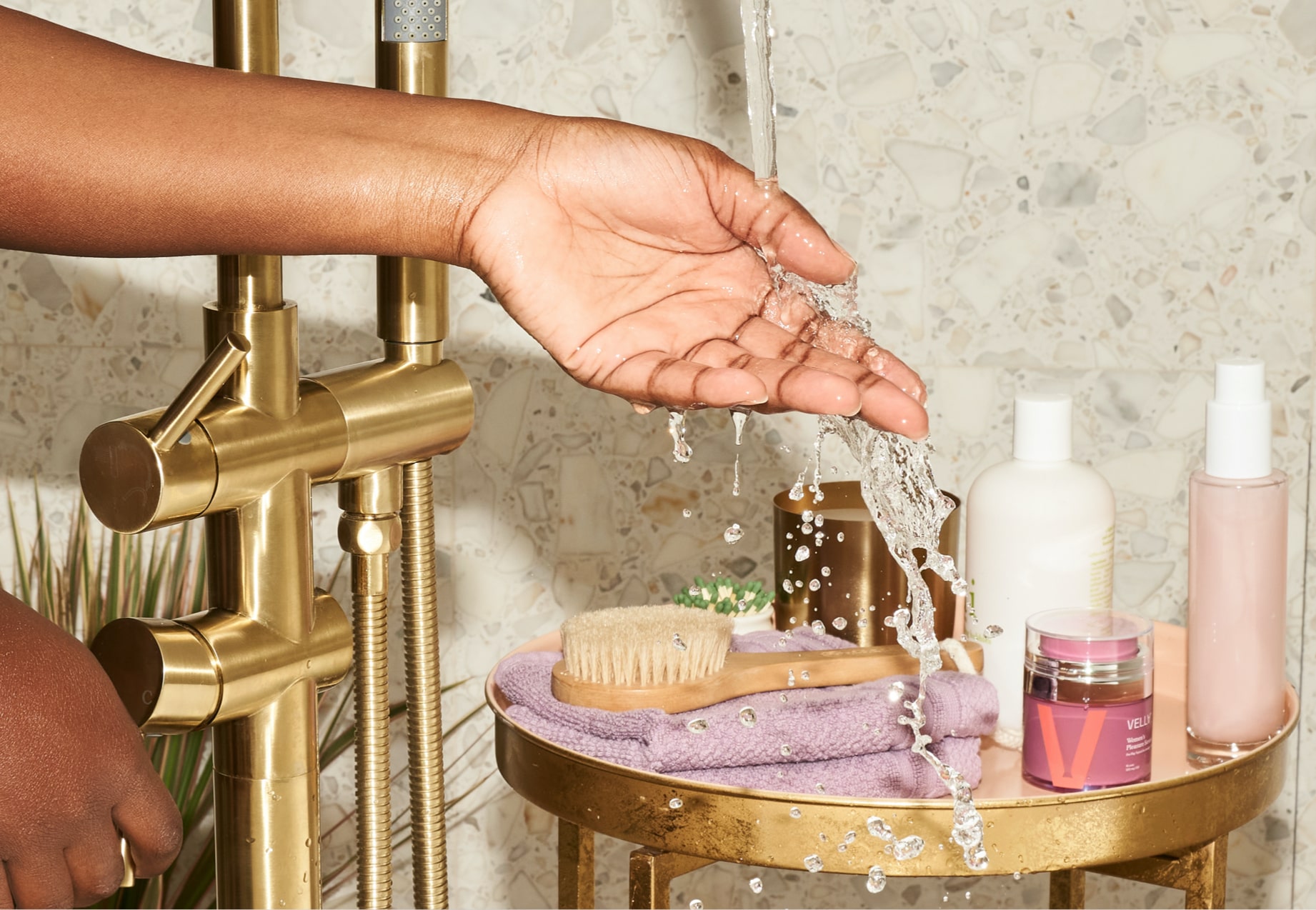 Vella's third co-founder is is Carolyn Wheeler, who holds the COO post. Bulbul Hooda, a former Shiseido and Unilever executive, rounds out the executive team. As CMO of Vella, she brings prestige beauty expertise to help the brand transcend the pharmaceutical category and position itself as a premium beauty and wellness offering.
Padma-Nathan and Frid, who worked together at Manna Molecular Science, led the development of Vella Women's Pleasure Serum. The scientists saw the opportunity to simplify female sexual pleasure strategies using proprietary nano-encapsulated CBD technology. Vella touts that the CBD isolate delivery system allows Women's Pleasure Serum's active ingredients to penetrate deep beyond the skin to relax the vaginal and clitoral smooth muscle tissue, making cis women orgasm-ready, usually within 10 minutes. Vella has clinical results to prove it.
"The research has been FDA-compliant and following pharmaceutical methods," explains Hooda. "We've got three clinicals with data on women aged 23 to 75 who responded. Nine out of 10 women have responded very successfully. Among the results, 60% of participants felt an increase in their arousal, 60% experienced an increased intensity of orgasm, 50% enjoyed an increased ease of orgasm, 40% reported an increased frequency of orgasm, and 40% reported increased satisfaction with their orgasm." 
Currently, Hooda points out that Women's Pleasure Serum is only clinically proven to work for cis women biologically born with a vagina. She says, "If you identify as a woman, if you are a trans person, unfortunately, we don't have any studies to prove whether this product will work for you or not." 
Women's Pleasure Serum will roll out to the beauty retailers Cos Bar and Lemon Laine this month. Hooda impresses that Vella is not interested in being known as a CBD lifestyle brand, even though CBD is Women's Pleasure Serum's key ingredient. "The innovation funnel will lend itself to science first and, tomorrow, if there is another molecule that better delivers the result, we'll go that way," she says. "The CBD is not what makes us different. We have a proprietary lyposomal technology."