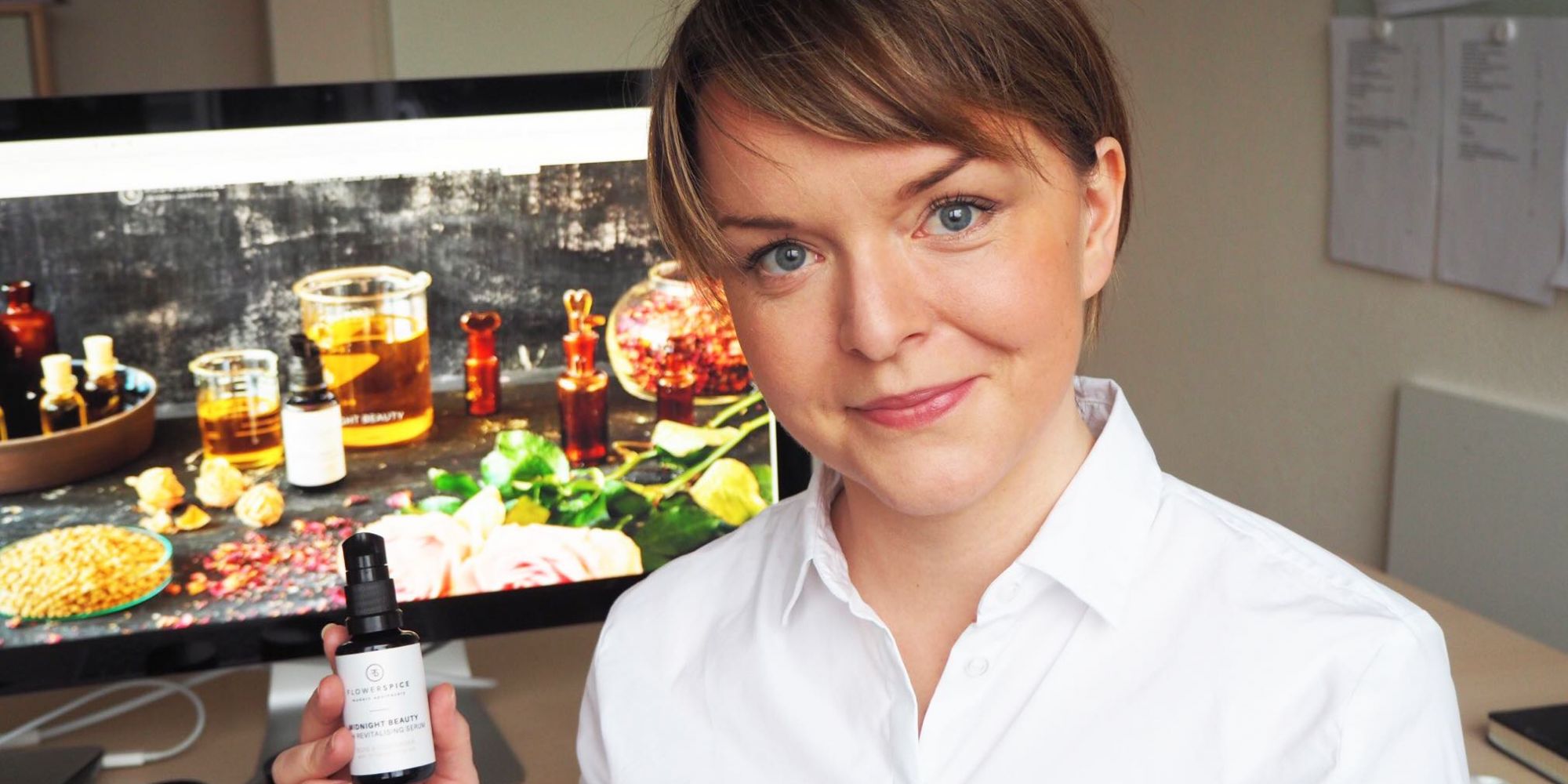 Karmen Novak Spices Up The Skincare Market With New Brand Flower And Spice
Karmen Novak is an eclectic beauty entrepreneur if there ever was one. An early e-commerce buff backing independent fashion designers with a pre-recession online shop, she's a Slovenian woman living in the Netherlands who adores cooking Thai and Indian food, and whipping up natural skincare formulas.
Launching next month, Novak's brand Flower and Spice Modern Apothecary is an embodiment of the 37-year-old's distinct backstory. Its direct origins are in a relocation to the picturesque city Apeldoorn she made for love three years ago that wasn't professionally advantageous for the longtime marketer and video producer. Lacking employment options, Novak took organic cosmetic science courses from online school Formula Botanica and became smitten.
"I was at the crossroads of a decision about what to do with my life. I was working in a really competitive and stressful environment for 15 years, and I wanted a change," she says. "I was always of the opinion that anyone can change his or her profession and destiny by learning a new trade, and that is never too late to do what makes you happy."
Novak gleefully concocted creams, serums and exfoliators day and night until she landed on a recipe for Midnight Beauty, a rose- and coriander-centered combination of 10 oils designed to boost moisturization and address wrinkles. "After years of using all sorts of products, I had finally discovered the secret to waking up with a petal-soft, deeply-hydrated and smooth complexion," she says. "I knew then that this blend was the start of something special."
The next product Novak finalized wasFlower and Spice Instant Glow, an exfoliator that contains lavender, fennel and AHA fruit acids. "I used to exfoliate my skin with synthetic products, and I wanted to make something similar. This is an exfoliator with chemical exfoliation, but also physical exfoliation with bamboo," says Novak. "You put it on your face like a cream, let it sit for a bit on the dry skin, and wash it off like a normal exfoliator. I've never seen anything like it."
The third product rounding out the Flower and Spice debut trio of products is Soothe and Repair. It's a rich daily moisturizer for normal to sensitive skin that includes rose, coriander, prickly pear and aloe vera. Flower and Spice's products are made in Swiss laboratories with ingredients sourced from 45 countries. Following the face repertoire, Novak would like to branch out to spa, body care and wellness products as well as hair accessories and robes.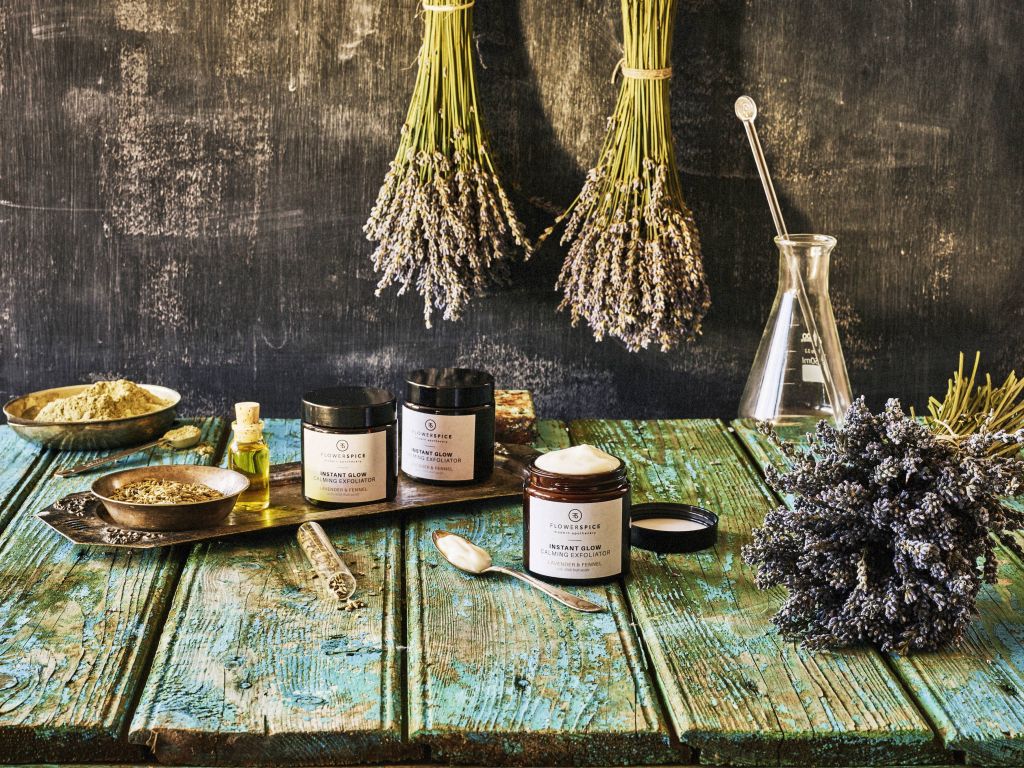 The spice-flower merger was the fortuitous result of Novak stirring skincare in her kitchen. "I work just under the spices, and I was thinking, 'Why shouldn't I use the spices?' They are so potent when you eat them. I started to research and realized there are essential oils from spices that aren't widely used," says Novak. "I experimented with them, and the smells were great. They were something I hadn't smelled in skincare before."
The spices in Flower and Spice hit home for Novak that there's a strong correlation between her twin passions of cooking and skincare. "For both, you need great, high-quality ingredients and, for skincare, you need to have an idea in your head like a great chef does. You need to know how to put the ingredients together," she says. "Skincare nourishes your outer body and not your stomach, but, otherwise, formulating is very similar to cooking."
Flower and Spice will live online at the outset. Novak is comfortable in the digital world. She formerly spearheaded a clothing e-tailer called Egolook that closed as the economy tanked, prompting her to enter marketing and video production roles. Although leading a skincare brand is quite different from Novak's prior jobs, she's not stunned she ventured into beauty.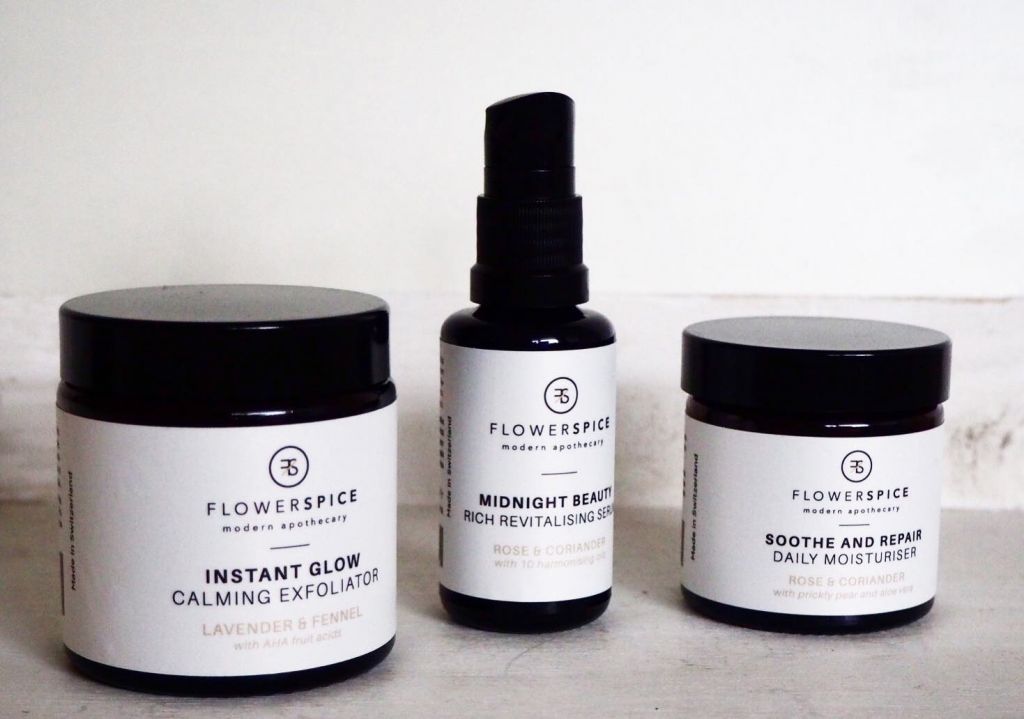 "When I was in my 20s, I went into stores with bath salts and bath bombs, and I thought, 'I would like to have a store like that or my own spa,'" she says. "Almost 20 years later, I'm in skincare. It was a bit of a surprise, but not such a huge shock."
Novak has poured around $15,000 into getting Flower and Spice off the ground, but she estimates the total will rise to $50,000 to complete the initial merchandise. She hopes to recoup that amount during the first half of this year. Already, investors have expressed interest in Flower and Spice.
"I wouldn't just take anyone's money. If I get an investor, it has to be somebody who could open doors for me and give me helpful advice," says Novak, adding, "I want it to be big, but I know that won't happen right away. I know it's a crowded market, but, If I didn't think it would be successful, I wouldn't have started it."