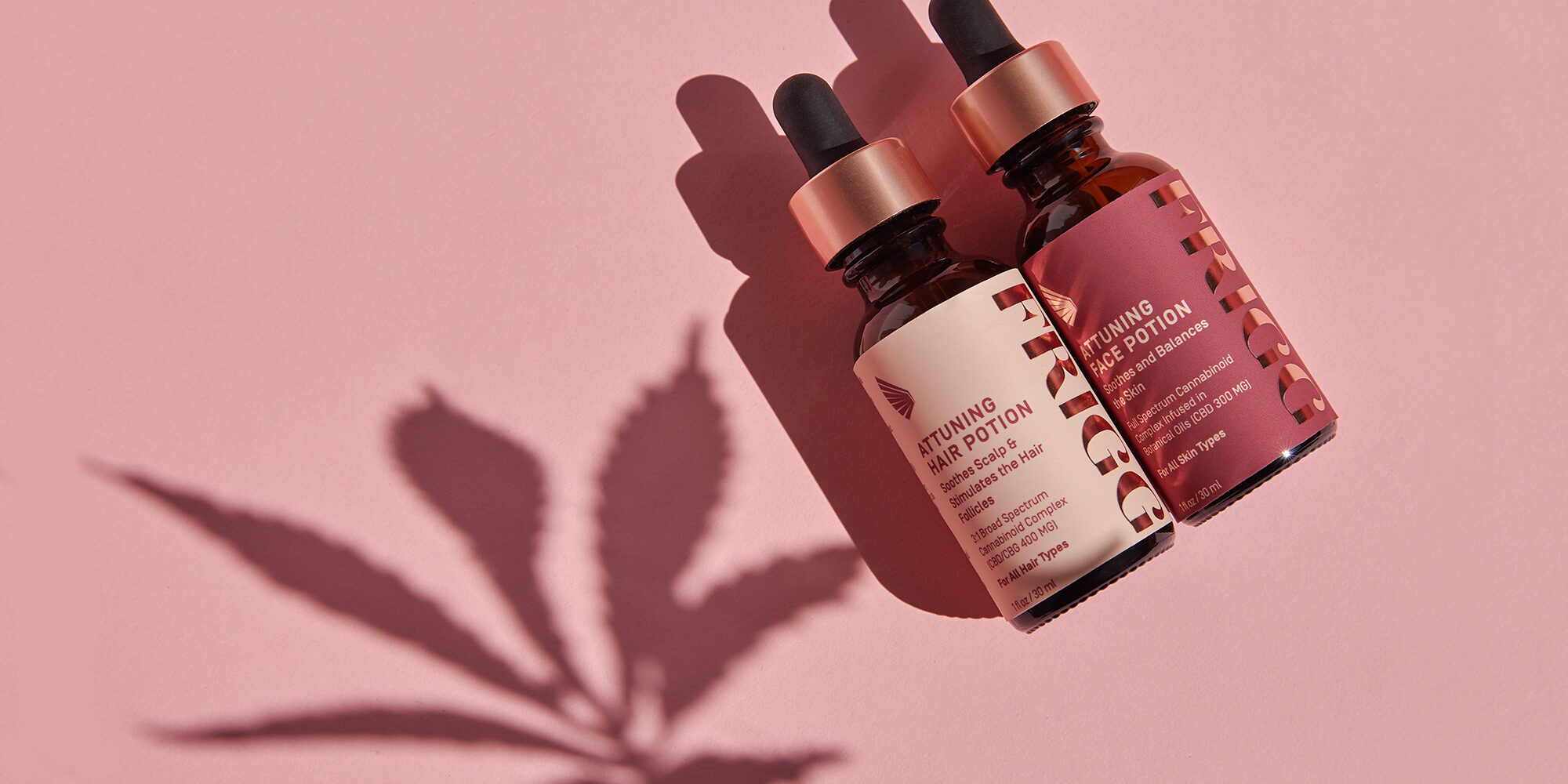 Former Papa & Barkley CMO Kimberly Dillon Launches CBD Beauty Brand Frigg
As CMO of Papa & Barkley, Kimberly Dillon helped build one of the fastest-growing consumer products brands in the cannabis space. Working at the hemp-centered business was anything but chill, and she left it in 2017 after experiencing severe burnout that caused insomnia, hair loss and skin irritation.
Dillon's stress-induced symptoms prompted her to create Frigg, a new CBD brand focusing on inner and outer beauty. It's starting with three multifunctional hair and skin products priced from $30 to $60: Attuning Hair Potion combines CBD with lesser-known cannabinoid CBG, and jojoba, castor seed and baobab oils; Attuning Face Potion counts CBD, squalane, sea buckthorn, vitamin E and argan, meadowfoam seed, jojoba seed and blue chamomile oils in its formula; and Calming Tea, a blend containing magnesium-loaded herbs for strengthening hair that can be ingested or used as a hair rinse. After Frigg's debut on July 15, Calming Tea quickly sold out.
Frigg is kicking off at a time when curiosity about CBD is on the rise. A recent Modern Retail article on pandemic-era demand for CBD points out that a keyword search for "best CBD for anxiety 2020" has experienced over a 250% jump since mid-March, per Google Trends. Projections for the CBD market vary substantially, but they all show it going in the same direction: up, often at triple-digit rates. The Brightfield Group projects CBD sales will reach $22 billion by 2022.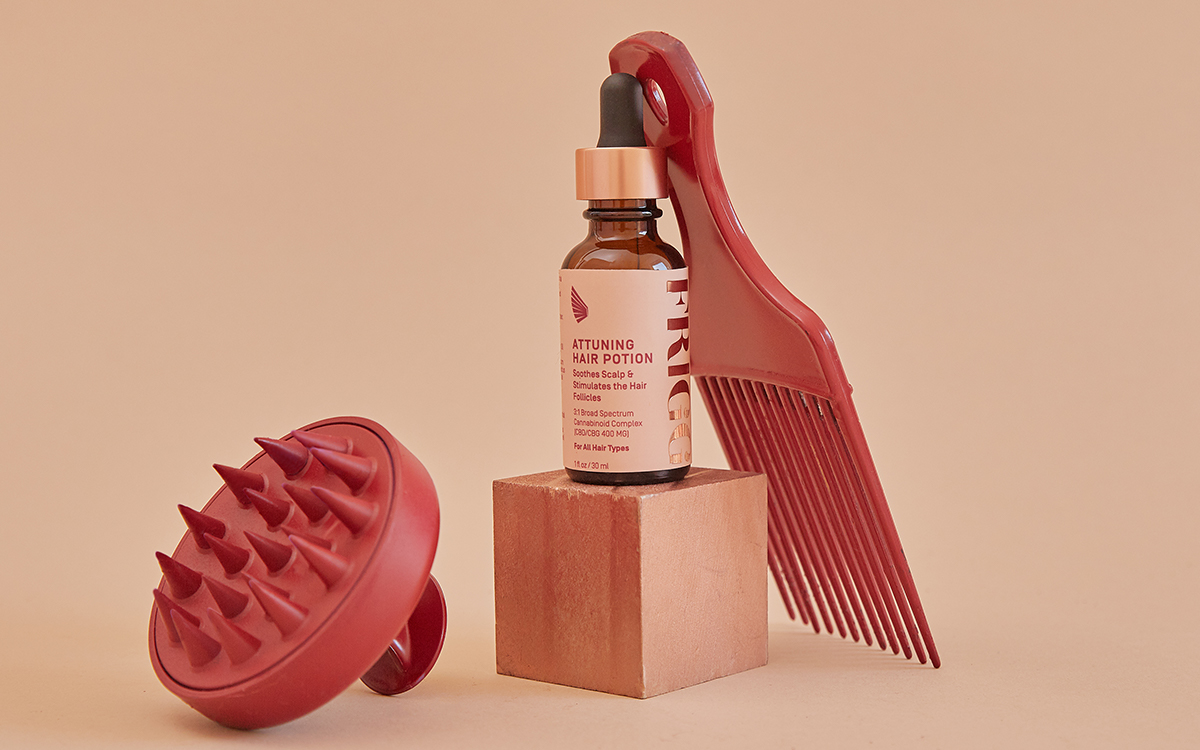 Dillon's strategy for Frigg is to foster an accessible CBD brand. While consumers are becoming familiar with the ubiquitous ingredient, it remains intimidating. To many consumers, cannabis holds a stigma. Even Dillon isn't immune to cannabis hang-ups. She was featured Goop, Nylon and more for her marketing work at Papa & Barkley and democratizing cannabis as part of consultancy Plant & Prosper, but didn't want her family to see the coverage.
"My white friends were like, 'You're so cool, you're so smart,'" she says. "Then, I have my Southern, conservative Black family saying, 'What are you doing with your life?'" Dillon, who grew up in Colorado Springs, continues, "There's still a lot of shame around cannabis. [Because of] the fact that you are in prison for this plant, this is not celebrated. I wasn't necessarily thinking about some of the stigma that might be experienced by different groups." She describes turning to CBD for beauty as "slightly sneaky" in the sense that hair oil with cannabinoids is an entry point for consumers intrigued about trying out the buzzy ingredient without taking the leap into imbibing it.
"How do we destigmatize and celebrate plant-based wellness for all?"
For Dillon, formerly in brand management at Procter & Gamble and The Clorox Co., and founder of beauty influencer platform House of Mikko, Frigg is also a vehicle for sparking conversations about mental health, another taboo topic, especially in communities of color. "I can get her [the consumer] to oil her hair with this, I can make a face mask and, then, we can start to slip in some education and talk about mental health," says Dillon. "That became the mission of Frigg, how do we destigmatize and celebrate plant-based wellness for all?"
Frigg supports meditation app Shine, and yoga and meditation destination HealHaus by donating scholarships for their services. To mark one month in business, the brand will sponsor 50 meditation sessions. Frigg's goal is to sponsor 100 Shine memberships by its 1-year anniversary.
Dillon had hoped to host in-person facial events for editors and influencers to promote Frigg's launch, but the pandemic derailed the events. Of course, brick-and-mortar retailers have been affected by the global health crisis, too. Dillon's goal is to eventually place Frigg in clean retailers. Her immediate focus, however, is on the brand's direct-to-consumer distribution and building awareness. Digital events will be in Frigg's future.
Frigg has secured an investment Dillon described as from a single source she declined to disclose. The brand is predominantly self-funded.
"I've come to expect that things just are going to be harder for me and to not to get disappointed because you'd just be disappointed a lot."
"It all comes down to capital and access," says Dillon, speaking about the growth potential of brands and the challenges women of color face fundraising. "We do have bias in our society. Think about who you immediately know in inner circles to give you that extra boost…It's interesting to see what brands launch and already have $4 or $5 million in a very crowded space. And you're like, man, none of these people worked in the space before. Not to excuse it, but I've come to expect that things just are going to be harder for me and to not to get disappointed because you'd just be disappointed a lot."
Pandemic-related supply chain issues have impacted Frigg's forthcoming product releases. Dillon contemplated introducing sheet masks, but has moved away from them at the moment because the factory she was in discussion with to manufacture them diverted production from sheet masks to antibacterial sanitizer wipes. In general, Dillon is careful about expanding Frigg's assortment. She's not compelled to make it massive.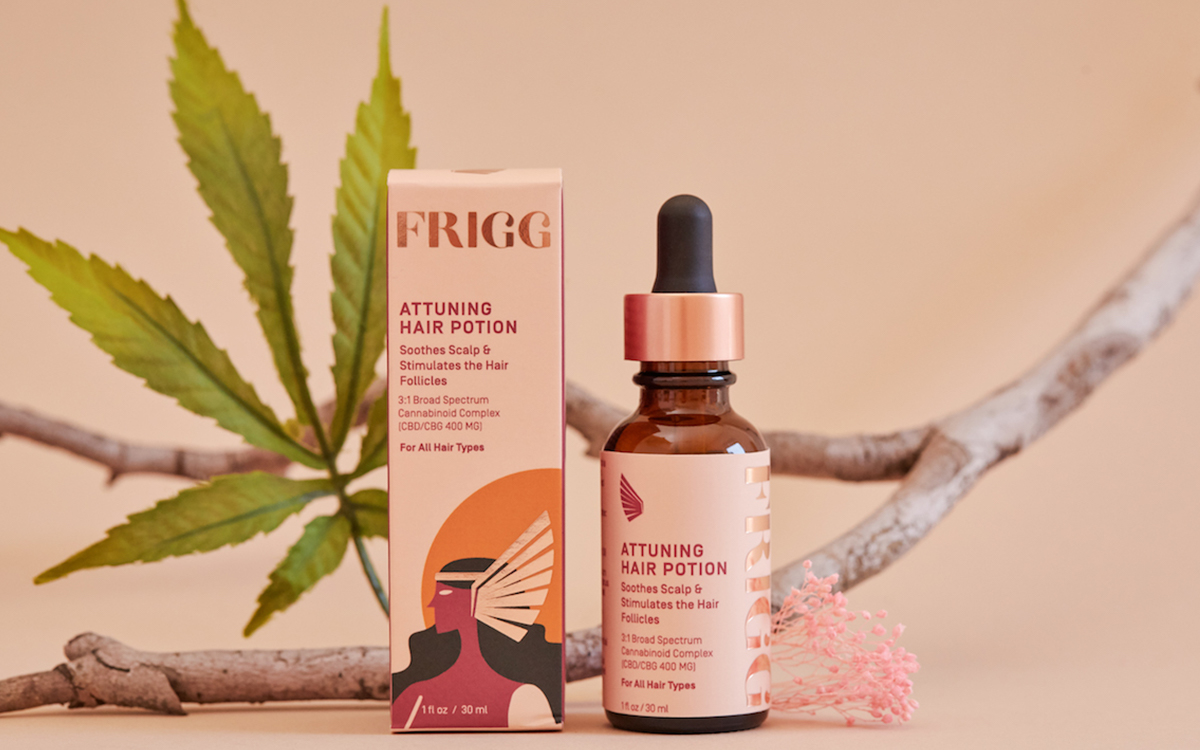 The brand's name pays homage to Frigg, a goddess in Norse mythology associated with wisdom, foresight, motherhood and marriage. Friday could refer to "Frigg's day." The plant lady's or yellow bedstraw is called Frigg's grass and is used by Scandinavians as a sedative during childbirth.
Dillon explains her brand celebrates the history of plants in different traditions. "We have plant folklore in our life and our cultures and our family," she says. "It's meant to be sort of a starting ground of having a relationship with the things that you put on and in your body."