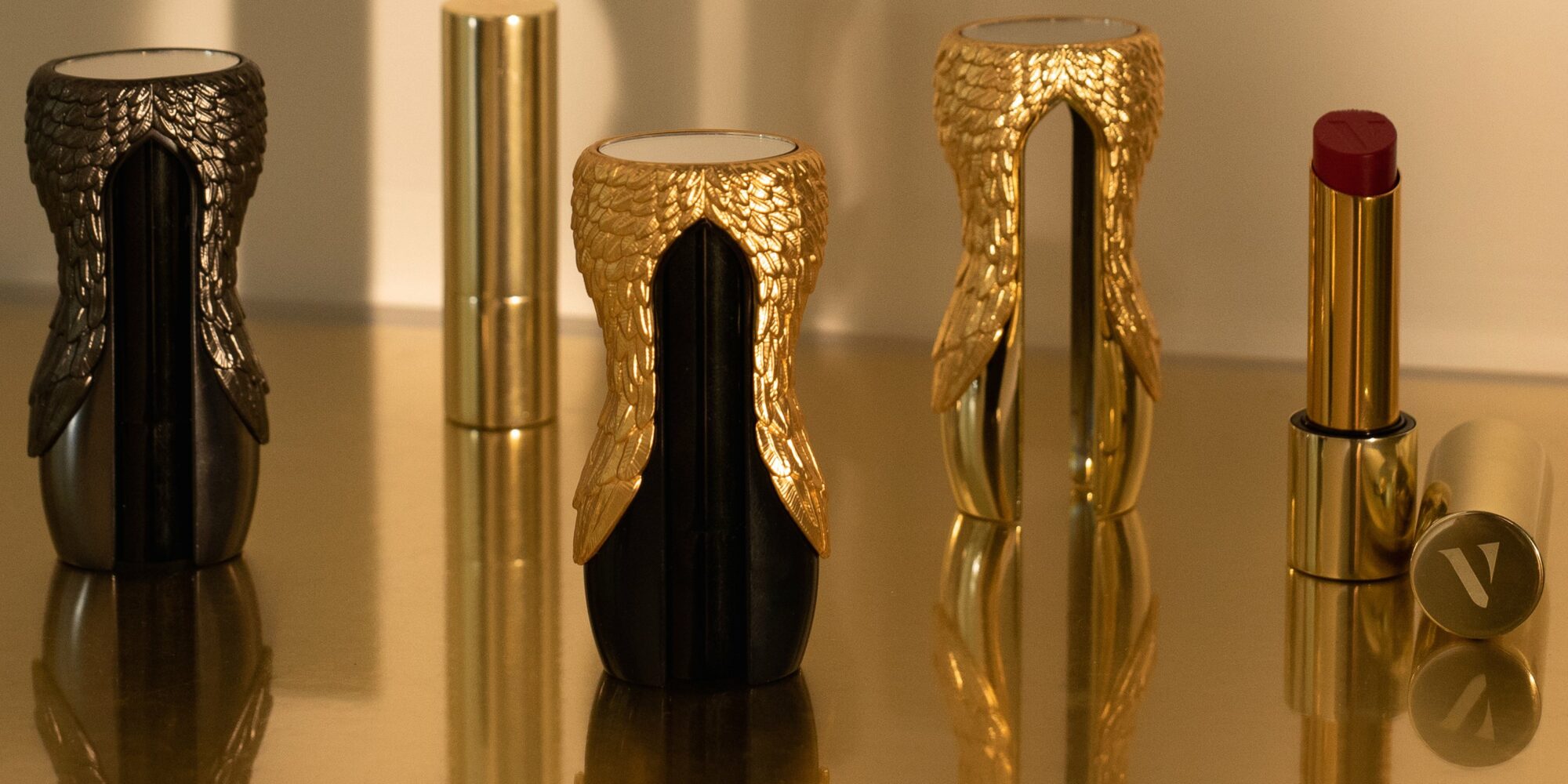 How Former Sephora Chief Merchant Margarita Arriagada Is Redefining Luxury Beauty With Her Brand Valdé
After the pandemic took hold in the United States in the spring of last year, former Sephora chief merchant Margarita Arriagada was faced with one of the most difficult decisions of her storied beauty industry career. Should she launch Valdé, a brand she'd started working on four years earlier, with a refillable lipstick set priced at $199—more than $160 above the average price of a lipstick she sold at Sephora—in the midst of what was shaping up to be perhaps among the biggest economic collapses in history?
Admitting she was "scared shitless," Arriagada determined she would move forward with an October launch and, in fact, concluded there was a chance Valdé could hit the market at a good time as people were eliminating frivolous expenditures to convey that investing in lasting products is important. The unusual circumstances might give her an opportunity to redefine luxury beauty for a new age.
"Although you won't find the word 'luxury' on my website, except for maybe about 'luxurious' experiences, I have a strong point of view that many luxury brands are distant. I was very self-aware that I didn't want to come across as tone deaf, and I put myself out there with my story to not come across as tone deaf," says Arriagada. "What I'm selling is piece of art. I'm not selling ingredients. It's about how beauty makes you feel. I thought to myself, 'I'm not waiting for people not to wear masks. I'm leaning into this.' Because the brand's narrative is about self-empowerment, I had to have the courage to walk the talk. I thought I was going to be criticized for the price point and, the sooner I knew, the better."
The story of Valdé is a blend of the personal and professional. On a personal level, Valdé is an homage to Arriagada's mother, Carolina Valdelomar. An immigrant who traveled with three children from Peru via Mexico to ultimately settle in Los Angeles, Valdelomar always had a swipe of lipstick on her lips. It was her "armor," according to Arriagada, that simultaneously encapsulated her strength and femininity. Even as she suffered from dementia late in her life, Valdelomar perked up when Arriagada applied lipstick to her or her own lips.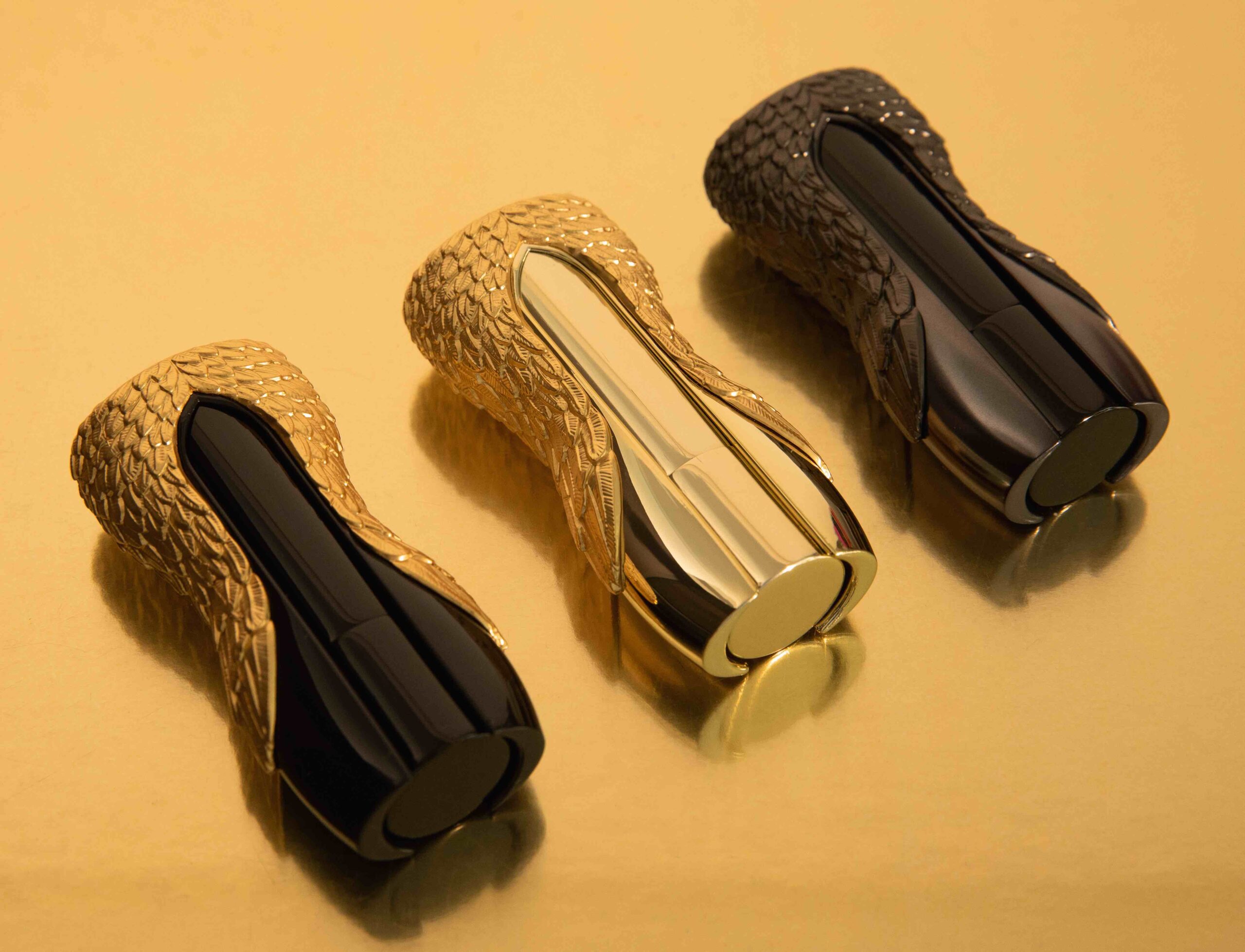 Whether inherited or not, Arriagada has been a perennial fan of lipstick—and she was intrigued by the idea of creating a lipstick concept that would marry sustainability with prestige positioning and the ability for consumers to have a special item tailored to them. Valdé's lipstick set contains a faux suede protective pouch, storage box, lipstick cover Arriagada calls "armor" festooned with 250 sculpted feathers and shaped to replicate a woman's torso in black and gold, gunmetal and gold varieties, a creamy satin lipstick available in eight shades or a lip balm, and the option to engrave for $10. Lipstick refills can be purchased for $40.
"I may like a Tom Ford case, but he may not have the formula or shade that I want. I may love the Lime Crime formula, but you wouldn't catch me dead taking that out of my purse. Obviously, from my experience at Sephora, I knew I wasn't alone in that thought process. Sometimes, you buy luxury for status, and it doesn't give you the whole experience," she says. "I also had the perspective, from the product development standpoint, that I knew 70% of the cost is in the case and 30% in the formula, and I thought that was crazy. While I was Sephora, I tried to encourage Guerlain, Dior and Givenchy to go into refillable, but from their mentality of, 'I rather sell a $50 lipstick than a $20 refillable,' they wouldn't go there." Arriagada departed Sephora in 2015 before refills became a major topic in the mainstream beauty world.
"What I'm selling is piece of art. I'm not selling ingredients. It's about how beauty makes you feel."
Arriagada has poured nearly $1 million of her savings into perfecting Valdé and fueling it during its initial year in business. She went through three manufacturers to land on a factory with a jewelry background to handle the brand's intricate lipstick covers. She tweaked the Italian-made creamy satin formula of its lipstick over and over again to ensure it wasn't too slippery. She incorporated three magnetic fastenings to cause three resonant clicks as consumers insert the refills into the armor vessels to impart the craftsmanship to their ears as well as their eyes.
A mere week prior to Valdé's launch date of Oct. 26, Arriagada received the final element of the brand's merchandise—its pouch from China—to enable its launch to happen. She dedicated about $100,000 to marketing Valdé for its first year, but didn't have product on hand for a lengthy pre-launch tease. Not that Arriagada was interested in doing that. She deemed a huge brouhaha over Valdé's launch to be ill-suited to the intimate approach she believed would speak to its refined, biographical DNA.
Instead of doing virtual gatherings with a ton of editors as several public relations firms recommended, Arriagada opted to do individual interviews with a select few. She predominantly relied on product seeding to raise awareness. Of course, she couldn't do it pre-launch because she didn't have products to seed. So, as the brand launched, she sent sets to about 300 people she specifically chose because she admired them. On top of sending them the product, she allowed them to gift a Valdé lipstick set to a person they admire. Anastasia Beverly Hills founder Anastasia Soare gifted a set to Oprah Winfrey.
Now, Valdé is dabbling in paid social, but Arriagada is heavily focused on building awareness through content. For International Women's Day on March 8, the brand produced a video featuring poet Natalie Patterson reading a poem entitled "Very You" celebrating women. Valdé is "very" in Spanish. "When life comes for you, remember you were made for this," Patterson says in the video. On Valdé's website, its blog The Valdé Voice spotlights an array of women, including Patterson, Valdelomar and Arriagada. In a post in which Arriagada writes herself a letter, the Valdé CEO and founder says, "Don't stop, keep going, stay the course, resist the temptation to conform because you were meant to be transformed."
"I think that luxury needs to get a little humble and a little real."
On her nonconformist journey, Arriagada emphasizes she's not seeking to blow up Valdé's sales and social media reach overnight. "It's the antithesis of everything that is out there. I'm not looking for 100,000 or 1 million followers. I'm looking to find my customer," she says. Still, she will conform to an expectation typical of the beauty industry that a brand should cross into profitability by year three. Arriagada says, "The expectations for me are different on the initial response because what I'm creating is super niche and has not been done, but, by year three, if I'm not on a path to profitability, I will figure out how to pivot."
Arriagada is already pivoting from the customary prestige retail distribution route. Valdé is cultivating direct-to-consumer customers and interacting with luxury consumers on social media. "In the future, most of the platforms—Twitter, TikTok—will become marketplaces. People want to consume media a lot, and you are going to be able to shop through it," says Arriagada. Speaking of interacting with luxury consumers on social, she adds, "It doesn't necessarily have to be pushing product. I think the days of product in your face has to evolve. For me, it's a narrative brand first, product second. I am on Clubhouse. I was there from the moment it was in beta, and that's a different way of connecting with thought leaders that might want to explore the brand."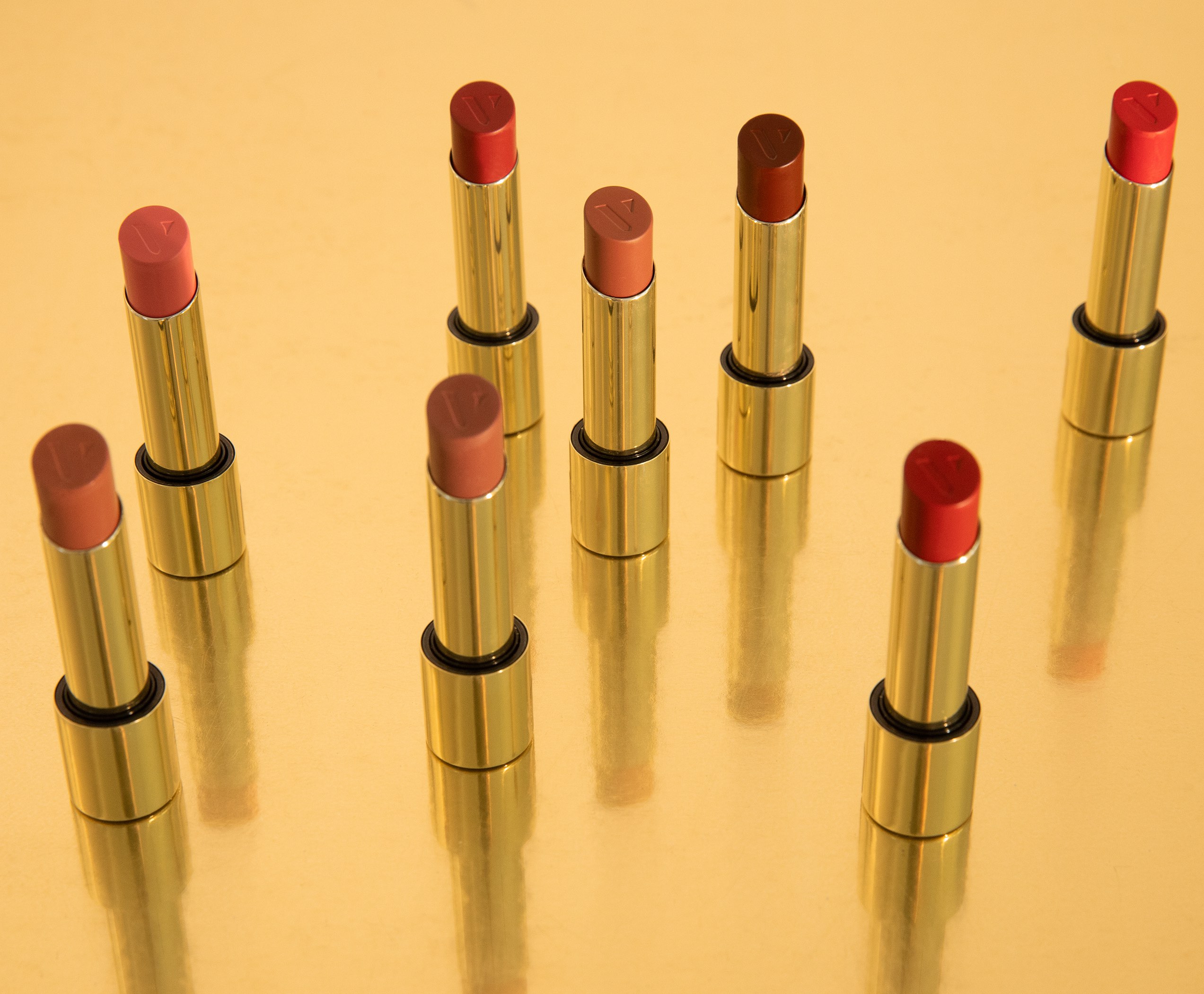 Valdé tends to all customer emails and social media messages. So far, she hasn't encountered a whiff of criticism on Valdé's prices from either customers or the press. And the brand hasn't had a single return. "I never had a question on the price point," says Arriagada, reflecting on media interviews. "They certainly asked me, 'Tell me what went into it,' and maybe that's their polite way of saying, 'What is with the price point?' but nobody flat out said, 'Are you concerned with the price point?'" Eventually, she plans for Valdé to increase its pricing and product range with a broader assortment of lipstick covers and textures. Her vision is to assemble a lipstick wardrobe that can customers can pick from based on their moods, personalities, outfits or the preferences of the person they're gifting.
Arriagada will definitely be listening to Valdé's customers to provide direction. "I think that luxury needs to get a little humble and a little real, and engage and connect with consumers. I think they've leaned so much on being coveted and elitist that, for many people and what we're experiencing today, it's a little standoffish. I think it's time for luxury to evolve," she says. "I love luxury, so I don't mean to put any brand down. I appreciate quality, but the way I would like to see it play out because I sit in that space is being more human and relatable, and having that direct communication."