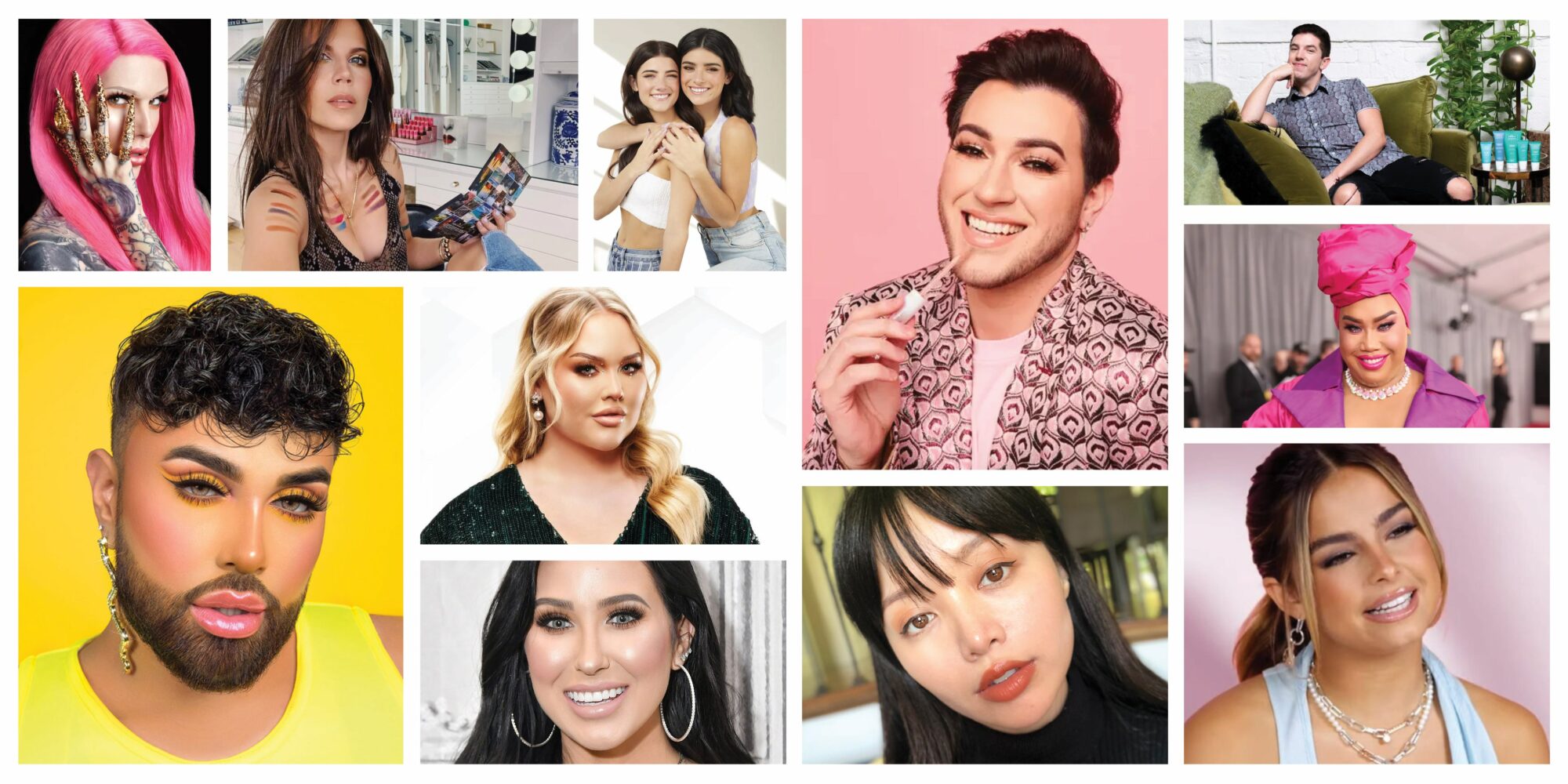 Has The Beauty Influencer Brand Bubble Popped?
For influencers looking to get into beauty, 2023 couldn't have started less auspiciously. Forma Brands, an incubator with brands connected to influencers and celebrities the likes of Jaclyn Hill and Ariana Grande, who's taking hers, R.E.M. Beauty, elsewhere, closed 18 Morphe stores and filed for Chapter 11 bankruptcy.
Sephora has dropped Item Beauty by Addison Rae, a brand from another incubator, Ipsy-owned Madeby Collective. Selfless by Hyram, which was created by influencer Hyram Yarbro in partnership with the brand The Inkey List, is departing the beauty retailer, too.
Prompted by the influencer brand woes, for the latest edition of our ongoing series posing questions relevant to indie beauty, we asked 15 beauty, digital media, influencer marketing and brand development entrepreneurs, executives and experts the following questions: Do you think influencer beauty brands are no longer relevant? What sort of influencer beauty brand could succeed today?
Influencers are out of touch with their real audience, period. Addison fumbled the bag on Item. She was the face of the brand, but I can guarantee she had almost nothing to do with any of the business development.

The tweens they tried to reach couldn't afford the product or couldn't get to a Sephora to buy it in the first place. The adults who purchased out of curiosity didn't like the product, so they never bought it again.

So many brands miss the mark on pricing and even more when they market to gen Z or younger. Item would have had a longer lifespan if it was put in Claire's and the prices were cut in half.

Influencer beauty brands have never been relevant. Being part of gen Z myself, I can confirm we can see that they are not genuine. The new influencer brand that will succeed is one that hones in on true product innovation and doesn't have their face slapped on every box.

After 2020 the influencer landscape shifted. With extra time in consumers' hands, many went from being someone's follower count to becoming content creators, exploring their individuality and buying from other people on their feed who they find relatable and close to their lifestyle choices and interests. In addition, the rise of creator programs has made it a more straightforward path for any individual to strategize and profit from their content rather than wait for a brand to pitch you as it initially used to be.

The beauty brands that are successfully staying relevant now are successfully creating the product's story around their demographic while also making their brand story more human. I don't think beauty brands founded by influencers will stick around unless they follow the origins of how Huda Beauty and Anastasia Beverly Hills began, by building online communities with people sharing their love for beauty hacks and educating their audience.

Before them, Estée Lauder did a great job at showing us how a beauty founder could aspire to be. In her time, the focus was to build great products and have word of mouth choose which brands would make it into retail rather than now, which retailers go off social media presence and a strong following as a guide for a promising success story.

In the end, I am excited about the times we are living in. As an independent brand, I enjoy how simple it is to connect with conscious consumers who are doing their research and have been wanting to try products for their own experience. They add to cart after reading reviews and making their customer journey online rather than me seeking a big name to validate their clean regime. It is a consumer-first world now, and we are just getting started.

I believe macro-influencer-founded brands can still be relevant today, but consumers have become a lot more aware and tired of the everyday celebrity launching a general skincare brand for the fun of it. The only way I see such brands succeeding is for them to do two things:

1. Have a very strong and genuine connection and story between the brand/product and the influencer. E.g., with our Sacheu brand, our co-founder Sarah Cheung has an incredibly strong affinity with the use of gua sha therapy and skin-barrier boosting formulas given her upbringing in Asia and seeing her grandmother, mother and the rest of her family use this technique for decades.

2. Today's consumer quickly gets saturated and tired of seeing the macro-influencer posting and advertising about their brand. Also, TikTok's algorithm doesn't care if the person posting has 1 million followers or 1,000 followers, both of those pieces of content have the same chance of going viral.

Brands need to have an extremely strong decentralized nano-influencer strategy in place, where they are able to get thousands of smaller creators to become true fans of their products and brand and become true brand ambassadors at scale.

This way you overcome the content fatigue of macro-influencers, generate genuine social proof and awareness, and still reach massive amounts of people (1000 x 1000 = 1 million). We use a tool called Amped for this part of our own brands' strategy.

Influencer beauty brands are of course still relevant. We can point to a ton of profitable influencer brands. The problem in my opinion is that it is very hard for an influencer to create an actual engaged community solely on TikTok as a platform. The platform's algorithm doesn't incentivize you to follow a creator, it incentivizes you to watch content for hours and scroll past content that doesn't immediately catch your eye.

It's not a huge surprise to me that TikTok-first talent (Addison, Hyram) didn't launch a highly successful brand in retail right out of the gate. However, it doesn't mean that the brand is dead. More specifically, it doesn't mean that influencer-led brands are dead. Look no further than the success of Summer Fridays launched by Marianna Hewitt and Lauren Gores (Sephora); Hairitage by Mindy McKnight (Walmart); Live Tinted by Deepica Mutyala (Ulta); or some of the more OG influencer brands such as Huda Beauty.

How can influencer brands succeed? I'd look to the model of our client Teni Panosian's Monday Born. Teni has always cared about waste and sustainability, so it was no surprise that she was able to partner with a company like Beaubble that focused on a dropship model where the product is created on demand to eliminate waste and secondly to save on overhead costs.

Teni was also smart enough to realize that she created over the course of a decade a dedicated and loyal audience online, so it only made sense to sell the brand online. Retail margins are so high and for a new brand that is just starting, being able to maximize profits to reinvest in product quality and innovation is very important to the longevity of the brand.

I think influencer- and celebrity-backed beauty brands still hold value as there's a built-in audience, but the key factor on the part of the influencer is their investment in the brand.

The word that comes to mind is authenticity. Is the person already a credible expert within the beauty space, and are they committed to investing in and talking about their brand for at least the next five years?

Over the last few years, we've seen cases of influencers/celebs launch a brand then sort of move on from talking about it or promoting it. If they're not interested in their own brand, why should their followers or general consumers be?

Launching a brand isn't a one-off like a singular TikTok video. It requires a long-term commitment to have a chance to succeed.

Beyond true commitment from the influencer, I think it's important to have a strong brand POV. What does the brand stand for besides the product being sold?

Maybe it's a philanthropy angle like Rare Beauty's Rare Impact Fund, which underscores Selena Gomez's commitment to mental health services. Research shows that consumers these days support and spend money with brands whose values align with theirs, which means selling a product as an influencer just isn't enough anymore.

The successful influencer/celeb brands of the future will have authentic credibility, a fantastic product and an extension of the brand that excites consumers beyond the store shelves.

We don't think influencer beauty brands are no longer relevant. The playing field has changed dramatically, and all brands—not just influencer beauty brands—will have to adapt to survive.

The hardest problem to solve for beauty brands often involves figuring out a go-to-market strategy and distribution, and influencers still have a distinctive advantage by leveraging their existing large audience.

 Now, in order for influencer beauty brands to succeed today, authenticity, speed of execution and lean operations will matter much more than before. This is where Beaubble excels.

Influencers will need to demonstrate genuine interest and commitment, and that can be achieved through more frequent and intimate interactions with their audience. Invite the fans into the creation process, don't just market and sell the brand.

Also, instead of launching a huge array of SKUs with a high inventory investment upfront, prioritize launching first with a handful of products co-created with highly engaged community members and strategize to build and expand a loyal customer base.

Once a strong foundation is in place, scaling through performance marketing and retail channels becomes easier and more cost-efficient.

Yarden Horwitz

Co-Founder, Spate

Beauty brands come and go, whether they are influencer brands or not. With the impact of TikTok on beauty sales, influencers have become more relevant, so it wouldn't make sense to dismiss influencer brands quite yet.

When it comes to product trends, long-term success depends on whether the trend is here to stay or if it's just a quick fad. This rule also applies to influencers.

It's important to identify influencers who have strong staying power, have mastered the art of relevancy and are building an engaged community. Additionally, it's important that the influencer brand offers effective products that consumers will continue to purchase.

As the lines begin to blur between celebrity and influencer brands, influencers can learn from more established celeb brands such as Rare Beauty, which have successfully launched hero products that drive sales.

In light of the recent closings of influencer-connected stores and exits from Sephora, I believe that the industry is filtering itself out of inauthentic talent brands. While I can't comment on a specific brand or company without seeing more of their inner workings and numbers, I do believe there is ample room for talent brands as long as there is an authentic fit, involvement, story, innovation and expectations in place.

I do believe some brands were created riding a boom in new platforms or off an older model of more controversial personalities without really adapting to the current consumer and market temperament. With that said, these talent brands may simply not be the best fit for certain retailers and may find success in different types of retail partnerships. It is imperative that we look at instances like these as a learning lesson on both ends.

Just a few of the many keys to success are a loyal following, a strong community, good engagement with the audience and authentic placement. Additionally, not all platforms are created equal when it comes to measuring success. TikTok can be a way for some creators to grow quickly, but platforms like YouTube and sometimes Instagram give a better indicator of a creator's genuine following and engagement, unless there is a relevant niche the channel is based around.

Creators that have a niche with a good and strong community have a higher chance of translating that to a new brand, though there are still many variables that contribute to its success. Our recent fragrance partnership with the Murillo twins serves as a prime example of how creator-led brands can achieve success in the industry.

The product they developed was relevant and their audience, and they had already established trust in their knowledge within the fragrance space due to their discussions and usage of it across various platforms. Their approach to engaging with their audience was both personal and showed genuine care for their brand and product.

Another noteworthy launch is Vagitaminz by Lala Milan, a women's boric acid suppository which showcases Lala's dedication and hard work in bringing her vision to fruition. Her honest and authentic approach toward her community has established a level of trust and understanding of what to expect from her brand.

These examples demonstrate that, when creators take the lead in their brand, not only does it lead to the creation of products that resonate with the audience, but also to building trust and loyalty through authenticity and engagement.

Influencer-created beauty brands are important to gen Z, but it's not just about having a large following. Trust and authenticity are more important than ever, and small creators have been on the rise and are increasingly being seen as a preferred source of information across platforms. A brand should not be solely reliant on talent, but fill a need and add value. Creators are one of many factors contributing to its longevity and success.

Influencer and celebrity brands are still incredibly relevant, and I don't foresee that changing anytime soon. We've seen this firsthand with the successful brands we've built at DBP like One/Size Beauty by Patrick Starrr and Elaluz by Camila Coehlo.

While these brands are still relevant, the space is becoming more saturated, making it critical to think beyond just the influencer's marketing power. There are several things to consider when building influencer-led beauty brands because it can be incredibly difficult and capital-intensive to do so. The influencer needs to have the passion and commitment to make this new business their priority for the foreseeable future, build the right team and have the capital structure in place to execute the business priorities.

Influencer brands that will remain successful are those that identify a unique POV and product narrative, have a great product, aggressively market and consistently operate at a high level. In the cases where all of these elements come together, there is an incredible opportunity to build a strong, successful and high value business.

They are going through a phoenix moment. We are seeing generation one influencer beauty brands burn away as they were not able to drive up significant repeat purchases or able to transcend the influencer's audience.

However, these generation one influencer brands leave us with the foundation for the birth of the next generation beauty influencers brands. These younger and up-and-coming influencers have analyzed and learned from the mistakes of their predecessors, and I am excited to see what they bring to the table. Quick shout out to the original generation zero influencer beauty founder, Michelle Phan of Ipsy.

This is the same advice I would give to a beauty brand founder who wasn't even an influencer: Build a brand that solves a tension with consumers. If a new brand isn't solving a tension or creating an innovation, it has very little right to win. Fenty Beauty by Rihanna was a great example of this. She solved the problem that many consumers faced, not being able to find beauty products in their shade.

I definitely think an influencer beauty brand can be relevant today, but it is not an easy path from a business standpoint. Summer Fridays, Mara Beauty, Phlur, these are thriving beauty brands each started by influencers or influential people. I'm not sure Allison McNamara would consider herself a traditional influencer, but I definitely think she was influential before she launched her brand.

For me, the key to success for these brands is to start small, keep the product effective and lean on the influence, but don't let that be the only leg you have to stand on.

Nicole Collins

Consultant and Advisor, Project Next Unicorn

All successful brands are built on a solid foundation that includes authentic values, a mission and quality product. Brands that are able to articulate their reason for being, put out great products and connect with savvy consumers in a real way will always win whether they have an influencer founder or not.

Many influencer brands remain very relevant today, including Rare Beauty, Summer Fridays, Live Tinted and several others. The key to success is in the brand's mission and its team.

A powerful marketing strategy is crucial to any brands' success and having an influencer founder is not a complete marketing strategy.  As Simon Sinek famously said, "People don't buy what you do, they buy why you do it."

Marina Mansour

VP of Beauty and Wellness, Kyra

The influx of influencer beauty brands came from the understanding that in our current landscape, creators own the most trusted, influential and persuasive marketing channels. That is entirely correct. However, as with all paradigm shifts, we need time to establish the best process for new opportunities.

What we're currently seeing isn't a decrease of relevance when it comes to influencer beauty brands, but the leading brands rising to the top and others not performing as well, which is to be expected in a vertical as competitive and saturated as beauty.

After all, a creator with a strong and loyal audience is only the start of a powerful brand. For that brand to succeed against heritage giants and global celebrity brands, it needs to be treated like any other business, not one that will automatically succeed because there's an influencer's name on it.

Product that is highly relevant to the niche of beauty that the creator is followed and known for, thorough R&D and a considered marketing strategy that has the creator deeply involved but isn't the only advocate of is a strong starting point for a successful influencer brand.

Gen Z might be the first digitally native generation, but that doesn't mean that they'll support a brand just because an influencer has launched it. They have access to more information and community than any other generation before them and utilize this with their beauty purchase in mind.

Ryan Nelson

Co-Founder, Jobi

At Jobi, we believe firmly that influencer beauty brands are still relevant and will be for some time to come, but the bar for what it will take to be successful will become much higher.

At Jobi, we believe a quick recipe for a successful influencer brand is composed of a compelling point of differentiation, the addition of an influencer or celebrity with an authentic brand fit and strong execution, e.g., management team, marketing, retail partnerships, etc.

Would-be entrants should make sure they focus on successfully tackling each of those elements to position themselves to rise above the crowd. Unfortunately, I feel some of the issues playing out in the industry currently are that many brands were launched to try to capitalize on the influencer themselves, but were lacking in a point of differentiation and sometimes only executed halfway.

While they may have added the influencer, there may not have been a convincing, authentic brand tie-in angle. Further, without that key differentiator at the forefront of the business and a true-fit celebrity in place, execution will be very challenging.

The reality is that the space is already crowded. There is rising consumer fatigue, and skepticism with each new influencer brand launched. Gone are the days where you can launch a mediocre product and gain success by pairing it with whatever influencer you happen to strike a deal with. Many brands are now finding this out the hard way.

I'm not sure influencer brands were ever really relevant. This is being exposed right now by Sephora's pulling of their products. Clearly, influencers may attract followers, but their branded beauty products do not resonate with young consumers and do not sell.

Why are influencer beauty brands not relevant? I think there is a fundamental discord between the whole idea of a beauty influencer and a branded product. People follow beauty influencers because they are looking for objective insights into what products work and to find new products that are exciting. They are not looking for people pushing their own products.

Yes, an influencer beauty brand can succeed, but only if they follow the basic rules of brand creation. This means having strong point of view on what consumer unmet needs are and what kind of product will meet them. They have to create a product which is different from what's out there, has a strong purpose and proposition which is authentic to the influencer's beliefs and demonstrated by their lifestyle, and delivers on that proposition with quality. Doing a TikTok dance does not meet these criteria.

These influencers are falling into the Kardashian trap of thinking that you can easily monetize fame, it doesn't matter what the product or proposition is or whether you believe in it. The person who has got this right is Rihanna, who is totally committed to promoting diversity, was outraged by the lack of beauty products in diverse skin shades, launched products to remedy this, and by doing so has transformed makeup.
If you have a question you'd like Beauty Independent to ask entrepreneurs, executives and experts, please send it to editor@beautyindependent.com.