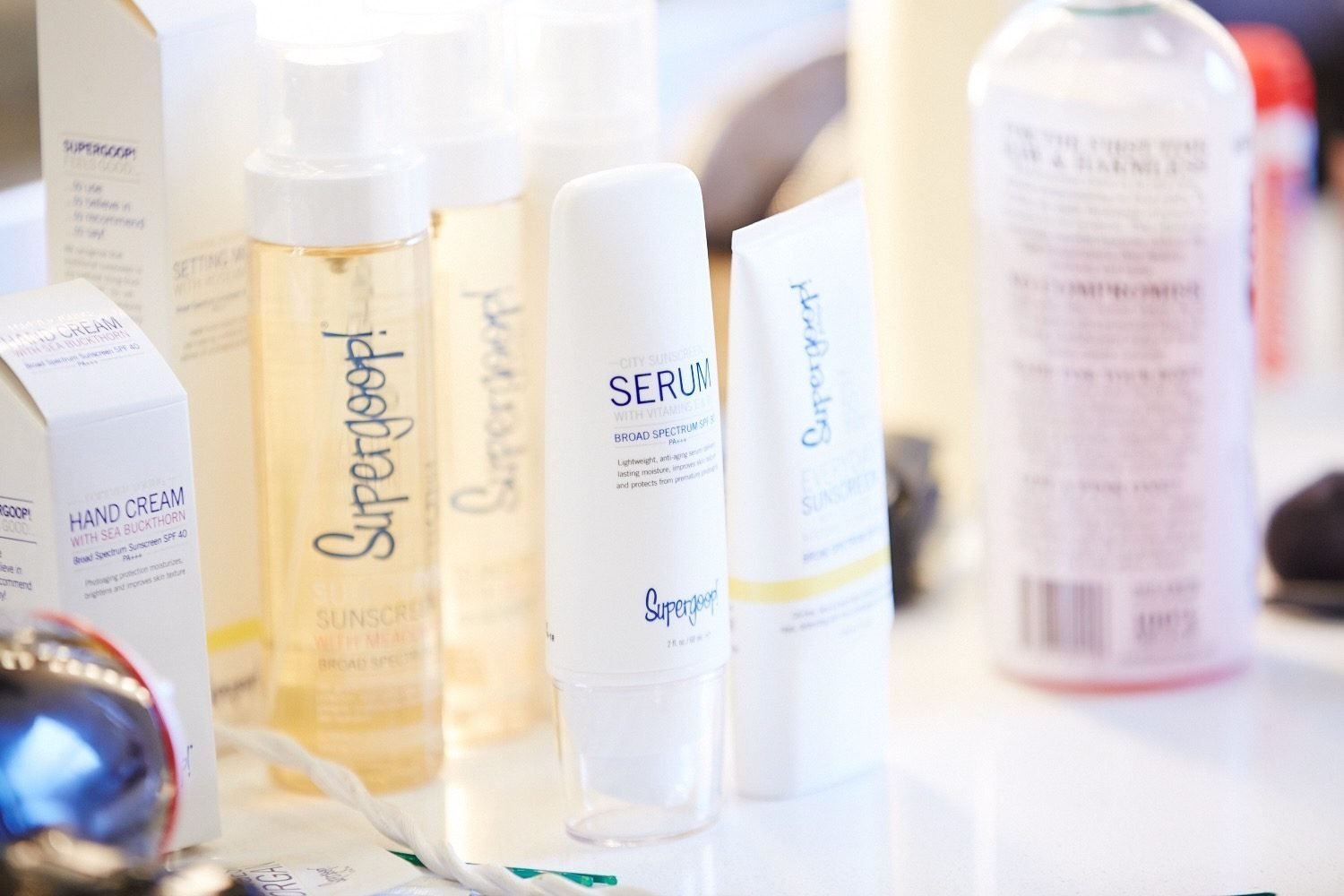 SPF Everything At Every Time: Supergoop Founder Holly Thaggard Extends Sun Care Beyond The Summer
Naiveté can be a beauty entrepreneur's best friend. When Sephora offered Supergoop summer placement nine years ago, founder and former teacher Holly Thaggard demurred. She wanted to upend assumptions that interest in sun-care was confined to the warmest months and show Supergoop could drive sales throughout the year. "I didn't know, not coming from the beauty industry, that it was crazy to tell Sephora no, and I didn't know that it was crazy to think that I could ask for 12 months of distribution," says Thaggard. "Sephora doesn't launch anybody with a guaranteed 12 months of distribution. Not knowing any of these things was to my benefit, for sure." Sephora decided to prolong Supergoop's in-store stay beyond the summer, and Thaggard's theory of annual sunscreen sales was proved right.
Today, Supergoop is a team of 30 and still isn't afraid to take risks, albeit with less innocence than its early days. The brand has pioneered putting SPF in cosmetics, is experimenting with releasing merchandise via a direct-to-consumer strategy and, on Earth Day, announced it would eliminate octinoxate from its formulas in 2020. Thaggard's business moxie has contributed to Supergoop's success at Sephora, Nordstrom, Bluemercury and beyond. Beauty Independent spoke to her about the importance of ongoing innovation, Supergoop's long-term partnership with Sephora, the brand's new offering for the children of millennials, SPF product wardrobing and Cleopatra's eye makeup.
What was the beauty industry like when you launched Supergoop?
The category of SPF was incredibly sleepy. There was no innovation whatsoever. It was lotion, spray and gel, and the only assortment was how high the SPF was. My parents are entrepreneurs, and they taught me growing up to look for the white space in things. I started looking at the sun-care industry because chemical formulas were full of controversial ingredients like oxybenzone, parabens and chemical fragrances. The mineral formulas were very sticky, thick and heavy on the skin. This is 2005, 2006. I thought, "This is why people aren't wearing SPF, it's an irritating mess you have to put up with." Because skin cancer was an epidemic, there needed to be a solution. I've always thought about the brand as very solution-oriented. How do we give consumers a way to incorporate SPF, slip it into their routine every which way we can so that we can stop this epidemic of skin cancer? 
How many products did the brand launch with?
One product, our Everyday Formula. It's still one of our top three, but it's been through eight iterations. It was the first chemical formula to launch in the United States without the use of oxybenzone. My mother is a breast cancer survivor, and my concern was that it was being found in breast cancer. So, if I was going to create a super formula, then it was certainly not going to lean into the use of oxybenzone, parabens or chemical fragrances.
The original business plan, which was a complete failure, was to put this one formula in schools across America. After two years, I had to pivot to retail, primarily because the world just wasn't ready for that. There was only one state, California, that even allowed SPF on school campuses. It was thought of as an over-the-counter drug. Nobody had advocated to change a very antiquated law that existed. There wasn't any interest in the country.
Fast forward and it's super exciting today, there's so much interest. We played a part in changing 19 state laws to allow sunscreen in school. Everybody's much more cognizant today about the importance of taking care of their bodies. How we've been a part of changing the landscape of SPF products has been really inspiring and flattering.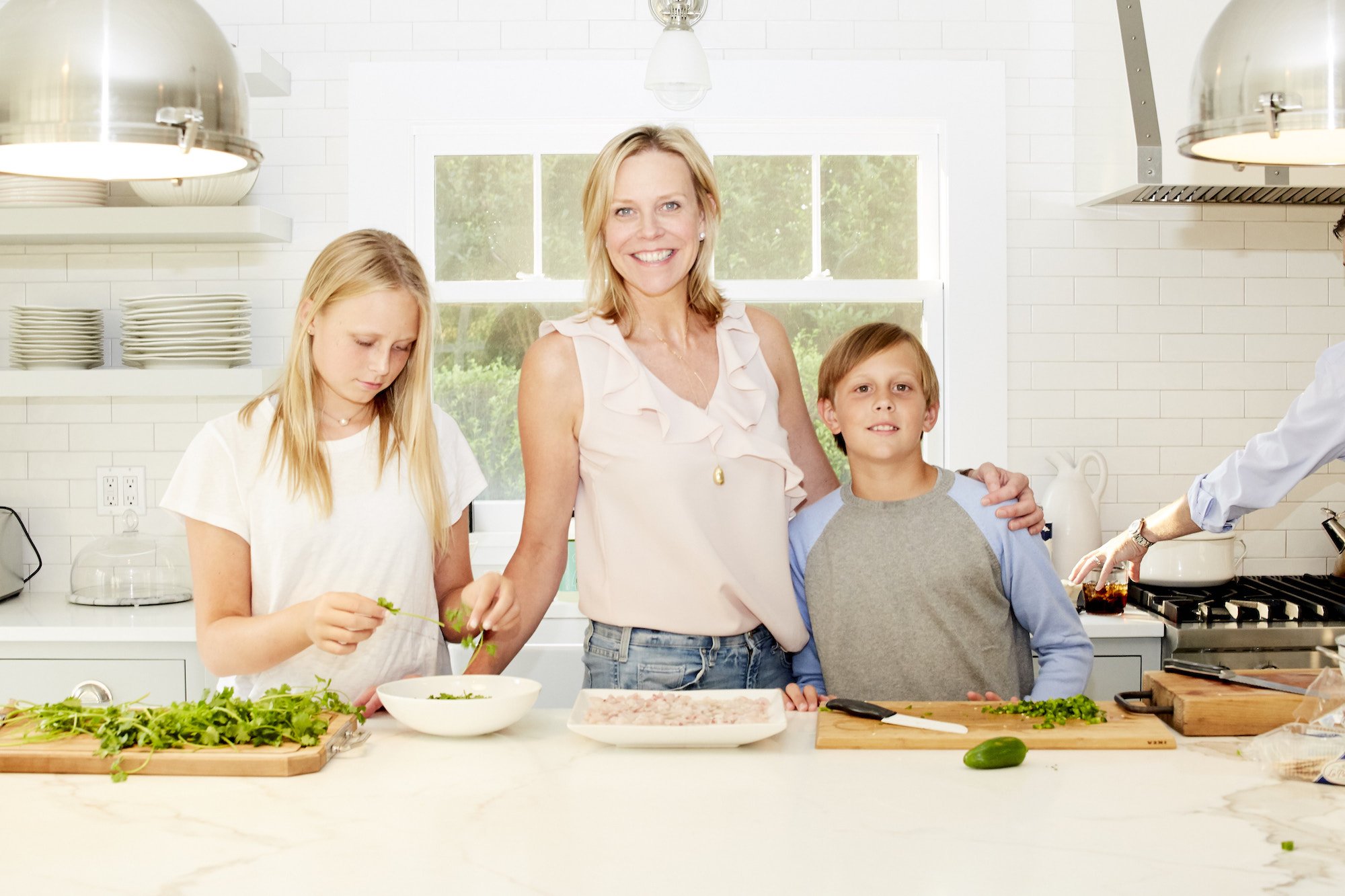 Did you have any clue when you created a sunscreen company how complicated it was going to be?
One of my husband's jokes around the house is, "You had to do SPF, right, Holly?" In the interview process with Amanda [Baldwin, president of Supergoop]—she's been with us for almost three years—the one question she kept asking me was, "Is there anywhere else you can go with what you've already developed?" I had to convince her. I don't know how to formulate anything else. I can't begin to formulate anything that didn't first start with a foundation of SPF.
In a way, it was lucky for me that I was not from the beauty industry because I would have probably found it to be a big roadblock how difficult formulating with SPF is, particularly when you're talking about only wanting clean SPF and not putting in the controversial ingredients that are so often found in sunscreen. In that regard, it was a blessing that I knew nothing about the beauty industry when I started down this path. There's definitely no shortcuts when it comes to over-the-counter drugs and being regulated by the FDA. If I had known how difficult the last 14 years were going to be, I might not have ever done it.
What have you seen over the years as the clean beauty movement has flourished? 
I was the first chemical formula in the country to ever launch that didn't have oxybenzone, parabens or chemical fragrances. I've always been an advocate of beautiful formulas that are healthy for the skin. I think today's wellness trend is a great thing because we need to take care about what we put not only on our bodies, but in our bodies.
One thing that does bother me is often chemical formulas are demonized. Along with this clean beauty movement, there's a lot of talk about how your SPF should only be mineral. From Supergoop's perspective, we are a very inclusive brand and, when I say that, I mean we're inclusive of every skin color, type and tone. We believe in delivering a wardrobe of SPF products that easily work and blend nicely with every skin color, type and tone, and even activity. For example, it's not healthy to put a mineral sunscreen on an athlete on top of the skin.
Why?
Mineral formulas are purposefully meant to sit on top of the skin, but, when you do that, that also can trap heat in the body. Your pores, when you're in high activity, are supposed to sweat the toxins out of your body. If you have a mineral formula sitting on top of the skin, you can't. So, there's a time and place for the two different types of SPF. If we want to stop the epidemic of skin cancer, we have to deliver on the cleanest chemical formulas for athletes, people with darker skin tones and people that are looking for formulas like unseen sunscreens that deliver a completely clear priming experience. We've actually had so many people talk about how they never wore SPF, and now they can because their skin is compatible with it.
On the flip side, there's definitely a time and place for mineral formulas. Today's a perfect example for me. I'm at my desk all day. I'm going to be in the office, and I have a 100% mineral formulas on from head to toe. When you have an SPF wardrobe, you can then pull one in based on what you're doing that day. There's no one right lipstick either. You have a wardrobe of lipsticks.
"One thing that does bother me is often chemical formulas are demonized. Along with this clean beauty movement, there's a lot of talk about how your SPF should only be mineral. From Supergoop's perspective, we are a very inclusive brand and, when I say that, I mean we're inclusive of every skin color, type and tone. We believe in delivering to country a wardrobe of SPF products that easily work and blend nicely with every skin color, type and tone, and even activity."
What was an early retail partnership or press placement that was a watershed moment for Supergoop?
The first big win was when the American Academy of Dermatology contacted me in 2007. I was formulating from 2005 to 2007 and, right when we hit our first school and we also rolled out a very robust educational program for pre-k through fifth grade, they reached out and asked if I would be willing to come and speak to the 2,000 dermatologists that were attending the AAD conference that year. I was blown away because I hadn't even been on the market [for long], but I had written an incredibly detailed, fun and playful curriculum for pre-k through fifth grade, and I had this one formula, the Everyday, the first clean chemical formula in the country.
Fast forward to 2011, CEW gave me the Indie Award that year, and I recall not even thinking I should go to the award ceremony because it was an expensive ticket. I hadn't been told I was the winner, I was one of like 10 finalists. I did end up going, and they kicked off the entire award ceremony playing a Supergoop video. The entire Waldorf Astoria was filled everybody who was anybody in the beauty industry, and they got to hear why I was so obsessed with SPF. 
Tell us about launching at Sephora.
In 2010, the skincare buyer was a new mom and had found our brand, and called the number on the packaging, which was my cell phone at the time. I thought, "If I should ever be so lucky that anybody would want to call our brand, I want make sure that they reached me directly." That's how Sephora first reached out. In the initial early conversation, the game plan was, congratulations, we want to roll you out on an end-cap in all stores for summer, in 12 weeks.
I had to politely finesse the conversation, and let them know that my vision for this brand is not a seasonal sun-care business. I feel strongly that my brand should look as beautiful in the dead of winter as on the Fourth of July. If that means that we have to scale down to six inches of [shelf] space, I need a 12-month commitment. If I'm going to go launch with a retail partner for 12 weeks of summer, it's against what I believe is right for the brand. Fortunately for me, they were incredibly thoughtful about it and, ultimately, gave me six inches of space on a new wall for them called Skincare Favorites. They said, "You can launch two products, that's all we have room for, but we will guarantee you 12 months of distribution."
I realized that I had told them that my products were going to be as productive on shelf at Christmas as in summer. That chain of events caused me to go in the direction of true innovation in the category because I felt like I had this responsibility to deliver SPF to them that would be productive 12 months a year. Next to launch were our beautiful Sunscreen Swipes and, then, an oil and a makeup setting mist and a powder. Now, we have Shimmer Shades launching. These are just crazy, never been done before ways to get SPF into every person's daily beauty routine. That early conversation completely shaped how I thought about product and what we were going to go forward launching.
How did the first year at Sephora go?
Sunscreen Swipes were consistently sold out in stores. I spent most of my time just going in as many stores as I could, connecting with the cast. We later coined this reverse stealing—I was so heartbroken that Swipes were sold out that I would go in stored with Swipes in my bag and load the shelves because I knew that I couldn't hit bigger numbers if there was no product out there, and I didn't know how to talk to a replenishment buyer. I didn't have any kind of formal training in how to do this. All I knew was that I had to get more Swipes in the stores.
Related: Buyers From Sephora & Whole Foods On Stage At BeautyX Retail
You were the entire sales team going from store to store?
I was it. It says a lot for the brand that we actually survived and thrived without a sales force. It's been in the last three and a half years that we have built a sales team of seven. I didn't want to put people into the store until I could afford to do it and do it right because I felt like they were such an extension of me and my vision. I needed to make sure that they really understood why I was dead set on changing the way the world thinks about sunscreen. If I'm going to do that, I've got to have just as passionate people out there in the stores.
What has been a recent bestseller for Supergoop?
Unseen was literally unseen all last summer. We couldn't keep it on the shelf. The day they went on the shelf, they all went right back out. It was an operational nightmare for our head of ops. I don't even know how he created Unseen product out of nowhere. But people never really thought about sunscreens being a makeup-gripping primer that also protects from blue light. For us, everything in our line is SPF, that's the given. We go beyond that to bring really innovative products out.
Have there been product fails?
I would say we more iterate on formulas. That Everyday formula we had eight iterations of because of new news and information. Things like octinoxate and the coral reefs come up, and you have to be quick to fix what you need to in a formula.
We did remove the Sunscreen Swipes two years after launching. They were not on the sunscreen monograph and, therefore, [the FDA concluded] the industry needed to give more information as to their efficacy. We talked long and hard with Dr. Gross because he also had a sunscreen towelette. Ultimately, I decided against it because the reason behind that sunscreen towelette concern was that, while you can test the bulk formula, once you impregnate it into the towelette, there's no real way to make sure that that bulk is then going to leave the towelette and be transferred on to the skin.
How does Supergoop work with influencers? 
Beauty is booming online for sure. E-commerce, social media has definitely lowered the barrier to entry and made it much easier to bring products to consumers. We work with influencers on many levels. A lot of them are genuinely wanting to talk about how important wellness trends and health are. They reach out to actually learn more about SPF so that they can speak intelligently to it on their own platforms.
A lot of the way that I personally worked with influencers is going to dinner with them, spending time helping them be my megaphone. Everything for me ladders up to our mission. If someone who has a large following can help be that megaphone for us, I certainly want to invite them to dinner and get to know him better. We often have very small intimate dinners with a handful of girls that are out in this world talking, consistent with our messaging, about living life. I always say, "You don't come to our brand to sit on the couch and watch TV. You come to our brand to live a very rich life in the sun and embrace the outdoor lifestyle."
I primarily try to look for those girls that are out doing things and looking for [beauty] shortcuts. Our Shimmer Shades, for example, really came from how do we get SPF onto people's eyelids, where up to 10% of all cancers are found, and how do we do it in a Supergoop way, which is a fun and playful way? It came from watching these young influencers and girl bosses do their makeup in an Uber. I'm sitting here going, "How do I best put on a silver platter for them what they need to do their makeup in Uber and stay sun protected?"
How long did it take to develop Shimmer Shades?
It's been three years in the works. I've been talking about it with our team at Sephora, who very much get in the kitchen with the brands that they dedicate time to. Finding the right timing for that launch was important. The world was ready for it. We immediately in the first two weeks, doubled the forecast for what we had forecasted. We could have sold two times as many.
We have really high bar set for the Shimmer Shades because we knew it was our first entry into what we call very important places, VIPs, which are the eyelids. Often, creamy potted eye shadow products will dry up or slide off the eye and crease in the eye area. We knew that we had to come out of the gate strong with a formula that makeup artists would embrace that blended well with your favorite eye shadows and really had the color payoff. We had really high expectations, which is hard when you're dealing with SPF. We used 20% zinc oxide in this formula, and we had to make them Shimmery and beautiful in multiple shades.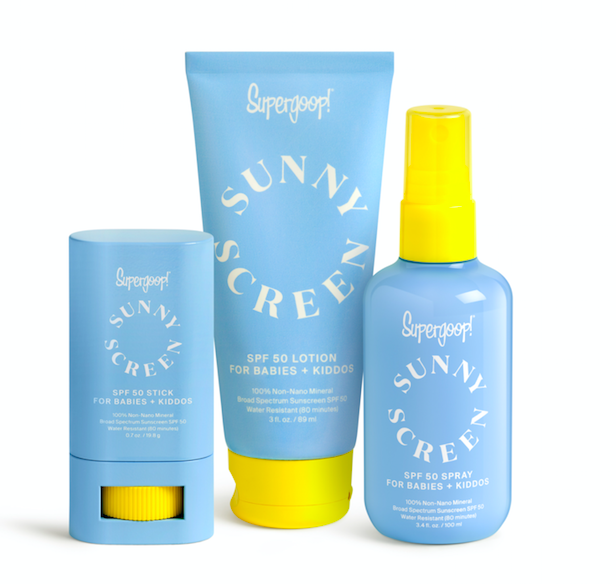 Shimmer Shades just launched, and now Supergoop has a product launch next week for kids' sunscreen. Is is usual for the brand to launch two products in a month?
That's the problem with innovation. When you have these ideas and you're creating these beautiful things, you want to bring them out there faster because somebody is going to do it. I believe that, if an idea pops into your head and you don't do anything with it, it's going to go pop into the next person's head, so you've got to hurry. 
Over the last couple of years, we've been laser focused on the Sephora customer, the millennial. They're starting to have babies. New moms really want something very specific to their baby or kid. What is that entry product for a new baby that's six months to six years? Sunnyscreen is that easy stick, spray and lotion that a new mom can embrace while she may be using our Shimmer Shades, Poof Part Protector Powder and Defense Refresh Makeup Setting Mist. 
This is our first 100% direct to consumer [launch]. While we have a big and fast growing direct-to-consumer [business] with our big line, this will be 100% direct. We will get to know all of the consumers purchasing Sunnyscreen.
While our overall business has had triple-digit growth—we doubled the last few years and we're on trend to do that again this year—our direct-to-consumer business is growing about four times. We are seeing a lot of people come straight to the brand. We also drive a lot of business to Sephora as well. We are a full partnership with them. I feel they tell stories and build brands so well.
If you could get your products into everyone's hands living or dead, who would it be?
Cleopatra. I think she's such a beauty babe who gets lots of sun exposure, and I think she would love Shimmer Shades. I would absolutely love to put Shimmer Shades on Cleopatra.