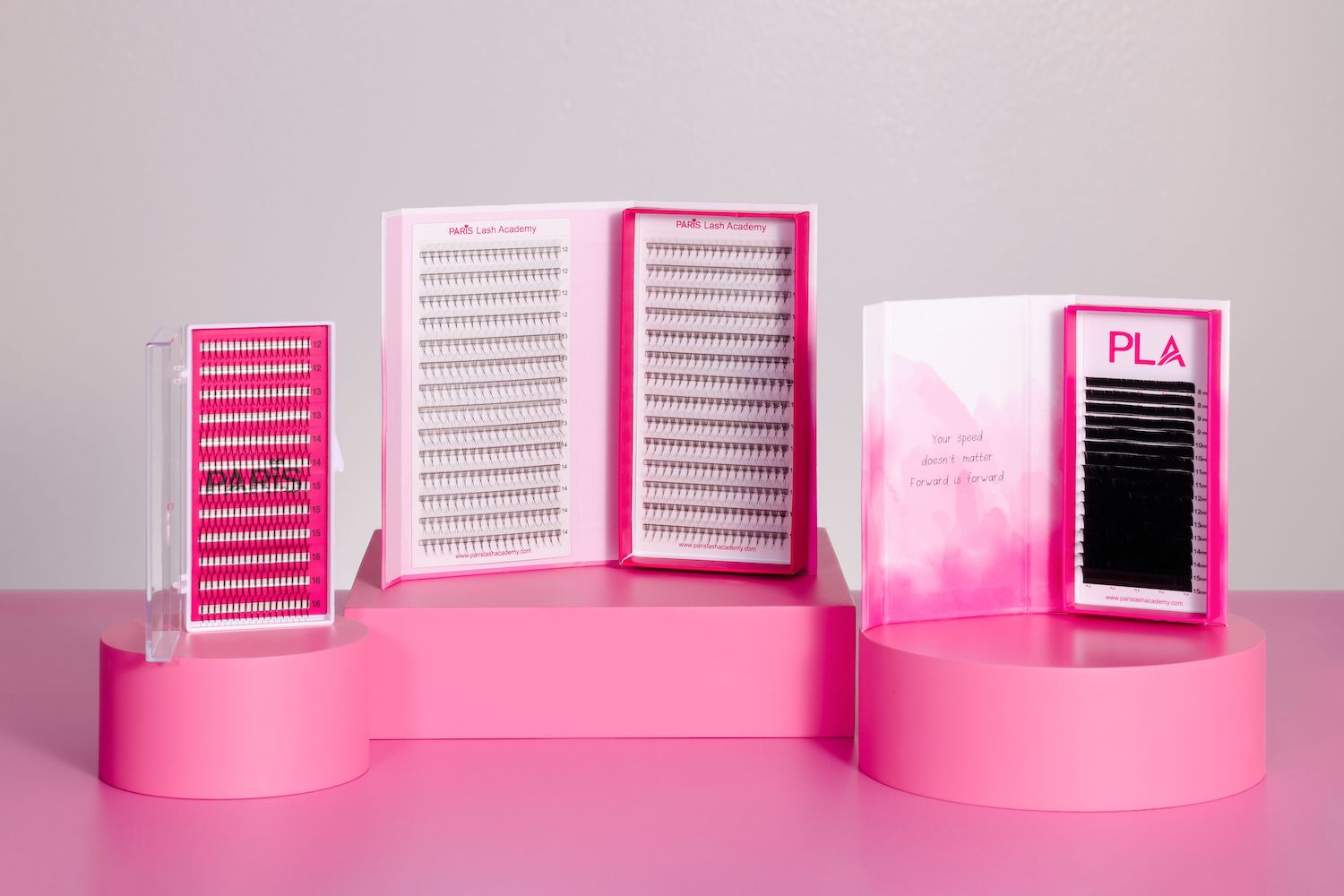 How PLA Made $30 Million In Sales And Managed To Get On Kylie Jenner And Jennifer Lopez's Nails
After working as a lash artist for 12 years, the arduousness of the job took a toll on Michelle Nguyen. "I was probably one of the first generations of lash artists, so I wasn't trained properly," she says. "I didn't have great posture, I didn't have great tweezers, I didn't have great tools, so my body was really giving me a whole lot of issues."
When she opened up Paris Nails and Spa, a 5,000-square-foot salon in Reno, Nev., named after her daughter, in 2016, Nguyen trained other lash artists the right way. Even still, she was frustrated with the products on the market. "I started talking about how to make the next generation of lashes to really help improve the lash artist skills, speed and put less strain on their body," she says. "Little did I know that was the first step of my next chapter in life."
In 2018, Nguyen launched PLA, formerly known as Paris Lash Academy, with $10,000 and a mission to provide lash professionals with the tools and knowledge necessary to succeed. The brand branched into nails last year with a gel polish line and is releasing a consumer-focused lacquer line on Nov. 20. Nguyen shares that PLA generated $30 million in 2022 revenues. Its business has grown 300% year-over-year for the past four years.
Ahead, Beauty Independent talks with Nguyen and Caitlin McAninch, VP of marketing at PLA, about other categories the brand is entering, how it managed to get its nail polishes on Kylie Jenner's TikTok feed, and predictions for the future of the lash and nail categories.
Where does your love of beauty come from?
Nguyen: I started in the beauty industry about 16 years ago as a manicurist. I was in college and my relative had a salon, and I was working part-time to make some money on the side. After I did nails for a short time, I got my aesthetician's license. I did eyelash extensions predominantly and a little bit of waxing.
Eyelash extensions were very, very new at that time, and I knew there was potentially an opportunity for me to tap into something that could financially be stable. I didn't really expect to fall in love with eyelash extensions. As I learned the trade and saw what a difference I can actually make on someone's face, I developed love for eyelash extensions.
I opened my first salon in 2016 after I saved up all my money and decided that I didn't really want to work for anyone else. We started the salon with three employees: me, my sister and my mother-in-law. I love her dearly, but I don't recommend anyone to work with their mother-in-law. We grew it to a staff of 42 people. Thirty of them were manicurists, and 12 of them were lash technicians.
After about two years into owning my salon, I started training lash artists to work in my salon and traveled to spread my training to different states. The nail industry has been around for forever, and hair has been around for forever, and they had every product in the world you could think of, but in the eyelash industry, tons of products were still feeling very old school, not super efficient.
I started bringing in new products for lashes directly from manufacturers to save costs. I didn't have to buy them retail. Then, I started talking to vendors about, "Hey, I wish there was this product. Can we make something like this that would help the lash artist?"
In 2018, I to sell some of the stuff that we make and source. I launched my website, ParisLashAcademy.com. We now rebranded to PLAPro.com. We started with just five lash products in my parents' garage. Fast forward five years later, we now have over 5,000 unique products for beauty. I would probably say maybe 80% of them are lashes and about 20% of them are nails.
Our distribution is now in Reno. We have 53 employees, and we have five manufacturers in Vietnam that we own with about 750 employees, mostly women, that manufacture our lashes. I started with sourcing, and I just wasn't super happy with the consistency of manufacturers that I had. Most manufacturers for lashes came from China, and I'm Vietnamese, so when I had the opportunity to, I decided to open our own factory in Vietnam, and it grew to five in the last three and a half to four years that we owned.
Besides doing eyelash products, we also have an academy where we train people. We teach lash artists all over the world. We have online courses, and we hold a class in Reno every month or so with 10 spots. We don't really make money off our education program. We do charge for it, but our prices are very reasonable. However, all the money that we make goes into a fund, and we use it for what we call Let Paris Pay Your Bills, so every month we give away about $20,000 to lash artists and give back to the community.
When you first launched, what made your lashes different from others on the market?
Nguyen: The biggest difference is it was designed by a lash artist. I would consider myself an innovator where I figure out a problem and then I try to figure out how to solve it. We launched with a product that nobody had at that time, the 5D ProMade.
Traditionally, lash artists would learn how to make these eyelash fans using a tweezer, and it is a skill that requires many months of practicing and is very, very straining on their hands. That was what truly ruined my hands. I figured out to make a fan that people just pick up and apply. So, 80% of the work is done, and they don't have to start from scratch.
That's the product that PLA launched with, and there was nothing like that on the market. They had a pre-made fan on the Chinese market, but they were in pretty terrible quality because the base would be very boxy. It didn't look flattering. I had them handmade by a team of lash artists in Asia and would package them in boxes and sell them. At first, I got them for my salon and then I realized, "Ooh, these are actually really good, and I think I could really sell them and would really help lash artists."
We were also the first ones to ever invent a wispy fan. We were the first to invent wet set lashes. I would take anything that I could create as as a lash artist, then I automate the process for the lash artist. It's great if they have the skills, but they don't have to be an amazing lash artist with 10 years of experience to create the sets that they want to if they use my product. Innovation is a big part of PLA, and I truly think that's what set us apart. Our main goal always is how to make lash artists life easier.
Out of the 5,000 products you have, is there a bestseller or a hero?
McAninch: It's our Loose and our Bold Promade. So, we sell lash trays, which is how lash artists make handmade fans, but our Promades are the No. 1 seller. With our Promades, I think we're at like 1,600 different types.
Nguyen: If you can dream of it in lashes, we can make them. I don't really want people to have to learn how to make so many different types when I can actually provide them with exactly what they need.
"If you can dream of it in lashes, we can make them."
Was there a moment where the brand really took off?
Nguyen: When I launched in 2018, I truly just wanted extra diaper money for my kids. It was a side hustle. It was in my dad's garage, there was no overhead. My dad packed my orders, and I ran the business at night. About two or three months in, I realized that I could actually make a living doing this.
Truly, I was getting pretty burnt out from running the salon and trying to run this at the same time. I set out a goal financially in order for me and my family—mostly my husband—to feel secure about me selling the salon because it was doing very well. At that time, we were bringing in around $1.5, $1.7 million a year in gross sales, and we were netting a good $400,000 or $500,000 off that.
When I told my husband I wanted to sell the salon and start selling lashes out of the garage, my husband thought I was crazy. So, I set a number financially for us. I said, "Hey, if I could sell $100,000 month, would you allow me to sell the salon?' He said sure. I don't think he ever thought that we would get there because I was selling five little buckets of lashes in a garage with two tweezers. When I set a number, we just ran like hell every day.
What was your marketing strategy in those early days?
McAninch: The lash industry is huge on Facebook Groups. We own two different lash groups on Facebook, one's called Lash Queens and one's called Beginner Lash Artist Tips. Lash Queens just hit 100,000 members about two months ago. We started by having Michelle in Groups all the time and that's how she really started learning what kind of products to bring out. She was always in Facebook Groups, commenting, helping and teaching other lash artists. Then, she'd get kicked out of all the groups because most of the Groups were run by a brand owner, so they would boot her out.
Michelle mentioned we do a lot of classes, and we don't make profit off them. That's not the strategy of most lash brands. Most lash brands charge anywhere between three and $5,000 per class. I think our class is $405, which is the price of the kit for an in-person class.
Our strategy has always been to educate first, and we still do that today. Five years later, our content's very education-focused. Technically, we post four Reels and TikToks a day. We have a nail account, and we have a lash account. We use our products in all of our marketing.
We are 100% organic. We do not run ads on Facebook or Instagram. I think we just ran our first nail ad. We realized, if we're going to do it, we probably need to hire someone since no one in the company knows how to do them. It's been slow, but with social media, we've done it in a really authentic way.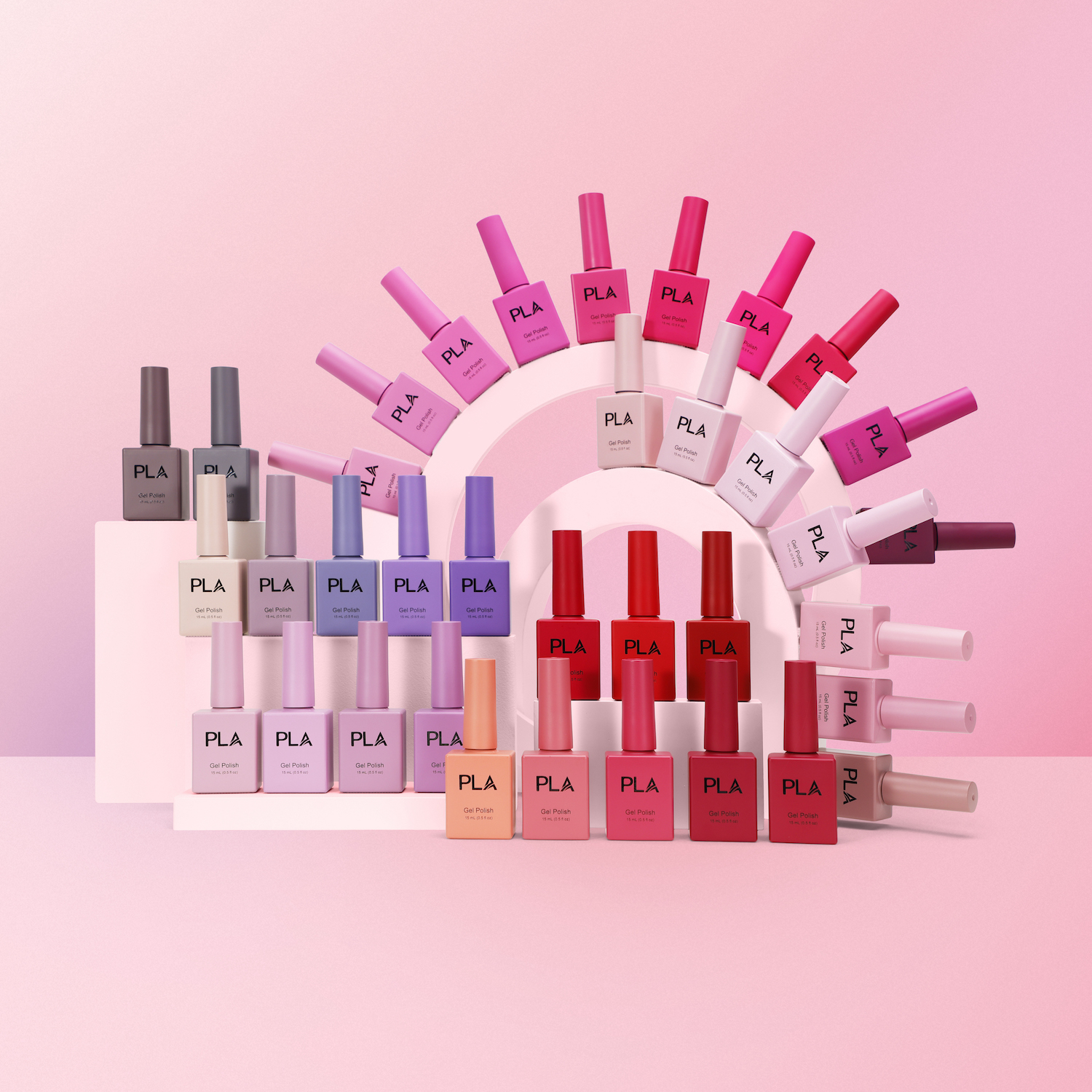 Why did you branch into nail products?
Nguyen: Nails has always been in my DNA, but I will be the first to tell you that I'm not the best nail artist out there. As a beginner nail artist many years ago, I struggled with a lot of polishes because some of them were way too thin and not beginner friendly.
When I owned my own nail salon and I had 30 nail technicians, I've always dreamed of having my name on a nail bottle. I was obsessed with colors. I would probably spend most of my budget for nail supplies on just bringing in different colors. At Paris Nails I had over a thousand colors, and I loved every single one of them.
So, when Paris Lash Academy was doing really, really well, and Caitlin and my executive team pretty much had the company run without me, I wanted to start a new project, and I came back to my first love. I pitched them the idea of, "Hey, I'm going to launch a nail line."
McAninch: It wasn't a pitch, it was, "Hey, I'm making nail polish now."
Nguyen: [laughs] I spent the next eight months after that looking into formulations, testing different products, manufacturers, packaging. I had a very specific idea of how I wanted my nail line to look. I want it to aesthetically look beautiful and also I want it to be very beginner friendly. I want it to be very pigmented, and you don't necessarily have to be a master nail artist.
There's a lot of big brand names in the nail industry that've been around for years, but the colors are harder to paint, and they really require you to have very good skills to paint certain colors like the red or the milky nude colors. When I was a beginner nail artist, I would get complaints all the time when I painted nude colors because they would be streaky.
Now that I get to do my own nail line, I wrote down a list of things that I want my nail line to have. We did not have the pressures of, we have to launch it today. The lash line was doing exceptionally well, so I really had enough time to do product development to really make it look exactly how I wanted it to look.
What made you want to introduce a lacquer line to the collection?
Nguyen: Lacquer is launching much later than gel polish because I really thought of the gel polish line as a hobby project. I didn't really know if it was going to turn out to be a whole entire line, but we had gotten such positive feedback from so many different nail artists, and it's only been a year. So, about six months ago, I said, "Hey, now that we know that we have a good line going and people are loving them, we should look into expanding the options for people."
We also want to get to the consumer. Right now, all of PLA's products are for beauty professionals, and I really want to get into the consumer market, hence why we're making the lacquer polishes for people that just want to paint their nails and have it last for a good five or six days. We are actually working on a dip line that should launch in Q1.
How did you go about getting PLA in the hands of celebrity nail artists?
McAninch: The first thing that triggered it was another brand posted red carpet pictures from the Grammys last year of a celebrity wearing their nail polish and I was like, that is what I need on my feed. I need a celebrity on a red carpet wearing PLA nail polish. I spent a week trying to figure out, how do I do this? 
I reached out to someone's agent, they had it on their Instagram account, and I sent this nice email about everything about us, and they didn't respond. And I was like, clearly, I don't know what I'm doing. I went to Michelle, and I said that we need a PR agency. There are companies that do this for a living.
I had a referral to Lindsey [Smolan of Vliv Communications] from a friend of mine, and we're just hitting six months with her. It has been a huge game changer for us for nails. Leading up to this, we had never really worked with celebrities in any capacity, and we didn't know how to do that outreach portion.
The endorsements we've had from nail techs has been great, but it's really so cool for our team. I think we may be the biggest in the lash industry, but our brand itself is still very small. There was an afternoon, it was Friday at 5 p.m., we were wrapping up, and the girl who runs our nail account screamed, and we couldn't even understand why she was so excited. She was running around the warehouse and sending out links to everyone because Kylie Jenner had used our nail polish.
That costs a lot of money to get someone like Kylie Jenner to use your products, but it was free because all I did was send the nail polish to her nail tech that Lindsey found, and her nail tech loved the product. So, then Kylie posted this TikTok of her getting her nails painted with our polish. It had like 6 million views, and our team was just so excited. The the other day, JLo was wearing our polish. We just get so excited about it because it's something we never thought would happen to our little brand.
Did Kylie Jenner's TikTok videos impact sales?
McAninch: It's not necessarily the Kylie TikTok posts. We got a surge in traffic from TikTok, but it's the amount of press coverage the nail set gets afterwards. One of our highest trafficked polishes is called Lily of the Valley. It's the perfect nude shade, great base color. An article was written for InStyle Magazine and the header was, "I Wore The Same $13 Nail Polish As Blake Lively," and it talks about that color in the article, and that gets us so much traffic each week. So, it's the press coverage of the nail sets that drives our traffic and our sales.
What's been the distribution strategy?
Nguyen: Right now, all of our products, are directly shipping from our headquarters in Reno, Nev., straight to businesses. We are a B2B business, and we ship all over the world. However, within the last six months or so, we have expanded what we do. Tons of people wanted to have a mini little PLA store in their location, so we opened a PLA retail partner program.
You can apply, you can buy product at a significant discount and then have a PLA supply store in your city. That helps us with getting our names out there a lot, and it also helps with our customers if they need products today, tomorrow, they don't have to pay for same-day shipping or next-day shipping, they can go to a store.
Another big part of the PLA company is, the last few months, we opened a new program that we have never done before, which is called the private-label program. If you are a brand, you can actually have PLA make products for you under your name. We're helping other small brands build a brand and get good quality products. We have quite a few different outlets for how we distribute the products to different people and that has helped with sales significantly and also with brand awareness.
What's the PLA team like?
Nguyen: We have about 53 people. I oversee a team of executives, which has our VP of marketing, which is Caitlin, our controller who is the head of our accounting, our HR, product development and private label. My sister, who also helped me build PLA from the ground up, she's the president and oversees operations, customer service, warehouse staff.
In our company we joke, "I bring in sales and make the money, and she makes sure that all the logistics get taken care of." Caitlin runs a team of 13 people. Besides our warehouse team, which is the biggest team, Caitlin runs the second biggest team in our company. We try to do everything in-house, from SEO to buying and sourcing to product development to private label and sales. We used to outsource a lot of that, but everything now falls within our company.
Do you have predictions for where the nail and lash categories might be heading next?
Nguyen: One of the things I noticed that lash artists, nail technicians and consumers want more of is better products for the health. For many, many years, we as nail technicians bought whatever that's available out there. Our nail polish is 10-free, and by next year our nail polish will be 14-free.
I am the second generation of nail artists in my family. We have 13 nail salons in Arizona and California within our families together and all of my aunts and my uncles who have been doing nails for 20 something plus years are now all having issue with their lungs, mostly because they breathe in all of these toxic chemicals for so long. None of their kids want to do nails because they see their parents go through it.
Moving forward, I see nail artists being very smart. Same with lash artists. They used to just buy the cheapest glue, and now they don't, they ask questions. They read through labels, they request MSDS, which is something that they have never done before. So I predict a healthier, not just prettier future. A lot of people can do pretty, but a healthier product line prolongs their career.
What are some short-term and long-term goals that you have for PLA?
Nguyen: We are working to expand our nail line and consumer product line. Right now, our professional product line is doing really well. We're adding products almost every month. The big project this year and next year is bringing in a line of potentially makeup and nail polish that are consumer friendly and that goes with everything that we provide. So, a makeup line that would go with eyelash extensions that doesn't affect and destroy your eyelash extensions and a friendly DIY nail line for our consumer.
McAninch: We're also launching a wax line next week. That will be new for our business. Most lash artists don't do nails, but most lash artists do wax. So, we have a very different customer base for our manicurists that we sell to, but wax should be a really successful launch for us because you'll go get your lashes done, they'll also wax your brows really fast.
Is there anything else about the brand that you want to touch on?
Nguyen: One part of PLA that I'm super proud of is, when we first opened a manufacturer for our lashes [in Vietnam], it was born out of a need for good, stable products. Our manufacturer was built right before COVID and, after COVID, I didn't get to go home for two years.
When I got home, I quickly realized how much of a difference PLA was making in these manufacturer's employees life. We have about 750 women, most of them are women, and 10 of them are domestic violence victims. A lot of them work in very harsh conditions in farming because, in Vietnam, it's 90 degrees with 98% humidity, super crazy hot.
When I got back home after two years of not being home, we had people lined up outside the manufacturers asking for jobs. That was the point in our company where we decided that we are not going to just focus on profit and growing our company. We decided to try to walk the fine line of staying profitable, but making sure that we take care of the people that we employ back home.
If Caitlin loses her job tomorrow, she'll get another 10 job offers, and she will be great. The same can't be said for my 750 employees back home. This is their lifeline. This is the best job that they have ever had considering their circumstances of everything that they've gone through. So, we've made the commitment to them that it doesn't matter if the economy is up or down, we will absolutely do everything we possibly can to make sure that we at least can keep everyone employed and potentially hire more people.