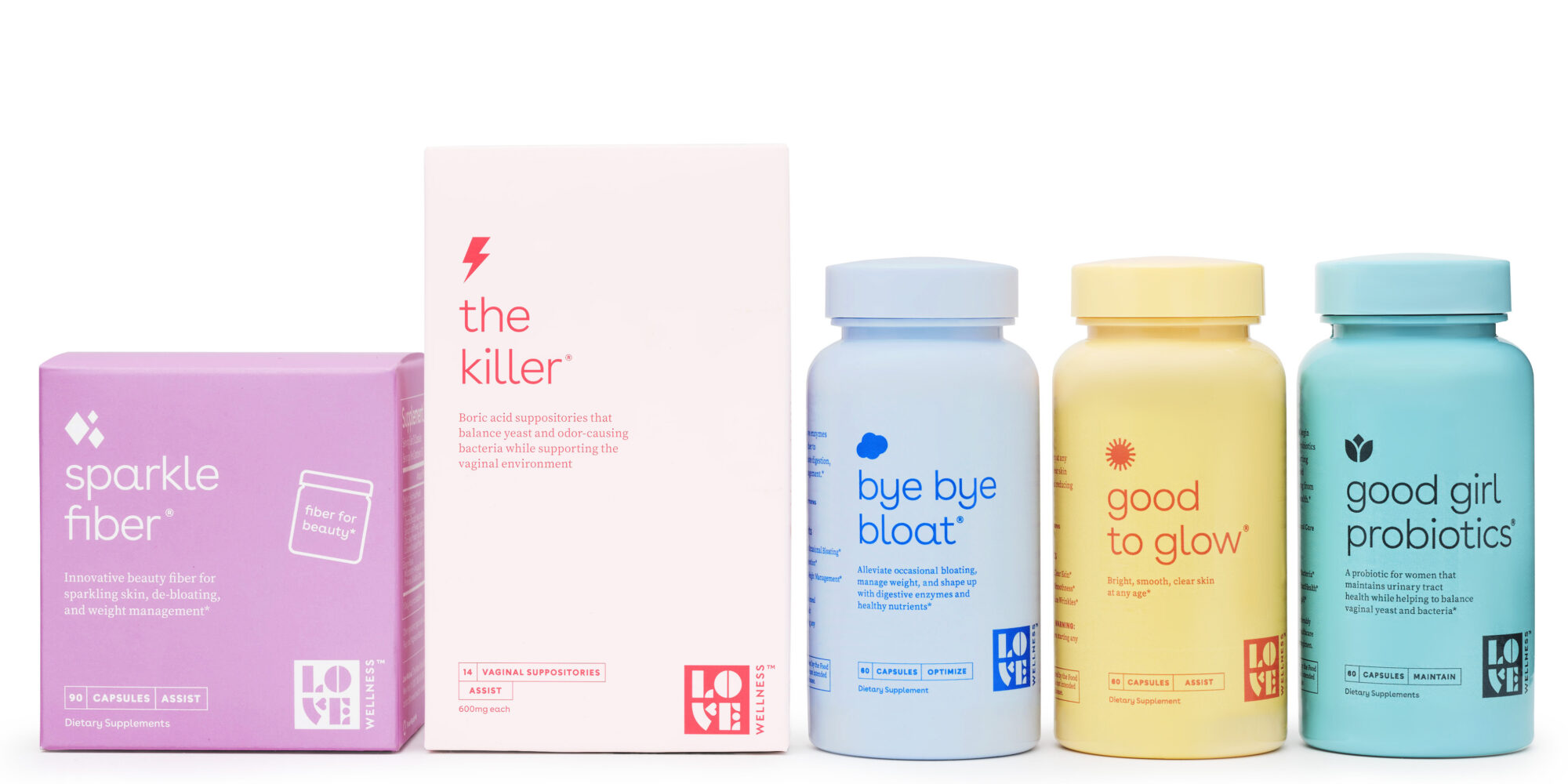 Ingestible And Vaginal Health Specialist Love Wellness Launches In Target Stores Nationwide
Love Wellness' latest milestone is entering Target—and it's a meaningful one for Lauren Bosworth, founder and CEO of the ingestible and vaginal health brand.
"I grew up going to Target with my mom, sister and brother at least once a week," she says. "From a business perspective, Target is the holy grail. Selling these types of products through a retailer like Target indicates that there is a true shift in consumer behavior and an openness towards products like this. People are seeking them out actively. There's very little stigma when it comes to personal care anymore, which is great."
Love Wellness' ingestible items Bye Bye Bloat, Good Girl Probiotics, Good to Glow and Sparkle Fiber, and The Killer, a boric acid vaginal suppository intended to balance vaginal pH and maintain healthy levels of vaginal yeast and bacteria, rolled out across Target's physical locations last week after the brand premiered at select doors on Dec. 27. Target had added the Love Wellness products it's put in stores online as well as UTI Don't Think So, a supplement designed to aid in urinary tract infection prevention, pH Balancing Cleanser, a cleaner designed for the external vaginal area, and Sex Stuff, a water-based lubricant. 
Sex Stuff is cleared by the United States Food and Drug Administration as a class II medical device. The FDA requires lubricants to be approved before going to market, but the FDA clearance process running upwards of $50,000 can be cost-prohibitive for emerging companies. All products from Love Wellness, which debuted in Ulta Beauty in 2019, are $30 or less. Accessibility is important to Bosworth. "Our retail strategy is hyper-focused with a crawl, walk, run strategy, meaning we don't bite off more than we can chew," she says. "Our new channel approach is to go where our consumer is. Ulta is our core consumer, and Target is our mass consumer."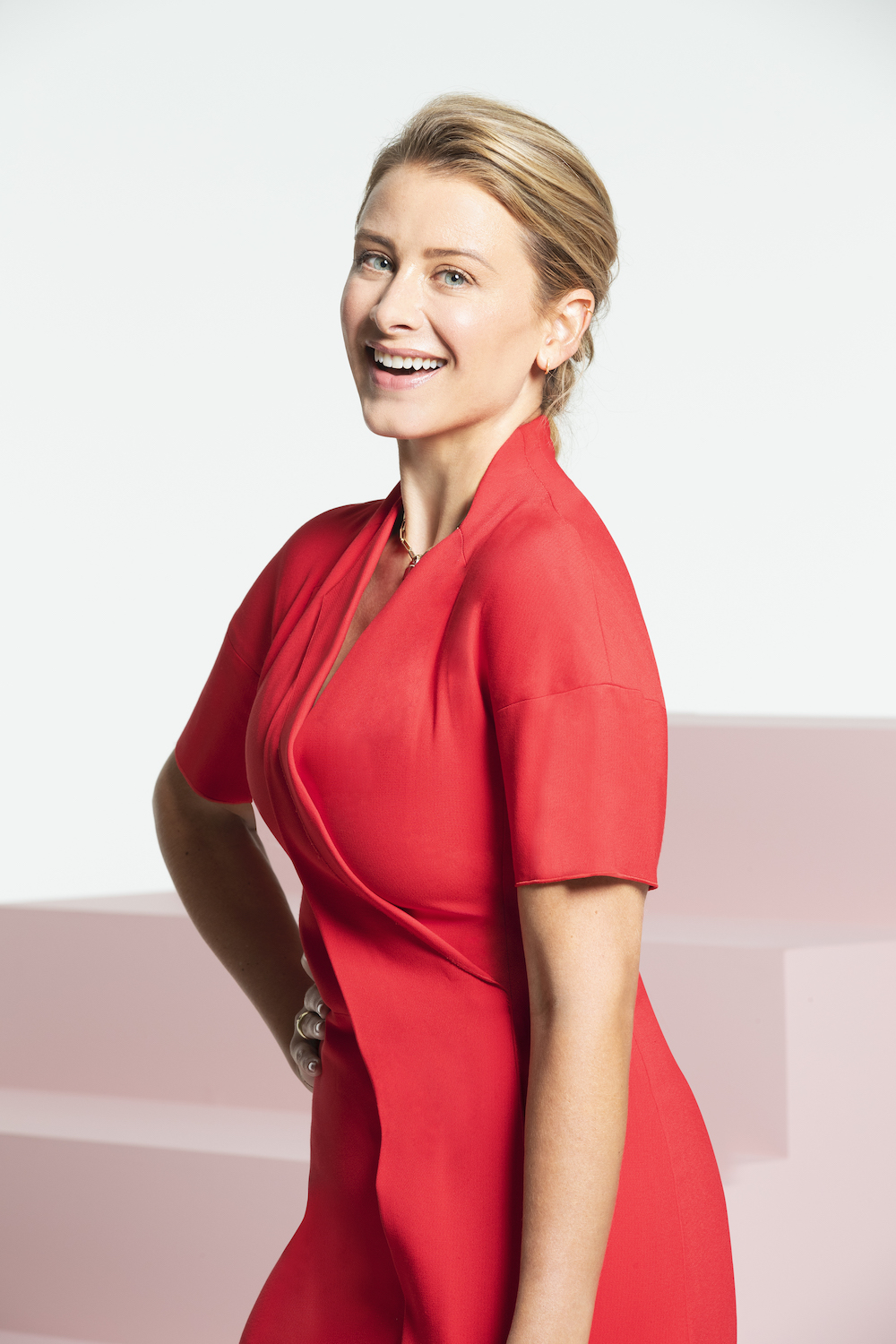 The Killer, Bye Bye Bloat, Good Girl Probiotics, Good to Glow and Sparkle are Love Wellness' bestsellers. Bosworth believes her brand's partnership with Ulta Beauty has helped condition consumers to buy personal care products in the beauty department. "It's very exciting for us to have products like this available at Ulta Beauty, which is a very traditional beauty retailer," she says. "We didn't know if we would be successful when we first entered the retail market back in 2019, but it's been overwhelmingly successful for us. Women are excited to buy vaginal suppositories in the same aisle where they buy makeup." 
Love Wellness expanded from 950 to 1,000 Ulta locations in March 2020. Among the brand's other retail partners are CVS and CVS Health Hubs, where it's carried in 2,000-plus locations, and Urban Outfitters, where it's across the chain's almost 250 doors. Bosworth contends that a key to her brand's retail success is education. "Consumers are thrilled to discover products like this," she instructs. "We do a really great job of layering education on top of beautiful packaging and clean formulas, and that combination has been a winning formula for us. We would not have as much success in retail if we did not make education a primary pillar of what we do." 
Love Wellness prioritizes education with a number of initiatives. Bosworth hosts a weekly podcast, "I Love Wellness," for which she interviews prominent health, fitness and diet authorities like Ziva Meditation founder Kristi Knoblich-Palmer and Rejuvenation Dentistry founder Gerry Curatola. Love Wellness also has the Love Club, an online community of over 4,500 women sharing their mental health, pregnancy and nutrition experiences, and a five-woman advisory board of experts including urogynecologist and a board certified OB-GYN Shweta Desai and Gabrielle Francis, a naturopathic doctor, chiropractor, acupuncturist and massage therapist. Bosworth expects to enlarge the board this year. 
"Such a huge information gap exists when it comes to women's bodies and how they work and how they need a different kind of love and care," she says. "We are so excited to expand our advisory board of medical professionals and our community as users and ambassadors provide women with information they need about their bodies. They are empowered to make better decisions when it comes to their health and wellness and how they spend their money." 
Bosworth, who was previously a cast member of MTV's "Laguna Beach," introduced Love Wellness in 2016 after her health issues made her aware of a lack of clean and empowering personal care products for women. The brand has been on a robust growth trajectory since then. She told Forbes in Feb. 2020 that Love Wellness "hit the eight-figure revenue milestone in 2019" and achieved 3,000% growth from 2017 to 2019. Despite the challenges of 2020, Love Wellness surpassed 200% growth for the year. It's sold over 2 million products since its premiere.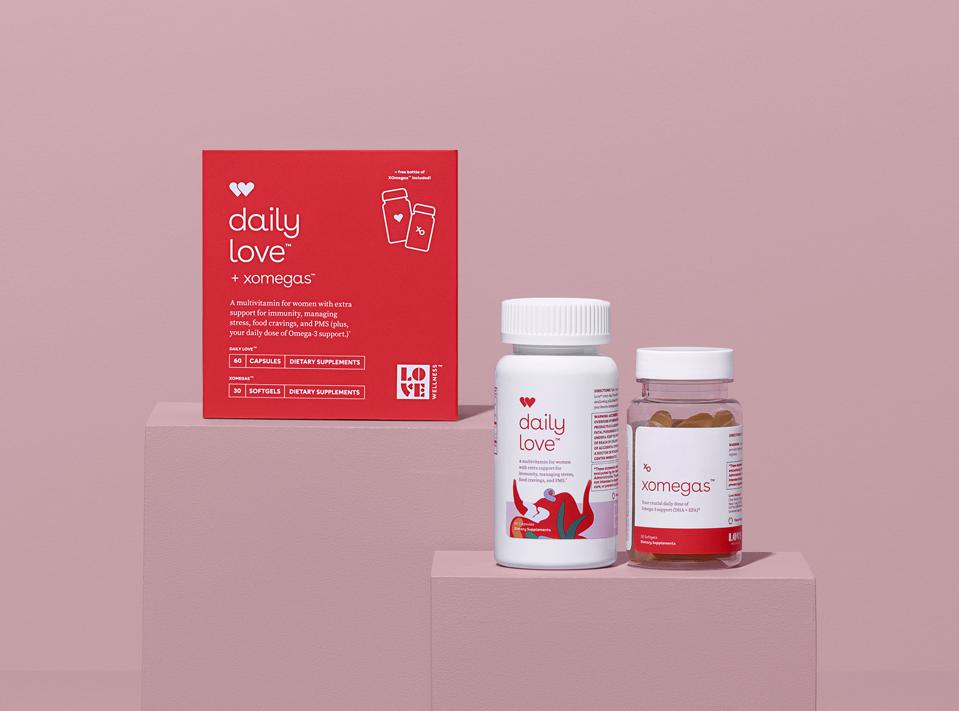 In September 2019, the brand took on its first outside investment, raising a $4 million Series A led by PDC Beauty & Wellness Co. Bosworth wouldn't comment on whether further funding rounds are anticipated in the near future nor discuss possible exit plans. As it moves forward, Love Wellness is bullish on the menopause care category, projected to reach $3.3 billion by 2023, according to a recent report from Market Research Future. Last October, it launched Whole Love, a multivitamin for women 50 years old and above formulated with ingredients like black cohosh and chasteberry to relieve menopause symptoms such as hot flashes and vaginal dryness, and milk basic protein to maintain bone density.
"The menopause category is about to explode," says Bosworth. "We are continuing to figure out what people in this category need. As CEO, part of my responsibility is product development, which is fantastic. Menopause is a huge opportunity when it comes to sexual wellness and health. It's definitely on our list."