The Insider's Guide To Engaging Retail Buyers At Trade Shows
For brands at the Indie Beauty Expo, first impressions matter. From the visual allure of their exhibition spaces and the arrangement of products on display to the confidence of their retail pitches and knowledge of ingredient decks, they're subject to split-second, critical evaluations that mean the difference between engagement and rejection. From the moment the trade show doors open, it's game on.
Brands that do well check all the same boxes. Unfortunately, brands that don't get maximum value from their contacts with retailers may be unaware of their mistakes unless they're given direct feedback, which is rare as buyers don't usually dole out useful advice. As the co-founder of Indie Beauty Media Group, owner of IBE and Beauty Independent, I've observed more than 1,000 interactions between brands and retailers, and have plenty of feedback to provide based on those observations. Together with the retail and buyer relations team at IBE, I've assembled a list of best practices to help brands make better choices by employing the best etiquette, space design and communication before, during and after the show.
Related: Don't Bullsh*t The Buyer
BEFORE THE SHOW
Polish your presence on LinkedIn
LinkedIn is your professional ally. Keep your LinkedIn profile updated, and establish one for your business as well. I spend more time looking for profiles and pages than I should. Yes, Instagram is still the beauty industry platform of choice, particularly when it comes to brand awareness, but LinkedIn is a vital social source for sharing developments and building connections between beauty business professionals. Its domino effect can be profound. 
Take action: 
Make sure to catalog your press and blog mentions on LinkedIn for reference. 
Think of your LinkedIn page as a living resume and upload a proper headshot as your main image. (Skip the memes, silly selfies and pet photos as LinkedIn is not the right platform for personal content).
Get to know the Indie Beauty Media Group team. We're on LinkedIn.
Share news of your participation
Speaking of Instagram and LinkedIn, don't be shy. Let everyone know you're participating in IBE. When you alert your audience, you never know how far or wide word can spread or who will see your post. "The brand Kungfu Apothecary was extremely active on social media weeks leading up to IBE LA," says Natasha Goldberg, a member of our retail and buyer relations team. "They posted IBE's graphics announcing their booth number, and they even posted the actual map highlighting their placement on the show floor, making it easy to find them. During the show, they reposted everything anyone shared about their brand on Instagram stories and added it to their highlights for future reference."
Take action:
IBE will provide you with graphics and hashtags. Use them.
Don't want our branded graphics? No problem, feel free to tell your own story.
Share, share, share!
Study the registered retailers
We post the list of registered retailers on our website and announce them in our emails. "As a young brand, you should do your research in advance, but you never want to make the mistake of asking a major national beauty retailer who they are," says Valdes. "Fake it till you make it! If you don't know who the retailer is, ask them questions like 'What are you currently looking for within your assortment?' and structure the conversation back to your brand. Get their business card regardless, and do your follow up afterwards." 
Take action: 
Prepare and do your homework. Know not only which retailers are attending, but also the type of brands they currently carry—and don't carry—and where your brand could make an impact and fill a white space. "Our entire team was in awe of one IBE LA 2020 brand who came to win," says Paristu Farsad, who guides retail partnerships at IBMG. "This particular brand researched, ranked and documented each retailer so they knew exactly who they wanted to meet and, most importantly, why they wanted to meet them. Yes, it's time consuming, but, for a young brand, this is an investment in critical information that will pay dividends well beyond the exhibition floor."
Read Beauty Independent and other trade publications such as WWD, Cosmetics Design and Beauty Packaging as they will help you stay in the know and save you embarrassment.
Use the retail buyer attendee list to consider the right channel for your brand. The more you know about retailers and their requirements, the more you might find a perfect fit that you might not have considered prior to your research. The IBE list, by its very definition, is a good indicator of the retailers on the the prowl for independent beauty and wellness brands.
DURING THE SHOW
Size Matters
Don't distribute sample sizes at the show. Save your samples for the sampling programs you'll be asked or required to participate in once you reach retail shelves. At the show, offer full-size products to enable buyers to envision your merchandise in their retail environments. Have enough supply to test out for efficacy. Buyers who are interested want to fully test your product, and testing can take at least a couple of weeks. They want to experience the experience. They want to know what your brand will look like with the other brands they carry. They want to learn how your brand can complement their current assortment. They need a full-size product. 
Take action:
If an IBE team member brings over a buyer or you meet one on your own and they're engaged with your brand, offer them a full-size hero product or set of products and a business card.
Make a point of obtaining buyers' contact details so you can follow up. Take a photo of their business card or badge or have them write down their details. You need to know who stopped by your space. 
Don't charge retailers money. You can choose who you offer your travel sizes or full sizes, and you have to make that call in real time. A simple exchange at the show can make or break a relationship. "I was amazed how many exhibitors let buyers walk away without asking them if they wanted to take any products," says Victoria Roel, a member of IBMG's retail and buyer relations team. "After months of preparation to attend IBE, you have the nation's most coveted retailer within arm's reach, and you let them walk away with nothing. While it is true that some buyers won't take products or will be very selective in how much they take, the rule of thumb should always be to ask."
Be prepared with informational materials and products. You don't have to put them in an extra bag or packaging. Excess packaging is wasteful. Remember, buyers may have to fly home with the goods they collect at the show.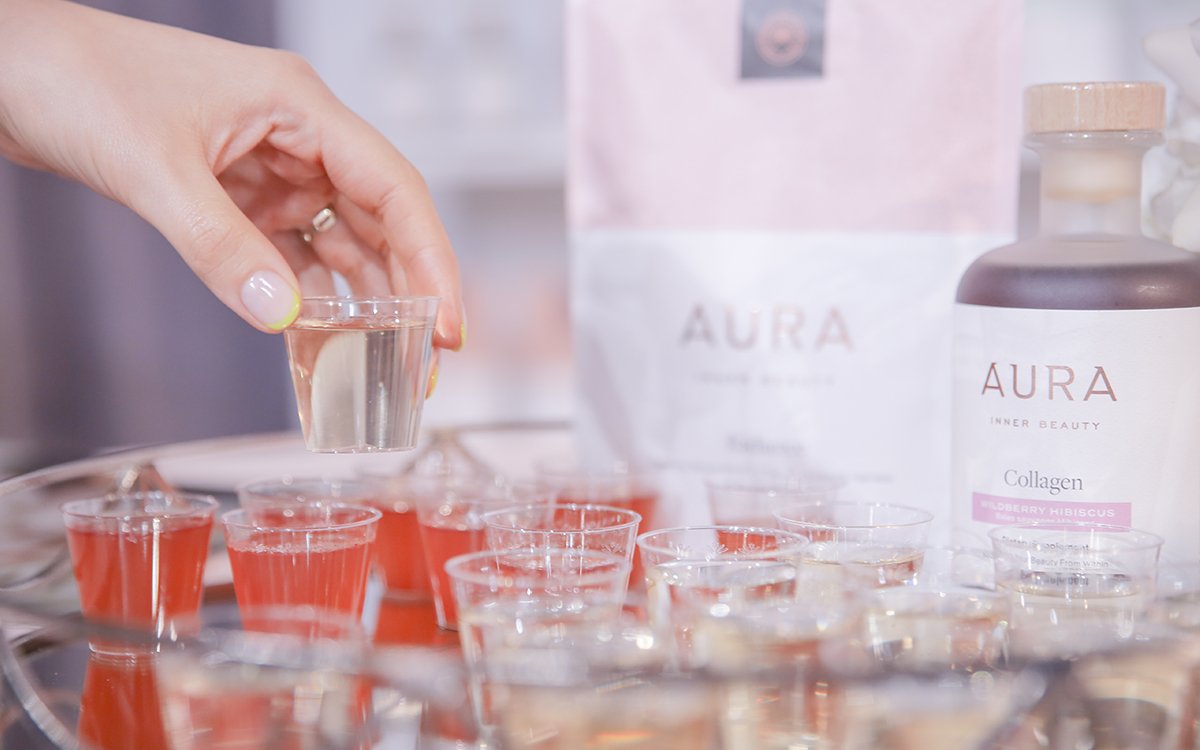 Train your staff
Your space mates should know your brand as well as you do. Of course, the moment you step away to grab a snack or use the bathroom is the time Sephora is going to come up to your exhibition space to get acquainted with your brand. If the person remaining at the exhibition space knows nothing about your story, ingredients, packaging, pricing, mission or current distribution, you may have missed a huge opportunity. Your staff should be able to rattle off your 90-second pitch in their sleep. 
Take action:
Send your staff your pitch prior to the show so they can study it.
Have them ride shotgun on your first few interactions so they hear your variations and emphases.
Allow them to deliver a pitch while you stand by, and lean in with interjections as needed.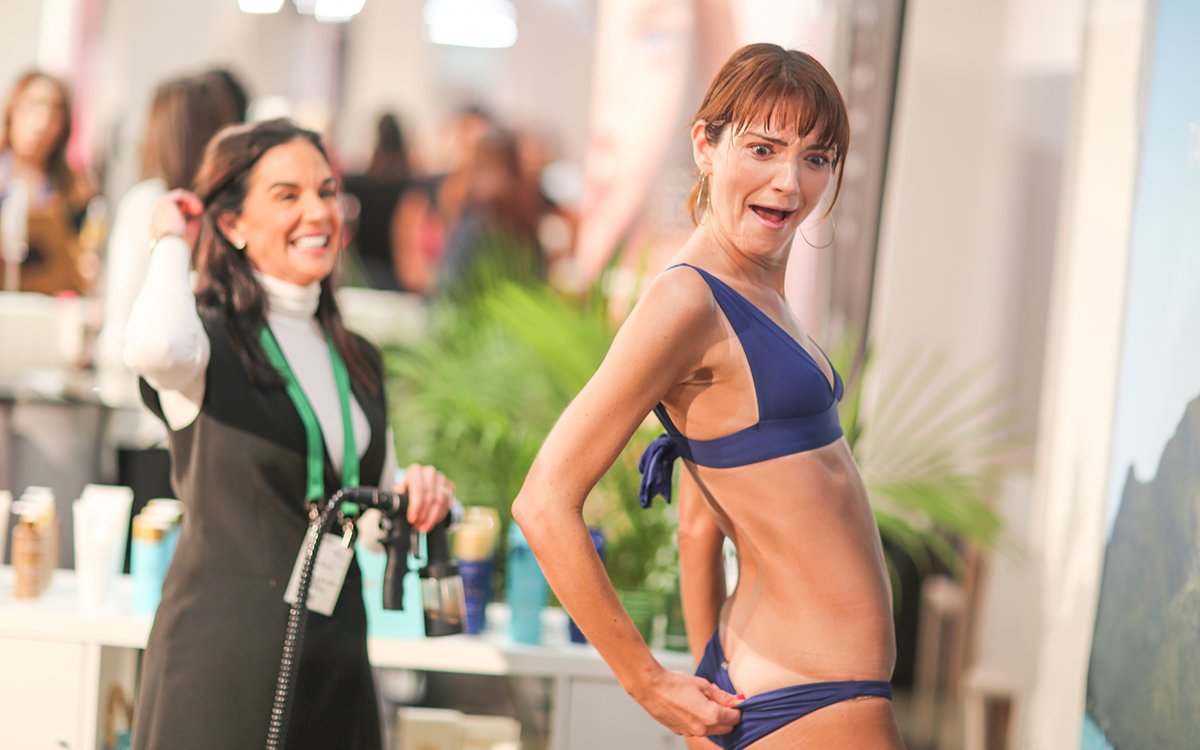 Be a showoff 
If you have a product that can be demonstrated like a device, makeup remover or high-tech applicator, or you simply have something unique, show it off! People are interested in seeing how products work and will be more engaged with you and your brand if you show them the ropes. For example, Hess Klangkonzepte was doing sound bathing at IBE LA 2020. South Seas Skincare demoed a spray tan on Jackie Johnson, host of the Natch Beaut podcast and an onTUWI influencer. The brand even came with a bathing suit just in case. The bathing suit miraculously fit Johnson and made for a great photo opportunity. Pure Aura was showing how its paper cleansing discs turn into a workable cleanser. Brand staffers were also wearing its masks.
Take action: 
Demo on a team member during lulls to entice observations and passersby.
Create an area within your exhibition space where you can comfortably conduct a demonstration.
Have your eco-friendly bamboo wipes ready. 
Engage, engage, engage!
Exhibition space design is an extension of your personality and professionalism
Your setup should be professional, inviting and clearly represent what you do. You want to make it easy for people to engage and take that first step toward your brand. A great space design is the initial step in compelling a buyer to make inquiries. 
Take action: 
Think about how your products would look on the shelves of a retailer. Don't opt for decor that will overpower your brand or use the same color palette as your products so they get lost in a sea of display elements. 
As you present your story visually, show your outer packaging as much as the inner packaging. If you have deluxe sizes or travel sizes, make it known. Your products should be the focus of your space, except if you bring a gigantic flower vulva to the show. Then, you know what takes center stage.
When someone is walking by, they should know immediately through visual cues if you are an oral care brand or a microcurrent device specialist. Take the guesswork out of it.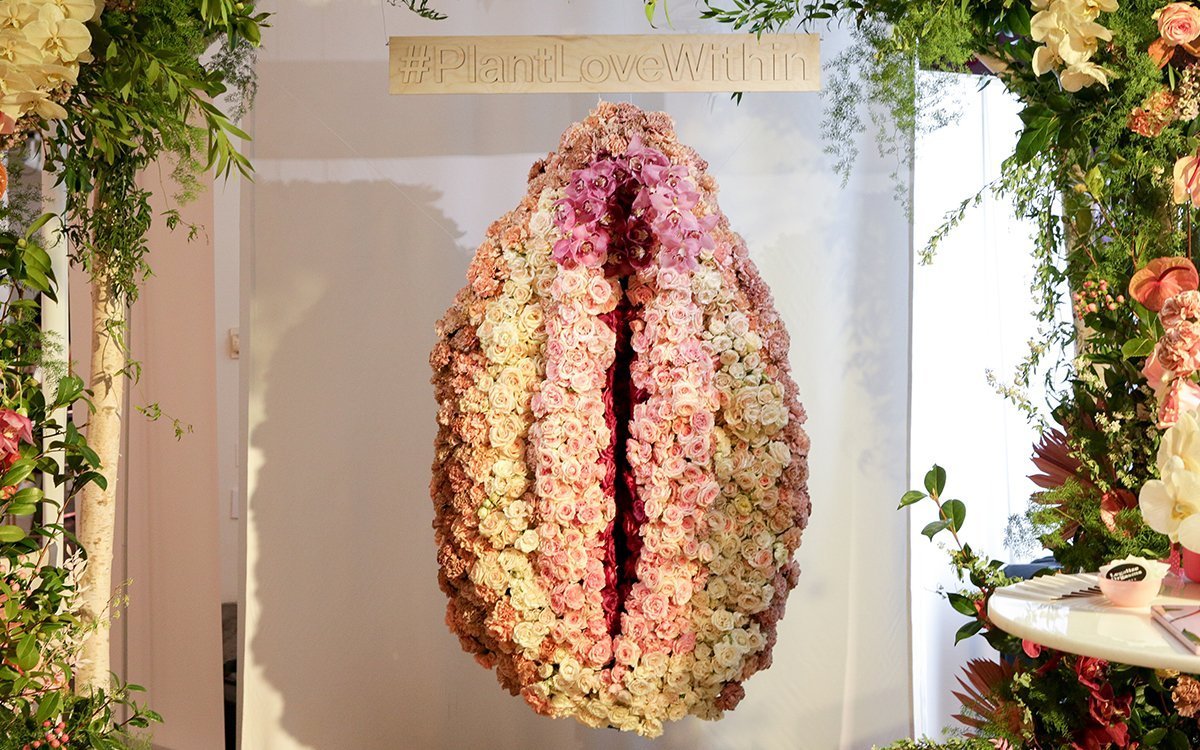 Use your manners and grace
Establishing professional etiquette requires a certain comfort level with a variety of interactions and the occasional tough question. Are you approachable? Did you introduce yourself? Do you stand up and smile when someone approaches or do you just sit there and act as if they are an annoyance? Are you overeager or pushy? You have to be able to suss out the attendee, and respect their body language and unspoken boundaries. 
Take action:
If someone approaches your exhibition space, they have potential interest. Be available and engaged. I visited a brand several times at a recent edition of IBE, and the founder never stood up to greet me or my guest. She didn't shake our hands or offer information about her brand's assortment. I loved one particular stockkeeping unit, and my arrival was the founder's opportunity to tell me more about it or other SKUs. She could have explained the lure of the hero product or star ingredient that made the brand special.
If you see attendees with blue lanyards at IBE, they are retail buyers. Introduce yourself. There's no reason to be shy, they're at the show to learn about you. 
An easy opener to someone of importance is "Have you heard of XXX?" Alternatives are "Are you interested in a brief (30- to 60-second) pitch on my brand?" or "Do you like XXX?" The questions should be exploratory and not intrusive. 
Next best option: Make yourself available, but don't say anything. Just listen and acknowledge them. You'll know when to engage or walk away. Learning how to read the body language of an attendee is akin to delivering excellent customer service. If you've ever been a server in a restaurant or a salesperson at a store, you know what I'm getting at.
AFTER THE SHOW
Make a list
Exhibiting at a trade show is a thrilling, but taxing experience. The logistics alone are enough to occupy the working part of a super-achieving brain. Sometimes the actual work of presenting a product line during the show is an afterthought. Worse yet, the vivid exchanges that seem so important during the show fade by the end of the day and after a dozen more interactions. Without recording your interactions, you run the risk of crucial important details.
Take action:
Make notes as soon as possible after each interaction. Just a few words on the back of your business card or on your phone's notepad will do. Have your staff report back to you as well.
Don't sweep brush-offs under the rug. Think back on unsuccessful encounters and acknowledge where they might have gone wrong.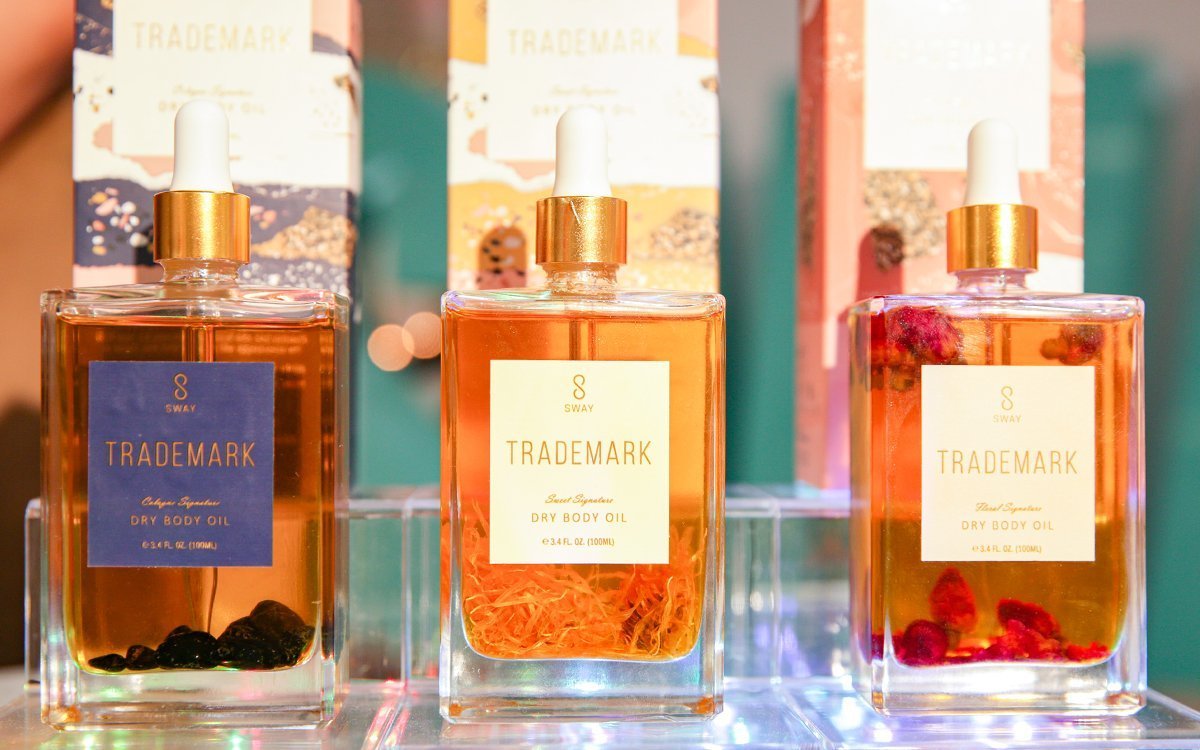 Measure results
Running a post-mortem following the show is an integral part of the process. Evaluate what went right, what went wrong and what you hope to do better. 
Take action:
Weigh your expectations against reality. Track your leads over time, and document the various steps it takes to develop a partnership from the initial meeting to the first delivery.
Analyze the questions you receive from buyers. Were you prepared to answer every question? Were you surprised by what types of things buyers wanted to know? Did you ever answer "I don't know" or "I'm pretty sure [fill in the blank]?" Questions are often as revealing as answers. So, take notice of them, and make sure you're better prepared for the next interaction.
Assess critical feedback. We learn and grow when people are kind enough to share their experiences. How people react to you and your brand can elevate your business in a profound way.
Don't be fooled  
No one can buy our attendee list. If you receive an email offering our list, delete it, move it to junk or ignore it. You will be robbed of your hard-earned money. Our contact lists are private, and we do not sell them.
Take action:
Trash the email with a phony attendee list offer.
IBE is a live event, but a lot happens before and after the show. Communication skills and professionalism are assets to be honed and employed throughout the process. Success doesn't usually come easy. Take the good with the bad. We have met thousands of brands over the years, and our attendees, including retail buyers, beauty editors and influencers, are experts. You can wow them by paying attention to detail and communicating your brand message effectively. At IBMG, we've seen it happen repeatedly.
See you on LinkedIn.