Kreyol Essence Scores A Deal On "Shark Tank" And National Rollout At Ulta Beauty
Yve-Car Momperousse, who started Kreyol Essence in 2014 with her husband Stephane Jean-Baptiste, wasn't going to leave "Shark Tank" without a deal. That doesn't mean she would take just any deal.
In an episode of the ABC show that aired Sunday, Mark Cuban, Daymond John, Barbara Corcoran and Lori Greiner decided to pass on the clean haircare, skincare and body care product brand, but remaining "Shark Tank" investor Kevin O'Leary offered $400,000 for 37% equity. Kreyol Essence was pursuing $400,000 for 10% equity. Stunned by O'Leary's offer, yet not deterred, the brand negotiated to give him 5% equity and a 25 cent royalty on every item sold in perpetuity in exchange for $400,000.
"I walked away with an understanding that we have so much more work to do to get folks to understand the value of businesses like mine in indie beauty, clean beauty and inclusive beauty," says Momperousse. "I also walked away with a sense of accomplishment because Kevin O'Leary is not a shark who gets involved in a business from an emotional standpoint. He gets involved because he's looking at the business merits."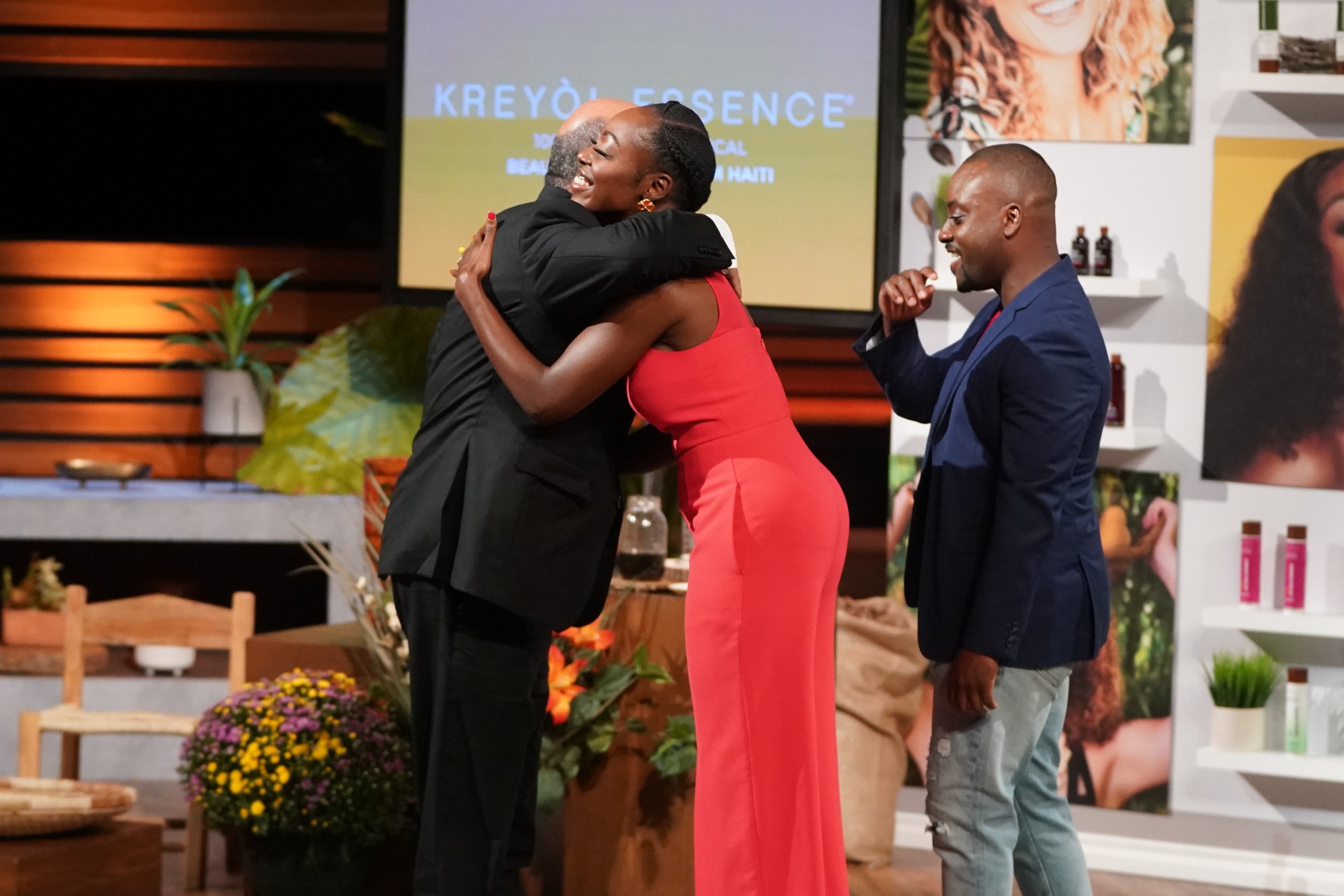 Kreyol Essence began the journey to its "Shark Tank" appearance in May last year with a casting call in Brooklyn. Producer interviews, a video submission, and a questionnaire covering cost of goods, debt and employees, among numerous aspects of the company, followed the casting call. By July, Kreyol Essence was notified it might make the show, although the brand was informed each step of the process it could fall out of the running. The show taped in September and, since then, Kreyol Essence has been in contact with O'Leary's team to discuss brand strategy and financial planning.
"The main reason I wanted to do it is that I think one of the most important things as a brand that we can do is tell our story. In over five years, we have learned that, once folks are able to connect with our story, they are more willing to try our product," says Momperousse. "What better way to tell your story than on national TV on a business show that's respected and to investors who will be critical, but, in securing a deal with them, it helps validate your business."
"The word 'niche' is used a lot for clean and inclusive beauty brands. We are very focused on our audience, but we are not niche."
In Kreyol Essence's "Shark Tank" pitch, the brand honed in on the efficacy of its signature ingredient Haitian black castor oil, which Momperousse says has a greater percentage of the moisturizing compound ricinoleic acid than other oils, social impact, and ambition to become a billion-dollar brand positioned as clean and inclusive. Around 300 farmers harvest the castor oil plant and extract it in Haiti to supply Kreyol Essence's products. The brand's ultimate objective is to impact 30,000 families in Haiti by ensuring they have access to education, healthcare and employment to improve their quality of life.
"The word 'niche' is used a lot for clean and inclusive beauty brands. We are very focused on our audience, but we are not niche," says Momperousse, noting Kreyol Essence's core customers are 25- to 55-year-old women interested in wellness. "We care about scale and margin like any tech company. Investors are open to seeing how large they can grow whereas a brand like ours is not typically thought about. I wanted to educate them on brands that have scaled like Drunk Elephant and Shea Moisture that focus on clean and inclusive beauty."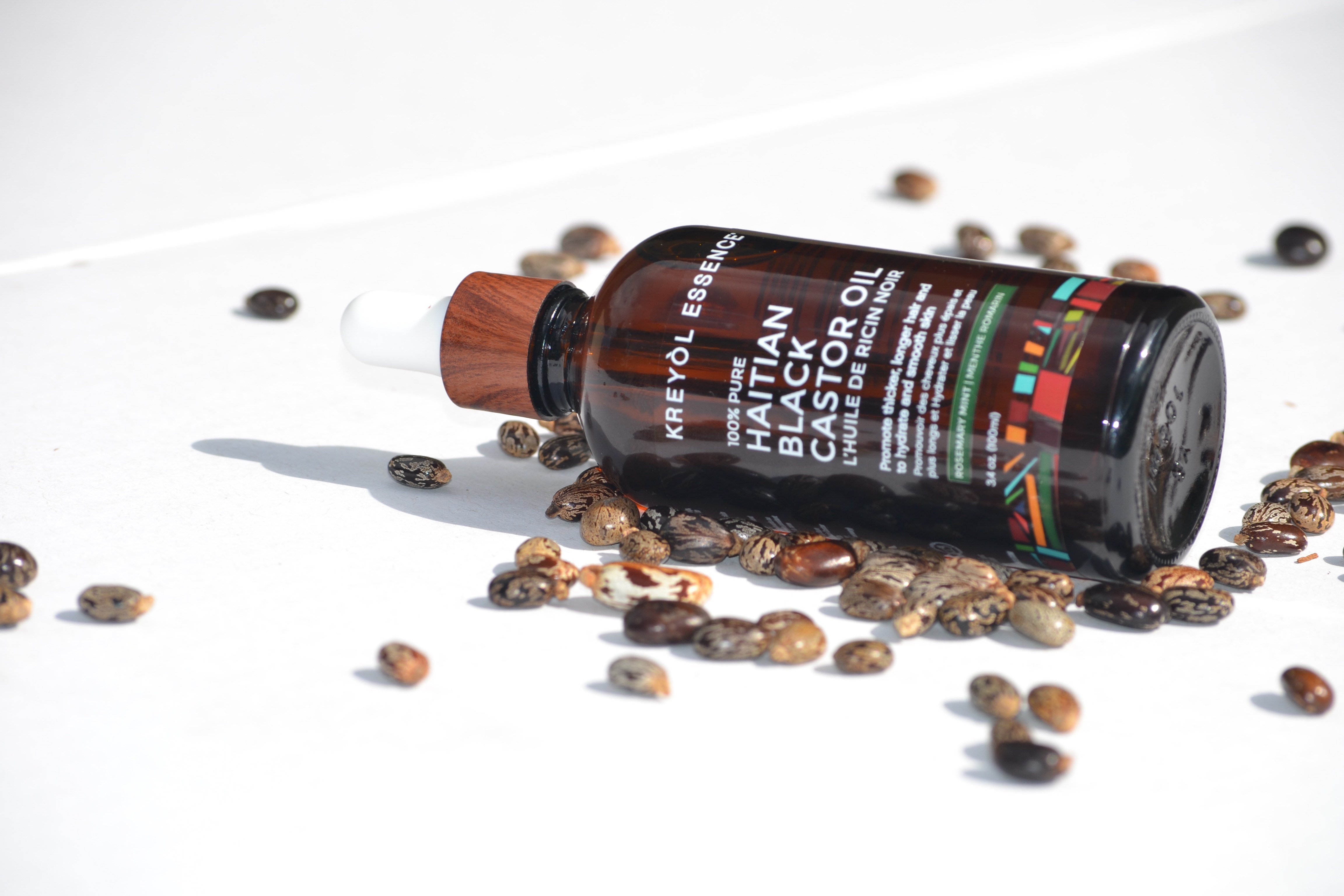 Securing a deal on "Shark Tank" was a big win for Momperousse and Jean-Baptiste, but their company has experienced losses. Kreyol Essence kicked off as a bulk ingredient seller and, in its first year, generated $135,000 in sales. Two years later, a major client stopped ordering, and Kreyol Essence's sales sank to $40,000. Momperousse and Jean-Baptiste considered shutting it down. Tearing up on "Shark Tank," Jean-Baptiste recounted that the tough period at Kreyol Essence was hard on his relationship with Momperousse as well as the business and its broader societal cause. The couple felt it had let the Haitians the company supports down. On the show, Momperousse explained, "It's not just about the great products. It's about the mission of helping to create a blueprint for poverty alleviation."
Kreyol Essence rebounded by pivoting away from a bulk model to selling products to customers direct-to-consumer and via retail. In 2017, its sales hit $327,000 and, a year later, they reached $1 million. Last year, Kreyol Essence surpassed $2 million in sales. The brand's assortment spans 35 stockkeeping units. Accounting for 50% of sales, Haitian Black Castor Oil products are Kreyol Essence's bestsellers. Hours after its "Shark Tank" appearance, the brand's products on Amazon were cleared out. On Tuesday, Momperousse reported sales on its website surged 40% to 50%.
"It's not just about the great products. It's about the mission of helping to create a blueprint for poverty alleviation."
Currently, 60% of Kreyol Essence's sales come from its site and 40% from retail. The brand is available in 350 Whole Foods doors, and about 150 boutiques in the United States and Canada. In April, Kreyol Essence is entering Ulta Beauty's almost 1,200 locations in the country. The national rollout is expected to transform the brand's sales breakdown to 60% from retail and 40% from its site. However, Momperousse prefers the brand to have a 60% DTC/40% retail split, and it will attempt to maintain that split in the future.
Kreyol Essence's haircare products are heading to textured haircare sections inside Ulta with Ouidad and DevaCurl. Of the specialty beauty chain, Momperousse says, "It's really going to have a positive impact on sales, and it allows us to broaden our reach to the customer. In the same way I went on 'Shank Tank' to tell the story, Ulta is a physical manifestation of us telling the story to more folks, and they don't have to worry about getting the brand online. They can go to the store and get it, and it's going to help us reach our social impact goals in more ways than we can imagine. The goal of impacting 30,000 families could not happen without a secure partnership with Ulta."
The Ulta launch doesn't mark the end of Momperousse's and Jean-Baptiste's efforts to strengthen their brand. Kreyol Essence is expected to spend some $100,000 on search engine optimization, social media advertising, influencer marketing and customer retention initiatives this year with the purpose of bolstering its audience at Ulta and Whole Foods, and in the DTC channel. The brand is eyeing retailers beyond Ulta, notably clean beauty stores such as Credo, Follain and The Detox Market to reinforce its clean beauty approach. It's seeking to raise $2 million to fortify its operations for the next two years.
Momperousse, former diversity director at Cornell University and assistant reunion director at University of Pennsylvania, believes bringing on the right partners will put Kreyol Essence on course to becoming the billion-dollar brand she and her husband are building it to become. "If you are not from a beauty background, and you don't have a core operational and logistical background, you don't know that beauty is actually operations- and logistics-heavy. So, you are learning lessons as you go," she says. "You can cut down the learning curve if you get experts involved from on the financial, logistical and operational sides. If you can get amazing people to partner with you, your company can skyrocket."