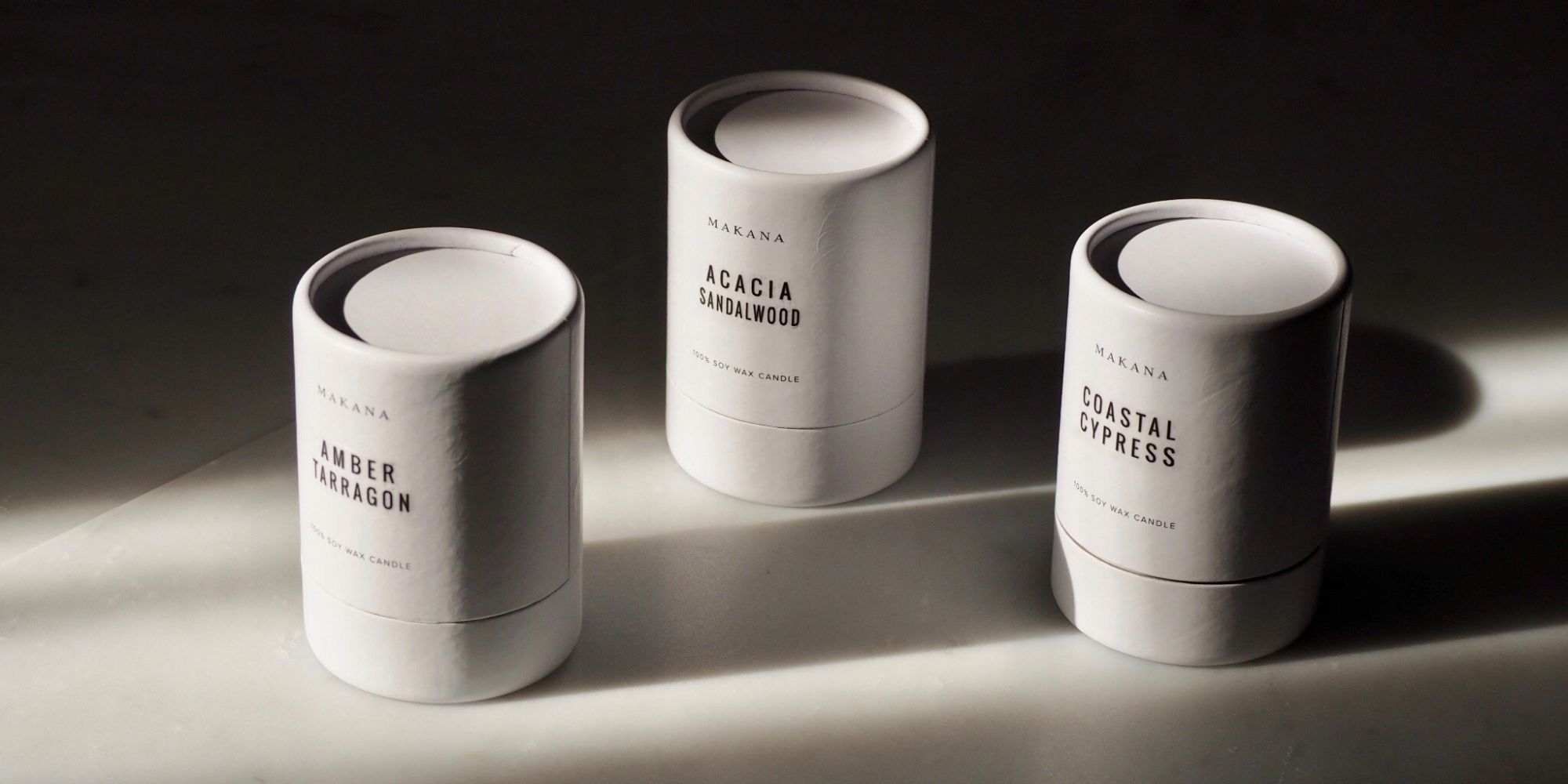 Makana's New Clean Packaging Reflects Clean Ingredients
Makana has stripped packaging down to its essence.
Just like there's no excess inside the brand's products — its candles contain 100% soy wax, lead-free cotton wicks and phthalate-free essential oil fragrances — there's no excess on their outsides. After a rebrand, gone are colors and Makana's stylized logo. Gone are decorative leaves and metal caps.
"What a person really needs to know is who makes it, what it is and what's the scent. On the back, there are brief details about how they're made, what the ingredients are, what they don't have and the burn time," says Romely Levezow, who founded Makana with her husband Josh. "That's it. There's no extra fluff. We want to be totally transparent."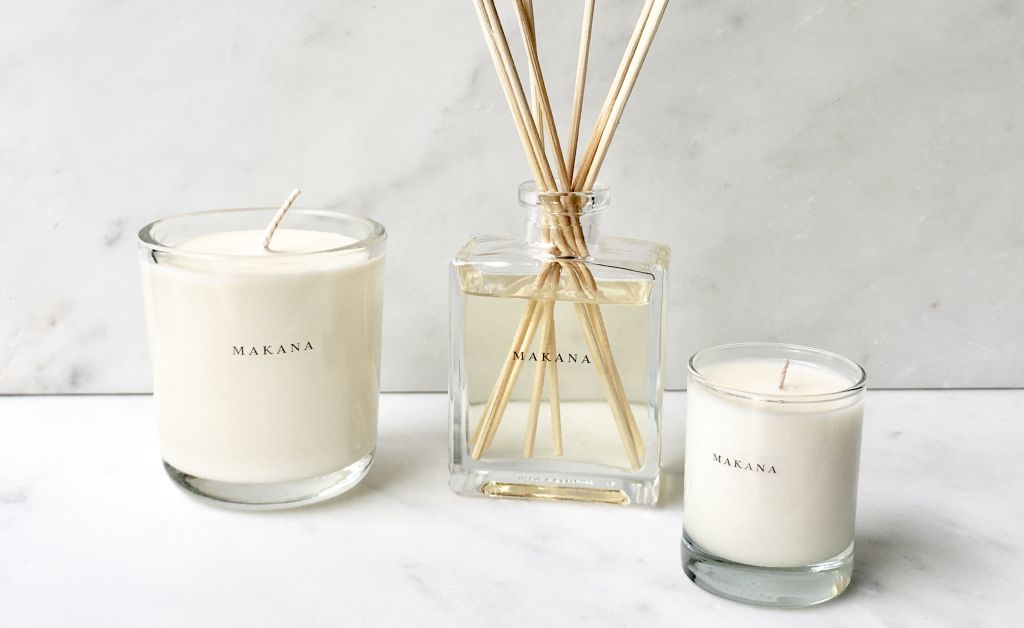 Makana has evolved its packaging considerably. With no experience in consumer goods prior to introducing the brand in 2009, Levezow, a former paralegal, started selling candles with an aesthetic she describes as lacking cohesion. Makana previously featured a rabbit logo to underscore the Levezows love for animals and overt Hawaiian references. Makana means gift in Hawaiian.
"We were trying to find a look that conveyed it was green and also sophisticated," says Levezow. "At a trade show, there was a rep that wanted to carry us, but she wanted to see the line first. When she looked at the packaging, she said, 'This will never amount to anything.' We were really low, but we bounced back and said, 'Let's study this.'"
The packaging prior to the latest black-and-white makeover wasn't overly splashy, but its soft hues and leaf patterns were too beachy for many retailers. "Some people didn't want to go into our trade show booth because they assumed that the brand wasn't going to work for them," says Levezow. "That's why we cleaned everything up. I hope that people pay attention beyond the exterior. The ingredients are excellent. They're clean and perform well."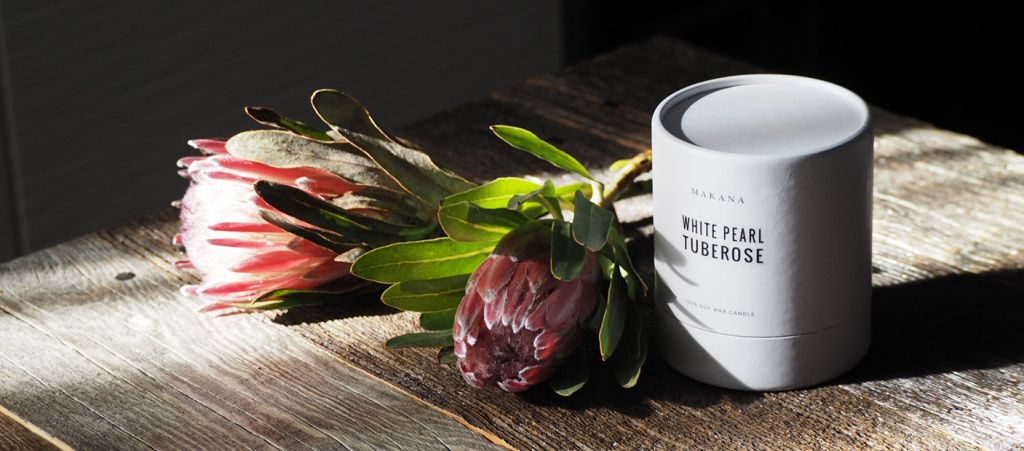 Makana aims to grow distribution with natural beauty retailers. Today, its products are available in about 500 resort, spa, boutique and Whole Foods doors. As it has spread, Makana has ramped up its production capacity. "Before we did runs of 100 pounds of candles and, now, we're doing 500 to 700 pounds of wax or more," details Levezow. The candles remain hand-poured in small batches.
Makana's target customers are 25- to 60-year-olds gravitating to natural products. "They truly want to live a healthy lifestyle. They don't want to burn any candle simply to burn it and aren't only looking at price points," says Levezow. "Our customer is well-educated about the types of ingredients that are best."
Levezow's path to Makana was paved by her own healthy choices. A cancer scare following a routine doctor's visit motivated her to reevaluate the products she was purchasing, including candles. She learned candles were touted as vegetable- or soy-based even though soy or vegetable contents accounted for as little as 5% to 10% of their bases. The primary ingredient was often petroleum-derived paraffin.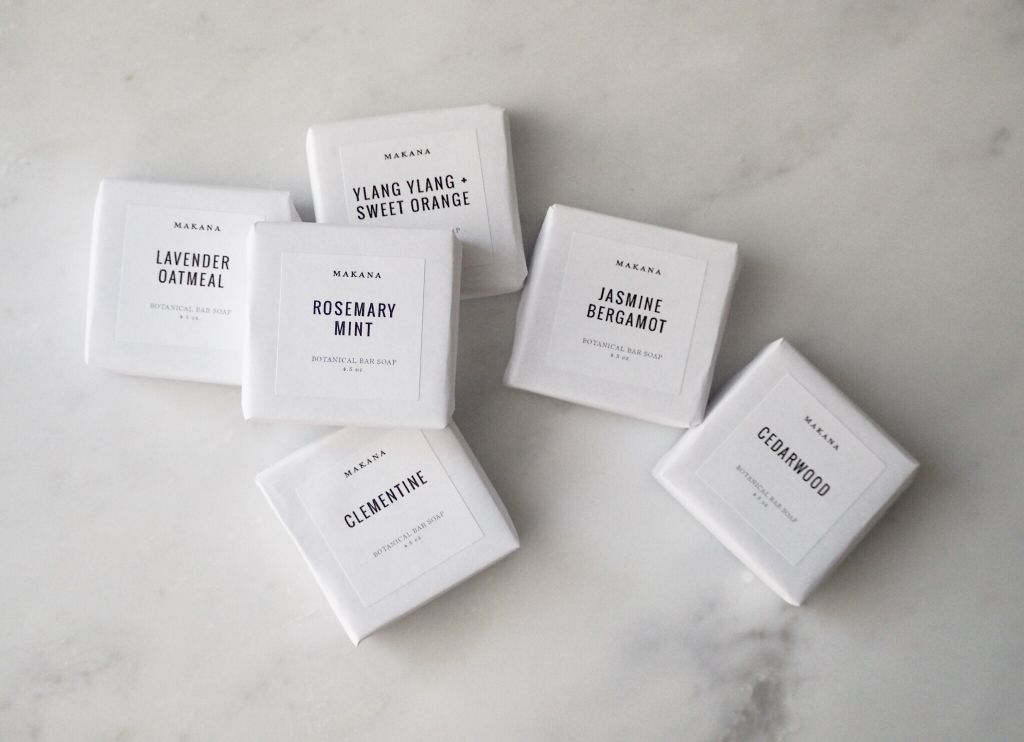 "I was an avid DIYer. I started playing around with waxes and creating my own candles, not only to have a better product in my home and give as a gift, but also as a therapeutic remedy because it was a scary time for me," says Levezow. "That's when Etsy was becoming popular, and I put my stuff on Etsy. We got contacted by stores and thought, 'Maybe we should make this a business and sell in stores.' We didn't know anything about branding."
Today, Josh Levezow oversees the design direction of Makana while Romely Levezow handles product development. She's adept at creating fragrances with unusual blends such as Makana's new amber tarragon offering that couples woody and fresh notes. Bestselling fragrances are tea leaf and pikake jasmine. The brand sells botanical body bars and diffusers in addition to candles. Prices range from $10 to $40.
The experience of burning a Makana candle is different than the experience of burning conventional candles. "Many candles are overwhelmingly scented and either they don't use premium fragrance oils or they have a lot of phthalates to help with the scent throw. We don't have that, so it's more of a gentle scent," says Levezow. "It's not that ours doesn't have a strong throw, but it's not cloying."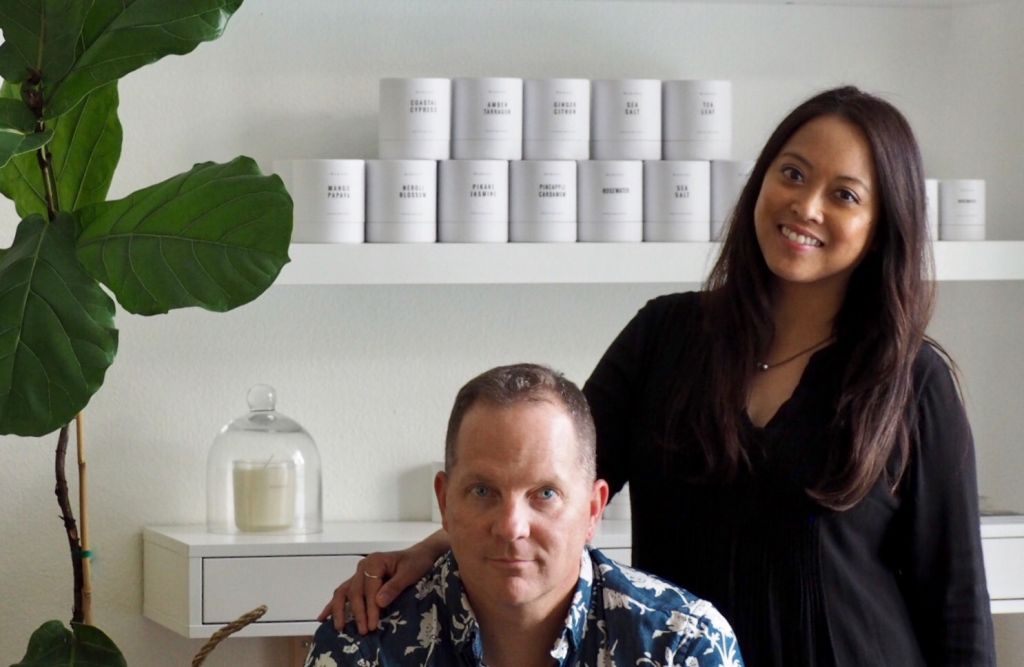 She shares that early reactions to Makana's packaging changes have been positive. "We launched the new look at Indie Beauty Expo in Los Angeles, and the response was overwhelming," says Levezow. "Stores that would have never stopped by before because they called us too tropical or too kitschy now love the look."