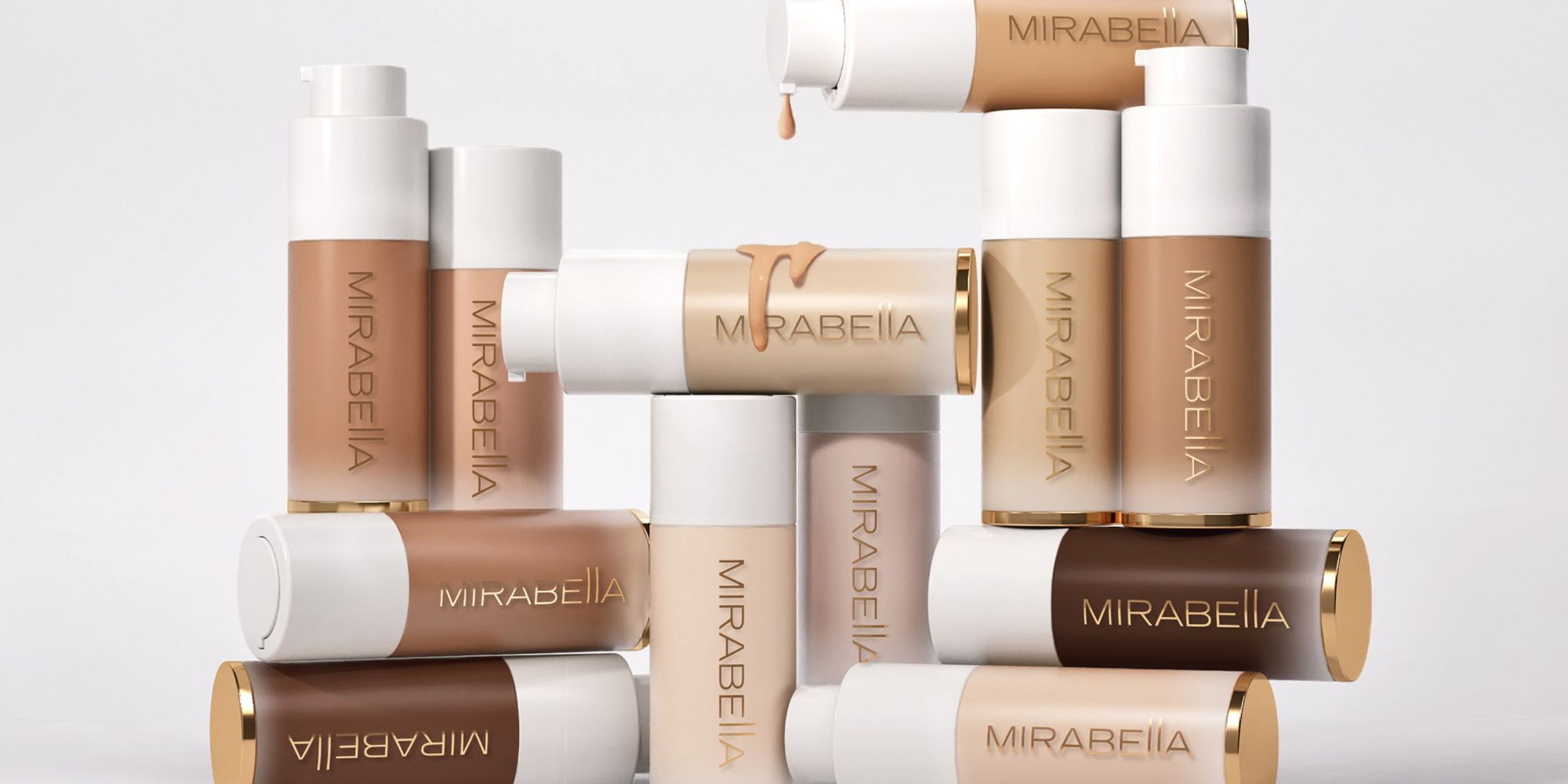 Makeup Brand Mirabella Gets A Makeover To Broaden Its Customer Reach
Mirabella, a makeup stalwart of salons and spas, is attempting to broaden its reach with a rebrand that simplifies its look and amplifies its inclusivity.
Executed with Alison Goudreault, founder of design agency I See Ideas, the rebrand eliminates cutesy motifs like decorative hearts featured on the brand's packaging to make it more streamlined and sophisticated. Meanwhile, the brand has expanded the number of shades its complexion products Invincible For All Full-Coverage Anti-Aging HD Foundation, Pure Press Powder Foundation and Perfecting Concealer have to 24 from seven, four and five, respectively, and reformulated them to upgrade their preservative systems and add skincare actives matrixyl 3000, hyaluronic acid and glycerin.
Mirabella's core customer base is women aged 30 to 55 years old, but Miranda Coggins, founder and owner of parent company The Lano Company, believes the redesign will bring a younger crowd to the brand. "We're hoping to do that with our new cleaned-up branding, our new messaging, which is 'True To You,' trusted ingredients, shade ranges for everyone, and effective formulations that really work," she says, noting Mirabella's customer retention rate is 78%. "We don't have a celebrity behind the brand, so we really want the packaging and the ingredients to speak for themselves, and we're hoping that that customer will come back to us and be a lifetime customer."
Available in 1,500 salons and spas, Mirabella sells to over 25,000 licensed beauty professionals directly as well. While it isn't moving away from professional distribution, its redesign arrives as the brand has landed in roughly 600 J.C. Penney stores via the chain's new beauty concept that emphasizes inclusivity and could further increase its retail network. The brand has hired Amy Hillemann as national sales director to help grow its retail business. Mirabella expects to hit $10 million in sales this year and $15 million in sales next year.

J.C. Penney advised Mirabella to focus on hero product Invincible For All Full-Coverage Anti-Aging HD Foundation—the brand has two other foundations: Skin Tint Crème Foundation and CC Crème—for its stores. The brand gleaned insights from J.C. Penney and foundation-matching tool Match My Makeup to inform its shade range expansion. It has a Match My Makeup-powered quiz for foundation shade matching on its website and tapped Match My Makeup to create a color wheel that enables customers to find the right shade for them offline.
"We worked really hard to come up with an even number of neutrals, warms, cools and olives to really not overwhelm the clients with too many shade offerings," says Coggins. "Of course, we're always going to listen to feedback, but we really felt like 24 was a great place to start without being too overwhelming to the consumer."
"We don't have a celebrity behind the brand, so we really want the packaging and the ingredients to speak for themselves."
Speaking of Invincible, Serynne Evans Atwell, licensed aesthetician and education lead at Mirabella, says, "It has a demi-matte finish, so it's not a full-on matte, which is great for more mature clientele. They're not really wanting a full matte. It also has HD specially coded spheres within the formula. So, it's ideal for bridal, photography and video. Since it reflects light back and scatters, it gives you a real-life blur filter effect. It's also anti-aging with the matrixyl 3,000 polypeptide. One of the reasons why it's such a fantastic seller is that it bridges so many different gaps and goes across all age ranges."
Mirabella has partnered with rewards-driven training app Beautyfluent to bolster support for sales staff at J.C. Penney and ingredient transparency platform ClearForMe to provide information on its ingredients online. Beautyfluent is on iPads at J.C. Penney locations to give the sales staff easy access to details about Mirabella plus other brands. In addition, Mirabella is providing a button that says, "Ask me how to be bulletproof with Mirabella," to J.C. Penney sales staff, and a mini version of its bestselling Bulletproof Matte Setting Spray will be a gift-with-purchase.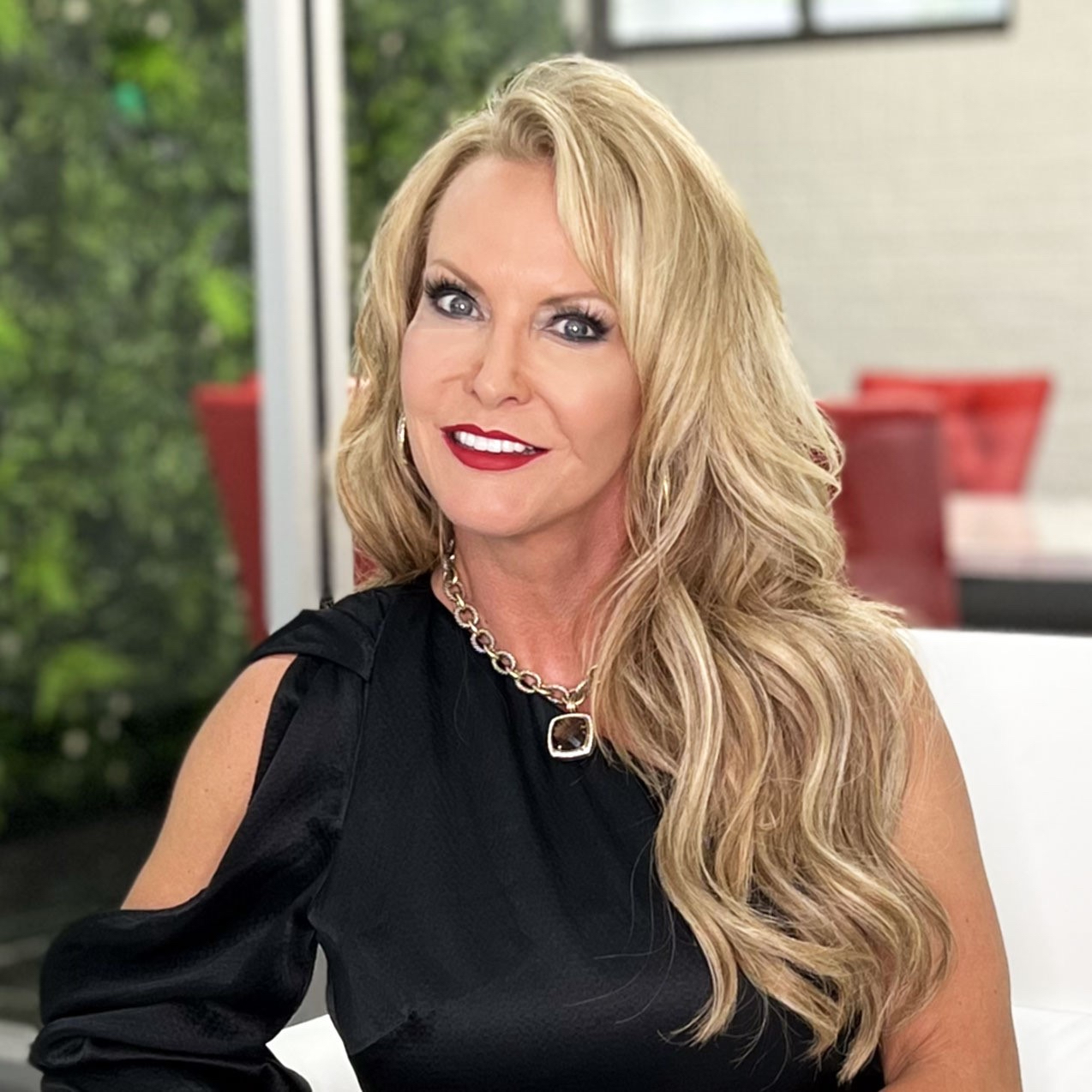 Makeup artist and salon owner Christy Thurston launched Mirabella in 2002. In 2007, John Maly, previously president of salon distributorship Maly's, took it over and deepened its professional channel penetration. Bellami Hair purchased Mirabella in 2016 prior to The Lano Company acquiring it in 2017. The Lano Company's portfolio contains Pure Cosmetics and Pure Lano along with Mirabella. It's headquartered in Kansas City and has about 11 people on its team.
The Lano Company started in 2005 with lanolin-based lip balms. Coggins had used lanolin to salvage her nipples when she breastfed her daughter and adored the ingredient so much she thought it would be beneficial for elsewhere on the body. By the time The Lano Company picked up Mirabella from Bellami Hair, the company was established in professional distribution at SalonCentric and CosmoProf.
"We really try to stay ahead of trends and come up with products that are going to be staples."
"We love that they had a really well-known brand within the professional market, and it was definitely a market that we understood," says Coggins. "So, it was easy transition purchasing the line because it was already in the spaces that we were already accustomed to." She points out that Mirabella's talc-free, gluten-free and paraben-free positioning was another appealing element of the brand. The Lano Company has replaced animal-derived lanolin in its products with aloe-derived lanolin.
Today, J.C. Penney and Amazon represent a mounting portion of Mirabella's sales. After having poor luck with a few Amazon agencies, The Lano Company has scored with the agency Vendo spearheading its Amazon presence. Before teaming up with Vendo, Coggins shares its Amazon sales were $200,000. This year, it's projected to achieve about $1 million in sales on Amazon—and could double that amount next year. Coggins says, "Obviously, we know that Amazon's a big beast, so making sure that we have everything available and on Amazon Prime has been important for us."
As its business is building in various channels, Mirabella is lowering prices on key products. For example, Invincible is dropping from $50 to $45, and Pure Press is going from $39 to $38. On the brand's release schedule for the rest of the year are two 17-shade eyeshadow palettes, three face trios, two lip gloss trios and a makeup kit for the holiday season. An SPF 50 primer and moisturizer is on deck for spring of 2024.
Coggins says, "We really try to stay ahead of trends and come up with products that are going to be staples in the line and will really work on all skin types."