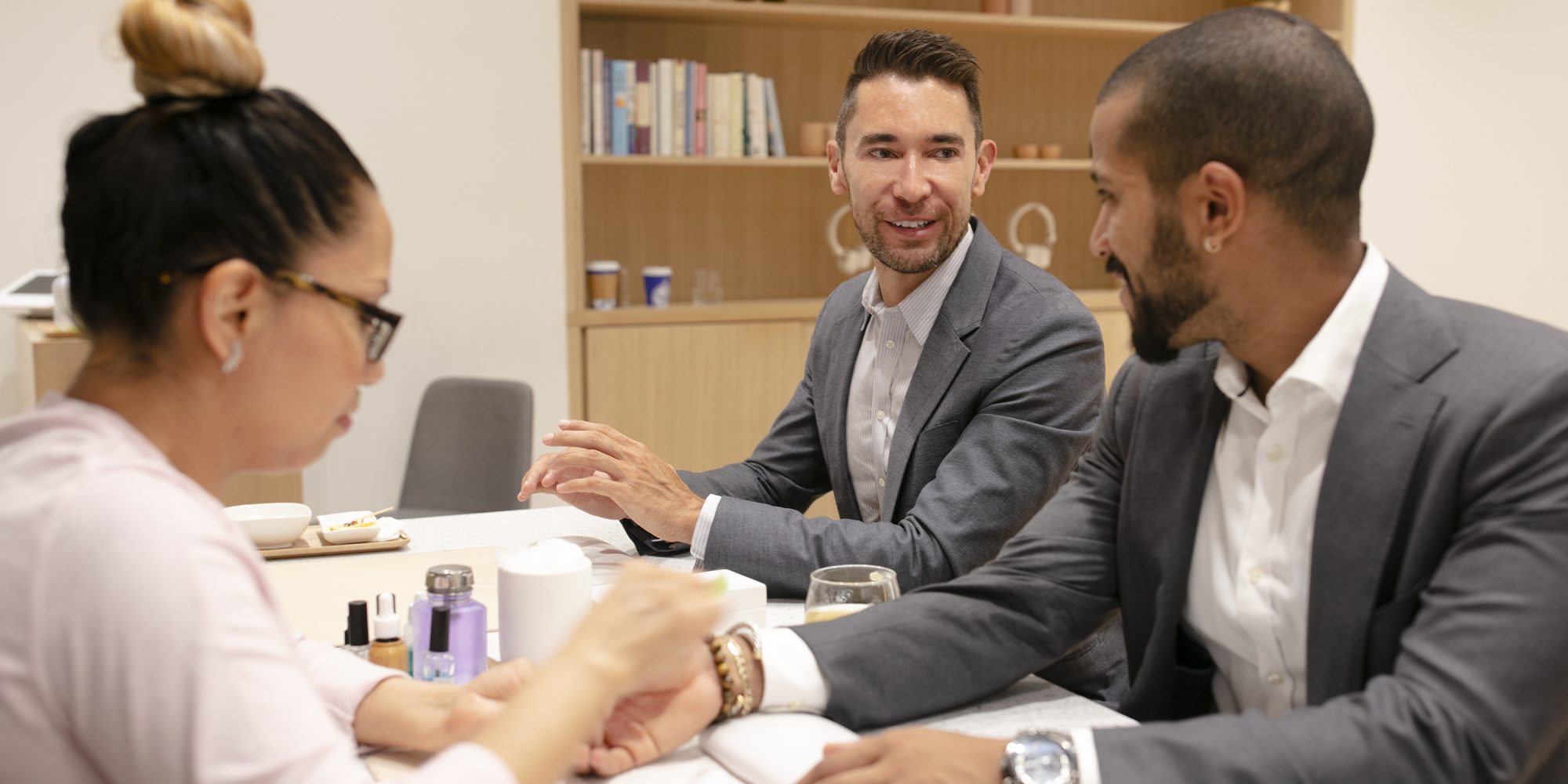 At Manhattan Nail Studio Sundays, Menicure Mondays Promote Self-Care For Male Clients
Amy Ling Lin, founder of nail studio Sundays, has never been afraid to experiment. She pioneered pairing meditation with manicures and celebrates the oft-overlooked nail artists behind services in her blog.
Now, Lin is democratizing her studio by making sure men feel welcome. She's introduced a new initiative called Menicure Mondays to encourage them to drop in for nail maintenance. Women and the men they bring with them to Sundays' Hudson Yards location on Mondays receive 20% off of services through Dec. 21.
"We really think that self-care should be more inclusive," says Lin. "I think society has changed so much. While we [men and women] share similar tasks and responsibilities, it is important to share many other things as well such as our beauty routines."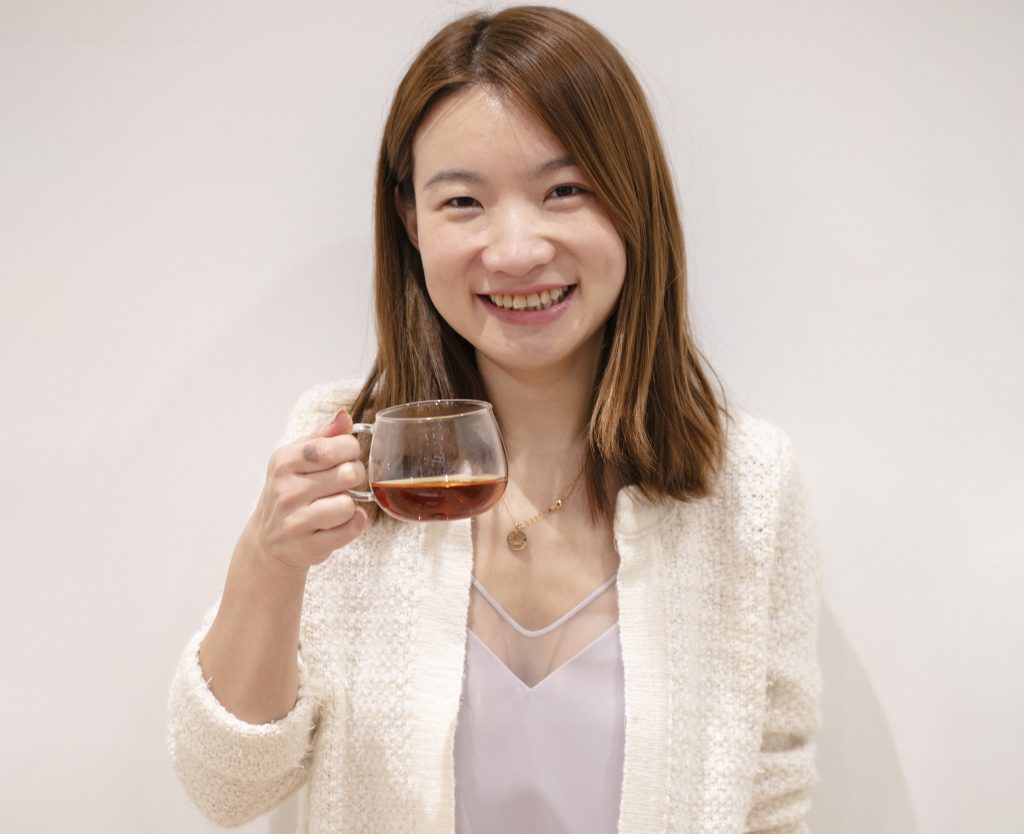 For Menicure Mondays, the men patronizing Sundays have the option of a quick buff and shine service, or a traditional manicure or pedicure replete with a coat of clear polish. According to Lin, men stop by the studio most often for a buff or pedicure. She finds men aren't stingy about their nail treatments and are willing to pay as much as women. At Hudson Yards, Sundays' services are priced from $15 to $70.
"I think equality goes both ways," says Lin. "As women, we can share what we are doing and help get to understand each other even more."
Men constitute a small percentage of the clientele at Sundays, but their numbers are growing. Lin estimates they account for 10% to 15% of the customer base across its locations. In addition to the Hudson Yards' unit, Sundays has locations in NoMad and inside Saks Fifth Avenue's beauty department at its 5th Avenue store.
"We really think that self-care should be more inclusive."
As the stigma of men receiving manicures fades, Lin is bullish on men becoming a larger part of the nail industry's business. In a survey conducted by Nails Magazine of salon owners and nail technicians, they report 5.4% of their customers are men. Lin says, "There will be more [male] professionals coming in because it's a very easy way to take a break and relax."
Lin has discovered Sundays' male audience is quite diverse. There are busy corporate careerists popping in during their lunch breaks, creative types, and dads showing up with their daughters. Often, they'll initially tag along with a woman they know and return solo later. Lin says most of Sundays' male clients are repeat visitors. She relays, "They'll say, 'Oh, now I know why females will come in here every week. It's actually very nice, very relaxing, I feel like a new man.'"
Asked about how other nail salons can build their male clientele, Lin suggests they should cultivate an inviting atmosphere and workforce open to male guests. At Sundays, the front desk staff is trained to not vary its greeting from men to women to assuage any awkwardness that might arise from men entering a setting they may not be accustomed to.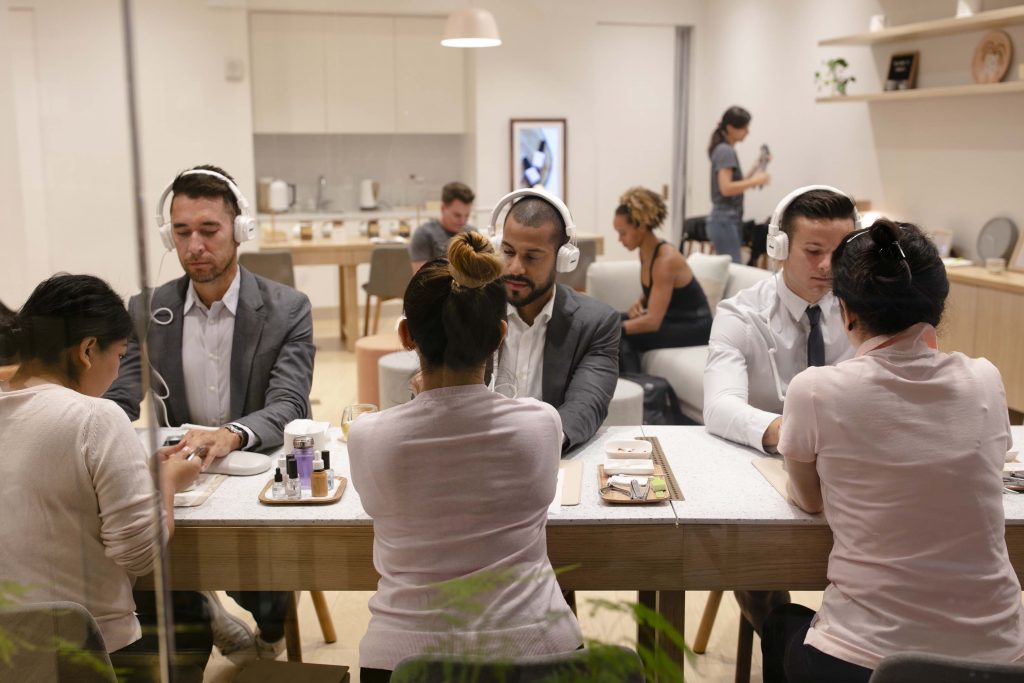 "We hear a lot from male clients. They say they are very sensitive about the front desk manager, how they smile, how they talk to them," says Lin. "I would suggest, not necessarily making extra effort, but definitely just treat them the same way. I think that will make a huge difference because they already feel a little nervous."
Next up on the docket for Sundays is an extension of its nail polish line to nail care merchandise, including nail polish remover and hand lotion, and self-care items such as candles. Currently, the brand offers 50 nail polish colors with 10-free vegan and cruelty-free formulas on its website and at select retailers. Lin, who launched Sundays in 2017, is considering opening another salon location, but hasn't confirmed expansion yet.