This Nontoxic Nail Salon Founder Is Fighting For Nail Artists To Get Some Respect
Hairstylists command a ton of respect, and Amy Ling Lin doesn't understand why nail artists aren't held in the same regard. At her nontoxic nail studio Sundays, she's challenging the customer-manicurist relationship status quo to afford her employees the standing she believes they deserve.
"I know nails are a very small thing, but there's a lot of work put into them. I want people to see that. It's not just about getting your nails painted. It's about the whole experience. I hope that the perspective on nail artists and the whole industry will change," says Lin. "I went to nail school, and we receive a lot of training to specialize in this field. Salon owners should take more initiative to truly promote that."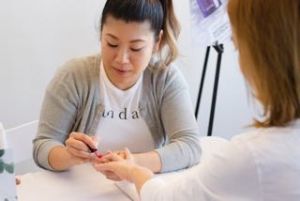 Sundays is doing what it can to promote the people behind its pedicures and manicures. In blog posts, for example, the studio is letting customers in on the lives of nail salon employees. Lin, who emigrated to the United States from China at 19-years-old speaking little English, realizes it can be difficult to relay the backstories of nail artists in a salon setting, and the blog posts circumvent that difficulty.
"There's a lot of stereotypes of people working in salons, especially of the salon employees in New York City," she says. "Because many of the nail salon employees don't necessarily speak English, they aren't as able to talk about what they've accomplished. Most of the conversations in the salon are so surface."
The blog posts burrow beneath the surface. One nail artist featured in a post, Elizabeth Guairacaja, is originally from Ecuador and left her home country a decade ago to pursue opportunities in the nail industry. Still, she can't shake the longing for her friends and the food back in Ecuador. Another nail artist, Sayaka Tulloch, came to the U.S. from Japan with her husband in 2010, but later divorced him. "She's had a lot of struggles, but always keeps her positive energy," says Lin of Tulloch. "When she holds your hands, she delivers that energy to you."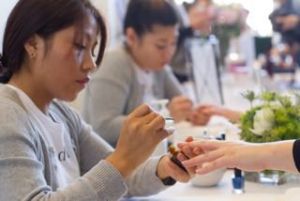 Outside of the blog posts, Lin encourages dialogue inside the salons that aren't simply superficial. Discourse at Sundays, which has a location on 25th street in NoMad and two within Saks Fifth Avenue stores in New York, starts with nail artists introducing themselves to clients and asking clients for their names. Events such as movie nights are also chances for customers to meet nail specialists. Sundays throws them monthly.
"We try to make them more like friends versus a client paying for a service. By the artist learning the client's name, it is a good way for them to get closer," reasons Lin. "That way, clients understand more about who their nail artists are and develop connections with their nail artists. Otherwise, you can paint your nails at home. In the salon, it can be a personalized experience, and we want people to appreciate that."
To foster connections, Sundays tries to avoid salon chairs positioning nail artists underneath customers. "We spent a lot of time on how to help nail artists sit comfortably. In the nail salon, the client sits very high and is treated like a princess or a queen. I'm not necessarily against that. It can be a nice way to spoil yourself. However, we collaborate and are more on an equal level," says Lin. She adds that, particularly in Sundays imagery, "We try to only show clients interacting with nail artists without the power dynamic of someone sitting very low or very high. It's more like going to your friend's house and having someone welcome you, and take care of you."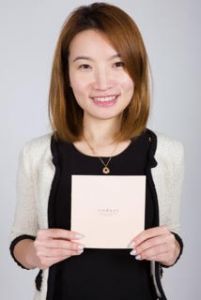 Sundays' quest to elevate nail artists isn't merely about forging relationships with clients, although those relationships are important. Because they're frequently immigrants who don't speak perfect English, Lin underscores nail artists can be vulnerable targets subject to mistreatment. By sharing nail artists' stories and situating them eye-to-eye with customers, those customers begin to consider them talented peers worthy of admiration or, at the very least, common courtesy.
"I remember once there was a nail specialist that was very new. She had just gotten her license, and her English wasn't the best. The client got frustrated and said to me, 'I'm going to slap her until she speaks English. I can't understand why you would hire someone who doesn't speak English.' Of course, that was an individual case, but I was shocked, and I didn't say anything because I didn't know how to react. I always remember that moment. It might not have happened in other industries," says Lin, emphasizing, "The only way for people to see the nail industry differently is if we empower ourselves."