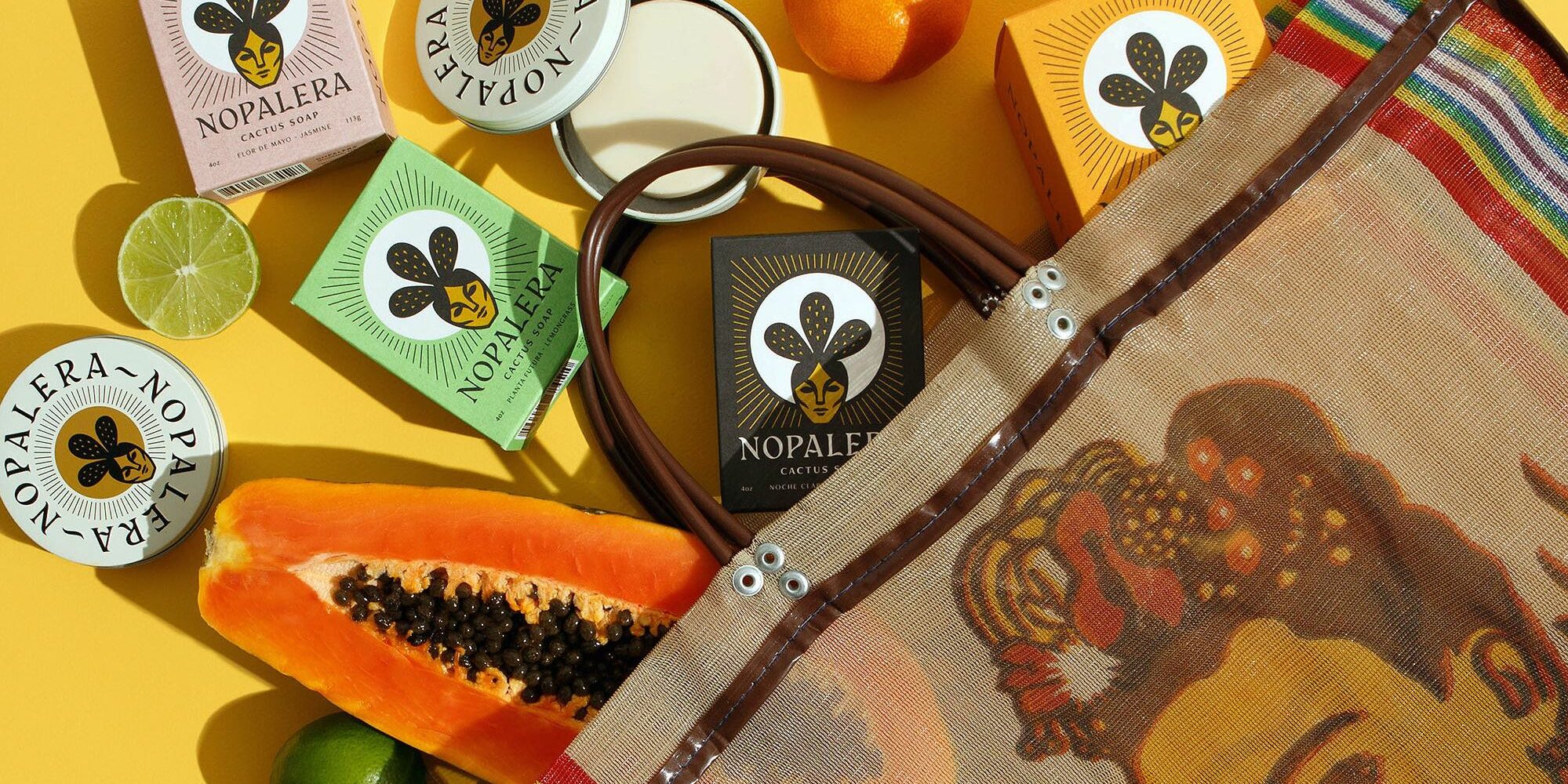 "The Mexican Martha Stewart": How Sandra Velasquez Is Building Nopalera Into An Upscale Lifestyle Brand Para La Cultura
To mark Hispanic Heritage Month, which runs from Sept. 15 to Oct. 15, Nopalera is launching at Nordstrom along with fellow Latina-led indie beauty brands Vamigas and Joaquina Botánica. Founder Sandra Velasquez, who was raised in San Diego by Mexican immigrant parents, never expected her premium bath and body care line centered on Mexican botanicals to make such big strides within less than a year on the market. In addition to entering about 20 Nordstrom locations and the department store retailer's website, Nopalera has rolled out to some 200 boutiques nationwide with its $14 cactus soaps and is on track to hit $500,000 in sales this year, shattering its pre-launch goal of generating $100,000 in first-year sales.
Next year, Velasquez believes the brand can double its 2021 sales. "Nopalera has accomplished exactly what it set out to do: create a high-end Mexican brand that could sit on the shelves of the most prestigious retailers," she says. To find out more about the brand's accomplishments and challenges, Beauty Independent had a wide-ranging conversation with Velasquez last month that touched upon her struggles to keep up with demand, efforts to build a fan base, digital advertising pivots, responses to negative feedback, thoughts about outsourcing manufacturing and options for funding Nopalera's growing business.
What was your approach to launching Nopalera?
My approach to launch came from a YouTube video I watched. The woman in it was talking about creating a community to launch to. Don't just make your product and try to find a community after. I took a $400 class on Facebook ads. I learned the basics and, before I even had product photography or a website, I launched targeted ads at women between certain ages that like Mexico, skincare and handmade things. It was specific to Los Angeles, Dallas, Houston, any city where there is a high concentration of Latinas.
All I had was my cactus logo, and I asked people to sign up to join the launch list. It directed people to my website that only had a landing page. I started in June with $20 a day, and I launched the brand in November. I originally had planned to launch in September. About 800 people signed up for the launch list and, by the time I finally launched in November, I had a community to launch to. If 800 people go to your website and click on things, then the algorithm can find you hundreds more people. That strategy worked really well for me.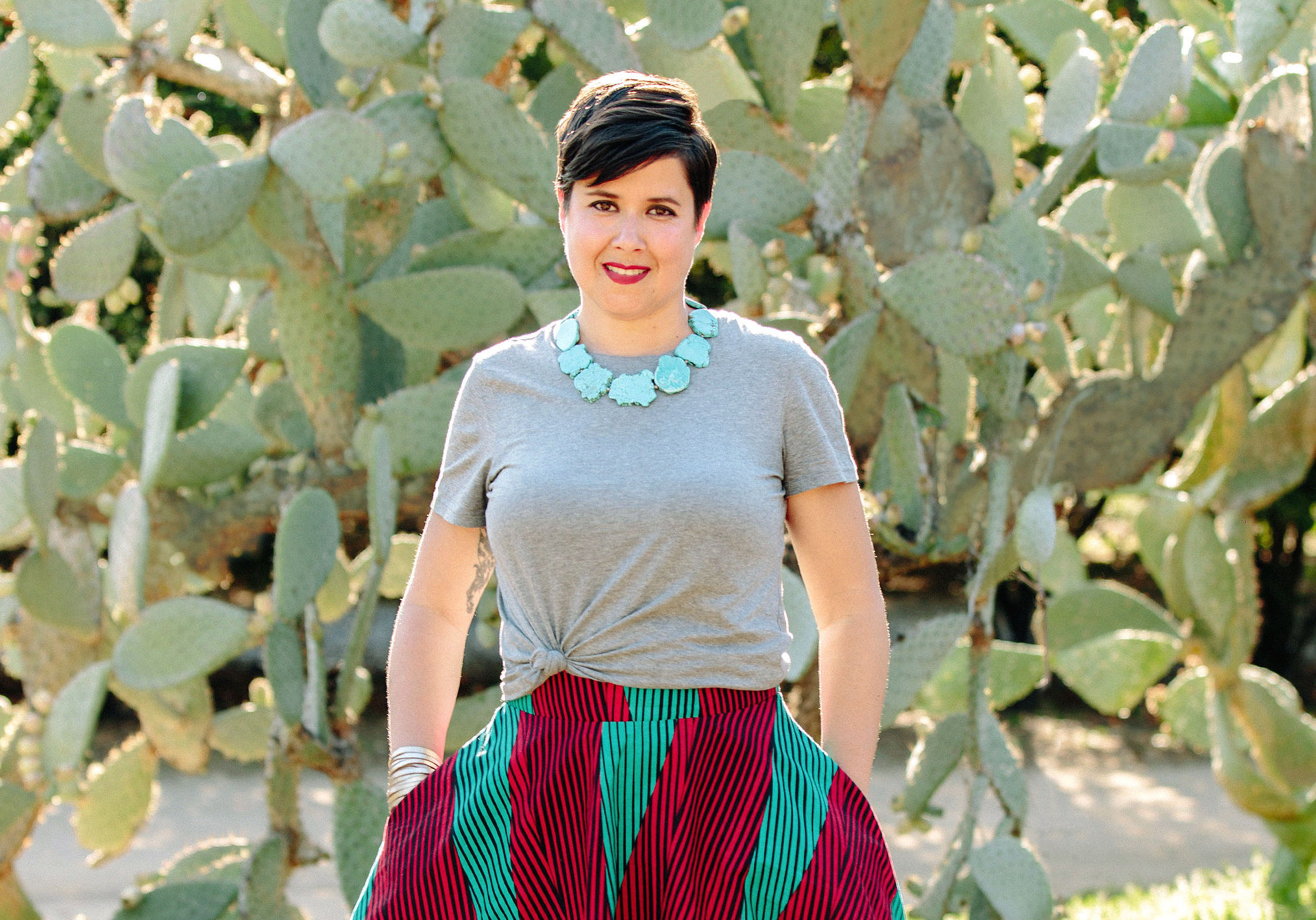 How did you think about distribution?
I have a background in CPG. I worked as a sales rep for food and beverage brands, and I was working for Van Leeuwen Ice Cream. While I was doing that, I was preparing a hit list of stores for Nopalera. I had hundreds of stores at museums and boutiques nationwide on the list.
[Equally Distributed founder] Priscilla Camacho reached out to me, and I was not into it at first. I was like, "I'm a sales rep. I teach other people how to do this." I teach a class on food and beverage brands. That's what I do. But the reality was that I was working around the clock to DIY this. Yes, I'm good at sales, and I have a lot of contacts in the CPG industry, but I had no intention of selling my products into Whole Foods or grocery more generally. She has contacts in the places I wanted to go. So, it made sense to say yes.
I have been working with her since I launched, and I'm really grateful for that. Even though I was finally able to quit my day job in May, now I'm so busy doing production. When would have I time to sit in front of the computer and send 100 emails a day to stores? It wasn't part of my plan to have a sales rep, but I'm glad it happened.
What does production entail?
I was in my house for a couple of months, and I got a 700-square-foot space in February. We are about six months into moving into that space, and I've already outgrown it because everything has gone faster than I expected. I don't have the space to hold the products after they're made. I had to get a storage unit that's two blocks away. It's a light storage space where you would store furniture, and it costs me $200 a month. I have now hired two production assistants that each come two days a week. I only have 1,200 molds and two 6-foot tables. I have one oil tank that can make 800 bars of soap. I don't have the room to have more requirement to make more.
My big goal for 2021 is I'm actively looking to outsource manufacturing because I've reached my capacity. I just came from Long Island, where I dropped off 4,000 soaps for Yelp, and it took everything out of me to make that happen. I can only make about 750 bars of soap in a day, and I can't make them every day because I only have so many molds and physical space. They have to sit there overnight and are unmolded the next day for more. I can make 2,100 bars of soap a week at most. This particular week was really pushing me to my limit because I was dealing with an order from Beauty Heroes, my first Nordstrom purchase order and the Yelp corporate order at the same time. I was really like, "I'm going to have a mental breakdown."
It's really hard to find a soap manufacturer for the type of soap I make. I talked to the manufacturer for Drunk Elephant, and those soaps are made by an extrusion process. They are extruded from a big machine, and it's just like pellets that you press together, and add coloring and fragrance. They can make thousands in an hour while I make 750 in a day. I make cold-processed soap, and that's what is called "true soap." The factories that make commercial soap for big brands, they can't adjust their formulas. They're like, "These are the bases you have to choose from." The only thing that changes is the colorant and the logo.
The reason people like my soap is because it doesn't dry out your skin. That's because of what I put in it. Everyone also wants the soap because of the [cactus pad] shape. It's hand-poured into individual molds. The reason why soap is all square is it is poured into slab molds that are cut with wire cutters. Mine are like making individual cupcakes. It means my soap is going to be more expensive for the manufacturer because I'm raising their labor costs.
Originally, I was like, "I'm going to price the soaps at $12." Then, I was like, "No way, it's too laborious." I'm glad I bumped them up because otherwise I'd be making no money. I've allowed for a buffer. Where brands start to go wrong is they price their products for this moment, but not where they are going to go. They don't allow themselves leeway to scale.
I've identified four cold-process soap manufacturers that can possibly do it. I think they are excited about the prospects of this business because it could bring them more revenue. I'm not just a little soap maker. When I tell people I can't keep up with demand, and I'm going into Nordstrom, they are like, "Ok, cool."
How has it been going with digital advertising?
I found freelancers on Upwork to do it, and everything was going great. It was a math equation. If you want more sales, add more money. Then, when the iOS 14 update happened, it ruined everything. We were no longer able to retarget people. I slashed by Facebook advertising by 55% because it wasn't working. I'm bleeding money. I lost $6,000 in the month of April. Now, I'm going to try Pinterest. It's just cheaper, and people on Pinterest are looking for things like soap.
I don't think of ad spend as separate from marketing costs. I try to keep the marketing costs under 20% of revenue. It was fine before the update because the money was coming back to me. Now, it's not. I have high hopes for Pinterest, and the update did force me to lean into email marketing more. I think email marketing should be 25% of your revenue, but I had let it fall by the wayside.
What's the breakdown of your business between direct-to-consumer and wholesale distribution?
In the beginning, it was 60%/40% DTC/wholesale. It stayed there for several months, but, over time, wholesale kept growing. Now, it's flipped. It's 60% wholesale and 40% DTC. I think some of it is seasonal. Once we come to the holidays, we are going to see DTC come back up. I make more money from DTC. I'm literally selling it for half the cost for wholesale, and I have to work the same amount. I would love it to be 50%/50%. I turned on the subscribe and save on my website, and that's been working. I think it's important to engage with and cater to your customers. It's great to have a lot of wholesale accounts, but, at the end of the day, you want to have a connection with your customers.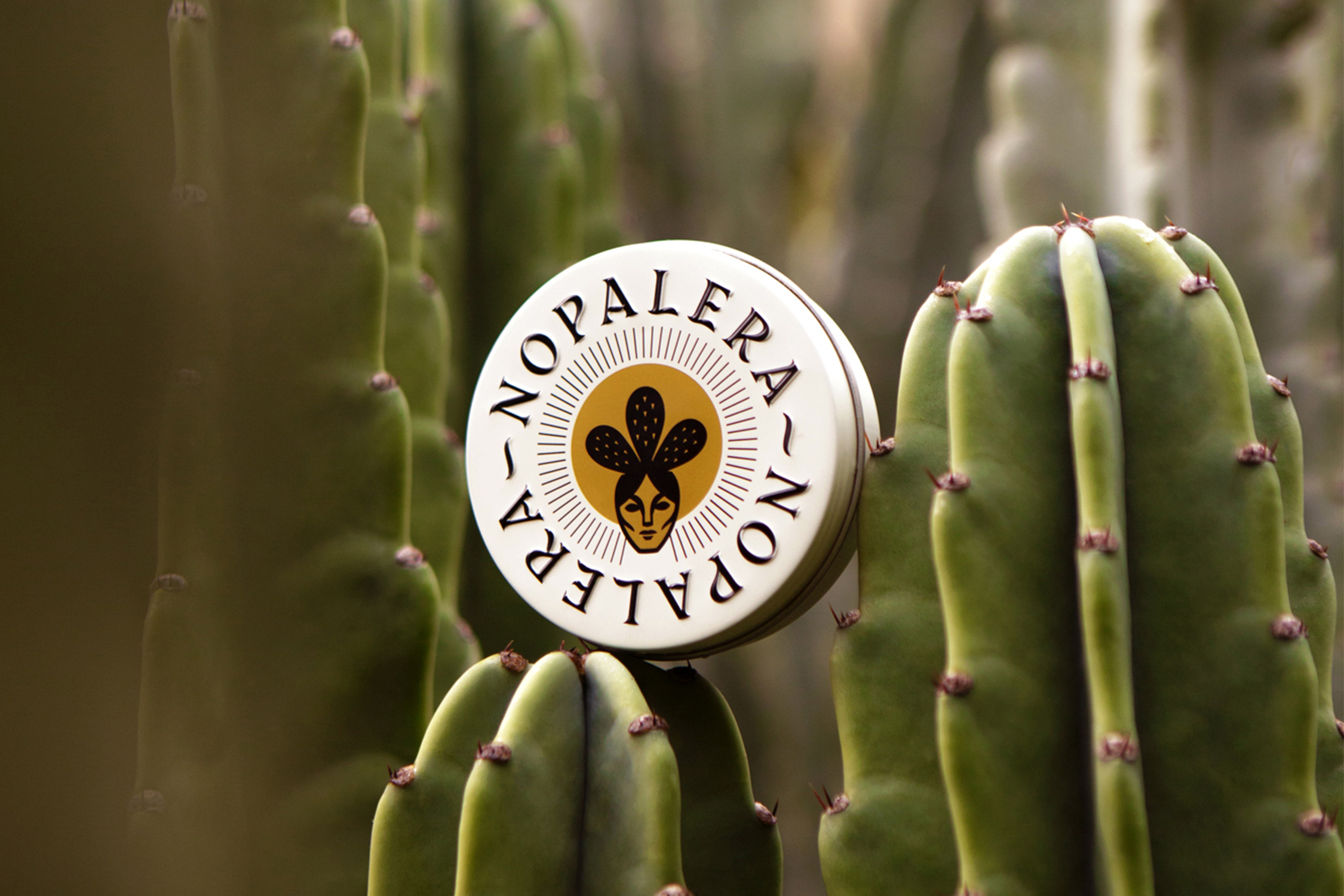 You have dealt with some negative reaction to Nopalera's prices. Can you fill us in about that?
I had a viral post a couple of months ago. It says, "Made With Mexican Hands Does Not = Cheap." There are almost 13,000 likes on that post. It resulted in a $6,000 sales day direct-to-consumer. The post was a response to a person who said, "$14 for a 4 oz. bar of soap!!?? Mexican owned, but not Mexican prices." It was encouraging that my community stood up for me. I'm building a community that is totally in agreement with me that we need to stand up for our worth, and we can't devalue ourselves.
Our ancestors didn't go through everything so we could come here and sell soap for $4. If I had named my brand Le Cactus, people would be like, "OK, there's no problem that it's $14. It's French." Because I'm Latina, people are like, "Who does she think she is?" When I get negative comments, it's a reminder to me why I created this in the first place because everybody thinks that, if it's Latina, it should be cheaper than everything else. That is what keeps us poor and reinforces white supremacy. It's like the money belongs to them and not us, and that's not true. We should be able to create generational wealth, and we don't need anyone's permission to do so.
Did you have to think hard about responding to the negative comment that inspired the viral post?
I responded right away to the comment. I was on vacation at the time. I was so relaxed. I didn't even proofread it. I just responded. I was thinking, "People spend $14 on a margarita, and it's gone in minutes. This is something that's high quality and lasts you for months." I think that it's enough for me to do that once. I'm trying to protect my mental space and sanity. I think that, if you give something energy, it gains energy. Why do they come here to tear people down? Who does that? Successful people who are fulfilled don't think about going to other people's pages and tearing them down. Only people who are angry want to do that. Now, I delete or block people.
Who are Nopalera's core customers?
The customers are mostly Latinas. They are 95% women. They are between the ages of 27 and 45. If they are not Latina, they are women who appreciate culture. The customers are women who like nice things. They care about self-care and the environment. People love the tin that the soap comes in. I'm not selling lotion in a plastic bottle. The products I make are practical. I've just elevated them. Personally, I don't have a 10-step routine. I wash my face with soap. I'm a super practical person, but that doesn't mean I don't want my everyday things not to be nice.
What does the milestone of entering Nordstrom mean for the brand?
Any time you partner with a national partner, you just get a new level of brand awareness. I know am going to be able to reach thousands more people that I wouldn't be able to reach with my little Instagram ad. There is the brand awareness, but there's also what it means for our culture. It's about the symbolism. Look guys, our golden brown face with cactus growing out of its head is on the shelf at Nordstrom, and that's where it belongs. It's a community win. We shop at these stores. I grew up shopping at Nordstrom with my mom. We went to it at the Fashion Valley mall in San Diego when we wanted something nice. So, to be able see ourselves on the shelf, I think everybody can relate to that aspect of representation.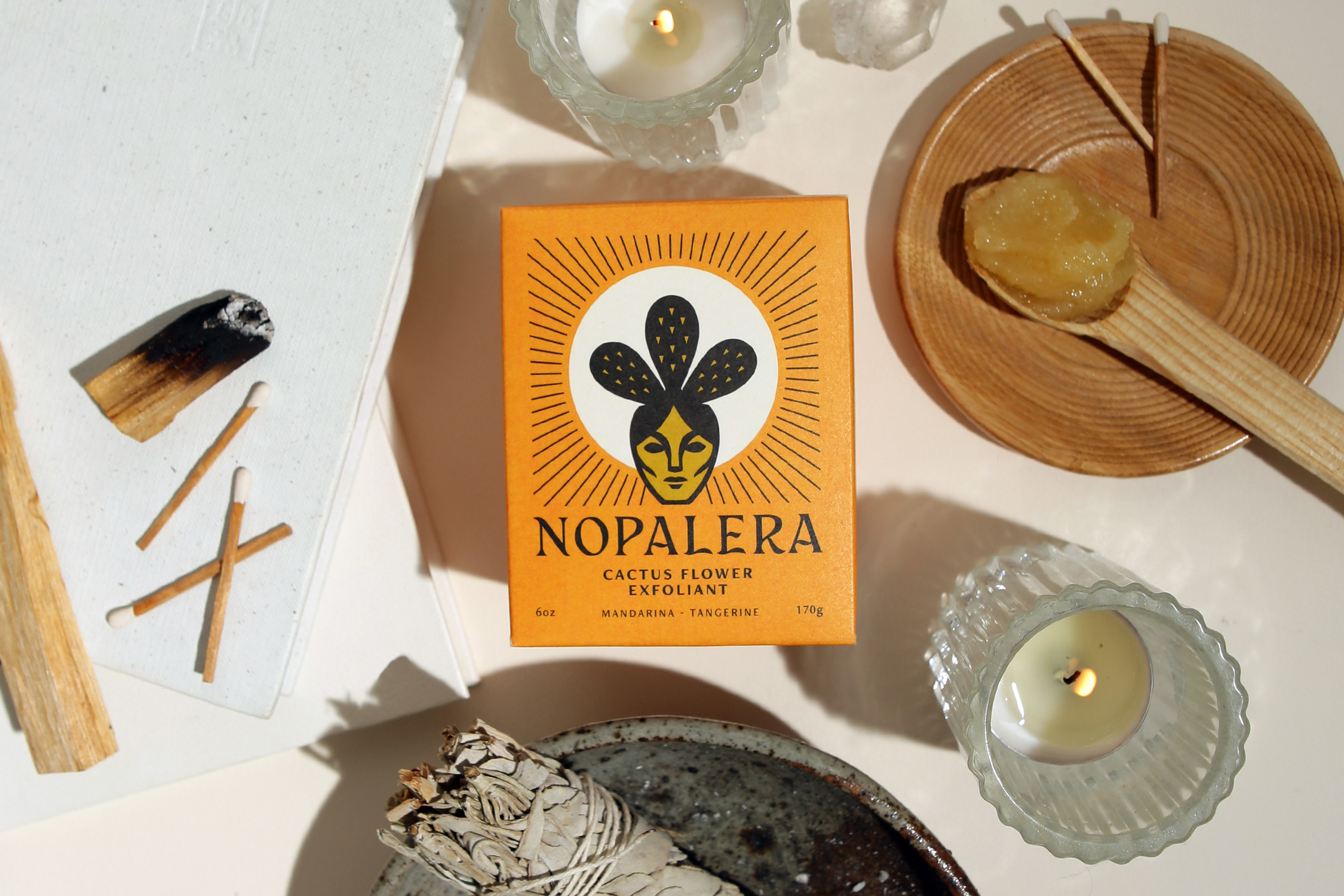 What have you done to help fund the business?
Shopify has a program called Shopify Capital. They reached out to me and were like, "Hey, we can see your sales. We would like to help you." They gave me $50,000. They take 10% off my daily sales until I pay the loan back. I don't get a monthly bill for a crazy amount. The supply chain right now is really a disaster. I had to buy a lot of packaging inventory upfront because there was no guarantee about when it would be available next. I had to buy 50,000 boxes and 10,000 tins. That's really scary for a small business owner and can mess with your cash flow.
I had investors reach out to me, but I'm not ready for that. I'm way too young. Just to have legal conversations about that would cost more money than it would be worth. I may do more working capital loans. I'm going to look into friends and family, and angel investors. I've had an angel investor reach out to me. She's a person, not a firm. She's Mexican and really believes in the brand. I feel I don't have time to do crowdfunding. I'm so tired. I don't have the energy to rally for that. So, Shopify Capital has really helped. Once you pay off 60%, they will talk about giving you more.
What are goals for Nopalera's future?
No. 1, my goal is to outsource manufacturing. Once I outsource manufacturing, it will free me up to do more of what I want to do, which is engage with the community. I have the idea for an Abuela Diaries project where we would have stories and photos of grandmothers. I live in New York, and we have Ellis Island. All the school trips go to Ellis Island, but what about where Latinas came over? They came to work in the fields. I want to create a collective memorial. I want to use Nopalera to build a larger cultural platform. My mission is to elevate and celebrate our culture and tell our stories. I can't do that when I'm stuck making soaps.
A few years down the line, I really would like to have other people managing the day-to-day. Right now, I am the supply chain manager. I am the CFO. I am the janitor. My goal was never to create a factory that I would manage. That's not my vision. I'm definitely into working with contractors. In a few years, I also picture us having more of a national presence and solidifying Nopalera as an iconic brand that's expanding into other categories. I could expand into home goods. I would really like to make this the Mexican Martha Stewart.
Feature photo image credit: Amanda Lopez