Mills Pharmacy + Apothecary Transports European Pharmacy Sophistication And Upscale Skincare To The Midwest
Mills Pharmacy + Apothecary brings the world of refined beauty to Michigan, and it may someday bring the beauty it's refined in Michigan to the world. Brothers Pierre and Hany Boutros have transformed a sleepy 71-year-old location into a high-end beauty destination that's worthy of extending well beyond the borders of Birmingham, Mich., where it's converted Neutrogena and Jergens shoppers into fans of Panier De Sens, Pre De Provence, Costume National, Santa Maria Novella, Leonor Greyl and more. Retail director Rita Sayegh has played an enormous role in putting the apothecary on the map by introducing international and indie beauty brands to shoppers often unfamiliar with the European pharmacies that inspired it. "In the Midwest and the suburbs of Detroit, we didn't have any apothecaries," she says. "It was a difficult thing to describe what we were trying to do. I helped present the brand to people who wouldn't necessarily understand the concept." Beauty Independent caught up with Pierre Boutros and Sayegh to discuss the diverse merchandise that's attracted those people, brand efforts to boost apothecary sales, discounting policies and future possibilities for Mills Pharmacy + Apothecary.
Can you tell me about the professional path that lead you to taking over Mills Pharmacy + Apothecary seven years ago?
Boutros: I'm a first-generation Lebanese immigrant. I came to the U.S. in September of '93 to go to pharmacy school in Boston. I then worked for a chain as the director of pharmacy operations until I decided in 2003 to go out on my own and open a business. It was a small pharmacy in a medical center. I bought Mills and closed that pharmacy. I was looking for a community-based pharmacy. What initially attracted me was that Mills served the community, but I also liked that there was an adjacent space that used to be a supermarket. I had a vision to integrate the pharmacy business, where there'd be custom-made compounded medication, with the space at the supermarket that would be turned into a European apothecary shop. It would be a unique shop and not the traditional big box chain pharmacy.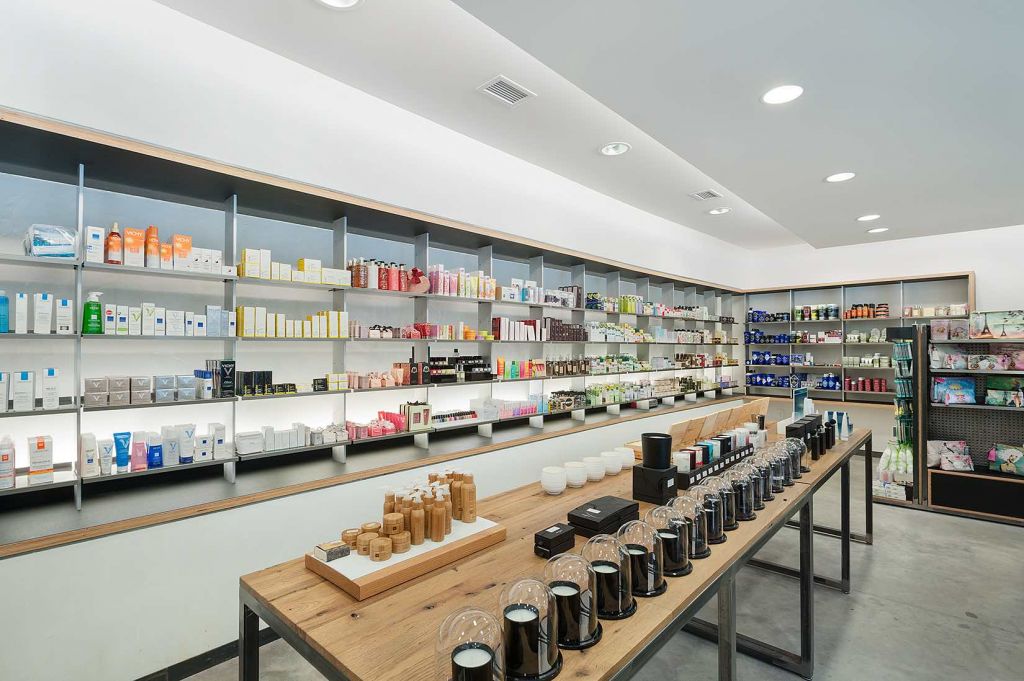 How did you get the idea to bring a European apothecary to Michigan?
Boutros: We travel a lot, and this is what we've seen in Europe and in Beirut. Pharmacies aren't 10,000 square feet with aisles and aisles of products. When you walk in, it's literally like you've walked into a spa. You're not going to a clinical space. You see beautiful skincare, cosmetics and nail products.
Mills Pharmacy + Apothecary underwent a massive design revamp after the Boutros brothers acquired it. What was the goal of the revamp?
Sayegh: The building was from the mid-Forties. It was probably last renovated in the mid-Seventies. There was still a green shaggy carpet. You can't do a progressive pharmacy that still looks like it's back in time. We wanted to communicate visually that this was something new, and it was beyond what had been done before.
How much of Mills Pharmacy + Apothecary's business today is driven by the apothecary?
Sayegh: It's hard to put a number on it because both businesses affect each other in positive ways. My best guess is somewhere between 30% and 50% of the business is the apothecary. We have people who come in for their prescriptions, and they shop for personal care and vice versa. The pharmacy gives legitimacy to who we are and what we do. You can come in and have a compounded [prescription] formula made from scratch, and we have top-shelf candles that you might see at Barneys or Bergdorf.
Boutros: When we bought Mills seven years ago, people wouldn't have thought to go to a pharmacy to buy a gift for a birthday party. Now, they might think to go to Mills for the best products. It took time to create the synergy between the apothecary and the pharmacy. Now, we are known as a gift shop as well as a custom compounding pharmacy. We were shooting for that, and we've been successful.
Where do you see the apothecary fitting into the beauty retail landscape generally?
Sayegh: We are at the upper end. The concept of a pharmacy/apothecary isn't anything new, but it's unusual for this area. We don't have a Barneys in Birmingham or anywhere in Michigan. I would liken it to a department store with an independent spirit because we're a nimble independent business.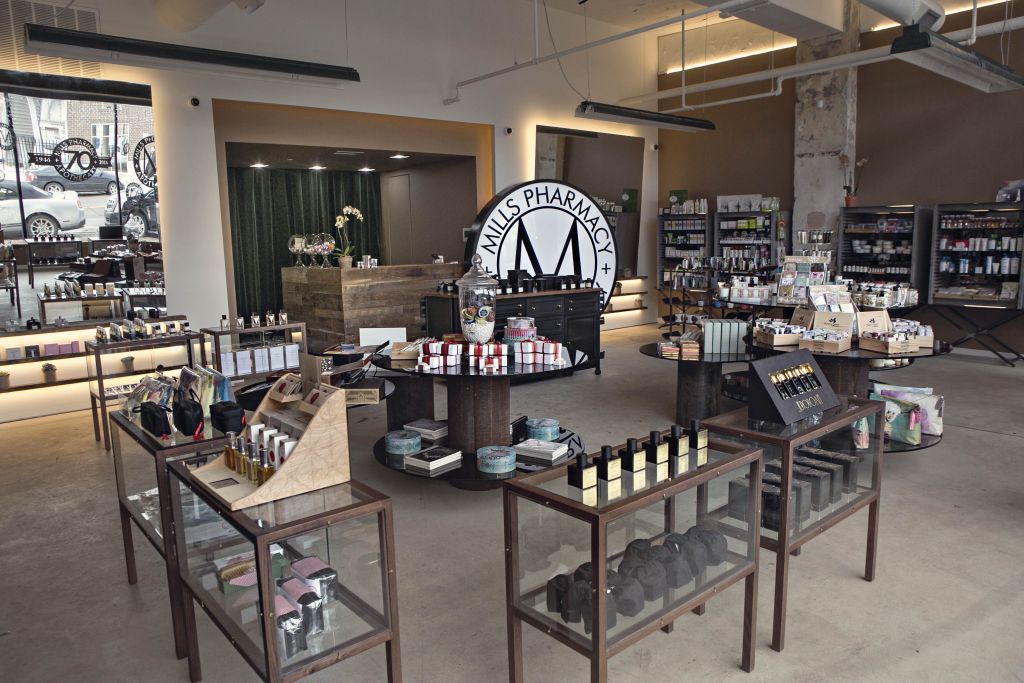 What are some of the bestselling apothecary brands?
Sayegh: Facial care is up there above anything else, and French skincare is a really big seller. Avène and Klorane sell very well. Bioderma has been flying off the shelves. We do very well with the Greek brand Korres. We are Aesop's exclusive retailer in Michigan and do incredibly well with that brand. In fragrance, Santa Maria Novella does well. Our number-one seller in body care is Panier Des Sens.
How many apothecary brands are there total, and what is top beauty category by sales?
Sayegh: There are at least 150 from really small brands with a couple of SKUs to brands that represent a full bay of shelves. Skincare is the number-one category. I would say 50% of the apothecary sales are skincare.
What margin do you typically take?
Sayegh: Beauty margins are 50% to 60%.
How have you assembled the apothecary assortment?
Sayegh: Early on, it was through a lot of research, and a fair amount of traveling and going to trade shows. It was about trying to figure out the core mix of products. The underlying philosophy was global representation. A large amount of the beauty products has been French, so it's clearly been slanted in that direction, but I made it a point to go around the world, not physically, but with these products in order to represent how beauty is interpreted all over the world. What is someone's beauty routine in Japan? What is it in the U.S.? I didn't want it to have a singular personality. I wanted something for everybody.
How do you find new brands?
Sayegh: It was a pleasure to go to Indie Beauty Expo. There are few trade shows that cater to what I'm looking for, which is something that's special and that not everyone is going to have. Products that are rare and exclusive are important to us. It wasn't the case a couple of years ago, but now brands are finding us. Especially this last year thanks to press coverage, it's been a lot easier. More people know who we are.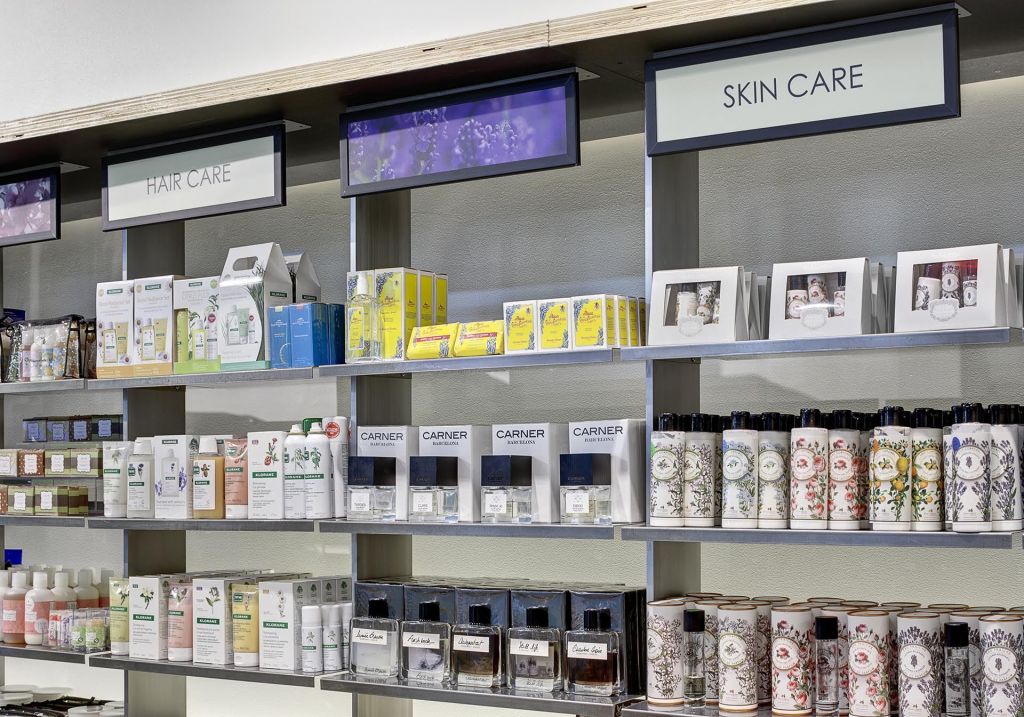 How would you like a brand to pursue Mills Pharmacy + Apothecary?
Sayegh: I always get an email that's like, "Hey Rita, This is so-and-so, and we are from this brand that makes natural soap." It's really the same email every single day. There is a lack of differentiation. There are so many beautiful, natural, independent brands, but they all look the same after a while. If the focus was on how they are different from everyone else, that could help the retailer. Brands don't think about the hundreds of emails we get that have the exact same information in them.
Where do you stand on Amazon?
Sayegh: If a brand is on Amazon, it's generally bad for our business. It would be different if MAP [minimum advertised pricing] was adhered to by everybody, including Amazon. I can't discount and sell it for what Amazon does. It's the discounting that's a big deal.
Does Mills Pharmacy + Apothecary discount?
Sayegh: There's no discounting at all until a product is discontinued either through the store or the manufacturer. We will run gifts with purchases and promotions in other ways, but never any discounting.
Are there areas of growth or gaps within the apothecary section that you're trying to fill?
Sayegh: Accessories is a big umbrella, but I'm looking for better versions of shower caps and hair accessories. Not the cheap stuff. I see the cheap stuff all the time. We have beautiful brushes and combs, but it's the smaller things we are looking for. Kneipp opened their own stores in New York this last year, and they are no longer going to be wholesaling to retail partners. We had two full bays of those products, and the brand had a loyal following. It was a big loss. Those are big shoes to fill for another company. We are looking for bath brands to help with that.
What do you wish beauty brands would do more of to improve their business at Mills Pharmacy + Apothecary?
Sayegh: Marketing. We do a fair share of marketing through our website and monthly newsletters, and we are doing a printed holiday gift guide. I can't tell you how painful it is trying to get photos, information and training from some brands. It's not necessarily the really small brands. It can be the well-known, big brands. It is a partnership, and we are on the front lines selling their products. It's really for helpful to have those things to be able to sell their products.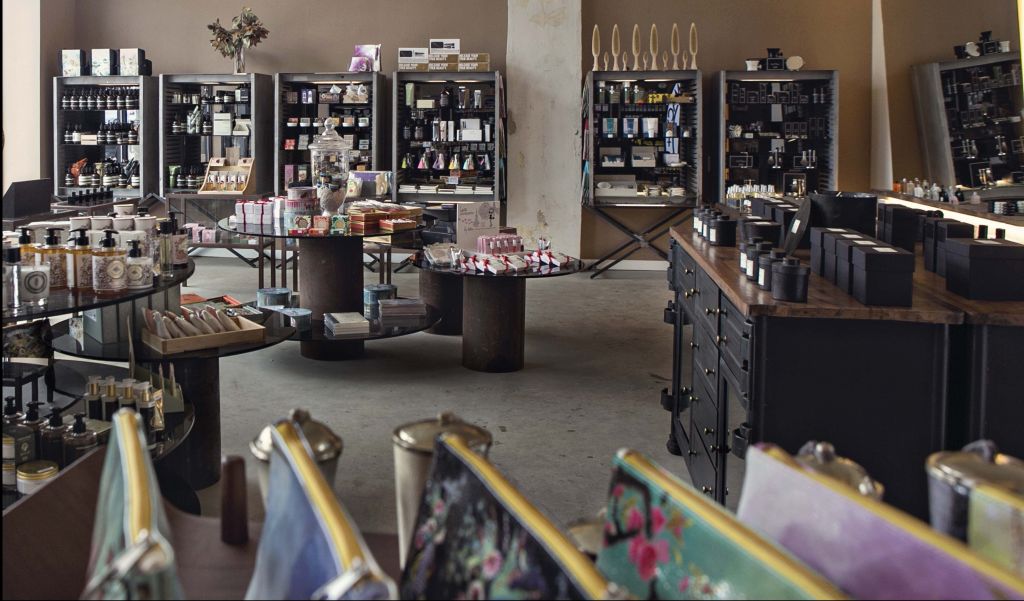 Do you want brands to provide training?
Sayegh: Whenever there's a new line, the rep should come in and train the staff so we can educate our salespeople. When a customer has a question, we want to provide an educated answer. Some brands are more self-explanatory than others. We might not need a training on every single candle brand, but it's important when it comes to skincare that has active ingredients or new technologies. It can be over Skype or a phone call. Sometimes a rep will come in that has three or four brands and train on all the brands. The staff is required to be there for the training because that's what helps sell the product. Right now, we have seven on staff for the apothecary, and they travel between the two stores.
What's the key for developing a long-term relationship with Mills Pharmacy + Apothecary?
Sayegh: Part of it is the sales and numbers, and part of it is the backend communication. At the beginning, communication can be about training and building our base of knowledge, and our ability to sell both in the store and online. In the long run, it's about keeping a brand fresh. If a brand comes out with a new product launch, we would love to be a part of it. We would love for them to come to the store and introduce the product to loyal consumers. I know that not every brand can do that, but you would be surprised by how many brands never check back with you at all.
How has business been doing at Mills Pharmacy + Apothecary?
Sayegh: For the last six years, my estimate is that it grows every year at least 10%. We have never seen a loss, but some years it might not be by as much as we have hoped. It's steady growth, and it's always trending upward, which is great.
Boutros: We started with zero and went to hundreds of thousands. Now, with the growth that we have, we are investing in other locations and e-commerce. We want to go global. That's one of our next goals.
What's the clientele like at Mills Pharmacy + Apothecary?
Sayegh: At the Birmingham location, it's primarily women. They are in their mid-Twenties to mid-Fifties. It's a very affluent community. They are well-educated and well-traveled. They really appreciate fine beauty products, and they are incredibly loyal. We always have the same people coming back to the store, and that's the best accolade we could get.
Mills Pharmacy + Apothecary has branched out to a location at the Detroit Metropolitan Airport and a pop-up in Detroit. Why?
Sayegh: They airport found us. They were doing a specialty pharmacy concept, and it was up to World Duty Free to find one. They came looking locally and, when they walked into the Birmingham store, they called the office immediately and said they found it. It's great marketing and public relations for us, and there's no downside for us to be at the airport because we don't have to staff it. It's a licensed version of the store. With Detroit coming into its own and being a contender for specialty retail, we thought it was a good time to give it a try. Strangely, space is still at a premium, not just dollar-wise, but there is not a lot of great retail locations in Detroit. We came upon one that was only available for a year as a sub-lease. It happened to be in the right neighborhood – Midtown Detroit – and it gave us an opportunity without committing to an extended period of time to see how our brand and concept would do.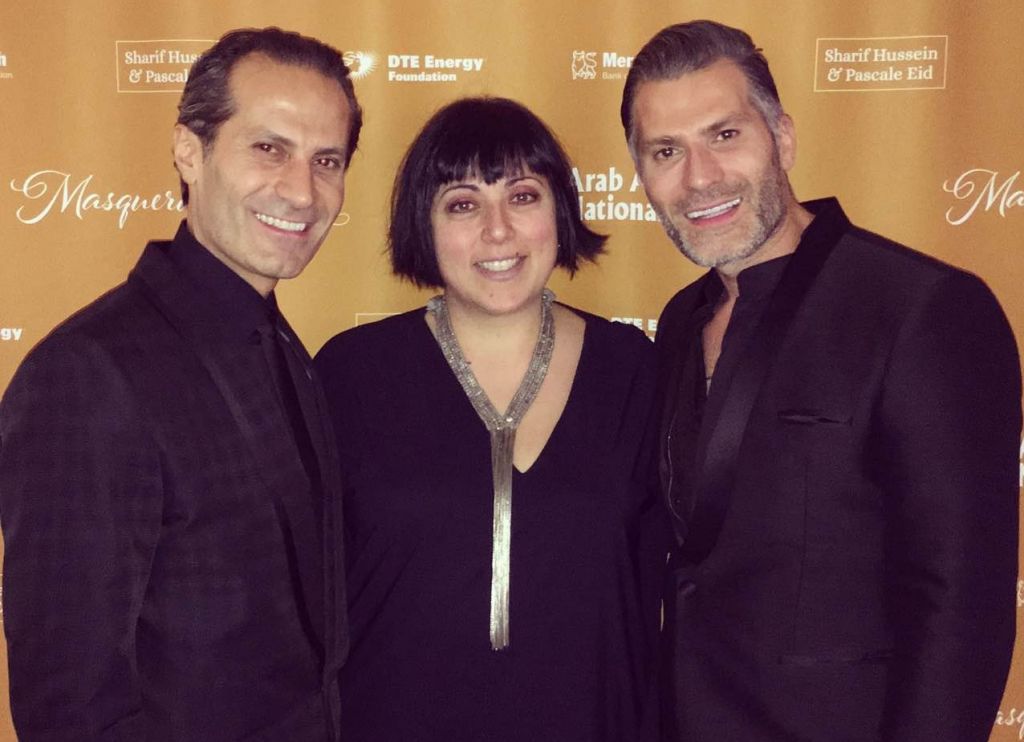 Would you consider a permanent location in Detroit?
Sayegh: We definitely have not ruled that out. This one is coming to a natural end. We haven't found a permanent spot yet. We are still looking. It hasn't fallen into place the way we had hoped. It may take another year to figure it out. We were really well-received in Detroit, and we might be one of the only specialty stores that sells personal care products.
What are future expansion opportunities for Mills Pharmacy + Apothecary?
Sayegh: Our goal is to team up with a hotel where we could reap the benefits of having local customers as well as tourists. That would be ideal in Detroit. We have been asked to license the concept internationally, and maybe one day there might be national versions of the store or a spinoff of the concept. Those are big steps. There are very few of us here, and we all wear so many hats. We have to be cautious about the next steps because we don't want to ruin the brand in the process. We would love to private label, too, and that's a goal that doesn't entail another store, but it would entail a lot of time and know-how.
What have you learned about what it takes to make it in beauty retail today?
Sayegh: Number one is to not be like anybody else. Also, stay true to the original goal and don't waver. It's easy to say so-and-so carries this, and maybe we should carry it. It can be turbulent in retail, but you have to stick with the concept of your brand.