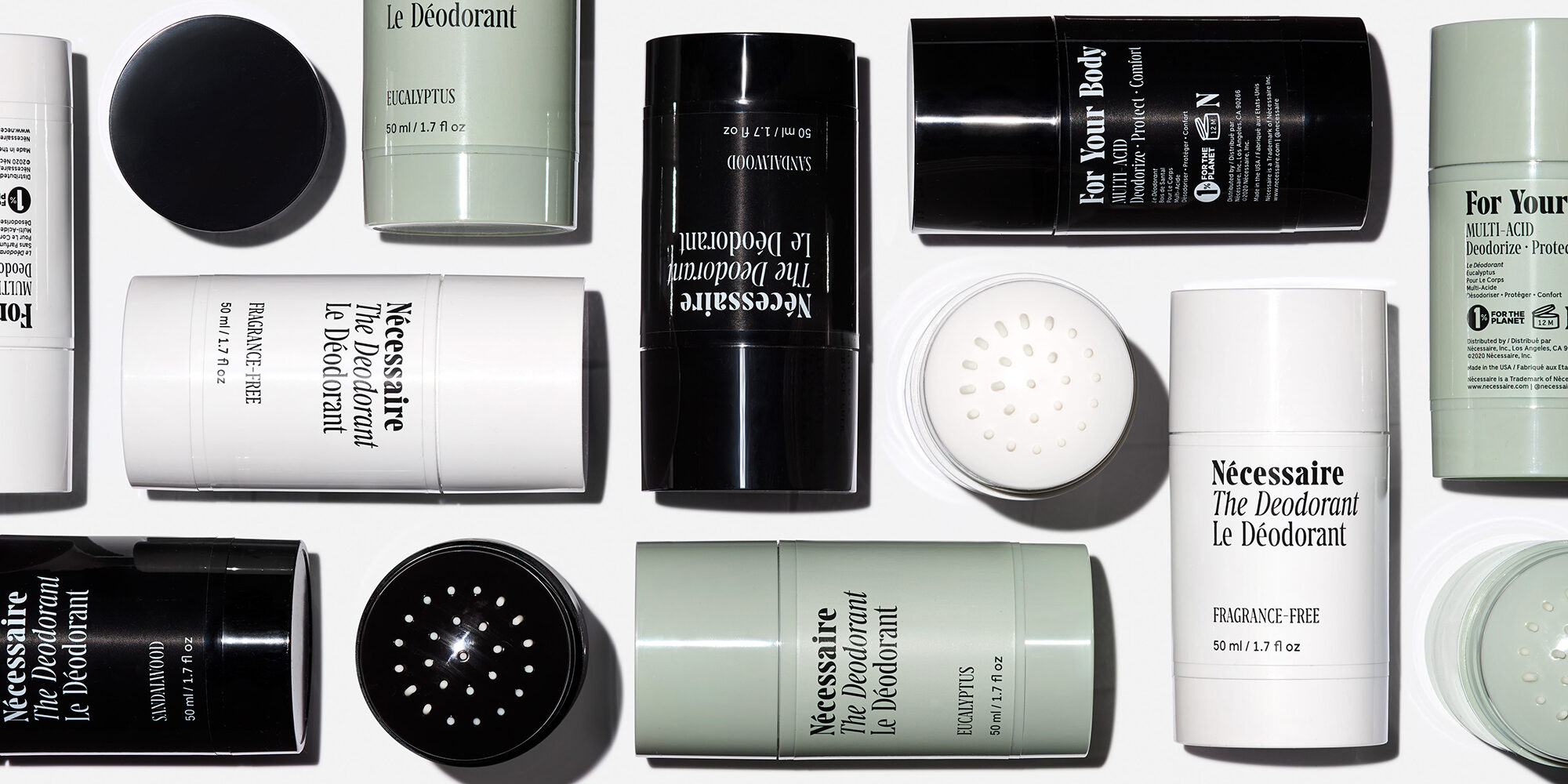 Why Nécessaire's Randi Christiansen Believes Body Care Doesn't Have To Be Commoditized
Nécessaire's raison d'être is embedded in its name. The chic brand's mission is to turn overlooked body care into a necessity. "We're going to start in what's normally an afterthought, but we're going to make it a first thought," says CEO Randi Christiansen, the former Estée Lauder VP who founded Nécessaire two years ago with Into The Gloss co-founder Nick Axelrod. It's a difficult mission. The body care segment is less than one-fifth the size of the global skincare market, according to Euromonitor International, and has been dominated by entrenched players like Cetaphil, CeraVe, Jergens, Gold Bond and Vaseline that are fierce competitors in a commoditized environment.
Nécessaire has taken on the challenge of upscaling the bottom-feeding body care segment by trying to do what Into The Gloss did for beauty blogging: focus on millennials, be simultaneously exclusive and inclusive, and pair style with substance. Its prices are high for the body care segment—$25 for a lotion or $45 for a body serum—where under $10 options are ubiquitous, but not outrageous for skincare. Its nutrient-packed products have nabbed awards from Allure and Glamour. Its retail network is prestige. Nécessaire is available at Violet Grey, Goop, Sephora and Nordstrom. And its investors (Maveron, Forerunner Ventures and Imaginary Ventures) are well-known.
So far, Nécessaire's approach appears to be working. It's positioned for self-care at a moment amid a pandemic when self-care is an invaluable stress reliever, and its primary reliance on e-commerce has proved helpful. The brand's business is on track to grow 300% to 400% this year. To get a broader picture of how Nécessaire is breaking the body care mold, Beauty Independent spoke with Christiansen about limited retail distribution, the importance of creating demand before expanding distribution, and what the brand will look like in five years.
How did Nécessaire come to be?
I knew it was a light-bulb moment when we called it Nécessaire. Is this product necessary? Is this ingredient necessary? Is the footprint necessary? Is the content and conversation necessary? I like to say that it's become a filter for how we do business. So, I think that idea of creating the necessary was definitely a moment for us. We both very much knew we wanted to do personal care. I think the second big moment was when we decided to start in body. 
In 2017, when we were concepting this, we both very much felt that skin doesn't stop at the neck. We're all obsessed with juice cleanses and Erewhon Market, these things that we are doing for health reasons. Yet, when it comes to your skin, there is above the neck and below the neck. We felt that we could make an impact in that below-the-neck area. That was a big moment for us when we looked at each other and were like, "We're going to start where everybody ends. We're going to call it Nécessaire, and we're going to create necessary things." 
What was the process like to develop the concept?
You have that banter as a sort of two pals just concepting things. Then, we jumped in in the fall of 2017. We launched Nov. 15, 2018, and it was exactly one year from the day that we left our jobs. If you were to take the concepting time and maybe three to six months before that, realistically, I think 18 months is a good rule of thumb for building a product in beauty. It takes a lot of time if you want to do it in a thorough and thoughtful way.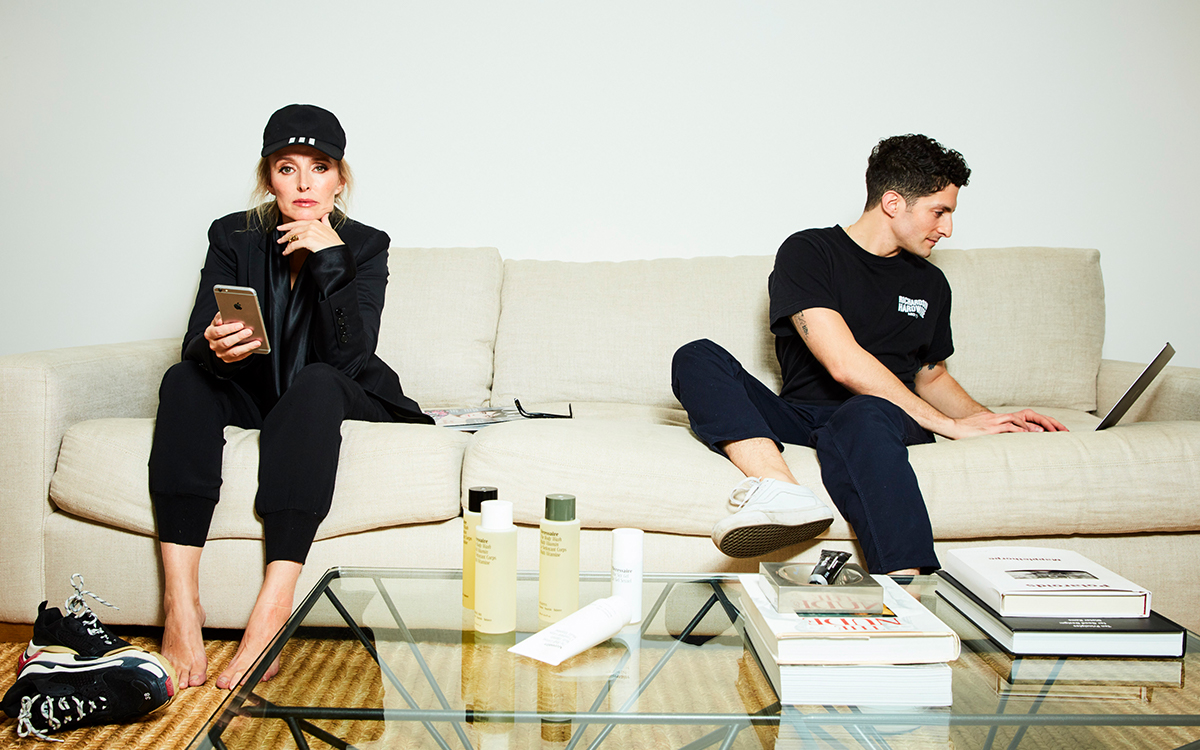 You have a sex product. Why expand in that direction?
How could body care be more than body wash or lotion? We went, let's have some fun. We decided, if we're going to go into this category, let's think about how we can redefine these personal care items for all things that you do with your body and for which you need care. That's what led to the idea of embedding a sex gel into the lineup straight from the beginning. Trust me, we've had a lot of laughs, and people are like, "What are you doing?" I remember [Violet Grey founder] Cassandra Grey saying, "What the fuck is the sex gel?" It's been a good addition, a silent hero. We really felt let's not make it cheesy, let's just make the sophisticated, elegant sex gel you can have on your nightside table.
As an entrepreneur, when you hear people say things like, "What the fuck are you talking about?," that actually has to be an exciting feeling because you're like, this is a white space. A lot of people  were like, "Oh, it's lube," but we were not going to call it lube. We need another name for this. If you go back three years when we were concepting the brand, we wanted it to be clean and efficacious. When I say efficacious, it means adding in facial-grade ingredients—hyaluronic acids, niacinamides, glycolic acids—into the body care. We knew intuitively that we're not going to be able to be drugstore prices. We knew we had to be a little bit more expensive. That is exactly where the white space was, that idea of entry prestige or that area where we hope we can get people that might shop in mass today coming into this category and investing a little bit more in their body care.
What were challenges or roadblocks you faced when building the brand, and how did you overcome them?
There are a thousand challenges a day. It's just one long journey of opportunity-slash-challenge, whatever way we want to look at it and, then, overcoming it. There were two things that took us a little bit of time and that was difficult because, in my case, I can tell you, I thought I knew a lot, but it's been so very, very humbling. I cannot tell you how many times I've called past colleagues and said, "Oh my gosh, I didn't know what I didn't know. I didn't know all you did."
Two challenges that are key is No. 1: finding a packaging manufacturer. For me, one of the key reasons I left to do this was the environmental impact. That is half of our purpose. The challenge of doing the right thing on the packaging side back in 2017 was profoundly hard. Doing a box out of 85% post-consumer waste took us a long time. You have to just push, push, push, push, push.  
The second thing is in beauty, where there are many, many new brands entering the marketplace every year, getting your first consumer and getting them to come back and creating a community, was and is a really significant task. Oftentimes, you build something, and you're like, "OK, my door is open," but, then, comes hard work, which is how am I going to reach people? What's my approach to marketing? It took us a minute to figure out how to reach out. How do we find the person that's going to come into this brand and stick with us? How do we sell with humbleness and frankly not just with Facebook ads?
How did you build your community?
We raised a little bit of venture capital at the beginning of this journey. One thing that we did really well is we looked at each other and said the first six months of this brand's life was not going to be focused on sales, but we are going to be focused on moments with people and we're going to believe in the product and we're going to believe in the mission and we're going to believe in the purpose. We did it in what I would call a very soulful way, the old school way, which is very much getting the products in everyone's hands that we knew collectively. It was very much about investing in classic press.
We are believers in this idea of authentic reviews, points of views, so we gifted our product to tons of people. Then as they started to say, we love this or that we would regram it and just continue to kind of create this feedback loop for the brand that felt very real. It was scary to start with body in the beginning, because again, body is not done as a lead product point of view in entry prestige. 
But I think what also happened was a lot of people with influence were really ready for a point of view on body. It was a different topic, a different moment, a different conversation. And I think right there in 2018 that timing was right. So we really benefited a lot from, and felt very thankful for the profound amount of authentic feedback on the product. Most of which was positive. Not everyone is going to love a scent-free lotion, but we had this echo of feedback. And that comes with a brand that dares to do something different. In our case, we really leaned into press, we leaned into gifting or sampling. We leaned into content so lots of investment into phenomenal skin and product photography. But it takes a minute. 
Do you think traditional public relations is still a necessity for emerging brands?
It is a hugely important pillar for us. What's important to understand is your objectives. When we started, it was very important for us to create a narrative around the brand. It was about storytelling. Are we going to win a beauty award? Are we going to be lucky enough to be interviewed in a couple of publications? Maybe. But we've got to get some organic influence hits before we start paying. We have to see some love and interest in what we have built. It's not about how many units you sold today. If you start having that narrative, it's the wrong thing. So, PR to me is fundamental, and it's crucial around that idea of building something that is meaningful and creating stories and moments and thoughts around your product. So, if that's your objective, then yes, PR is instrumental. 
How did you decide the retail partnerships that were right for the brand?
We were so blessed with Violet Grey and Goop reaching out to us from the beginning. We are in a place where they didn't have a lot of assortment. So, what I think happened was they saw us in the right spots. We were lucky enough when we launched to get an article in Vogue. We got a hit in Women's Wear Daily.
The honest truth is we've been incredibly careful with not expanding our distribution too fast. We're still only in the United States and Canada. We are very much focused on a digital footprint, and our direct-to-consumer business is by far the biggest piece of the pie. We spent a good year with just Goop and Violet Grey, which I see as influencers, in many ways a stamp of approval for your product. From there, we did a pop-up with Nordstrom and, in the fall, ultimately went into Nordstrom online. Sephora just happened on Aug. 5 with just three products in-store and the full assortment online. 
We have two other small boutiques with folks we love, but, in general, our distribution compared to most is very limited. From my time at Estée Lauder, I learned that the idea of creating the demand before you expand your distribution is crucial. Really having the buzz before you open this distribution is key because you don't just want to sit on the shelf, right? You want people to come in and say, "Oh, I read about that brand. Or I know about that brand." If you ask me, "What am I looking for [in retail partners]?" I'm looking for people that are good at supporting us, building the brand and that believe in our mission. 
In what ways has the pandemic affected the brand? 
We talk all the time about how lucky we were to be predominantly an online brand, and we will always be a predominantly online brand. Obviously, the activity online in March, April and May was significant. The second thing is that we fit in personal care, and this idea of health. The brand was built on two premises: No. 1, this idea of creating necessary personal care items that are good for your health and support your wellness. Then, the second arm of the brand is this idea of environmentalism, activism, being climate-neutral. This idea of wellness came to the forefront for all of us, and the way we saw that was a rapid increase not just traffic into the website, but also in areas where we have a two-way dialogue with the client. We get questions around body care rituals like, "How do I draw bubbles bath?" We have always liked to say that self-care is a necessity, but I think, in March, it went from a nice-to-have to a this really matters, and I really care about it and the products I'm choosing for my ritual.
You launched a hand cream on Aug. 20. Why did you choose a hand cream to be the latest launch?
The Hand Cream was always on our roadmap. Our community started to ask us for a hand cream shortly after we launched The Body Lotion, and we began to dream up what Nécessaire The Hand Cream would be back in 2019. It's a peptide moisturizer. I like to say it is the idea of an invisible glove for the skin. The peptide restores sensitive skin and protects against environmental aggressors. The formula also contains a large dose of niacinamide as well as squalane, marula oil and Shea Butter.  It's rich, but it absorbs fast. The formula is vegan, biodegradable, and it is packaged in a recyclable aluminum tube. The formula is pH-optimized, gluten-free, fragrance-free and non-GMO.
Where do you hope the business will be five years from today?
In the next five years, I think you'll see a brand that's hopefully expanded into more categories: hair and face, probably in that order. I think you're going to see a brand that, from a regional perspective, we reach consumers and start to create community all over. So, opening up the brand to the world is pretty critical for us in a thoughtful, calm way. Then, for sure, we will be continuing our efforts in sustainability. The brand is already 1% For The Planet member and climate-neutral certified, which means we've measured, completely offset and continue to reduce our C02 footprint. You're going to see a lot of packaging innovation in the sustainability area. So, I see a brand that's on the forefront of sustainability. I see a brand with a deep community rooted in real relationships around these topics that we stand for. We get requests from people around the world every day that have found the brand and that want to join the community, and we're working on making that happen.
What advice would you give to a new indie brand founder?
One quote that has been with me for a very long time is the idea of, "Whatever you are, be a good one." Have respect for what you create and try to aim for being a lot for a few, instead of nothing to many. Everything will change in your business along the way, but what should not change is why you came to be and what inspired you to create something. There are body lotions out there. There are body washes out there. There are sex gels out there, but the combination of being clean and having a real heart space in sustainability, and really having that as the North Star is crucial. My one recommendation is do not get discouraged. Go after that one thing and, then, stick to it. Just keep at it. What we found in starting Nécessaire is that the folks that do join us stay with us because they believe in our purpose. They believe that we're trying to be a good one.