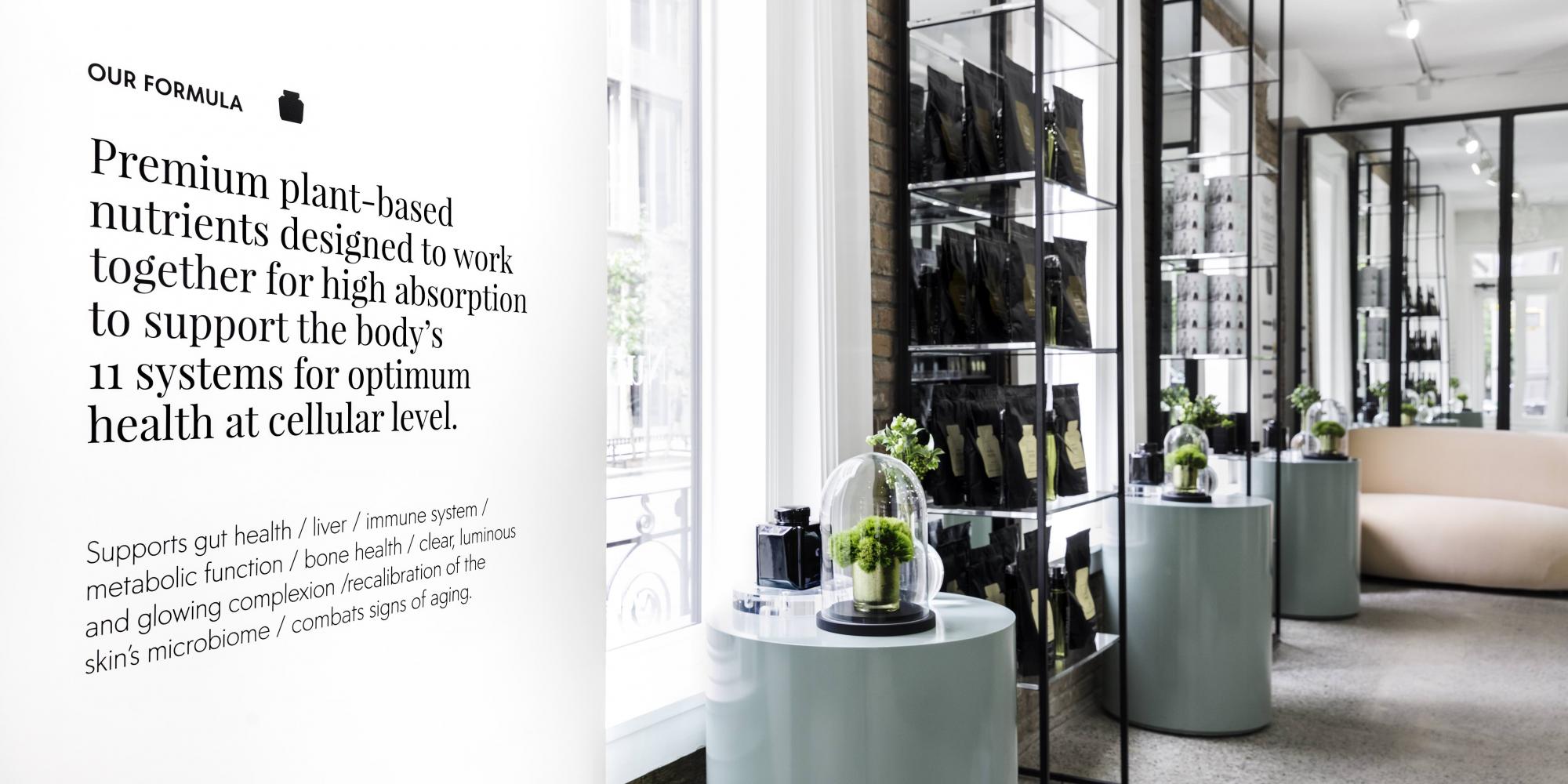 Can New Supplement Store Concepts Succeed Where The Vitamin Shoppe And GNC Have Struggled?
As consumer enthusiasm for all things wellness swells, the $35.9 billion U.S. dietary supplement industry grows along with it and is projected to skyrocket to $56.7 billion in sales by 2024. With supplements soaring, longtime vitamin juggernauts like GNC and The Vitamin Shoppe should be reaping the protein-packed benefits. Instead, they're withering. The former is closing 200 doors this year and the latter has appointed an executive vice president to overhaul its shopping experience. "It's crazy that the GNC's and Vitamin Shoppe's are struggling right now because they own this industry," says Kevin Mullaney, CEO of retail consulting firm The Grayson Company.
The retail website Racked summed up the phenomenon when it titled a story "Vitamins Are Trendy. Vitamin Stores Are Not." back in April. Six months later, a fresh crop of stores from brands promising to disrupt the supplement segment is out to prove that's not the case. They're muscling their way into the retail landscape with sleek aesthetics, millennial-focused messaging and high-end stores. But are the formats enough to entice skeptical customers to shop for supplements outside of grocery chains and Amazon? Beauty Independent asked Mullaney to accompany us on a tour of four downtown Manhattan supplement stores—one traditional, three new—to find out.
This stop was intended to provide a traditional vitamin store experience as a baseline from which to judge the younger concepts. We expected to encounter the requisite giant tubs of whey powders lining the walls and men with oversized muscles flexing at us. While there were some of those, we clearly stumbled upon an updated format for the chain. The shop we visited was small, featured kombucha on tap and a Fit Freezer section filled with frozen fruits and organic heat-and-eat meals. A salesperson told us it was the only The Vitamin Shoppe in the city that had either. He also directed us to a section with supplements that are popular with people on the buzzy keto diet and showed us a small area of women's health vitamins. While there was a broader product selection than we expected, the store felt cluttered and overwhelming.
Retail Expert's Take: "It's a really complicated product offering. The store design and the product offering was pretty good, but there were no stories toward an end solution. We must have given the salesperson a dozen opportunities to guide us into one thing or to ask us what we were interested in, but he never did. Establishing a really good service culture is difficult, but, for this particular product, you want guidance.
I liked what they did in the front with the Fit Freezer, but, in the rest of the store, they're not answering the questions of, 'What's all this?' and 'What will it do for me?' That's a missed opportunity. They're using the kombucha kegs in the front of the store as the first thing you see without giving a clear explanation, so that's kind of a miss. As you got further back, it got more and more confusing."
Our next stop was beverage company Dirty Lemon's Tribeca location. Customers familiar with the ingestible wellness startup, which had been digital-only until the recently opened store, are familiar with the text messaging system it depends on for its transactions. According to the company, the physical space is supposed to mirror the text experience. "We're moving beyond experiential marketing and into experimental—this type of engagement enables the convenience customers have come to expect from our brand," says Zak Normandin, CEO of Dirty Lemon.
The space seems more like a vending machine than a store. You walk into a small entryway with super-high ceilings, a giant mirror and a large refrigerator stuffed with Dirty Lemon tonics and elixirs like the +cbd version we sipped and paid for via text. The only other thing in the room is an iPad-like monitor with a phone number you use to text what you chose from out of the case. From there, the company charges the card associated with your account. (New customers are prompted to create an account.) You can swipe on the monitor to receive more information about products as well, but that's not immediately clear. There are no employees, sparse branding and a practically imperceptible door that's currently closed, but will eventually lead to a bar in the back where mixologists will craft cocktails with Dirty Lemon beverages and optional alcohol pairings.
Retail Expert's Take: "I've never seen anything like this before. Amazon Go is the closest thing, but it's much better thought-out. You need the app, but, then, you just come in, take what you want, and the minute you walk out, you're automatically charged. You don't have to text or do anything. I understand the instructions here, but how customer-friendly is this? I have no idea what this is, what it does or why I should have it. At first, I didn't realize the monitor could tell me those things. It should tell me to swipe. They're making me work too hard for a self-service thing. I think they're doing themselves a disservice. When you walk in, you have more questions than answers. Plus, by using an honor system, haven't you made it too tempting even for people who might not steal normally to steal?
Here's what I would caution: Just because you know your community, and they know you, if you want to grow your community, you want to talk to the people who don't understand. This doesn't do that."
When Jules Miller founded her supplement company The Nue Co. online in 2016, she pictured physical retail as a spoke in its multichannel distribution wheel. "I knew that it wasn't going to be the biggest revenue driver within our model, but I knew the importance of it," she says. She suggests the main purpose of the store is to support subscriptions. Miller explains that in-person interactions contextualize business that might ultimately be executed digitally. She says, "Within the wellness space specifically, the shopping or customer journey that people have is a very personal experience and, at the moment, there are only really two different routes for people to go and shop. The first is you either go to a GNC or a Whole Foods. If you do have personal problems, whether it's bowel problems or anxiety, you're sort of forced to speak to somebody who isn't necessarily an expert, and that can be quite a weird experience. On the flip side, the majority of our competitors are just focusing on this personalized subscription that is really driven by an algorithm. When you do that, you've completely lost the human touch, so we wanted to create something that sits somewhere in the middle."
When we stopped at the 1,300-square-foot SoHo store, we found a vibe that was equal parts chic and welcoming. The dark glass bottles of supplements and tonics resembled luxury skincare products, and there was a large tasting table in the center of the store where employees mix supplement-infused drinks (we tried the Brazilian guarana- and adaptogen-powered Power Up supplement in almond milk) for customers to sample. Miller says the sophistication is by design. "We've always said internally that we wanted to redefine the category. So, I think that there has to be a sense of maybe unexpectedness, of an elevated self-care luxury moment," she says. "The more elevated the experience that we can deliver, the more people will hopefully want to take their supplements and, in turn, the more these products can actually do people good."
Retail Expert's Take: "I was impressed with it. Even just looking at it from the outside, I would give them decent marks. If you're a new company, you have to be really clear about what you're putting in your window. You want it to be something that people can understand within two seconds, so it will drive them in. The message here is not overly obvious, but it's there. The Drug Store is the opposite of what this is.
Inside, it's really well laid-out. Just walking in there, we didn't have to ask about anything. Everything was explained. No one had to be there. It was like going from page to page on a website, but it was nice physically and very user-friendly. The salesperson was delightful, but, even if she weren't there, you would've gotten it. All of the signage above the products speaks specifically to what these supplements do. And they're hitting on all the things: probiotics, sleep, energy—these are all huge topics. They seem to be very focused, they have a point of view, and they seem connected. Plus, their products are all their own, whereas at The Vitamin Shoppe, a lot of those things were third party. The margins here must be amazing. They've created the whole environment and brand around it that feels like it could work."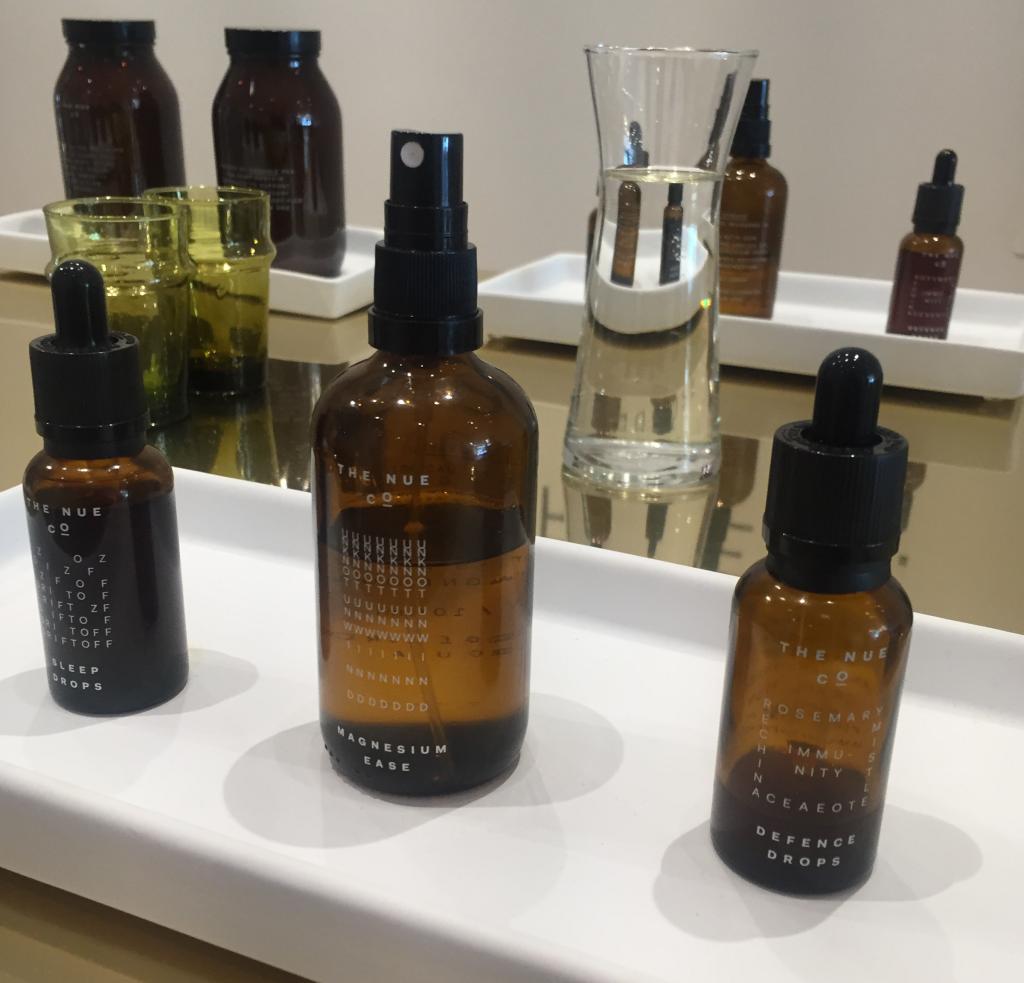 The outpost for the Australian wellness company co-founded by Elle Macpherson was the final stop. Although its plant-based elixirs have been sold stateside at Bergdorf Goodman, Barneys New York, Net-A-Porter and Sephora, the SoHo shop, which opened in September, is the first standalone location in the U.S. (There is also one in Australia.) With more than half of the company's global sales coming from the U.S., the move makes sense. "The qualities that remain important to WelleCo are emulated in store—science and innovation, expert advice, a whole food and plant-based lifestyle, customer connection through a warm and welcoming environment built for discovery and education," says Macpherson. "It's not just a store or retail space, it's a platform for people to experience WelleCo's premium, science-backed product offering and meet the team behind the brand."
The flagship has in-house nutritionist consulting areas and a wellness space for consumers to sample products, and attend demonstrations and events. The store is intended to be a respite from the busy New York City streets, and it is calming. During our visit, we tried the WelleCo Super Elixir Greens supplement and were given a copy of the brand's recipe book, which is free to shoppers and available on the company's website as an e-book.
Retail Expert's Take: "It's clearly an expensive, high-end store. There's a very strong female focus here, and it's very compelling. I think they did a really nice job messaging what the products are and what they do. It was all there, and it was very tastefully done. The thing I liked about The Nue Co., though, was that there were more reasons to buy. This is more of a one-thought. It's not bad, but it can be hard to get a store out of that. They do it, though."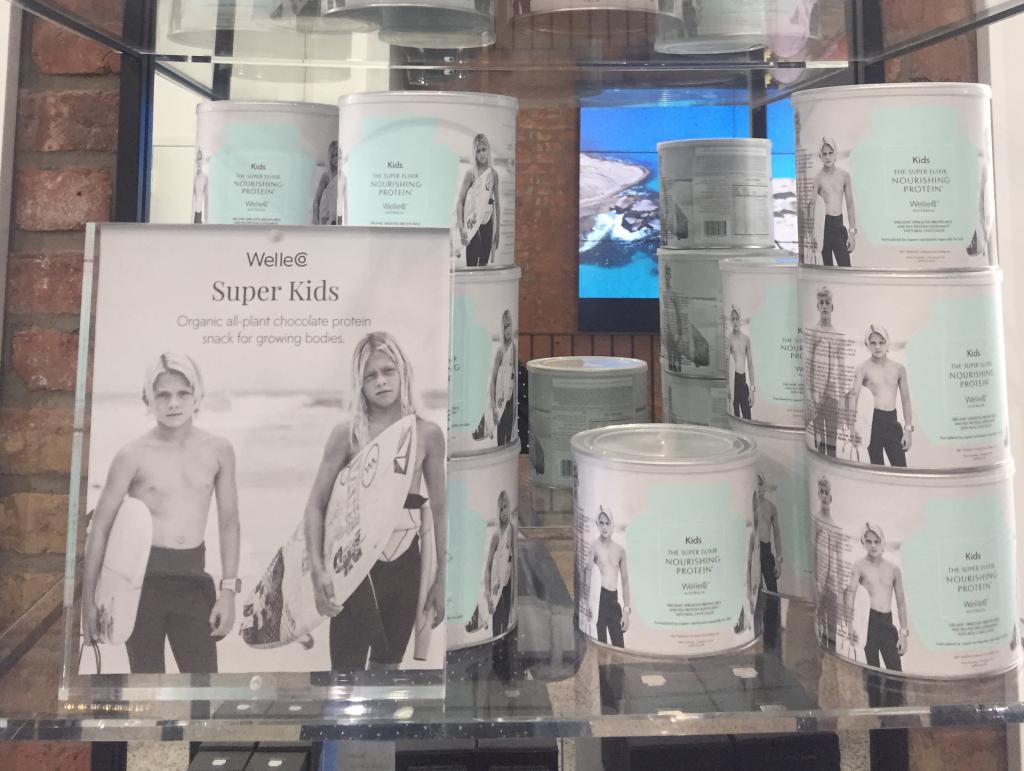 The Bottom Line
The slew of newfangled supplement stores is indeed trendy. You feel like you're entering a fancy salon or fragrance house or, in the case of The Drug Store, a clandestine bar when you walk into them. They're places that grasp their audience, and recognize giant tubs of protein powder and medicinal bottles of pills aren't for everyone. "In all of these stores, what you're looking for is a physical way to show your brand," says Mullaney. "The combination of having a physical presence with your online presence is going to win every single time. These are great examples. They're just very expensive."
The Nue Co.'s Miller agrees. Even though 70% of her brand's business is conducted digitally, many of its customers prefer face-to-face interactions with the brand before they buy. "They really need the help. They want to talk through the product. They want to taste some of the products, and then they'll subscribe in store," she says. She chose New York for The Nue Co.'s retail presence because it's where 70% of its sales come from, but, now, she's ready to expand and is about raise a Series A round in order to replicate the retail experience across the country, starting with San Francisco, Los Angeles and a major city in Texas. The Nue Co. has a 12-month maximum lease on its SoHo store.
Expense aside, Mullaney predicts the store format is here to stay. "We'll see tons more of this concept happening. Everybody is going to get in and, then, it's just going to blend with the regular world of just health and beauty." For brands that can't shell out the money to set up a permanent shop, he recommends pop-ups or shop-within-shop installations. "Companies are realizing that the price of customer acquisition digitally is through the roof. If you are an existing business and you open a brick-and-mortar store in the right place, that store will generate its own four-wall profit, meaning that, within the four walls, it will make money, not counting overhead," says Mullaney. "For example, let's say you do a million dollars in that store, depending on the category, the business that you do around that store will grow two to 10 times. Being in front of people is always better."
And what about the GNC's and The Vitamin Shoppe's of the world? Mullaney was encouraged by the smaller, more experiential The Vitamin Shoppe store. "I wouldn't even think of that as The Vitamin Shoppe," he says. "With its more democratic price point as compared to the other stores, it can go in a lot more places. So, if they can do the right amount of business in that size of a footprint, they can make money."