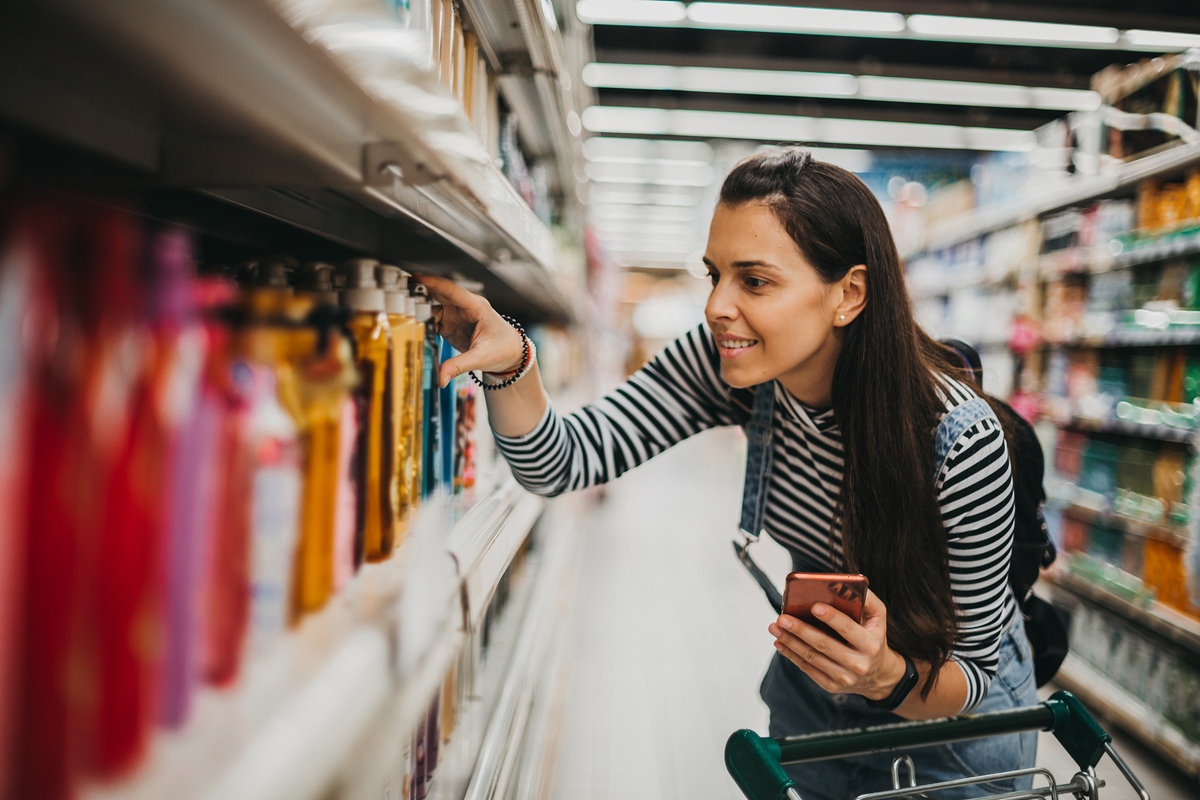 NielsenIQ: Small CPG Brands Are Set To Gain Market Share As Consumers Increasingly Engage With Them
Small consumer packaged goods brands are poised to gain greater market share, according to Andrew Criezis, SVP and general manager of small business for NielsenIQ.
He draws that conclusion based on a worldwide study entitled "Brand Balancing Act" by the global measurement and data analytics firm that surveyed 12,600 consumers and discovered they're more open than ever to products from CPG upstarts. Their openness stems from a shopping transformation catalyzed by the pandemic that's resulted in consumers buying and searching for merchandise in an omnichannel fashion.
"There's never been a better time with all the disruption that's happening for a small brand to be successful," says Criezis. Addressing entrepreneurs behind small brands, he adds, "Consumers are looking for you. They're looking for small brands. They're looking for brands that are local. They're looking for brands that are environmentally friendly, natural and sustainable. Now is the perfect opportunity to build that message with your investors, get the capital, get the support to invest. Obviously, online space is the key starting point, but I really think it is building into retail and the growth of your brand from a national standpoint."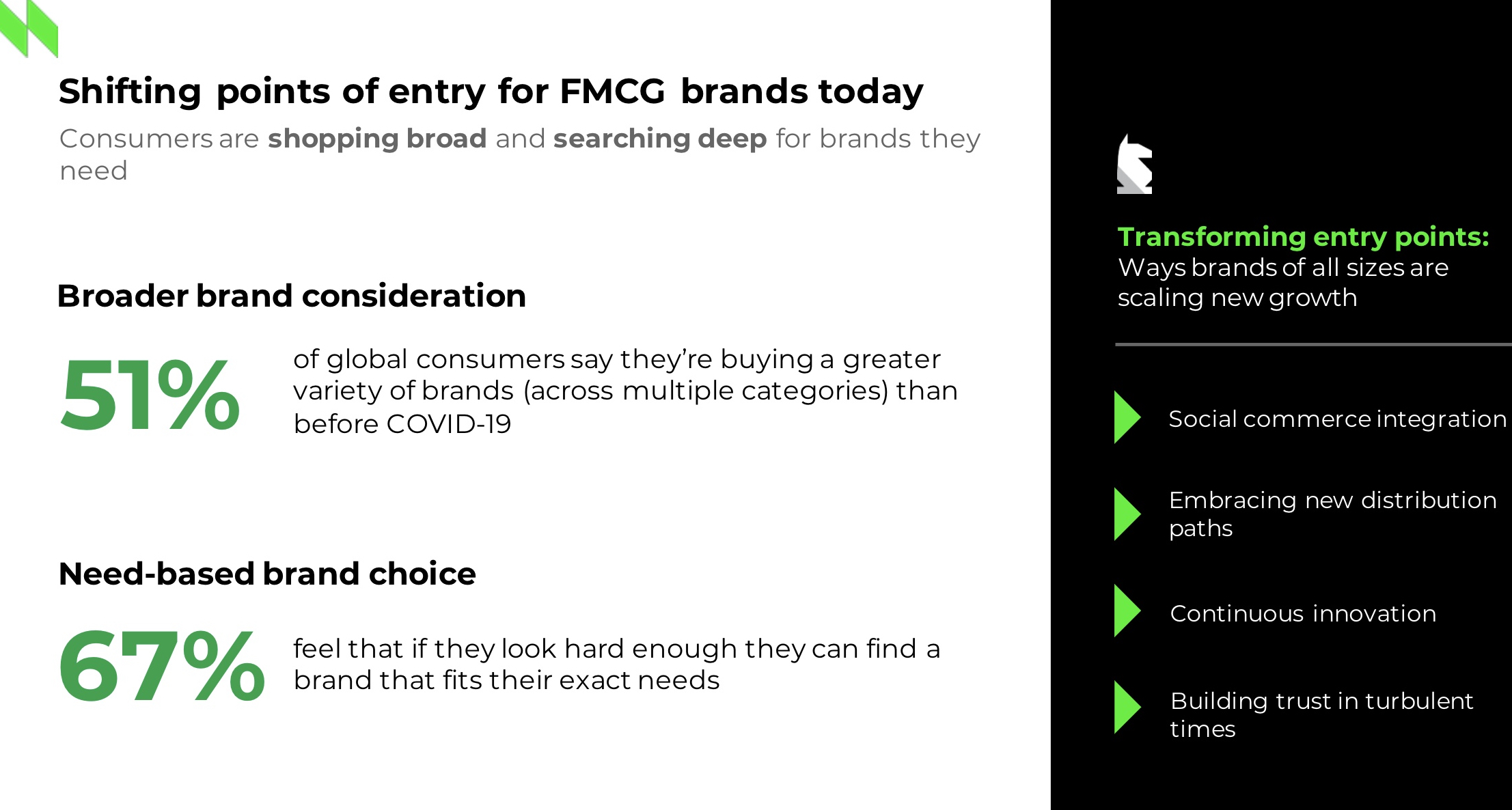 Out of the consumers surveyed by NielsenIQ, including over 1,000 Americans, 38% have a current penchant for small brands, and nearly half report they plan to escalate their small brand purchases in the future. Among those with a current proclivity toward small brands, Nielsen groups small brand buyers into "unintentional" and "exclusive" categories representing 26% and 12% of survey respondents, respectively. Similarly, in personal care and beauty, 12% explicitly hunt for small- to medium-sized brands.
Unintentional small brand buyers don't go out of their way to seek small brands, but prefer them when they're present, and exclusive small brand buyers specifically seek small brands. Twenty-one percent of those surveyed are classified as exclusive large brand buyers, and 41% are agnostic. A third of consumers define small brands as local, 31% define them as independent, and 27% define them as unfamiliar.
"Over 51% of consumers in this post-COVID, semi new normal world we are in are engaging in a wider variety of brands than they did in the past," says Criezis. "The change that we have seen in the past few years has fundamentally shifted how consumers think about where and how they want to consume various products."
Consumers are engaging with a wider variety of brands because they're searching for brands on online platforms and e-tailers like Google and Amazon, where they're not simply exposed to what's in front of them on a store shelf. And they're often not searching for particular brand names, but brand attributes instead. The top attributes exclusive small brand buyers are shopping for are environmentally friendly (42%), natural/healthy (41%), sustainably produced (38%) and clean (38%).
"There is more opportunity for a brand to be successful if they're really purposeful about defining their brand, their lifestyle that they're empowering with consumers as well as getting their placement in retail and online," says Criezis. "At the same time, if you're not on your game, whether it's around your pricing promotional activity, your in-store activations, it's much easier to be upset by a new entry."
"There's never been a better time with all the disruption that's happening for a small brand to be successful."
Elaborating on brand opportunities in the changing landscape, he says, "Over 60% aren't properly taking advantage of all the potential attributes that their brand actually is recognized for or could be recognized for..If you're brand is not searchable, whether that's online because you don't have the attributes posted correctly or tagged or it's not in the local stores or you haven't pushed hard enough into retail, so it's accessible from an omni standpoint, you're going to fall behind."
Inflation and price sensitivity play significant roles in consumers' purchasing choices, but NielsenIQ's survey data suggests they don't outweigh interest in smaller brands. Criezis says shopping has "fundamentally shifted aside from just the inflation aspect…COVID is probably the biggest driver of change over the next like decade without a doubt because I think that just accelerates us to more online."
Still, price considerations definitely can't be dismissed. Across the globe, Nielsen found 93% of survey respondents deemed affordability or the ability to provide a good value important to their purchasing. About a quarter of respondents disclose they're monitoring the costs of their overall basket of products, shopping online for better deals and buying products because they're on promotion.
In the inflationary environment, Criezis recommends brands "have a spread of products that allow for a value option given the high inflation and cost-conscious buyer, but don't shy away from the fact that you can take up price. A lot of brands I've been working with have been taking up price." He continues, "We've also seen premiumization, meaning consumers are willing, if they find it a connection to your brand, to pay a higher price. As long as that access is easy and efficient buying online [or] whatever it might be, they are willing to have a premium."
Consumers' increased inclination to small brands doesn't equate to business being completely smooth sailing for emerging companies. Along with high inflation, supply chain snarls and costly digital advertising, they're facing market crowding as brands keep launching and challenges staying in stores as retailers shed underperforming stockkeeping units. Last year, Criezis shares a NielsenIQ estimate that retailers in the United States shrank their stockkeeping unit count by 5%. "That's unprecedented," he says.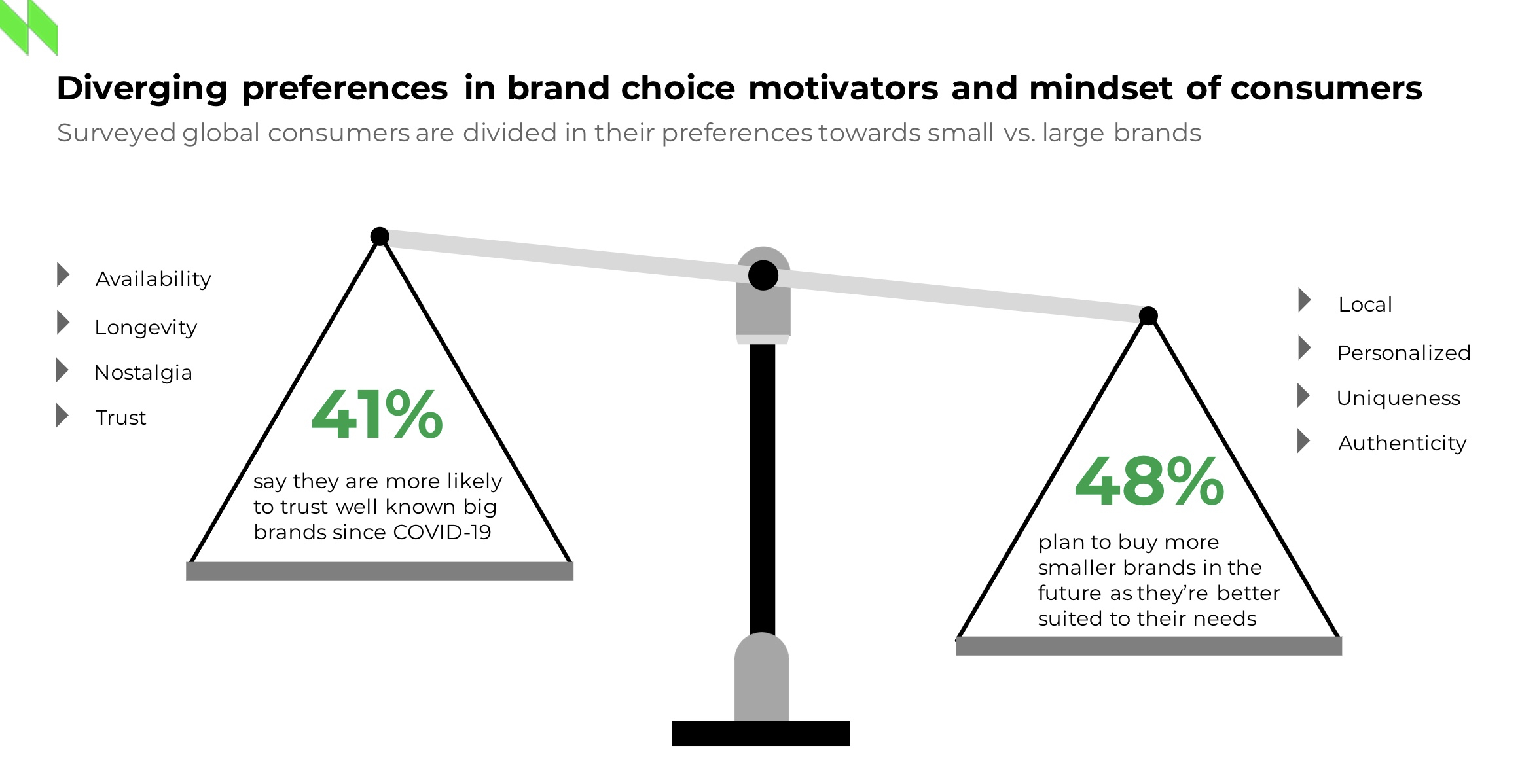 Despite the challenges, small brands are growing disproportionately, although aren't growth pace leaders, per NielsenIQ. Its data reveals consumer product manufacturers outside of the top 100 were responsible 52% of annual growth in North America and 31% in the Asia-Pacific region. For small brands that are winners, acquirers will be knocking at their doors. Criezis notes that large companies are implementing aggressive acquisition strategies to remain relevant to shoppers.
"They're going to continue to acquire brands as they're emerging if they can't compete, develop and innovate fast enough," he says. "What we're seeing is that the small brands are definitely out innovating the large brands."